Sunday, May 6, 2012
Series preview: Mets at Phillies

---
By Adam Rubin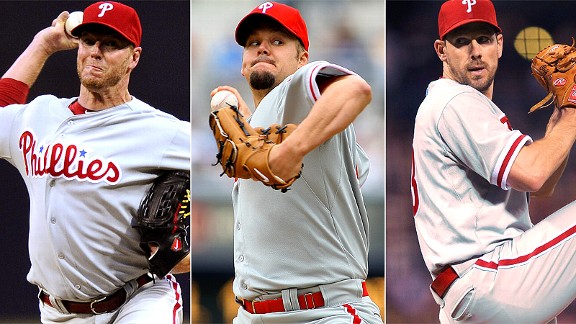 US Presswire/Getty Images

The Mets face (l to r) Roy Halladay, Joe Blanton and Cliff Lee in Philly this week.

METS (15-13, third place/NL East) vs. PHILADELPHIA PHILLIES (14-15, fifth place/NL East)

Monday: LHP Jon Niese (2-1, 4.08) vs. RHP Roy Halladay (3-2, 3.40), 7:05 p.m. ET

Tuesday: RHP Miguel Batista (0-1, 6.92) vs. RHP Joe Blanton (3-3, 2.83), 7:05 p.m. ET

Wednesday: RHP Dillon Gee (2-2, 4.50) vs. LHP Cliff Lee (0-1, 1.96), 7:05 p.m. ET

Phillies short hops

• Cliff Lee returns from a left oblique strain for Wednesday's start. The southpaw had been on the disabled list since April 21. With Lee's return, Kyle Kendrick reverts to bullpen use. Kendrick made three starts in Lee's absence, going 0-2 with a 6.43 ERA. On Friday at D.C., Kendrick did limit Washington to one run in five innings to outperform Stephen Strasburg (three runs in six innings), although the Nats won, 4-3, in 11 innings.

• Ryan Howard, who is trying to work back from left Achilles surgery and an ensuing infection in the repaired area, expects to hit and run at the team's Clearwater, Fla., complex this week. Meanwhile, Chase Utley (knee) also could begin working out there this week, in a quasi-beginning to spring training. Utley spent the past five weeks rehabbing in Arizona. Since Jim Thome landed on the DL on May 2 with a lower-back strain, righty-hitting Ty Wigginton and lefty-hitting Laynce Nix exclusively have shared first-base duties. Meanwhile, with rookie Freddy Galvis (.198) underperforming, Pete Orr has started seven of the past 12 games at second base. Philly media speculation is former Cub/Giant Mike Fontenot soon could be promoted from Triple-A Lehigh Valley, with Galvis demoted.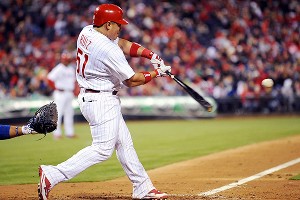 Miles Kennedy/Getty Images
Carlos Ruiz had seven RBIs in a game against the Braves last week.


• Roy Halladay enters Monday's start having allowed eight earned runs and 12 hits in 5 1/3 innings in his most recent outing, at Atlanta. The damage, which came after Halladay needed only 46 pitches to navigate the opening four innings, included a grand slam by Brian McCann. It was the most earned runs allowed by Halladay since surrendering nine in 5 1/3 innings at Texas on May 5, 2007 while with the Toronto Blue Jays. The last grand slam allowed by Halladay? That came in 2008, courtesy of Evan Longoria. Halladay's fastball has averaged 90.4 mph this season, down from 92.0 mph last season and 92.6 mph in 2010.

• Right fielder Hunter Pence homered twice Sunday night against the Nats. He has a nine-game hitting streak.

• Joe Blanton tossed a three-hit shutout Thursday at Atlanta. It was the third shutout of Blanton's career, and first since June 2, 2007 with Oakland against Minnesota.

• Philadelphia's bullpen has blown three of its past five save chances, although that is before the ball got to Jonathan Papelbon. The former Red Sox closer is 9-for-9 this season. He was named MLB's Delivery Man of the Month for April. Since a single by Angel Pagan on April 16, Papelbon has not allowed a hit in the last 18 at-bats against him. Papelbon's nine saves are tied with Atlanta's Craig Kimbrel for the National League lead.

• The Phillies snapped a string of seven straight losses to the Nationals with a 9-3 win Sunday night.

• Catcher Carlos Ruiz produced seven RBIs against Atlanta on Wednesday. That was one RBI shy of matching the Phillies' single-game record, which is held by Jayson Werth (2008), Mike Schmidt (1976) and Willie Jones (1958).

• Shortstop Jimmy Rollins, who moved to the leadoff spot April 28 as Charlie Manuel tried to jumpstart the Phillies' offense, went 5-for-27 on Philadelphia's six-game trip.

• Reliever Jose Contreras was activated from the DL on April 16. He had undergone elbow surgery on Sept. 2, 2011.

• Cole Hamels told Philly reporters he purposely plunked Washington's Bryce Harper during Sunday's first inning. Harper got the last laugh, ultimately stealing home that inning. Nats pitcher Jordan Zimmermann subsequently hit Hamels with a pitch in the left leg. "I'm not gonna lie," Hamels said, according to the Philadelphia Daily News. "It's kind of welcome to the big leagues. He kind of did the same to me."

Matchups

Niese vs. Phillies (career: 4-4, 3.58 ERA)
Ty Wigginton .500, 1 BB, 1 K, 3 PA
Placido Polanco .417, 6 RBI, 2 BB, 2 K, 26 PA
Carlos Ruiz .357, 2 RBI, 4 K, 14 PA
Freddy Galvis .333, 1 K, 3 PA
John Mayberry .294, 2 HR, 4 RBI, 2 K, 17 PA
Shane Victorino .278, 1 HR, 2 RBI, 1 BB, 3 K, 19 PA
Jimmy Rollins .263, 2 BB, 3 K, 21 PA
Hunter Pence .143, 1 BB, 4 K, 15 PA
Brian Schneider .000, 1 K, 4 PA

Batista vs. Phillies (career: 3-3, 4.42 ERA)
Jimmy Rollins .550, 1 HR, 5 RBI, 4 BB, 1 K
John Mayberry .500, 1 RBI, 2 PA
Placido Polanco .343, 3 RBI, 4 BB, 2 K, 40 PA
Ty Wigginton .308, 4 RBI, 3 K, 13 PA
Carlos Ruiz .286, 1 RBI, 2 BB, 9 K
Hunter Pence .250, 1 BB, 1 K, 5 PA
Brian Schneider .231, 1 RBI, 2 BB, 16 PA
Juan Pierre .227, 4 BB, 1 K, 27 PA
Laynce Nix .000, 2 RBI, 1 BB, 1 K, 10 PA
Shane Victorino .000, 1 RBI, 1 BB, 1 K, 5 PA
Pete Orr .000, 1 PA

Gee vs. Phillies (career: 2-1, 7.85 ERA)
Jimmy Rollins 1.000, 1 RBI, 1 BB, 4 PA
Brian Schneider .500, 2 BB, 4 PA
Shane Victorino .286, 2 RBI, 2 BB, 1 K, 10 PA
Laynce Nix .200, 1 RBI, 1 BB, 1 K, 6 PA
Carlos Ruiz .200, 1 K, 5 PA
Hunter Pence .167, 3 BB, 1 K, 9 PA
John Mayberry .167, 1 HR, 3 RBI, 1 BB, 1 K, 7 PA
Placido Polanco .167, 1 BB, 7 PA
Pete Orr .000, 1 K, 1 PA

Halladay vs. Mets (career: 9-2, 2.88 ERA)
Justin Turner .500, 1 K, 2 PA
Josh Thole .438, 2 K, 16 PA
Scott Hairston .333, 1 BB, 2 K, 7 PA
Andres Torres .231, 1 BB, 2 K, 14 PA
Ike Davis .211, 1 RBI, 1 BB, 5 K, 20 PA
Daniel Murphy .167, 1 K, 6 PA
David Wright .143, 1 RBI, 1 BB, 11 K, 22 PA
Ruben Tejada .000, 1 RBI, 8 PA
Lucas Duda .000, 1 K, 6 PA
Mike Baxter .000, 1 K, 2 PA

Blanton vs. Mets (career: 3-1, 3.50 ERA)
Scott Hairston .500, 1 HR, 1 RBI, 2 K, 6 PA
Ike Davis .455, 2 RBI, 1 BB, 2 K, 12 PA
Andres Torres .333, 1 HR, 1 RBI, 1 BB, 1 K, 4 PA
David Wright .261, 2 RBI, 1 BB, 6 K, 24 PA
Josh Thole .111, 1 RBI, 3 K, 9 PA
Daniel Murphy .000, 1 BB, 2 K, 4 PA
Ruben Tejada .000, 3 PA
Lucas Duda .000, 2 K, 3 PA
Justin Turner .000, 1 PA

Lee vs. Mets (career: 2-1, 1.61 ERA)
Andres Torres .500, 2 K, 7 PA
Ruben Tejada .500, 6 PA
Josh Thole .500, 2 PA
Daniel Murphy .333, 1 RBI, 2 K, 6 PA
David Wright .286, 3 K, 7 PA
Lucas Duda .167, 3 K, 6 PA
Scott Hairston .143, 1 HR, 1 RBI, 2 K, 14 PA
Justin Turner .000, 1 BB, 3 K, 10 PA
Ike Davis .000, 2 K, 6 PA

Last series results

Mets won, 2-1, at Citizens Bank Park, April 13-15 (AP game recaps)

Mets 5, Phillies 2: R.A. Dickey threw seven sharp innings, Jason Bay hit a two-run homer and the Mets beat Cliff Lee. Scott Hairston also homered. Freddy Galvis hit his first major league homer for the Phillies. Dickey (2-0) allowed one run despite nine hits. The knuckleballer struck out seven and lowered his ERA against Philadelphia to 2.40 in seven career starts. Dickey has compiled 14 straight quality starts -- six or more innings with three earned runs or less -- dating to last July 25. Lee (0-1) gave up four runs and five hits in seven innings, striking out seven. He allowed just nine runs in his previous 11 starts, spanning 83 2/3 innings. The Mets played without David Wright for the third straight game.

Mets 5, Phillies 0: Jon Niese and two relievers combined on a six-hitter and David Wright homered despite a broken finger. Niese (2-0) allowed five hits and struck out five in 6 2/3 innings. Bobby Parnell got four outs and Jon Rauch pitched the ninth. Wright was 3-for-5, including a long homer on the first pitch he saw after missing three games with a broken right pinkie. Lucas Duda also connected for the Mets, who are off to a surprising 6-2 start. Phillies starter Vance Worley (0-1) allowed four runs and eight hits in six innings.

Phillies 8, Mets 2: Cole Hamels pitched seven strong innings and Ty Wigginton drove in four runs. Hamels (1-1) struck out 10 to help the Phillies avoid a three-game sweep at home against the Mets for the first time since June 13-15, 2006. Philadelphia struggled to cross the plate until scoring twice in the seventh inning against Ramon Ramirez (1-1). The Phillies blew the game open with five unearned runs in the eighth off two Mets relievers. The Phillies tied it at 2 in the seventh on Wigginton's sacrifice fly that scored Jimmy Rollins. Rollins could've been the second out of the inning, but right fielder Lucas Duda misjudged Rollins' lazy flyball to short right field, allowing Rollins a single. Helped by Ruben Tejada's throwing error, the Phillies tacked on five unearned runs run in the eighth. Manny Acosta walked Hunter Pence with the bases loaded before Wigginton hit a bases-clearing double off Miguel Batista for the five-run lead. Ike Davis' two-run homer in the first had staked the Mets to a 2-0 lead.


---