Monday, May 7, 2012
Inside the Wright-Halladay matchup

---
By Mark Simon, ESPN Stats & Information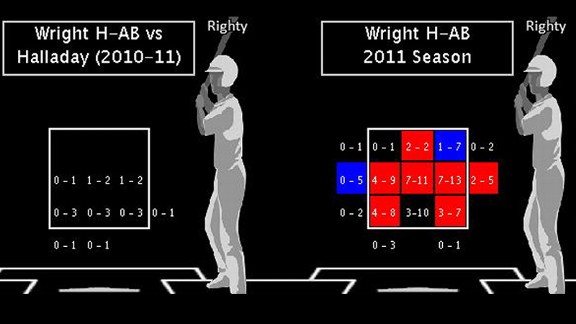 David Wright struggles vs. Roy Halladay, but has been hot throughout 2012.

Considering that the Mets rank 10th in the National League in runs, 14th in Fielding Independent Pitching (a stat that combines strikeouts, walks, and HR allowed), and 13th in Defensive Runs Saved, they're doing pretty well to be 15-13 through 28 games.

But we'll get a better indicator if things are really meant to be good for this team when they face Roy Halladay in Philadelphia tonight.

Yes, Halladay's fastball velocity is down and he hasn't been quite as sharp this season as some think he should be. But it's still Roy Halladay -- the best pitcher in baseball and the best pitcher in baseball against the Mets.

Halladay has won his last eight starts against the Mets, posting a 2.07 ERA in that span. He's been a combination of both lucky and good, beating them three times in games in which he allowed at least four runs. In the other five victories, he's pitched 39 innings and allowed one run.

There are a fair number of pitchers who have won eight straight decisions against the Mets, but winning eight straight starts is tougher.

Seven pitchers have done it, the other six being a group that includes four Hall of Famers and two other pitchers who each nearly won 200 games in their careers.

David Wright's performance against Halladay epitomizes the Mets struggles.

He's 3-for-21 against Halladay in his career with 11 strikeouts. His only hit in his last 16 at-bats against Halladay is an infield single.

The argument could be made that there's no better time than now for Wright to hit Halladay, and the images atop this article make a case for that.

The picture on the left shows how Wright has fared against Halladay, broken down by pitch location, over the 18 times they've faced each other in the last two seasons.

Halladay has gotten Wright out by throwing pitches that are about as hard to hit as bowling balls. He never pitches him up in the strike zone.

Of the 82 pitches he's thrown Wright, six of them have been in the upper-third of the strike zone or above. Six … in 18 at-bats.

The majority of the pitches that Wright has seen have been of the knee-high variety (51 of the 82) and they've been tough to hit. Halladay has gotten him out with one 12 times in this span.

But Wright is thriving against those pitches this season, as you can see in the image on the right-hand side. And if Halladay throws a pitch that's a little too high, he's entering Wright's hottest zone.

So watch the Halladay-Wright matchup just a little bit closer than you might normally, particularly in their first or second inning meeting.

Halladay has whiffed Wright four times the last six times they've gone head-to-head in the first plate appearance of a game.

For this to be the right kind of day for the Mets, it would be helpful for them to have the Wright kind of success there.



---