Monday, May 21, 2012
Series preview: Mets at Pirates

---
By Adam Rubin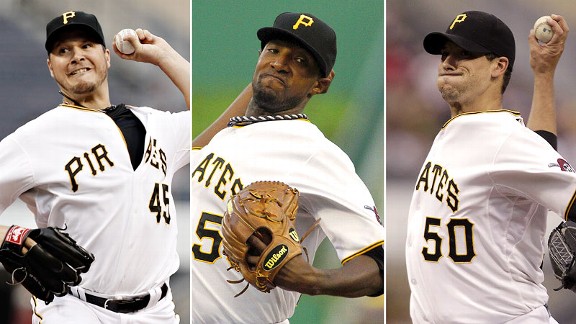 Getty Images/Associated Press

The Mets face (l to r) Erik Bedard, James McDonald and Charlie Morton in Pittsburgh.

METS (22-19, third place/NL East) vs. PITTSBURGH PIRATES (19-22, third place/NL Central)

Monday: LHP Johan Santana (1-2, 2.89) vs. LHP Erik Bedard (2-5, 3.07), 7:05 p.m. ET

Tuesday: RHP R.A. Dickey (5-1, 3.76) vs. RHP James McDonald (3-2, 2.68), 7:05 p.m. ET

Wednesday: LHP Jon Niese (2-2, 4.85) vs. RHP Charlie Morton (2-4, 4.35), 12:35 p.m. ET

Pirates short hops

• Manager Clint Hurdle benched outfielder/leadoff hitter Jose Tabata on Friday for lack of hustle on a groundball the previous day. Tabata also had misplayed two fly balls that gam. "He didn't get out of the box," Hurdle told the team's web site. "We saw it happen. We've seen it happen a couple of times. They understand when that happens something else also happens: You're gonna sit over there with me and watch.  We had a talk. Jose said he 'lost the moment.' Fine, then get down the line. That didn't happen, and that's not part of our identity. That's not what we're creating here."

• Center fielder Andrew McCutchen went 0-for-4 with three strikeouts Sunday. In the six previous days, McCutchen had hit a sizzling .381 (8-for-21) with four homers, seven RBIs and six runs scored. He had two multi-homer games in a three-game span, becoming only the second Pirate in the past 25 years to accomplish that, according to the Elias Sports Bureau. The other: Pedro Alvarez, who homered twice in consecutive games in July 2010.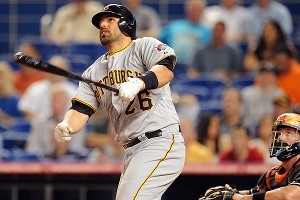 Steve Mitchell/US Presswire
Ex-Met Rod Barajas, who actually was awarded to the Dodgers on a waiver claim while the Mets were in Pittsburgh in 2010, signed a one-year deal with the Pirates as a free agent.


• Alvarez is RBI-less in his past six games, and is hitting .106 (5-for-47) in his past 15 games. Still, his seven homers trail the MLB leaders among third baseman -- Adrian Beltre, Miguel Cabrera and David Freese -- by only one.

• Ex-Mets catcher Rod Barajas signed a one-year, $4 million deal with the Pirates during the offseason. He homered Sunday against Detroit's Max Scherzer, his fourth long ball this season, but is hitting only .220 this season. Barajas has thrown out only two of 18 would-be stealers.

• Right-hander James McDonald had a no-hit bid through five innings in his most recent start, against the Washington Nationals. Ex-Mets farmhand Jesus Flores broke it up with a sixth-inning double.

• Left-hander Erik Bedard allowed four runs in six innings against the Nats on Wednesday. Bedard had been forced from a May 9 start after one-plus innings with back spasms and received extra rest before last week's start. He has one career start against the Mets: on June 16, 2006 at Shea Stadium, when he allowed three runs in six innings during an interleague series while playing for the Baltimore Orioles. Chris Woodward had an RBI groudout and Jose Reyes had a two-run double against Bedard in Baltimore's 6-3 win.

• Closer Joel Hanrahan is 9-for-10 in save chances. He has a 90.7 percent success rate since the beginning of the 2011 season. The only NL closer with 40 opportunities and a better save-conversion percentage during that span: Milwaukee's John Axford (94.5 percent). Hanrahan already ranks eighth on the Pirates' all-time saves list with 55. Next up: Bill Landrum with 56.

• Shortstop Clint Barmes played for Hurdle with the Colorado Rockies. He signed a two-year, $10.5 million deal as a free agent to succeed current Met Ronny Cedeno as shortstop in Pittsburgh.

• The Pirates have used righty-hitting Casey McGehee (.198) and lefty-hitting Garrett Jones (.231) at first base this season.

• Nate McLouth (.143 overall) is 0-for-13 as a pinch hitter this season in his second tour of duty with the Pirates.

• Detroit Tigers ace Justin Verlander came within two outs of a no-hitter against the Pirates on Friday. Josh Harrison, who has been starting on the left side of the infield against left-handed pitching, broke up Verlander's bid for his third career no-hitter with a single to center.

• Set-up man Jason Grilli landed on the bereavement list Sunday. Southpaw Jeff Locke temporarily has been promoted from Triple-A Indianapolis to work in long relief. Locke will not be used as a second lefty specialist to complement Tony Watson.

• Ex-Met Nick Evans is hitting .197 with two homers and nine RBIs in 71 at-bats at Triple-A Indianapolis. He signed with the Pirates as a minor league free agent during the offseason. Evans has been sidelined since April 30 and is on the International League disabled list.

Matchups

Santana vs. Pirates (career: 2-2, 1.96 ERA)
Pedro Alvarez .667, 3 PA
Jose Tabata .333, 1 HR, 1 RBI, 1 K, 3 PA
Rod Barajas .286, 2 BB, 2 K, 9 PA
Casey McGehee .200, 3 K, 10 PA
Nate McLouth .133, 1 HR, 2 RBI, 2 BB, 2 K, 17 PA
Andrew McCutchen .000, 3 K, 4 PA
Garrett Jones .000, 1 K, 3 PA
Neil Walker .000, 1 K, 3 PA
Clint Barmes .000, 3 PA

Dickey vs. Pirates (career: 1-2, 2.78 ERA)
Josh Harrison .571, 1 RBI, 1 BB, 8 PA
Garrett Jones .400, 1 RBI, 1 K, 10 PA
Jose Tabata .333, 1 BB, 1 K, 11 PA
Andrew McCutchen .222, 2 BB, 4 K, 12 PA
Rod Barajas .143, 2 RBI, 1 K, 7 PA
Neil Walker .111, 2 RBI, 1 BB, 2 K, 10 PA
Casey McGehee .100, 1 HR, 1 RBI, 2 K, 10 PA
Pedro Alvarez .000, 1 BB, 4 PA
Nate McLouth .000, 3 PA
Clint Barmes .000, 1 RBI, 3 PA

Niese vs. Pirates (career: 1-0, 2.45 ERA)
Jose Tabata 1.000, 3 PA
Nate McLouth .667, 1 RBI, 4 PA
Rod Barajas .667, 1 HR, 1 RBI, 3 PA
Andrew McCutchen .667, 3 PA
Neil Walker .333, 1 RBI, 3 PA
Clint Barmes .222, 1 HR, 3 RBI, 2 K, 10 PA
Casey McGehee .200, 1 K, 5 PA
Pedro Alvarez .000, 1 K, 2 PA
Garrett Jones .000, 2 PA

Bedard vs. Mets (career: 1-0, 4.50 ERA)
David Wright .500, 1 BB, 3 PA
Scott Hairston .300, 1 K, 10 PA
Rob Johnson .000, 1 K, 3 PA

McDonald vs. Mets (career: 1-1, 3.49 ERA)
Ike Davis .500, 1 BB, 7 PA
Daniel Murphy .500, 1 RBI, 1 K, 6 PA
David Wright .333, 1 HR, 4 RBI, 1 BB, 1 K, 8 PA
Andres Torres .200, 1 BB, 1 K, 6 PA
Lucas Duda .000, 6 PA
Justin Turner .000, 3 PA
Ronny Cedeno .000, 1 K, 3 PA
Rob Johnson .000, 1 PA
Scott Hairston .000, 1 K, 1 PA

Morton vs. Mets (career: 0-1, 4.76 ERA)
Lucas Duda .500, 3 RBI, 4 PA
Ike Davis .500, 1 BB, 3 PA
Justin Turner .400, 2 RBI, 7 PA
Daniel Murphy .286, 7 PA
Andres Torres .167, 1 BB, 1 K, 7 PA
David Wright .000, 4 PA
Scott Hairston .000, 3 PA

Last series results

Mets won, 2-1, at PNC Park, June 10-12, 2011 (AP game recaps)

Mets 8, Pirates 1: Dillon Gee remained undefeated, Jose Reyes homered among his three hits and the Mets won for the fifth time in six. Gee became the first Mets' rookie starter to improve to 7-0. New York has won all nine of his starts. He allowed one run and eight hits in a career-high eight innings with no walks and five strikeouts. Gee won his fifth straight outing and is the majors' first rookie starter to open 7-0 since 2006, when Jered Weaver started 9-0 for the Los Angeles Angels. Gee has allowed one earned run or less in three of his past five starts and has allowed only one run over his past two outings combined. Reyes and Josh Thole went 3-for-5, and Angel Pagan had two hits and scored twice. The Pirates' Charlie Morton had his worst start of the season, though he was the victim of some infield hits, shoddy defense and bad bounces. Morton (6-3) lasted a season-low four-plus innings, allowing seven runs (six earned) and nine hits.

Pirates 3, Mets 2: James McDonald allowed two runs in six effective innings and Andrew McCutchen hit a two-run double. Jose Tabata and Josh Harrison each had two hits and scored a run. Garrett Jones had an RBI double among his two hits for Pittsburgh. Baseball's leading hitter, Jose Reyes, had two hits and Ruben Tejada and Carlos Beltran each also had two hits for the Mets. McDonald (4-4) allowed eight hits and three walks. Tim Wood pitched a scoreless seventh, Jose Veras struck out Ronny Paulino looking with runners on second and third to end the eighth and Joel Hanrahan worked a perfect ninth for his 16th save in as many opportunities.

Mets 7, Pirates 0: Chris Capuano pitched seven innings and Jose Reyes homered in the rubber-game win. Capuano (5-6) allowed three hits and two walks with five strikeouts to win consecutive starts for the first time since April 2007. Reyes had three hits for his majors-leading 33rd multi-hit game. He homered two pitches after pinch-hitter Scott Hairston also did in the ninth. David Murphy and Angel Pagan went 2-for-4 and Carlos Beltran had a two-run single. Kevin Correia (8-5) unraveled late after being perfect through 4 2/3. He missed on a chance to tie for the majors' lead in victories.


---