Thursday, May 24, 2012
Series preview: Mets vs. Padres

---
By Adam Rubin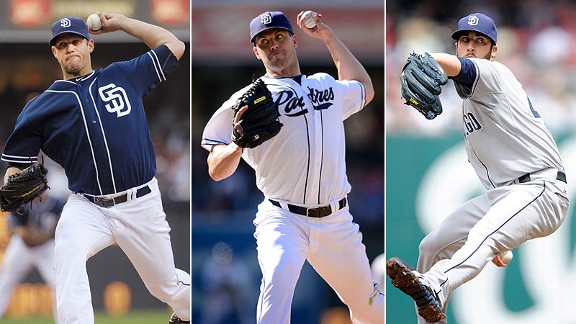 Getty Images

The Mets will face Eric Stults (l), Anthony Bass (r) and Clayton Richard (c) in the opening three games of the weekend series.

METS (24-20, third place/NL East) vs. SAN DIEGO PADRES (16-29, fifth place/NL West)

Thursday: RHP Jeremy Hefner (0-1, 2.25) vs. LHP Eric Stults (0-0, 2.70), 7:10 p.m. ET

Friday: RHP Dillon Gee (3-3, 5.44) vs. RHP Anthony Bass (2-4, 2.89), 7:10 p.m. ET

Saturday: LHP Johan Santana (1-2, 3.24) vs. LHP Clayton Richard (2-5, 4.63), 1:10 p.m. ET

Sunday: RHP R.A. Dickey (6-1, 3.45) vs. RHP Edinson Volquez (2-4, 3.49), 1:10 p.m. ET

Padres short hops

• Closer Huston Street, who was acquired from Colorado in December for the final year of a guaranteed three-year, $22.5 million deal, landed on the disabled list May 5 with a strained right lat.

Right-hander Dale Thayer, who made 11 relief appearances with the Mets last season, signed with the Padres as a minor league free agent and now has stepped into the closer's role and excelled. Thayer retired the first 10 batters he faced this season, has retired 28 of 36 overall and has worked a scoreless inning in each of his 10 appearances. He is 5-for-5 in save chances since recording his first as a Padre on May 7. Thayer had only one previous save -- on May 22, 2009, by pitching the final three innings of a 15-2 win with the Tampa Bay Rays in his major league debut.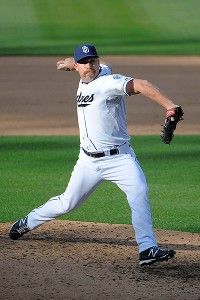 Denis Poroy/Getty Images
Dale Thayer has emerged as the unexpected closer of the Padres in Huston Street's absence.


• Left-hander Eric Stults was claimed off waivers from the Chicago White Sox on May 17. Stults, 32, is making his second Padres start. He allowed two runs in 6 2/3 innings against the Los Angeles Angels on Saturday. Stults had made two appearances (one start) for the Sox this season. He was 1-1 with a 2.20 ERA in five starts at Triple-A Charlotte. Starters Cory Luebke and Joe Wieland landed on the DL eight days apart earlier this month. Luebke required Tommy John surgery.

• Rampant injuries have forced the Padres to use 39 players this season, tied with the Boston Red Sox for most in the majors. The Padres have 13 players currently on the DL. The absentees also include shortstop Jason Bartlett and outfielder Carlos Quentin, who was acquired from the White Sox after slugging a combined 107 homers in four years with Chicago.

• Former Mets GM Omar Minaya is an assistant to San Diego GM Josh Byrnes. Byrnes was a finalist for the Mets job that went to Sandy Alderson.

• The Padres released Orlando Hudson, who was hitting .211 through 123 at-bats. Alexi Amarista was acquired in a trade with the Angels on May 3 and is manning second base.

• Third baseman Chase Headley denied an ESPN.com report that he and ex-teammate Ryan Ludwick, now with Cincinnati, had a clubhouse altercation with Mike Adams last season, before Adams was dealt to Texas. The report stated that Adams had told the players to stop griping about Petco Park's spacious dimensions.

• First baseman Yonder Alonso has hit safely in 22 of his past 25 games. He is hitting .362 (34-for-94) during that span, upping his average to .300. He leads NL rookies in average, hits, on-base percentage and doubles. Alonso arrived from Cincinnati in a steep package with Edinson Volquez, Yasmani Grandal and Brad Boxberger in December for Mat Latos.

• Catcher Nick Hundley has thrown out a major league-high 14 would-be base stealers.

• Center fielder Cameron Maybin, a former Marlin, is hitting only .212.

• San Diego has scored 139 runs and has a team .220 batting average. Both rank 15th in the NL, ahead of only the Pirates (126 runs/.217). The Mets rank second-to-last in homers with 25. San Diego is last at 17.

Last series results

Mets won, 2-1, at Petco Park, Aug. 15-17, 2011 (AP game recaps)

Mets 5, Padres 4 (10 innings): Everybody with the Mets wanted to make a big deal about Jason Isringhausen's 300th career save except the pitcher himself. Isringhausen notched his milestone save with runners on second and third. The save came after Scott Hairston drove in the go-ahead run with a fielder's choice in the top of the inning. The Mets had a small champagne party in the clubhouse afterward. More

Padres 6, Mets 1: Nick Hundley had three hits, including two triples, to lead a 15-hit attack as the San Diego Padres defeated the slumping Mets. Orlando Hudson drove in two runs and Cameron Maybin hit his eighth homer, a leadoff drive in the seventh, for San Diego, which reached double figures in hits for the second straight game. Hundley's second triple led off the eighth inning and came off Mike Pelfrey. More

Mets 7, Padres 3: After hitting a big home run, David Wright faked out Cameron Maybin. Wright hit a three-run homer and Angel Pagan added three RBIs to lift the Mets to their first series win in San Diego in more than nine years. Maybin was on second base when Logan Forysthe hit a hard grounder down the third-base line with two outs. Wright dived and stopped the ball some 15 feet behind the bag and then popped to his feet and faked the throw to first when he saw Maybin wasn't watching him. More


---