Tuesday, June 5, 2012
Series preview: Mets at Nationals

---
By Adam Rubin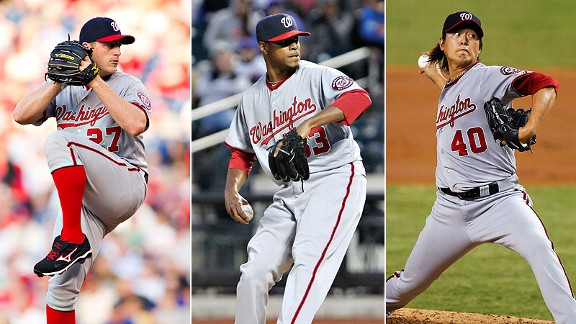 US Presswire/Getty Images

The Mets face (l to r) Jordan Zimmermann, Edwin Jackson and Chien-Ming Wang with first place at stake in D.C.

METS (31-24, third place/NL East) vs. WASHINGTON NATIONALS (30-22, first place/NL East)

Tuesday: RHP Chris Young (1-0, 1.88 in 2011) vs. RHP Jordan Zimmermann (3-5, 2.80), 7:10 p.m. ET

Wednesday: RHP Jeremy Hefner (1-2, 5.60) vs. RHP Edwin Jackson (1-3, 3.17), 7:10 p.m. ET

Thursday: RHP R.A. Dickey (8-1, 2.69) vs. RHP Chien-Ming Wang (1-1, 6.43), 1:10 p.m. ET

Nationals short hops

• Bryce Harper, who made his major league debut on April 28 at Dodger Stadium, is hitting .386 with three homers in his past 12 games. Harper is the reigning NL Rookie of the Month. The team leader in OBP at .380 and OPS at .922, he was drafted first overall two years ago. If Harper can maintain that OPS for the season, he would have the highest ever in the majors for a 19-year-old, surpassing Mel Ott's .921. Fellow rookie Steve Lombardozzi (.309 average), who has settled into left field, also is off to a quick major league start.

• Closer Drew Storen (elbow) was transferred to the 60-day DL and should be out until the All-Star break. Fill-in Brad Lidge also is on the DL. The ex-Phillie began a rehab assignment following hernia surgery with Class A Potomac on Monday. He allowed three of the four batters he faced to reach base. Lidge is scripted for at least two more minor league relief appearances before returning from the disabled list. Henry Rodriguez, who had flopped as closer, has been idle since May 28 after slamming a door on his right index finger. Tyler Clippard, who primarily is handling the closing duties at this point, has converted his past four chances. Sean Burnett also converted a pair of saves last month after bailing out Rodriguez. If a situation arose with lefties due up in the ninth, Burnett might close over Clippard.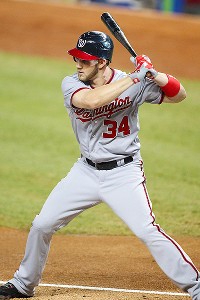 Zuma Press/Icon SMI
Bryce Harper has been as good as advertised for the Nats.


• With Wilson Ramos out with a torn ACL, former Mets farmhand Jesus Flores -- a Rule 5 selection by the Nats in December 2006 -- has now started 23 games behind the plate. Ramos underwent surgery Friday to repair a torn meniscus, and will need a second procedure to address the ACL tear. Flores had been tormented for years by shoulder woes.

• Jayson Werth is on the 60-day DL after fracturing his left wrist in the outfield against the Phillies on May 6. Werth is expected to be sidelined until August.

• Cleanup hitter Michael Morse returned from the DL on Friday after missing the season's first two months with a strained right lat muscle. Morse is manning right field, with Harper in center and Lombardozzi in left field.

• Chien-Ming Wang will make his second start of the season Thursday. He missed the Nats' opening 42 games with a strained left hamstring. Wang allowed four runs on seven hits and three walks in four-plus innings against the Marlins last week after making one three-inning relief appearance. Wang's return bumped Ross Detwiler to the bullpen.

• The Mets miss Stephen Strasburg (6-1, 2.35 ERA) and Gio Gonzalez (7-2, 2.31), but the Nats overall still rank first in the NL in ERA (2.95) and opponent batting average (.223). Washington's 446 strikeouts are one shy of matching Milwaukee's total for the league lead. Gonzalez was named the NL Pitcher of the Month for May.

• Left-handed reliever Mike Gonzalez, who signed a minor league deal in May after recovering from offseason knee surgery, joined the Nationals on Sunday.

• Left-hander John Lannan remains at Triple-A Syracuse, where he is 4-5 with a 5.62 ERA in 10 starts. Lannan is earning $5 million this season.

• The Nats are 16-9 at home this season.

• Third baseman Ryan Zimmerman is 4-for-his-last-29. Rick Ankiel, now coming off the bench, is 1-for-13 in his past six games.

• The Nats selected Santa Monica, Calif., prep right-hander Lucas Giolito in the draft Monday night, with the 16th overall pick. He was projected to be the top pick a few months back, before an elbow issue prematurely ended his senior season.

Last series results

Washington won, 2-1, at Citi Field, April 9-11 (AP game recaps)

Mets 4, Nats 3: Daniel Murphy singled home the winning run in the ninth inning and the undefeated Mets took advantage of a throwing error by reliever Henry Rodriguez. Kirk Nieuwenhuis hit his first major league homer for the Mets, who are 4-0 for the first time since 2007. After a surprising sweep of Atlanta, New York rallied from a three-run deficit. Several fans filed out chanting "Undefeated! Undefeated!" Miguel Batista got out of trouble in the sixth, Ramon Ramirez escaped a seventh-inning jam with a double-play ball and Jon Rauch (1-0) worked two hitless innings for his first win with New York. David Wright's right pinkie was broken when he dived back to a base. More

Nats 6, Mets 2: Ross Detwiler (1-0) allowed two hits in five scoreless innings, struck out six and walked one, denying the Mets what would have been their first 5-0 start since 1985. Ian Desmond homered off Dillon Gee (0-1) leading off the game, and Jayson Werth had four of the Nationals' 13 hits and drove in a run. Werth began the season hitting 1-for-14. After Desmond's early homer, Werth's RBI single made it 2-0 in the sixth. Bobby Parnell relieved with two on, Daniel Murphy booted a grounder at second base for an error as Werth scored, and Wilson Ramos' RBI double made it 4-0. More

Nats 4, Mets 0: The Nats let young ace Stephen Strasburg go past 100 pitches for the first time in the major leagues and he worked his way out of a two-on, one-out jam in the sixth inning of a one-run ballgame. Strasburg threw 108 pitches in outlasting Johan Santana for six innings in a marquee matchup of aces on the mend, and the Nationals' bullpen made the lead stand up on the 50th anniversary of the Mets' first game. Strasburg allowed two hits and struck out nine. Santana (0-1) allowed five hits in five-plus innings. His wild pitch gave Washington a 1-0 lead in the second inning. New York had only three hits, and Mets pitchers combined to walk 10 and hit one batter. New York's bullpen gave up two bases-loaded walks and an RBI grounder to Chad Tracy in the eighth. More


---