Friday, June 8, 2012
Series preview: Mets at Yankees

---
By Adam Rubin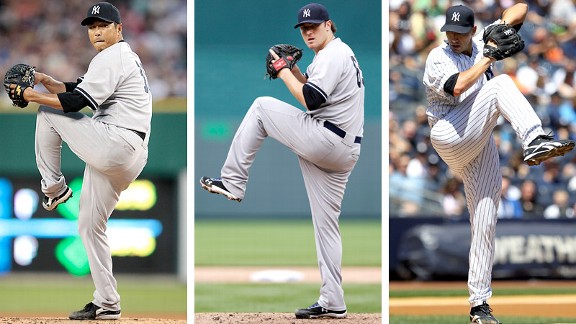 Getty Images

The Mets face (l to r) Hiroki Kuroda, Phil Hughes and Andy Pettitte in the Subway Series.

METS (32-26, third place/NL East) vs. NEW YORK YANKEES (31-25, second place/AL East)

Friday: LHP Johan Santana (3-2, 2.38) vs. RHP Hiroki Kuroda (4-6, 3.82), 7:05 p.m. ET

Saturday: RHP Dillon Gee (4-3, 4.48) vs. RHP Phil Hughes (5-5, 4.96), 7:15 p.m. ET

Sunday: LHP Jon Niese (4-2, 4.11) vs. LHP Andy Pettitte (3-2, 2.78), 1:05 p.m. ET

Yankees short hops

• With a blood clot issue behind him, Mariano Rivera is due to undergo surgery Tuesday to repair a torn ACL. David Robertson, who briefly took over the closing role before suffering a left oblique strain, may begin a rehab assignment soon. Rafael Soriano now is effectively handling the closing role. Since Rivera became Yankees closer in 1997, the most saves in a season by another Yankees pitcher were Steve Karsay's 12 in 2002. Soriano now has eight.

• Ex-Met Ryota Igarashi, a waiver claim by the Yankees from Toronto, has been promoted from Triple-A. He replaces long man Freddy Garcia, another ex-Met, who went on bereavement leave because of his grandfather's death in Venezuela. Igarashi was 0-1 with a 3.60 ERA and had 11 strikeouts in five innings spanning three appearances with Scranton/Wilkes-Barre.

• Andy Pettitte, back from retirement, enters the Subway Series having limited Tampa Bay to two hits in 7 1/3 scoreless innings in his most recent outing. Pettitte -- who turns 40 next Friday -- has struck out 32 batters in 35 2/3 innings over five starts while producing a 2.78 ERA.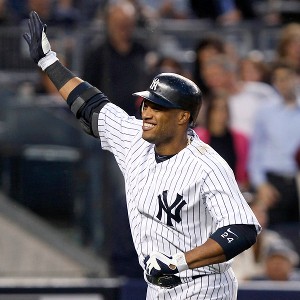 Seth Wenig/Associated Press
Robinson Cano has six homers in his past 18 games.


• Derek Jeter is 0-for-his-last-13. That is the captain's longest streak since going hitless in 14 straight at-bats from May 14-17, 2011. Jeter (.319) nonetheless is second in MLB with 75 hits, tied with Miguel Cabrera and trailing only Melky Cabrera (87). Jeter leads in the balloting among American League shortstops in the first All-Star Game voting totals announced. Mark Teixeira, Robinson Cano and Curtis Granderson rank second at their positions, which would make Granderson a starting outfielder.

• Phil Hughes tossed a complete game against Detroit, allowing one run, in his most recent start.

• Granderson has played every inning for the Yankees this season. The only other players to have logged every defensive inning for their teams have played this season, according to the Elias Sports Bureau: Dan Uggla, Adam Jones and Starlin Castro. Granderson did go 0-for-5 and matched a career high with four strikeouts Thursday against Tampa Bay. He has 22 homers against left-handed pitching since the start of last season, the most in the majors during that span.

• The Yankees have the best all-time winning percentage in interleague play (.592, 158-109). The Chicago White Sox rank second at .586, followed by the Los Angeles Angels (.569), Boston Red Sox (.567) and Minnesota Twins (.562).

• The Yankees have struggled with runners in scoring position, hitting .217 (103-for-474) this season. Cleanup hitter Alex Rodriguez has only 22 RBIs in 207 at-bats in 2012. Despite errors by A-Rod and Nick Swisher on Thursday, the Yankees have been solid in the field, though. Their 22 errors are the fewest in the majors.

• Hiroki Kuroda, who signed a one-year, $10 million deal during the offseason, has been wildly uneven, despite allowing two earned runs of fewer in seven of 11 starts. He has been prone to the long ball, having surrendered 11 homers in 68 1/3 innings. From 2008 to 2010 with the Dodgers, Kuroda allowed an average of 13.3 homers per season. Kuroda has a 7.36 ERA in the first inning. Only three current American League pitchers have more losses against the Mets than Kuroda's five -- Carl Pavano (seven), Derek Lowe (six) and Kevin Millwood (six).

• Teixeira visited an ear, nose and throat specialist to determine the cause of a cough that won't go away. The verdict: Texeira has residual nerve damage to a vocal cord from a bronchial illness. Teixeira, despite a slow start, has 10 homers.

• Brett Gardner was unable to play in a rehab game with Class A Tampa on Thursday because of a cranky elbow, all but ensuring he will remain on the DL through the Subway Series. Lefty-hitting Raul Ibanez, in his first season as a Yankee, at 40 years old, has stepped into the primarily left-field role and flashed power (9 homers in 153 ABs). Righty-hitting Jayson Nix picks up some starts against southpaws.

• Cano has been streaky. He has six homers in his past 18 games. He had only three in his first 38 games.

• Catcher Russell Martin, who delivered a grand slam Tuesday against the Rays, homered for the second time in the series Thursday. He is hitting .357 (10-for-28) with seven RBIs in his past nine games. That has lifted his average from .173 to .210.

Last series results

Yankees won, 2-1, at Citi Field, July 1-3, 2011 (AP game recaps)

Yankees 5, Mets 1: Filling in for injured Derek Jeter, Eduardo Nunez got the big hits and made a clutch throw. Nunez had an RBI single among his career-high four hits and threw out Jose Reyes at third base on a favorable call for the Yankees. Mark Teixeira hit a two-run double, and Alex Rodriguez and Robinson Cano added RBI doubles. Ivan Nova (8-4) and six relievers stifled a Mets offense that scored 54 runs in its past five games. Jon Niese (7-7) was pitching for the first time since leaving his start June 25, 2011 with a rapid heartbeat. After giving up three runs in the first, he shut down the Yankees through six innings. More

Yankees 5, Mets 2: Eduardo Nunez homered in his latest big game at the plate and Bartolo Colon came off the DL to pitch six scoreless innings. Subbing at shortstop, Nunez is 7-for-8 with a homer and three doubles in the first two games of the series. Jose Reyes departed after two innings with tightness in his left hamstring. Held scoreless for the first five innings, the Yankees touched up rookie Dillon Gee (8-2) with four straight sharp hits in a four-run sixth. Curtis Granderson lifted a 1-2 pitch to right for his 22nd homer before Mark Teixeira and Alex Rodriguez singled. Robison Cano ripped a two-run triple and Nick Swisher followed with a sacrifice fly. Nunez added a solo homer off Tim Byrdak in the ninth to make it 5-0. More

Mets 3, Yankees 2 (10 innings): Down to their last strike against Mariano Rivera, the Mets wouldn't wilt. Pinch-hitter Ronny Paulino came through with a tying single off Rivera, Jason Bay drove home the winning run and the Mets ended the Yankees' seven-game winning streak. Playing without Jose Reyes, the Mets were shut down by Freddy Garcia for seven innings before rallying against Rivera in the ninth to avoid a Subway Series sweep at Citi Field. With two outs and nobody on in the ninth, Bay walked on a full count. He went to third on Lucas Duda's single and scored the tying run when Paulino punched a 1-2 pitch through the right side. More


---