Friday, July 13, 2012
Series preview: Mets at Braves

---
By Adam Rubin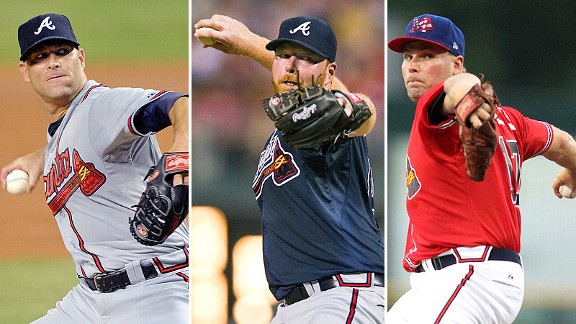 Getty Images/Associated Press

The Mets face (l to r) Tim Hudson, Tommy Hanson and Ben Sheets during a weekend series at Turner Field.

METS (46-40, third place/NL East) vs. ATLANTA BRAVES (46-39, second place/NL East)

Friday: RHP Chris Young (2-2, 3.41) vs. RHP Tim Hudson (7-4, 3.56), 7:35 p.m. ET

Saturday: RHP R.A. Dickey (12-1, 2.40) vs. RHP Tommy Hanson (10-5, 3.71), 4:05 p.m. ET

Sunday: LHP Johan Santana (6-5, 3.24) vs. RHP Ben Sheets (0-1, 5.06 at Double-A Mississippi), 1:35 p.m. ET

Braves short hops

• Retiring Chipper Jones' farewell tour took him to the All-Star Game as a selection for the eighth and final time. Jones addressed the National Leaguers pregame. "I was honored that Tony [La Russa] asked me to say something, and I just wanted the guys to know that nothing's a given, you don't know when your last one's going to be," Jones told the Atlanta Journal-Constitution. "Soak up this opportunity. I quoted the late, great Lou Brown in 'Major League,' saying 'Two's nice, but three's a winning streak.' [In the All-Star Game] we got on a little bit of a roll and we've won three in a row. Somebody in this clubhouse is going to be real happy to have home-field advantage come October."

The Braves will have a Sept. 28 ceremony to honor Jones before facing -- you guessed it -- the Mets. (The Amazin's happen to be the final home series for the Braves during the regular season.)

• Second baseman Dan Uggla, center fielder Michael Bourn and closer Craig Kimbrel also represented the Braves in Kansas City. Bourn replaced Nats shortstop Ian Desmond.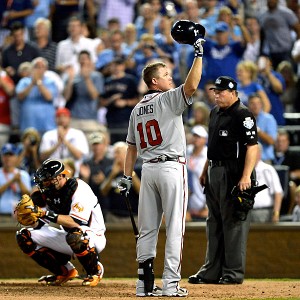 David Eulit/Getty Images
Chipper Jones had his final All-Star appearance Tuesday.


• On Sunday, ex-Brewer Ben Sheets will make his first major league start since July 19, 2010, when he was with Oakland. Sheets has undergone a pair of elbow surgeries. Sheets, who turns 34 on Wednesday, signed a minor league deal with Atlanta on July 1. In two starts with Double-A Mississippi, he allowed seven runs (six earned) on 12 hits, a walk and a hit batter while striking out 10 in 10 2/3 innings. Sheets will bump either Mike Minor or Randall Delgado from the rotation.

• Tim Hudson has received two cortisone shots in the past month to try to alleviate left ankle discomfort. The second injection came last Friday, after Hudson nonetheless blanked the Phillies for seven innings in what eventually became a weekend sweep. Hudson reportedly has bone spurs in the ankle, but will wait until the offseason for surgery.

• Defensive whiz Andrelton Simmons suffered a broken right pinkie on a headfirst slide into second base Sunday and was placed on the DL. The Braves will make a corresponding roster move to replace the rookie before Friday's game. Original starting shortstop Tyler Pastornicky, who is playing for Triple-A Gwinnett, is a candidate for promotion. Jack Wilson is expected to start in the series opener.

Simmons had won the NL Rookie of the Month award for June, after hitting .333 for the month. An NL scout said about Simmons' defense: "For someone as young as he is, and who has played the position as little as he has -- he was a pitcher -- it's extremely impressive to be as good as he is. In my mind, he's only going to get better." Said an AL scout: "Future star if he hits. And, defensively, already All-Star type."

• Catcher Brian McCann homered in his final four games of the first half.

• Left fielder Martin Prado's .321 average ranks seventh in the National League. Since May 8, Prado is hitting .349 and has a .399 on-base percentage and 21 RBIs. He has nine steals without being caught during that 55-game span.

• Left-handed reliever Jonny Venters landed on the disabled list July 5 with elbow inflammation. Luis Avilan was promoted to fill a lefty relief role.

• Jair Jurrjens, who will not face the Mets, is 3-0 with a 2.13 ERA in four starts since returning from a two-month stint in the minors.

• Right fielder Jason Heyward has 14 homers, matching his 2011 total.

Last series results

Atlanta won, 2-1, at Turner Field, April 16-18 (AP game recaps)

Mets 6, Braves 1: Ike Davis hit a tiebreaking three-run homer and Dillon Gee pitched four-hit ball over seven innings. With the game tied at 1 in the sixth, Atlanta intentionally walked hot-hitting David Wright with two outs to get to Davis -- a move that certainly made sense, given the first baseman was batting just .118. The strategy backfired when Davis drove a 2-2 curve from Tommy Hanson (1-2) it into the right-field seats. More

Braves 9, Mets 3: The Braves handed Johan Santana the shortest start of his career. Two costly errors -- Jason Bay dropped a fly ball, Ike Davis made a wild throw -- led to a pair of unearned runs against Santana (0-2), who had allowed just one run in his first two games. He was lifted after 1 1/3 innings, finished off by Jason Heyward's run-scoring single that made it 6-0. Santana had never gone less than three innings in his previous 265 starts. Santana remembered that his last appearance in 2010 before undergoing major elbow surgery also came at Turner Field. More

Braves 14, Mets 6: Dan Uggla, Juan Francisco and Freddie Freeman hit two-run homers off R.A. Dickey. Uggla had been 0-for-24 against the knuckleballer before his long ball capped a four-run third and gave Atlanta a 6-3 lead. Francisco homered in the second and Freeman hit an opposite-field drive to left in the fifth, his first of the season. That chased Dickey (2-1), who allowed eight runs and eight hits in 4 1/3 innings in his worst outing in four years. There was light rain through the early innings, making it more difficult for Dickey to grip his knuckleball. More


---