Friday, July 20, 2012
Series preview: Mets vs. Dodgers

---
By Adam Rubin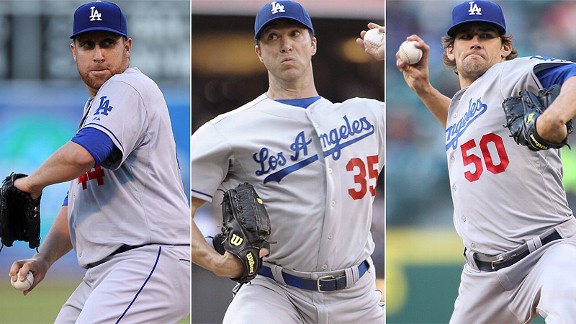 Getty Images

The Mets face (l to r) Aaron Harang, Chris Capuano and Nathan Eovaldi this weekend.

METS (47-45, third place/NL East) vs. LOS ANGELES DODGERS (49-44, second place/NL West)

Friday: LHP Johan Santana (6-6, 3.59) vs. RHP Aaron Harang (6-5, 3.53), 7:10 p.m. ET

Saturday: RHP Miguel Batista (1-2, 4.33) vs. LHP Chris Capuano (9-5, 2.75), 1:10 p.m. ET

Sunday: LHP Jon Niese (7-4, 3.58) vs. RHP Nathan Eovaldi (1-6, 4.33), 1:10 p.m. ET

Dodgers short hops

• Right fielder Andre Ethier and center fielder Matt Kemp, both of whom missed the series against the Mets in Los Angeles, returned to the Dodgers after the All-Star break. The Dodgers went 24-27 in the games Kemp missed with a left hamstring strain. He had been the NL's Player of the Month for April and had produced gaudy numbers before the injury: .355, 12 homers and 28 RBIs in 36 games. Ethier had suffered a left oblique strain on June 28.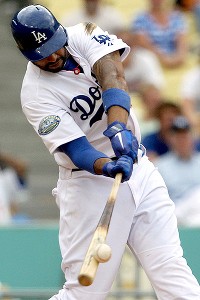 Reed Saxon/Associated Press
Matt Kemp returned from the disabled list after the All-Star break. He had missed 51 games.


Kemp is hitting .348 with a homer and three RBIs in five starts since returning. Ethier is hitting .350 with a homer and four RBIs in six games (five starts).

• Various reports indicate the Dodgers are in serious discussions with the Cubs about acquiring right-hander Ryan Dempster (5-3, NL-leading 1.86 ERA).

• Chad Billingsley is suffering from right flexor tendon inflammation. Meanwhile, Ted Lilly remains on the DL with shoulder inflammation. Stephen Fife made his major league debut Tuesday against the Phillies, allowing one run in six innings. Billingsley was scratched from Sunday's start, and Chris Capuano pitched a day early.

• The Mets are the lone NL team Capuano has never beaten.

• Third baseman Juan Uribe is 1-for-35 in his past 16 games.

• First baseman James Loney has not homered in 45 games and 128 at-bats.

• Reliever Todd Coffey underwent Tommy John surgery Wednesday.

Last series results

Mets won, 3-1, at Dodger Stadium, June 28-July 1 (AP game recaps)

Mets 3, Dodgers 2: In their first head-to-head matchup since Chris Capuano left for free agency, Chris Young and the Mets came away with the victory. David Wright hit a solo homer and RBI double as the Mets sent the Dodgers to their fifth straight loss. The Dodgers ended their 33-inning scoreless drought in the fourth, with Dee Gordon getting congratulated up and down the dugout after crossing the plate. Young (2-1) allowed two runs and six hits in 6 1/3 innings. Bobby Parnell, getting his first save opportunity since closer Frank Francisco went on the disabled list, pitched a perfect ninth inning for his first save of the year. Capuano (9-3) gave up three runs, five hits and no walks over seven innings. More

Mets 9, Dodgers 0: R.A. Dickey allowed three hits over eight innings to become the majors' first 12-game winner. Daniel Murphy homered and drove in five runs. The Dodgers' only hit over the first 6 1/3 innings was by opposing pitcher Aaron Harang, a two-out single in the second that fell between Kirk Niewenhuis and Andres Torres after some miscommunication. A.J. Ellis singled in the seventh and Tony Gwynn Jr. doubled in the eighth. More

Mets 5, Dodgers 0: Johan Santana scattered three hits over eight innings and sent the Dodgers to their seventh straight loss. Santana is 5-0 with a 0.50 ERA in five career starts against the Dodgers, who were again missing Matt Kemp, Andre Ethier and Mark Ellis. They haven't led at any point of a game since June 24. Ike Davis hit a three-run homer. Nathan Eovaldi (0-5) gave up five runs and seven hits in 5 1/3 innings. More

Dodgers 8, Mets 3: James Loney had two RBIs, and the Dodgers parlayed three errors into six unearned runs to help Clayton Kershaw win and snap the team's season-worst seven-game skid. Kershaw (6-4) allowed three runs (one earned) and five hits over seven innings. Terry Collins rested Ike Davis and Daniel Murphy in order to stack his lineup with all right-handed bats against Kershaw. The plan backfired in the fifth, when the Dodgers turned two errors by the right side of the infield into a pair of unearned runs that tied the score at 3 -- without the benefit of a hit. Second baseman Ronny Cedeno dropped a routine throw from David Wright on a potential double-play grounder by Tony Gwynn Jr. And Dee Gordon's grounder was misplayed by Justin Turner at first base. More


---