Monday, July 23, 2012
Series preview: Mets vs. Nats

---
By Adam Rubin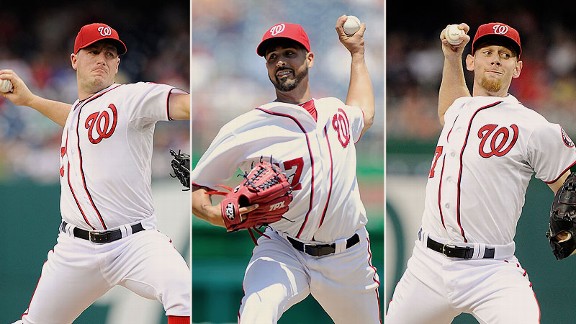 Getty Images

The Mets face (l to r) Nationals aces Jordan Zimmermann, Gio Gonzalez and Stephen Strasburg at Citi Field.

METS (47-48, third place/NL East) vs. WASHINGTON NATIONALS (55-39, first place/NL East)

Monday: RHP Chris Young (2-4, 4.11) vs. RHP Jordan Zimmermann (7-6, 2.35), 7:10 p.m. ET

Tuesday: RHP R.A. Dickey (13-1, 2.84) vs. LHP Gio Gonzalez (12-5, 3.32), 7:10 p.m. ET

Wednesday: RHP Jeremy Hefner (1-3, 5.85) vs. RHP Stephen Strasburg (10-4, 2.85), 12:10 p.m. ET

Nationals short hops

• After struggling with a left oblique injury since mid-June, shortstop Ian Desmond landed on the disabled list Sunday, officially with a tear, which was more severe than expected when viewed on an MRI. Desmond (.286, 17 HR, 53 RBIs) is expected to miss at least a month. Danny Espinosa moves from second base to handle shortstop. The trickledown includes Steve Lombardozzi manning second base, Michael Morse in left field, Roger Bernadina in center field and Bryce Harper right field. Lombardozzi had been getting significant action in left field, with Harper in center field. Mark DeRosa now is the backup middle infielder.

• Outfielder Corey Brown will be promoted from Triple-A Syracuse to take Desmond's roster spot. Brown was acquired from Oakland on Dec. 16, 2010 with Henry Rodriguez for outfielder Josh Willingham. He was hitting .300 with 21 homers and 58 RBIs in 370 at-bats in the International League.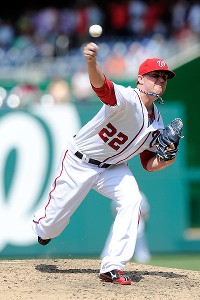 Greg Fiume/Getty Images
Drew Storen was activated last week after missing the season's first 89 games.


• Third baseman Ryan Zimmerman's surge continued Sunday with two homers. Zimmerman is hitting .418 with nine homers, 19 RBIs and a .910 slugging percentage in July.

• Harper returned to the starting lineup Sunday despite fouling a ball off his left ankle during a bunt attempt in Game 1 of Saturday's doubleheader. He departed that game after two innings, but reappeared off the bench in the nightcap. X-rays on Saturday were negative and Harper was diagnosed with a bruise. Harper went 1-for-5 in the series finale against Atlanta and is hitting .189 (7-for-37) with one RBI in his past 10 games (nine starts).

• The Nats won the final two games of their four-game weekend series against the second-place Braves to earn a split. Washington had squandered a 9-0 lead in the series opener en route to an 11-10 loss in 11 innings. Davey Johnson described his bullpen handling as the worst managerial job of his career.

Left-hander John Lannan, who despite a $5 million salary had spent the entire season in Triple-A (posting a 4.89 ERA with Syracuse), made a spot start in Saturday's doubleheader nightcap. Lannan got things back on track for the Nats by limiting the Braves to two runs on five hits and two walks in seven innings. Lannan returned to the minors after the game. MLB teams can add a 26th active player for doubleheaders as part of the new collective bargaining agreement.

• The Nats designated Rick Ankiel and Xavier Nady for assignment last week. Nady had just completed a 20-day rehab assignment for a wrist strain. Ankiel's departure came to make room for the return of closer Drew Storen, who had missed the season's first 89 games following surgery to remove a bone spur from his pitching elbow.

• Neither of Storen's two appearances since returning has come in a closing capacity. Meanwhile, fill-in closer Tyler Clippard's recent struggles continued beyond last week's Mets series, which included homers by Jordany Valdespin, David Wright and Jason Bay in a two-day span. Clippard allowed a two-run triple in the ninth to Michael Bourn on Friday as the Braves overcame the nine-run deficit to hand a lead to Craig Kimbrel. Clippard walked Dan Uggla, delivered a wild pitch, then hit Paul Janish with a pitch preceding Bourn's two-RBI triple.

• Jayson Werth began a rehab assignment Saturday with Class A Potomac. Werth had been sidelined since breaking his left wrist on May 6 and undergoing surgery.

• Stephen Strasburg allowed four runs on eight hits and three walks in 5 1/3 innings in the 11-10 loss to the Braves as his season innings count climbed to 110 1/3. The outing came on his 24th birthday.

Last series results

Washington won, 2-1, at Nationals Park, July 17-19 (AP game recaps)

Nats 5, Mets 4 (10 innings): Ross Detwiler and Sean Burnett had shut out the Mets over eight innings, but Tyler Clippard allowed a three-run homer to pinch-hitter Jordany Valdespin in the ninth. After the Nationals tied it 3-3 in the bottom half, the Mets went ahead in the top of the 10th. Then a madcap finish ensued. Tyler Moore stood at the plate when Pedro Beato threw a wild pitch with the bases loaded that allowed Ryan Zimmerman to score the winning run. Bryce Harper had tied it with a run-scoring triple off Tim Byrdak (2-1) before Beato entered with the bases loaded. More

Nats 4, Mets 3: Jordan Zimmermann pitched six scoreless innings, Adam LaRoche hit a two-run homer and the Nationals hung on. Steve Lombardozzi added a two-run double for a 4-1 lead in the seventh as Washington handed a sixth straight loss to the Mets, who held a team meeting before the game. In the top of the seventh, Tom Gorzelanny had allowed a one-out double to Lucas Duda, who scored on Andres Torres' single. Sean Burnett worked a scoreless eighth. Tyler Clippard, who blew his third save in the series opener, allowed solo homers in the ninth to David Wright and Jason Bay. Clippard then struck out Jordany Valdespin for his 15th save in 18 chances. More

Mets 9, Nats 5: David Wright homered twice and had five RBIs and R.A. Dickey won his 13th game as the Mets broke a six-game losing streak. Dickey (13-1) pitched 7 1/3 innings. He gave up four runs (three earned) and 10 hits. He walked one and struck out five. The Mets staked him to a 9-1 lead. More


---