Thursday, July 26, 2012
Series preview: Mets at Diamondbacks

---
By Adam Rubin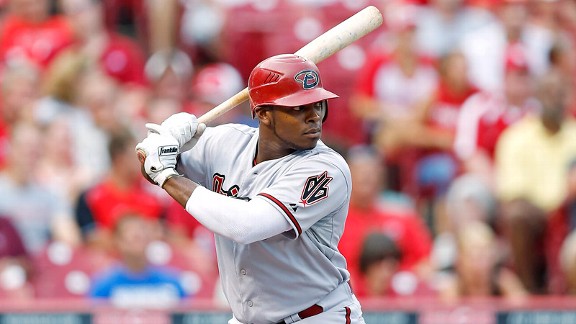 Joe Robbins/Getty Images

Justin Upton may be shipped out of Arizona, although during the offseason appears far more likely.

METS (47-51, third place/NL East) vs. ARIZONA DIAMONDBACKS (49-49, third place/NL West)

Thursday: RHP Matt Harvey (7-5, 3.68 at Triple-A Buffalo) vs. LHP Wade Miley (11-5, 3.02), 9:40 p.m. ET

Friday: LHP Jon Niese (7-4, 3.59) vs. RHP Josh Collmenter (2-2, 3.82), 9:40 p.m. ET

Saturday: RHP Chris Young (2-4, 3.91) vs. RHP Ian Kennedy (8-8, 4.20), 8:10 p.m. ET

Sunday: RHP R.A. Dickey (13-2, 2.97) vs. LHP Joe Saunders (5-6, 3.51), 4:10 p.m. ET

Diamondbacks short hops

• Arizona traded fan-favorite Ryan Roberts to the Rays on Tuesday for minor league infielder Tyler Bortnick. Roberts was a primary culprit for the Diamondbacks' underwhelming offensive production from third base. Arizona's .625 OPS from players manning that position this season ranks 15th in the NL, ahead of only Philadelphia (.598). Geoff Blum, who was 4-for-28 this season, was released last week.

The left side of the infield now should be shared by Willie Bloomquist, Stephen Drew, John McDonald and newly promoted Ryan Wheeler. Wheeler hit .351 with 15 homers and 90 RBIs in 362 at-bats in Triple-A, although Reno's numbers are inflated by the high altitude. The Astros, who bunt a lot anyway, tested the offensive-minded Wheeler's fielding at third base during the weekend. McDonald just returned from a strained oblique.

The departure of Roberts lessens the likelihood of an in-season trade involving the shortstop Drew, who made his season debut June 27 after recovering from a broken right ankle. Still, Drew (.209, 0 HR in 67 at-bats) is likely in his final season with Arizona. There is a $10 million mutual option for next season.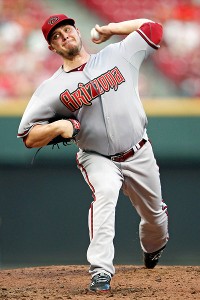 Frank Victores/US Presswire
Left-hander Wade Miley became an NL All-Star as a rookie.


• Left-hander Wade Miley, an NL All-Star, owns the franchise rookie record for wins with 11. He is tied with Yu Darvish for the major league lead in wins among rookies. Miley's 3.02 ERA narrowly is second among rookies to Oakland's Jarrod Parker (3.00). Miley, 25, made the Opening Day roster because of a spring-training injury to Takashi Saito. He excelled as a long reliever in the middle innings after Josh Collmenter was knocked out early from starts. Miley stepped into the rotation April 23 once Daniel Hudson landed on the DL. Hudson underwent Tommy John surgery July 9.

• The 42-year-old Saito made his season debut Saturday after dealing with calf and shoulder injuries as well as a severe case of the flu.

• Left fielder Jason Kubel homered Wednesday for the 11th time in July. That is the third-highest total for a month in franchise history, trailing Luis Gonzalez's 13 in April 2001 and Gonzalez's 12 two months later. The ex-Twin Kubel signed a two-year, $16 million deal in December that had garnered some criticism because it pushed 2011 Gold Glove winner Gerardo Parra to being a fourth outfielder. But Kubel is now hitting .298 with 22 homers for the season, more than justifying the signing.

• Two-time All-Star Justin Upton appears destined to be traded, although most likely not until the offseason. The 24-year-old right fielder is signed through 2015, at salaries of $9.75 million, $14.25 million and $14.5 million the next three years. GM Kevin Towers apparently does not see Upton as a centerpiece player to build around, so Upton could be a chip to address deficiencies on the left side of the infield. The Diamondbacks have plenty of outfield depth, including prospects A.J. Pollock and Adam Eaton at Triple-A Reno.

• Collmenter reentered the rotation Sunday against Houston. Struggling Trevor Bauer was demoted.

• Right-handed reliever Brad Bergesen made his Diamondbacks debut Sunday with a scoreless inning against the Astros, two days after being claimed off waivers from Baltimore. Bergesen had been 4-3 with a 4.03 ERA in 22 games (10 starts) for Triple-A Norfolk this season.

Last series results

Mets won, 2-1, at Citi Field, May 4-6 (AP game recaps)

Diamondbacks 5, Mets 4: Justin Upton started an eighth-inning rally when his grounder got past Mets first baseman Ike Davis for an error. Tim Byrdak relieved Bobby Parnell and walked Jason Kubel. A strikeout later, Mets manager Terry Collins brought in Jon Rauch (3-1) and Paul Goldschmidt laced a two-run double. Cody Ransom followed with an RBI single. Ransom hit a long homer -- his third -- off starter Dillon Gee in the second inning to give NL rookie of the month for April Wade Miley a 2-0 lead. But the Mets scored four times in the third -- more earned runs then Miley had given up in five appearance total this season (three) coming in. Miley gave up four runs in six innings. More

Mets 4, Diamondbacks 3: Mike Nickeas and Andres Torres each hit a two-run single as Johan Santana earned his first victory since Sept. 2, 2010, before his shoulder injury wiped out last season. Santana (1-2) allowed nine hits but gave up only three runs, striking out five and walking one in his longest outing since the surgery. Daniel Murphy went 4-for-4 for the second four-hit game of his career. More

Mets 3, Diamondbacks 1: Three outs from his third career shutout, R. A. Dickey walked the leadoff hitter in the ninth inning and gave up an RBI double. Dickey nonetheless combined with two relievers on a four-hitter. More


---