Thursday, July 26, 2012
Scouting report on D-backs' best

---
By Mark Simon, ESPN Stats & Information

At some point in the whirlwind that is taking place for new Mets pitcher Matt Harvey leading up to tonight's 9:40 p.m. start, he'll be in his first meeting with coaches and catchers, who work with the pitching staff to devise a game plan.

Harvey's role in this meeting is to play the role of sponge, to absorb what he can without being overwhelmed. He'll be facing a team with a very potent offense, one that ranks in the top three in each of the slashline stats (batting average, on-base percentage and slugging percentage).

This is especially true at Chase Field, which ranks among the most hitter-friendly parks in ESPN.com's Park Factors.

What are some of the things he'll likely hear about?

Let's use our pitch-performance data, heat maps, and video examples as the basis to imagine some of the things that will be brought up. We'll put the stats that may lead to those choices in parenthesis.

Jason Kubel
Overall: .298 BA, 22 HR, 72 RBI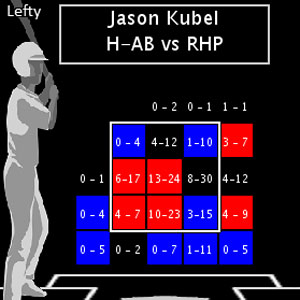 vs RHP: .298 BA

Kubel is the least-likely Diamondback to swing at the first pitch.

In particular, he almost never swings if you throw it to the outside corner. (He's swung at one of every 10 first-pitches on the outer-third or further away all season, among the lowest rates in baseball).

That said, he does have four first-pitch homers this season, so if you throw him one right down the middle, he'll crush it.

If you make a mistake middle-in or down-and-in to Kubel, he'll make you pay, as he did a few days ago against the Astros.

He will also be very smart about expanding the strike zone on pitches away. He's hit five home runs on pitches that were out of the strike zone, off the outside corner (no one else in the majors has more than three).

There will be a shift in the infield to help out, because his hitting tendencies warrant it (43 of his 49 ground-balls against righties have been to the right of second base).

Kubel's susceptibility is the the really-good slider down-and-in (two starts ago in a game televised on SNY, Harvey relied primarily on his fastball, changeup, and curveball. However reports indicate he does throw a slider).

If you get to a two-strike count, chances are your catcher will call for a pitch inside. Just keep the ball down and you should be ok.

Paul Goldschmidt
Overall: .288 BA, 13 HR, 46 RBI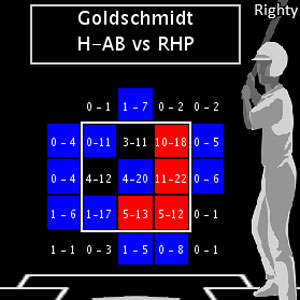 vs RHP: .245 BA

You can come after Goldschmidt with fastballs. Lefties can't, but righties should be willing to so.

Be very careful about pitching him inside. He is one of the best in baseball against the inner-third of the strike zone, regardless of whether he's facing a righty or lefty (he's hitting .342 against inner-third pitches).

You can try to jam him, because he stands far off the plate, but make sure you miss enough off the inside corner and not over the middle.

If Goldschmidt comes up with a runner in scoring position, he becomes a very aggressive swinger. He is the most likely of their big hitters to swing at a first pitch in that situation.

If you have your good sinker going, he will be vulnerable to it, and will almost certainly pound it into the ground. He's also going to have a hard time reaching anything you throw down-and-away or up-and-away.

Justin Upton
Overall: .272 BA, 8 HR, 41 RBI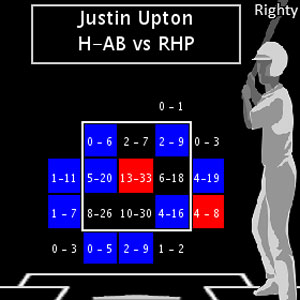 vs RHP: .270 BA

Upton is still dangerous, though he's not hitting for power like he did last season.

You can challenge him with a fastball now, because he's less likely to hit it out of the ballpark (he had 12 home runs against fastballs from righties last season, but just three this year).

Upton been much more protective of the plate the last six weeks than he was earlier in the season, when he was willingly watching strike three go by him.

The best approach with two strikes may be to blow the fastball by him, or drop in a curveball.

He hasn't gotten a hit against a two-strike hook all season (he's had 18 at-bats end with a curve, 10 versus right-handed pitchers).


---