Monday, July 30, 2012
Series preview: Mets at Giants

---
By Adam Rubin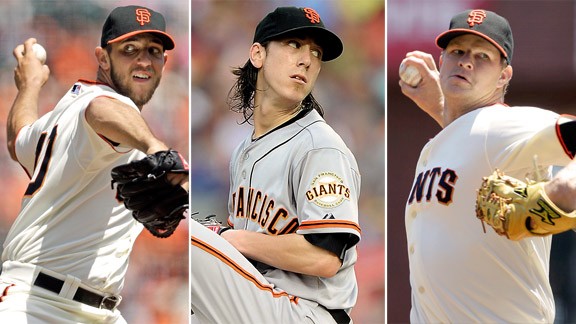 Associated Press/Getty Images

The Mets face (l to r) Madison Bumgarner, Tim Lincecum and Matt Cain during the opening three games of a series in San Francisco.

METS (49-53, third place/NL East) vs. SAN FRANCISCO GIANTS (55-46, first place/NL West)

Monday: RHP Jeremy Hefner (1-4, 5.40) vs. LHP Madison Bumgarner (11-6, 3.10), 10:15 p.m. ET

Tuesday: RHP Matt Harvey (1-0, 0.00) vs. RHP Tim Lincecum (4-11, 5.88), 10:15 p.m. ET

Wednesday: LHP Jon Niese (7-5, 3.86) vs. RHP Matt Cain (10-3, 2.80), 10:15 p.m. ET

Thursday: RHP Chris Young (2-5, 4.58) vs. LHP Barry Zito (8-7, 3.89), 3:45 p.m. ET

Giants short hops

• Infielder Marco Scutaro made his Giants debut Saturday, starting at third base. Scutaro was acquired from the Rockies for 23-year-old infielder Charlie Culberson. Scutaro, 36, hit .271 (102-for-377) with four homers and 30 RBIs in 95 games with Colorado. He last had manned third base in 2008 with Toronto. Scutaro had roughly $2 million remaining on his contract, which the Rockies are subsidizing. He took No. 19, pushing pitching coach Dave Righetti to No. 33.

Middle infielder Emmanuel Burriss was designated for assignment to clear the roster spot. He was hitting .214 with no homers in 131 at-bats.

Scutaro is being used at third base because NL All-Star starter Pablo Sandoval (.299, 8 HR, 33 RBIs) landed on the disabled list with a strained left hamstring. Sandoval suffered the injury while doing a split manning first base on a double play. It was Sandoval's third game appearing at first base this season.

• San Francisco TV station KPIX reports the Giants are poised to acquire Hunter Pence from the Phillies, but the San Francisco Chronicle did not corroborate the report.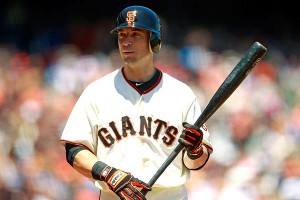 Cary Edmondson/US Presswire
Marco Scutaro made his Giants debut Saturday after being acquired from Colorado.


• Aubrey Huff (.150 in 60 at-bats) played Saturday for the first time since July 28. He missed 35 games with a sprained right knee, which he suffered jumping over the dugout railing to celebrate Matt Cain's perfect game. Huff will serve as a reserve first baseman/pinch hitter.

• Ex-Met Angel Pagan, who was shipped to San Francisco for Andres Torres and Ramon Ramirez, is hitting .218 (17-for-78) in July. Pagan was caught Sunday for only the fourth time in 21 steal attempts this season. He has started 92 of San Francisco's 101 games in center field.

• First baseman Brandon Belt went 1-for-3 Sunday, but is hitting .140 (8-for-57) with four RBIs in 21 games (13 starts) since July 3.

• After limiting Houston and Philadelphia to a combined two runs and 10 hits in 15 innings while striking out 17 and walking three in consecutive starts, Tim Lincecum was roughed up by San Diego last week. Lincecum allowed five runs in 4 2/3 innings, including homers by Chase Headley and Jesus Guzman.

• Cain's .214 opponent batting average ranked fourth in the National League entering Sunday, trailing only Washington's Gio Gonzalez (.197), San Diego's Edinson Volquez (.209) and Chicago's Ryan Dempster (.210).

• All-Star Melky Cabrera's .353 average ranks second in the NL, trailing only Pittsburgh's Andrew McCutchen (.368).

• The Dodgers completed a weekend sweep of the Giants with a 4-0 win Sunday to pull even in the NL West standings. The teams finish the season with a three-game series at Dodger Stadium from Oct. 1-3.

• A handful of Mets players noticed while watching on TV on Saturday that catcher Buster Posey is gun shy on plays at the plate after suffering last year's season-ending leg fracture. Posey stands in fair territory fielding outfield throws and tries to reach back toward the plate for the tag. The positioning added to the scoring damage against Barry Zito over the weekend.

• Hector Sanchez (left knee sprain) is likely to return from the DL on Thursday and catch Zito.

• Against Cincinnati on June 28, Madison Bumgarner became the fourth Giants pitcher age 22 or younger in the live-ball era to throw a shutout while allowing one hit or fewer, according to ESPN Stats & Information. The others: Mike McCormick in 1959, Juan Marichal in 1960 and Cain in 2006.

• With closer Brian Wilson out for season following elbow surgery, Santiago Casilla has 24 saves, which ranks third in the NL. However, Casilla has blown six chances, tied for the league high. That includes five blown saves in his past nine attempts.

• Left-handed reliever Jeremy Affeldt had an 8 1/3-inning scoreless streak and lefty batters were hitting only .136 against him this season before L.A. touched him for two runs Sunday.

• Brad Penny, who began the season with the Fukuoka Softbank Hawks in Japan, signed a minor league deal with San Francisco on May 18 and was promoted June 29. Working in relief, Penny has allowed nine runs (eight earned) on 15 hits and two walks in his past six appearances, spanning eight innings.

• Ex-Met Joaquin Arias, who had arrived in New York in a trade with Texas for Jeff Francoeur, is 3-for-his-last-45 with runners in scoring position.

• The Giants' AT&T Park will host the semifinals and finals of the World Baseball Classic during spring training.

Last series results

San Francisco won, 3-1, at Citi Field, April 20-23 (AP game recaps)

Giants 4, Mets 3 (10 innings): Clay Hensley came in and escaped a two-on, none-out jam in the 10th to preserve the win. Hector Sanchez tagged out Kirk Nieuwenhuis to prevent the Mets from winning in the ninth, then singled home the go-ahead run off Frank Francisco in the 10th. San Francisco took a 3-0 lead in the third when Angel Pagan homered in his return to New York, Buster Posey hit an RBI double and Jon Niese threw a run-scoring wild pitch. New York's first two hits off Zito were homers, by Jason Bay in the fourth and Nieuwenhuis in the fifth. Bay reached on an infield hit to deep shortstop off Santiago Casilla leading off the ninth. Javier Lopez entered and retired pinch hitter Lucas Duda, then threw a wild pitch. Nieuwenhuis walked and Josh Thole singled to drive in the tying run. More

Mets 5, Giants 4: A high popup that started twisting in the wind turned the ninth inning into an adventure at Citi Field. In one of the craziest endings imaginable, Ruben Tejada scored the winning run on a throwing error by catcher Buster Posey and the Mets won after blowing a three-run lead moments earlier. Mike Pelfrey tossed eight terrific innings, outpitching Ryan Vogelsong and helping the Mets build a 4-1 cushion. Emmanuel Burriss hit an RBI single in the ninth, but New York appeared poised to lock up a fairly simple victory when Jon Rauch entered with two outs and got pinch hitter Brandon Belt to hit a high fly to shallow center. Tejada had trouble with it immediately, though, fighting to get under the ball behind shortstop as it swirled around in the wind. Rookie center fielder Kirk Nieuwenhuis came rushing in and overran the ball, which dropped behind him for a two-run double. More

Giants 6, Mets 1
Giants 7, Mets 2: Madison Bumgarner pitched seven neat innings, Pablo Sandoval homered to match a team mark set by Willie Mays and the Giants notched a doubleheader sweep. The Giants took the opener as Tim Lincecum posted his first win of the season. Sandoval hit a three-run homer in the first inning to back Bumgarner. He has a 16-game hitting streak, tying the San Francisco record at the start of a season set by Mays in 1960, STATS LLC said. Hector Sanchez later hit his first big league homer, a two-run shot. Bumgarner (3-1) allowed one run and three hits. He won his third straight start, a streak that began shortly before the 22-year-old lefty signed a $35.56 million, six-year contract. Both games were similar: Sandoval put San Francisco ahead for good in the first inning, the Giants supported their starter with two homers, and they got plenty of pitching. Nate Schierholtz and Buster Posey homered in the opener. Schierholtz had six hits during the day, including two triples. Battered in his first three starts, Lincecum (1-2) allowed one run in five innings and struck out eight. He also walked five and gave up four hits in lowering his ERA from 10.54 to 8.20. More


---