Friday, August 3, 2012
Series preview: Mets at Padres

---
By Adam Rubin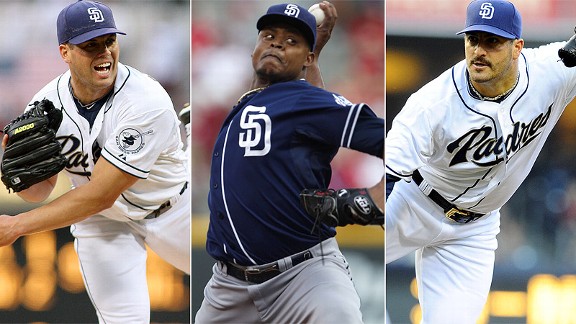 US Presswire

The Mets face (l to r) Clayton Richard, Edinson Volquez and Jason Marquis this weekend.

METS (52-54, third place/NL East) vs. SAN DIEGO PADRES (44-63, fourth place/NL West)

Friday: RHP R.A. Dickey (14-2, 2.83) vs. LHP Clayton Richard (7-11, 4.14), 10:05 p.m. ET

Saturday: RHP Jeremy Hefner (1-4, 5.52) vs. RHP Edinson Volquez (7-7, 3.51), 8:35 p.m. ET

Sunday: LHP Matt Harvey (1-1, 1.59) vs. RHP Jason Marquis (4-6, 4.08), 4:05 p.m. ET

Padres short hops

• Left fielder Carlos Quentin and closer Huston Street signed extensions one week apart before the trading deadline. Street, San Diego's All-Star representative, agreed to a two-year, $14 million extension, along with a $7 million team option for 2015. Quentin signed a three-year, $27 million deal that includes a no-trade clause.

Quentin made his season debut May 28, immediately after the Citi Field series against the Mets. He had missed the first 49 games after undergoing arthroscopic surgery on his right knee. Quentin was acquired from the Chicago White Sox on Dec. 31.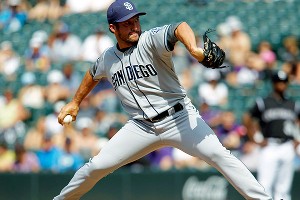 David Zalubowski/Associated Press
Closer Huston Street signed a two-year contract extension.


Street was acquired from the Colorado Rockies in a Dec. 7 trade. He has made 17 straight scoreless appearances. Opposing batters are hitting .060 (3-for-47) with three walks and 21 strikeouts during that 16-inning stretch. Street is 17-for-17 in save conversions this season.

• Despite significant trade rumblings, third baseman Chase Headley went untraded as Tuesday's deadline passed. Headley already has established a career high with 13 homers.

• Jason Marquis signed with the Padres on May 29, after producing an 8.47 ERA in seven starts with the Minnesota Twins. Marquis and Kip Wells, who had been out of baseball for the past two seasons (aside from five starts in 2010 with the independent Long Island Ducks), are now in San Diego's rotation. Tim Stauffer currently is on a rehab assignment. Joe Wieland underwent Tommy John surgery.

• Catcher Yasmani Grandal, who made his major league debut June 2, landed on the DL on Monday with a right oblique strain. Grandal, who arrived with Edinson Volquez in the December trade that sent Mat Latos to Cincinnati, had posted a .315 average, five homers and 15 RBIs in 77 at-bats during his brief major league tenure. John Baker has assumed the primary catching responsibilities. Backup Eddy Rodriguez homered in his first major league plate appearance, Thursday in Cincinnati.

• The Daily News reported the Mets turned down a trade of right-handed reliever Luke Gregerson for Daniel Murphy. Gregerson has tossed 11 2/3 straight scoreless innings.

• Shortstop Everth Cabrera is 18-for-18 in steal attempts. That is the franchise record to open a season, topping 12 successful steal attempts by Enzo Hernandez (to open the 1974 season), Rickey Henderson (1997) and Mike Cameron (2006). Cabrera also is 15-for-15 in the minors this season.

• Center fielder Cameron Maybin's July 2 homer at Arizona was estimated at 485 feet, the longest in the majors this season.

• The Padres are the lone major league team lacking a no-hitter in franchise history.

Last series results

Mets won, 3-1, at Citi Field, May 24-27 (AP game recaps)

Padres 11, Mets 5: Jesus Guzman hit a two-run double in a four-run third to help the Padres rebound from being swept in a three-game series in St. Louis. Everth Cabrera had a career-high four hits and Eric Stults (1-0) pitched five innings to earn his first win with San Diego. David Wright hit a two-run homer off Matt Palmer in the sixth. Jeremy Hefner was making his first big league start -- against the team that drafted and signed him in 2007. Pitching in the rain from the start, Hefner gave up a hit in two innings and the Mets led 1-0 on an unearned run when the rain picked up and the tarp came out. After a 68-minute rain delay, Hefner promptly gave up a double to Cabrera to restart the game. After Stults grounded out, the Padres scored four times on four straight hits. More

Mets 6, Padres 1: Mike Baxter made the play of the game 12 pitches in. The left fielder turned a potential two-run double into an inning-ending double play with a leaping catch of Jesus Guzman's drive against the wall. Dillon Gee relaxed after that and struck out a career-high nine. More

Mets 9, Padres 0: Johan Santana's four-hitter was his first shutout since returning from shoulder surgery in 2010. Mike Nickeas hit New York's first grand slam of the season, and Scott Hairston and Vinny Rottino also homered for the Mets. Ike Davis got a pinch-hit double in the eighth, giving him hits in four straight games and an RBI in three straight. More

Mets 2, Padres 0: R.A. Dickey struck out 10 to reach double digits for strikeouts in consecutive games for the first time in his career, and the Mets held the Padres scoreless for the second straight day. Tim Byrdak got two outs to finish the eighth and Frank Francisco pitched the ninth for his 13th save in 15 chances. Daniel Murphy had an RBI single and Mike Baxter scored on a passed ball as the Mets took advantage of a wild Edinson Volquez (2-5). More


---