Monday, August 6, 2012
Series preview: Mets vs. Marlins

---
By Adam Rubin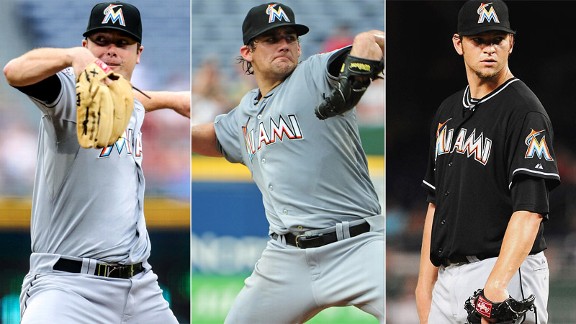 US Presswire/Getty Images

The Mets face (l to r) Wade LeBlanc, Nathan Eovaldi and Josh Johnson during the midweek series against the Marlins.

METS (53-56, third place/NL East) vs. MIAMI MARLINS (49-60, fifth place/NL East)

Tuesday: LHP Jon Niese (8-5, 3.72) vs. LHP Wade LeBlanc (1-1, 1.35), 7:10 p.m. ET

Wednesday: RHP Chris Young (3-5, 4.22) vs. RHP Nathan Eovaldi (2-7, 4.66), 7:10 p.m. ET

Thursday: RHP R.A. Dickey (14-3, 2.82) vs. RHP Josh Johnson (7-7, 3.85), 12:10 p.m. ET

Marlins short hops

• Jose Reyes takes a career-high 24-game hitting streak into the series against the Mets. It's the longest hitting streak in the majors this season, topping a 23-game streak by the Yankees' Robinson Cano from June 24 to July 20. Reyes has the fourth-longest hitting streak in Marlins history, trailing only Luis Castillo's franchise-record 35-game streak in 2002 as well as Emilio Bonifacio's 26-game streak in 2011 and Kevin Millar's 25-game streak in 2002. Reyes is hitting .371 (36-for-97) with eight doubles, two triples and four homers during the streak.

According to the Elias Sports Bureau, Reyes is the first reigning batting champ with a 20-plus-game hitting streak the following season since Nomar Garciaparra in 2000. His streak is the longest by a reigning batting champ since Wade Boggs had a 25-gamer in 1987. And Reyes is the first reigning NL champ with a streak of this length since Stan Musial had a 24-gamer in 1952.

• Reyes moved to the No. 3 slot in the order on July 27, with the second baseman Bonifacio moving into Reyes' leadoff slot and Carlos Lee shifting from third to cleanup. Bonifacio suffered a sprained left thumb Friday and has landed on the DL, but Reyes remains third. Nick Green was promoted from Triple-A New Orleans. Rookie Donovan Solano started during the weekend at second base.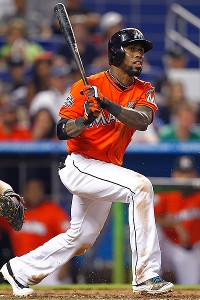 Sarah Glenn/Getty Images
Jose Reyes takes the longest hitting streak in the majors this season into Citi Field on Tuesday.


Reyes and Bonifacio are the first Marlins tandem with 25-plus steals apiece since 2002, when Castillo (48 steals), Andy Fox (31) and Eric Owens (26) all exceeded that total.

• In their latest fire sale, the Marlins shipped Hanley Ramirez to the Dodgers with Randy Choate on July 25 for Nathan Eovaldi and minor leaguer Scott McGough. Ramirez is owed $15.5 million in 2013 and $16 million in 2014.

First baseman Gaby Sanchez was dealt to Pirates six days later with minor leaguer Kyle Kaminska for outfielder Gorkys Hernandez and a draft pick. Omar Infante and Anibal Sanchez landed in Detroit for right-hander Jacob Turner and minor leaguers Rob Brantly and Brian Flynn and a swap of draft picks. Edward Mujica was dealt to the Cardinals.

• Outfielder Giancarlo Stanton (.284, 19 HR, 50 RBIs) began a rehab assignment Thursday after recovering from arthroscopic surgery on his right knee. He should return for the series against the Mets.

• Eovaldi faced the Mets in his final start with the Dodgers. He allowed one run on seven hits and a walk while striking out seven in a 96-pitch effort that lasted only 4 1/3 innings at Citi Field.

• The Marlins acquired Lee from the Astros on July 4 for Matt Dominguez and minor leaguer Rob Rasmussen. Lee, who is playing first base, has an 11-game hitting streak. Houston picked up the $9 million owed to Lee, less the prorated major league minimum.

• Heath Bell, who is in the first season of a three-year, $27 million deal, has not worked in a save chance since allowing three runs in a blown save at St. Louis on July 8. Steve Cishek is 5-for-5 in save chances since that point.

• Left-hander Wade LeBlanc was acquired from the Padres in a Nov. 22 trade for John Baker. He made 16 starts at New Orleans before joining Miami's bullpen on July 1. He will be making his second Marlins start, as his audition to remain a starter continues. LeBlanc allowed one run in 4 1/3 innings while throwing 71 pitches at Atlanta on Wednesday.

LeBlanc displaced from the rotation Carlos Zambrano, who last Monday made his first relief appearance since Aug. 4, 2010.

• Center fielder Justin Ruggiano (.340) started Sunday for the first time in five days. He had been dealing with back spasms. The 30-year-old former Ray, a nine-year minor leaguer, was acquired from Houston on May 26 after playing in 39 games for Triple-A Oklahoma City.

Last series results

Miami won, 2-1, at Marlins Park, May 11-13 (AP game recaps)

Marlins 6, Mets 5: Greg Dobbs' two-out single in the ninth inning scored Emilio Bonifacio from second base with the winning run. The Marlins scored twice in the ninth off Frank Francisco to win for the ninth time in 10 games. Francisco blew his second save in 10 chances. His ERA rose to 6.59. More

Mets 9, Marlins 3: David Wright pulled an RBI single in the first inning, then sent three subsequent hits to the opposite field with a variety of trajectories. The net result: Three singles, one homer and three RBIs for Wright to help the Mets beat Ricky Nolasco. It was the fourth consecutive multi-hit game for Wright, hiking his NL-leading average to .402. R.A. Dickey (5-1) pitched six innings and sent the Marlins to only their second loss in the past 11 games. More

Marlins 8, Mets 4: Giancarlo Stanton's two-out slam capped a comeback Sunday by the Marlins, who scored six times in the ninth inning to beat an angry Frank Francisco. The Marlins trailed 4-2 when Emilio Bonifacio led off the ninth with his second triple of the game against the struggling Francisco (1-3). John Buck walked and pinch-hitter Greg Dobbs followed with an RBI single. Francisco was then replaced, and he walked slowly toward plate umpire Todd Tichenor, hollering angrily. Manager Terry Collins stepped between Tichenor and Francisco, who was ejected even though he was already out of the game. Manny Acosta replaced Francisco, and Jose Reyes' sacrifice fly made the score 4-all. After a popup, Hanley Ramirez walked and Austin Kearns was hit by a pitch to load the bases. Stanton's pink Mother's Day bat then closed out the victory, launching the first pitch over the left-center wall near the animated home run sculpture. More


---