Wednesday, August 8, 2012
Farm report: Draft family affair for Sewalds

---
By Adam Rubin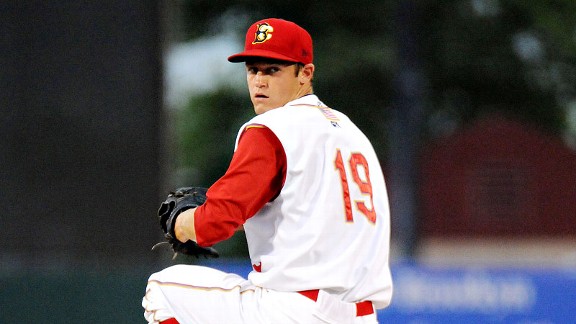 Courtesy of Brooklyn Cyclones

Brooklyn Cyclones right-hander Paul Sewald has tossed 19 2/3 scoreless innings as a professional.

Paul Sewald and his 18-year-old brother John are separated by just enough age that they never played together in a sanctioned game.

"One game, when we didn't have enough guys in a summer-league game, because he was going to the same high school that I was going to, my coach asked if he would come just in case we didn't have enough players," Sewald recalled. "But some other players showed up, so we never actually got to play in the same game."

The brothers now have the distinction, though, of being selected in the same draft.

The Mets drafted Paul, a right-handed pitcher, in the 10th round as a senior out of the University of San Diego. John, a prep outfielder, went in the 34th round to the Orioles -- although the late selection mostly resulted from teams knowing he was seeking significant dollars to forgo playing for Arizona State.

"It was a great couple of days for us," the 22-year-old Sewald recalled. "My brother would have been drafted higher had it not been for his asking price. It would have been really cool to see my little brother drafted even higher than me. But, either way, it was great to see him drafted. We were trying to see if anyone ever had two brothers drafted in the same draft, because it doesn't really work that way. You have to be specific ages to be draft-eligible."

Brothers being selected in the same draft actually is not uncommon.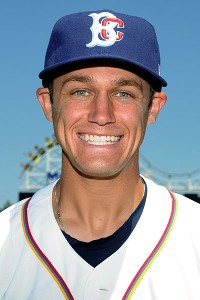 Courtesy of Brooklyn Cyclones
Paul Sewald


MLB officials reviewed data from the past four drafts for ESPNNewYork.com and believe the Sewalds are the only set of brothers selected this past June. During the previous three drafts, however, an average of six pairs of brothers were selected each year, including Trent and Shane Boras (sons of agent Scott Boras) last year and Bryce and Bryan Harper in 2010.

Sewald's pro experience so far could not have been scripted much better.

He is appearing in 30-second spots this week on MTV between 3:30 and 6 p.m. with Brooklyn teammates Brandon Nimmo, Kevin Plawecki and Phillip Evans, teaching baseball to host Lenay Dunn (photo here). On the mound, Sewald tossed two no-hit innings Tuesday to earn his third save as the Cyclones won at Lowell, 1-0. He has yet to allow a run in 19 2/3 professional innings. Opposing batters are hitting .171. Sewald has issued two walks and hit a batter while striking out 21.

Sewald throws a four-seam fastball that sits at 87-89 mph as well as a two-seam fastball, slider and changeup. Like the pitchers drafted by the Mets the previous year who logged big innings counts in college were handled, including Cory Mazzoni and Tyler Pill, Sewald is working in relief in Brooklyn to limit his innings. He should have a chance to earn a starting role in 2013 when he returns fresh. He has only entered at the start of innings, not with inherited runners.

"I don't have 'blow-away' velocity," Sewald said. "I have to hit the corners and stuff. I've been doing a really good job of that so far. That's what's been leading to my success."

Sewald's father Mark was drafted as a pitcher out of high school in 1979 in the 16th round by the Red Sox, then again after his junior year at Loyola Marymount, but opted for a job in the business world.

"His claim to fame was that he was drafted six picks ahead of Orel Hershiser," Sewald said, actually understanding the distance between the picks. (It was 24 picks ahead of Hershiser in '79.)

As for the brothers, they have combined to lead their alma mater, Bishop Gorman High, to seven straight state titles.

"My sophomore year was the first time in 52 years of school history that we won the baseball state title," Sewald said. "And then after that we've won six more in a row. So my brother or I have been on all seven."

Organization leaders

Average: T.J. Rivera, St. Lucie, .324; Eric Campbell, Binghamton, .308; Cam Maron, Savannah, .304; Josh Satin, Buffalo, .295; Fred Lewis, Buffalo, .293; Alonzo Harris Jr., St. Lucie, .290; Josh Rodriguez, Buffalo, .285; Wilmer Flores, Binghamton, .281; Juan Lagares, Binghamton, .281.

Homers: Aderlin Rodriguez, St. Lucie, 21; Cory Vaughn, St. Lucie, 18; Travis Taijeron, St. Lucie, 16; Matt den Dekker, Buffalo, 16.

RBI: Aderlin Rodriguez, St. Lucie, 74; Wilmer Flores, Binghamton, 64; Matt den Dekker, Buffalo, 61; T.J. Rivera, St. Lucie, 60; Dustin Lawley, Savannah, 59.

Steals: Alonzo Harris Jr., St. Lucie, 31; Juan Lagares, Binghamton, 20; Fred Lewis, Buffalo, 18; Matt den Dekker, Buffalo, 17; Richard Lucas, St. Lucie, 17.

ERA: Hansel Robles, Brooklyn, 1.74; Tyler Pill, St. Lucie, 2.19; Rafael Montero, St. Lucie, 2.36; Luis Cessa, Brooklyn, 2.43; Gabriel Ynoa, Brooklyn, 2.45; Jacob deGrom, Savannah, 2.51; Rainy Lara, Brooklyn, 2.56; Michael Fulmer, Savannah, 2.58; Luis Mateo, Brooklyn, 2.79; Collin McHugh, Buffalo, 3.09.

Wins: Rafael Montero, St. Lucie, 11; Zack Wheeler, Buffalo, 10; Gonzalez Germen, Binghamton, 10; Cory Mazzoni, Binghamton, 9; Tyler Pill, St. Lucie, 9.

Saves: Fernando Cabrera, Buffalo, 19; T.J. Chism, Savannah, 16; Adam Kolarek, Binghamton, 16; Adrian Rosario, Binghamton, 14; Robert Carson, Buffalo, 10.

Strikeouts: Zack Wheeler, Buffalo, 124; Collin McHugh, Buffalo, 122; Matt Harvey, Buffalo, 112; Rafael Montero, St. Lucie, 110; Tyler Pill, St. Lucie, 105.

Short hops

• The Mets should be well-represented in World Baseball Classic qualifying, which includes France, Israel, South Africa and Spain competing in Jupiter, Fla., from Sept. 19-23 and Canada, the Czech Republic, Germany and Great Britain competing in Regensburg, Germany, Sept. 20-24.

Rosters are not official, and September call-ups to the majors would trump the WBC, but the Israeli entry should include Josh Satin and potentially Binghamton right-hander Jeff Kaplan, who also is eligible for the Czech Republic squad. Canada has asked for permission to consider Adam Loewen. Other farmhands participating may include catcher Kai Gronauer (Germany) and left-hander Hamilton Bennett (Great Britain). Retired former Mets outfielder Shawn Green plans to represent Israel.

• Lucas Duda appears to be heating up with Buffalo. After going 3-for-25 in his first six games following a demotion, Duda has a five-game hitting streak during which he is hitting .471 (8-for-17) with two homers. Duda has started the past two games in left field, after manning first base for two games.

• Right-hander Scott Patterson allowed two runs on three hits in an inning in his Buffalo debut Monday, although he had not thrown off a mound for more than a week. Patterson, 33, had asked for his release from the Mariners organization. He had received a recruiting call during the offseason from Terry Collins, but opted to sign with Seattle over Baltimore and the Mets. Patterson had a 2.89 ERA and four saves in 26 relief appearances at Triple-A Tacoma, but was not being considered for a major league promotion with Seattle.

• Zack Wheeler's second Triple-A start is scheduled for Saturday against Scranton/Wilkes-Barre (Yankees) in Buffalo.

• Kirk Nieuwenhuis, who turned 25 Tuesday, will not undergo surgery and instead is in Port St. Lucie after suffering a torn plantar fascia in his right foot while running to first base in a Triple-A game.

• All indications are Buffalo will wait until after the season to decide whether to continue as a Mets affiliate or agree to a tie-in with the Blue Jays (or, far less likely, with the Pirates or Brewers).

If the Mets get booted, the opportunities to stay in the East Coast-oriented International League may be limited. The Democrat and Chronicle reports Rochester, which seemed in play, instead is poised to renew its agreement with the Twins. Syracuse, a consideration when the Mets were determined to leave New Orleans, has two more years remaining on its agreement with the Nationals and is unavailable.

Baseball America recently listed the IL teams with expiring affiliation agreements as Buffalo (currently Mets), Indianapolis (Pirates), Lehigh Valley (Phillies) and Rochester (Twins).

The Phillies have an ownership stake in Lehigh Valley. And B.A. describes Indianapolis as "unlikely to change." So the Mets could end up in the Pacific Coast League if the Blue Jays land Buffalo. Toronto currently is affiliated with Las Vegas, which would make it a potential landing spot.

• Coinciding with Garrett Olson's promotion to the majors, 39-year-old C.J. Nitkowski's comeback bid moved Monday from Binghamton to Buffalo. Nitkowski appeared a long shot for a September call-up (or sooner) with the Mets having faded from the race. But Tim Byrdak's torn anterior capsule in his left shoulder changes the dynamic since the Mets need a capable second lefty for the bullpen to avoid overtaxing rookie Josh Edgin. With Binghamton, Nitkowski struck out six of the nine lefty batters he faced. He allowed one hit and one walk and hit a batter. Robert Carson (1 ER in 9.1 IP with Buffalo) is having success at Triple-A, but team officials are concerned his pitches may be too flat and not translate to the majors.

• Buffalo corner infielder Zach Lutz, who lost out on a chance for a September call-up last season because he was dealing with a second concussion, is making a strong case to join the Mets after rosters expand Sept. 1. He is hitting .310 with eight homers in 50 games.

• First baseman Richard Lucas earned the Florida State League's Player of the Week honor. Lucas hit .435 with two homers, four RBIs, six runs scored and three steals in six games through Sunday.

• Rafael Montero's dominance with St. Lucie continued Tuesday, when he tossed 7 2/3 no-hit innings before being pulled with his pitch count at 110. Reliever Kyle Allen allowed a leadoff double in the ninth. Montero (5-2, 2.13 ERA since a promotion to St. Lucie) was coming off a 14-strikeout, no-walk start against Clearwater.

• Pill, a fourth-round pick in 2011, has won his past six starts with St. Lucie and is 6-1 with a 1.82 ERA since his Florida State League debut on June 5. Pill's brother Brett, also a Cal State Fullerton product, was Justin Turner's college roommate. Brett was promoted by San Francisco last week and went hitless in five at-bats as a first baseman/pinch hitter against the Mets during that four-game series.

• Despite a grand slam Monday, Matt den Dekker is hitting .197 with 63 strikeouts in 198 at-bats since a promotion to Buffalo.

• Left-hander Steven Matz, the 2009 top pick who has returned from Tommy John surgery and tossed 18 consecutive scoreless innings over his past three starts, has not appeared with Kingsport since July 26 because of shoulder soreness. Matz remains with the K-Mets, and team officials believe he will reappear this month.

• 2012 first-round pick Gavin Cecchini, who suffered a fracture to the tip of a middle finger last Wednesday as the result of getting hit with a pitch, has a follow-up doctor's appointment Friday. Cecchini (.250, 1 HR, 13 RBI in 116 at-bats) could return to Kingsport's lineup before the Appalachian League season ends Aug. 28. Regardless, he is expected to participate in the fall instructional league.

• Nimmo, the first-round pick in 2011, was hit in the shoulder with a pitch in his first plate appearance Sunday. He completed the game, but since has sat out with soreness. Team officials viewed it as an opportune time to rest Nimmo, who had played in all but one game in the New York-Penn League season before the current absence.

• Right-handers Brandon Welch (fifth round) and Rob Whalen (12th) have been working out with Brooklyn this season and getting instruction from coaches, but are unlikely to appear in a New York-Penn League game. Both are slated to pitch in the fall instructional league. Also working out with the Cyclones but unlikely to pitch is Jake Kuebler. The 22-year-old Kuebler, originally a 17th-round pick by the Royals in 2008, hit .150 in 107 at-bats with high-A Wilmington this season as a corner infielder before being released. He is being converted to a pitcher by the Mets.

• Former Red Sox first-round pick Craig Hansen, who signed a minor league deal with the Mets that keeps him under the organization's control for 2013, threw a 25-pitch live batting practice session Tuesday in Port St. Lucie. It is unresolved whether the 28-year-old right-hander will get into game pitching shape rapidly enough to play in an official minor league game before the season ends. Hansen last pitched in 2010 in the Pirates system.

Adam Rubin's farm report appears Wednesdays during the regular season


---