Friday, August 10, 2012
Series preview: Mets vs. Braves

---
By Adam Rubin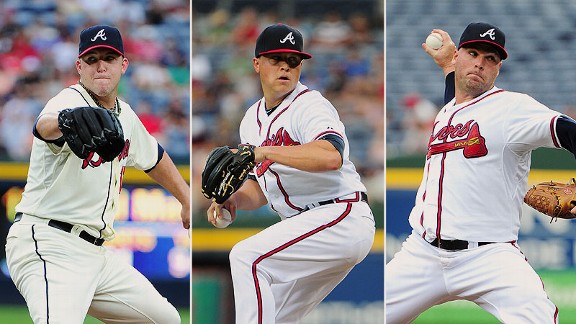 Getty Images

The Braves send (l to r) Paul Maholm, Kris Medlen and Ben Sheets to the mound this weekend at Citi Field.

METS (54-58, third place/NL East) vs. ATLANTA BRAVES (64-47, second place/NL East)

Friday: RHP Matt Harvey (1-2, 3.86) vs. LHP Paul Maholm (9-7, 3.75), 7:10 p.m. ET

Saturday: LHP Johan Santana (6-7, 3.98) vs. RHP Kris Medlen (2-1, 2.37), 7:10 p.m. ET

Sunday: LHP Jon Niese (8-6, 3.82) vs. RHP Ben Sheets (4-1, 1.41), 8:05 p.m. ET

Braves short hops

• After a deal to acquire Ryan Dempster from the Cubs unraveled (he ultimately landed in Texas) the Braves instead obtained left-hander Paul Maholm from Chicago on July 30 with outfielder Reed Johnson and cash for right-handers Arodys Vizcaino and Jaye Chapman.

Before the trading deadline, the Braves also acquired infielder Paul Janish from Cincinnati. That acquisition, which came during the second-half-opening series against the Mets, resulted from rookie Andrelton Simmons suffering a non-displaced fracture of the fifth metacarpal in his right hand. Atlanta also lost Jack Wilson during that Mets series, with a dislocated middle joint in his right pinkie.

Maholm lost his Braves debut Saturday despite limiting Houston to three runs in seven innings. In his final seven games (six starts) with the Cubs, the 30-year-old southpaw went 5-0 with a 1.00 ERA. The Braves have a $6.5 million team option on Maholm for 2013. Janish is hitting .198, but has only one error in 24 starts at shortstop since the deal.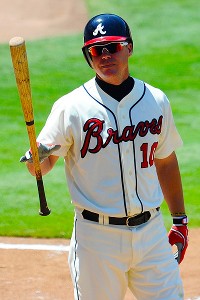 Dale Zanine/US Presswire
Despite a solid season, Chipper Jones reiterated he will retire after 2012.


• Chipper Jones (.316, 10 HR, 48 RBIs) recently told the Atlanta Journal-Constitution he still intends to retire after the season, despite his success. Jones, 40, will be honored at Turner Field during Atlanta's final regular-season home series, which fittingly is against the Mets. Atlanta makes one more visit to Flushing this season -- Sept. 7-9. Jones ranks sixth on the all-time list among switch-hitters with 2,694 hits. He trails only Pete Rose (4,256), Eddie Murray (3,255), Frankie Frisch (2,880), Omar Vizquel (2,863) and Roberto Alomar (2,724).

• A strong Cy Young candidate, closer Craig Kimbrel has 31 saves (in 33 chances), trailing only Pittsburgh's Joel Hanrahan (33 saves). The last closer to win the award was the Dodgers' Eric Gagne in 2003. Kimbrel, 24, has struck out 75 and allowed only 17 hits and 11 walks in 43 innings. If he finishes at this rate, his 15.70 strikeouts per nine innings would be the second-best of any closer in a single season while producing 30-plus saves. The only better: Carlos Marmol had a 15.99 strikeout-per-nine-innings rate while amassing 38 saves with the Cubs in 2010.

• Atlanta's bullpen tossed 4 2/3 scoreless innings Wednesday at Philly in relief of Tim Hudson. The relief corps has allowed 18 earned runs and struck out 110 in 102 innings over 32 games since July 3. That's a 1.59 ERA during that span. The Braves are 64-1 when holding a lead in the seventh inning or beyond, the best winning percentage in the majors, according to the Elias Sports Bureau.

• Ben Sheets is 4-1 with a 1.41 ERA since joining the Braves following a two-year absence from the majors while recovering from Tommy John surgery.

• Right fielder Jason Heyward turned 23 Thursday. He is one of six major leaguers to have produced at least 15 homers and 15 steals this season, joining Ryan Braun, Ian Desmond, Hanley Ramirez, Alex Rios and Mike Trout.

• The Braves have won 12 of their past 15, and 23 of 32 since July 3.

• Brian McCann and David Ross have combined for 24 homers, the most in the NL from the catching position. McCann has nine homers and 22 RBIs in his past 23 games.

• Center fielder Michael Bourn is eligible for free agency after the season.

• Left-handed reliever Jonny Venters, who led the majors in relief appearances last season with 85, returned from the DL on July 21 after missing two weeks with an elbow impingement. He recently had elbow soreness surface and was given a week off, but returned to action Sunday. Lefty batters are hitting .281 against Venters this season, after hitting only .127 in 2011.

• Right-handers Tommy Hanson (lower-back strain) and Jair Jurrjens (groin strain) are on the DL. Jurrjens (6.89 ERA) had been reassigned to the bullpen before the injury.

Last series results

Altanta won, 3-0, at Turner Field, July 13-15 (AP game recaps)

Braves 7, Mets 5: It was a big day for Atlanta catcher Brian McCann, who celebrated the birth of his first child. It was also a big day for his backup, David Ross, who helped power the Braves' offense in McCann's absence. Ross homered and drove in four runs, Chipper Jones also connected and the Braves survived a crisis at shortstop to beat the Mets. The Braves had chosen to wait to replace rookie Andrelton Simmons, who broke his right little finger and will be out at least a month. Atlanta then lost shortstop Jack Wilson with another pinkie injury in the game. The Mets-killer Jones hit the 49th homer of his career against the Amazin's, in the sixth off Josh Edgin, who was making his major league debut. More

Braves 8, Mets 7: Jason Heyward singled to cap a three-run eighth-inning rally and the Braves took advantage after the umpires reversed a call. The Braves' comeback prevented a shaky R.A. Dickey from getting his 11th win in a row. Bobby Parnell (2-2) gave up RBI singles with two outs in the eighth to Michael Bourn, Marin Prado and Heyward. Terry Collins was ejected while disputing a call in Atlanta's two-run fifth. With the score 3-all and Prado on first base with one out, Heyward hit a sinking liner that left fielder Jordany Valdespin charged. Dale Scott initially ruled Valdespin made a diving catch and Prado, who had reached second, was trapped while retreating for an apparent inning-ending double play. After the umpires conferred, they ruled Heyward's ball bounced. The umpires placed Prado on second. More

Braves 6, Mets 1: Freddie Freeman hit a three-run homer in a six-run fifth inning and Ben Sheets (1-0) allowed two hits and one walk with five strikeouts in six scoreless innings in his first start since July 19, 2010. Johan Santana (6-6) gave up eight hits, six runs, two walks and struck out three in five innings. Dan Warthen was ejected during a mound visit. When plate umpire C.B. Bucknor reached the mound, Warthen began arguing with him over the strike zone afforded Santana. More


---