Friday, August 10, 2012
Edgin will get heavy weekend use

---
By Adam Rubin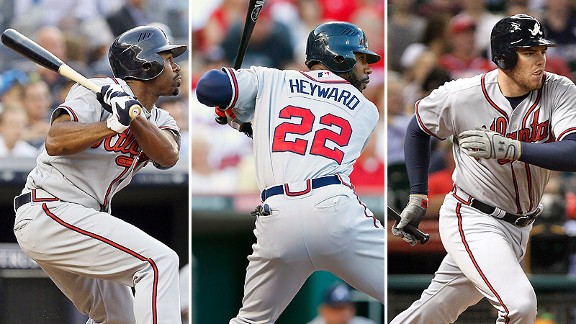 US Presswire/Getty Images

Josh Edgin could be called upon to face (l to r) Michael Bourn, Jason Heyward or Freddie Freeman.

Josh Edgin should brace himself for plenty of work this weekend against the Braves, whose lineup Friday night includes lefty hitters Michael Bourn, Jason Heyward, Freddie Freeman.

The complication for Terry Collins is that each is protected by a solid righty hitter -- Bourn by No. 2 hitter Martin Prado, Heyward by switch-hitting cleanup hitter Chipper Jones and Freeman by No. 6 hitter Dan Uggla. (Chipper ended up being scratched Friday with back spasms.)

Edgin, who made his major league debut against the Braves at Turner Field right after the All-Star break, is now the primary lefty in the bullpen with Tim Byrdak committing to surgery to repair a career-threatening torn anterior capsule in his pitching shoulder.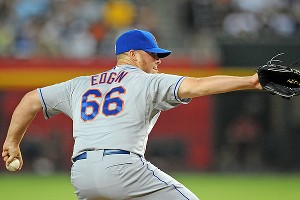 Norm Hall/Getty Images
Josh Edgin should prepare for heavy usage this weekend against the Braves.


"He's going to get some work," Collins said about Edgin. "Good thing we have Monday off to recuperate. But this is why you have left-handers in your bullpen, for this weekend. And they space them with those big hitters in the middle. You've got Chipper, who is really, really good right-handed, so he protects him there. You've got Uggla, who protects the bottom of the order. So you've got to pick your spots in the situations that you think are the most important to get guys out."

The Mets did promote southpaw Garrett Olson from Triple-A Buffalo for this homestand. Olson is not a lefty specialist. In fact, lefties batted .270 and righties .272 against him with the Bisons. Still, Collins said he would need to be summoned for the specific purpose of retiring a lefty in this series.

Collins has noted that Byrdak's extreme usage likely contributed to the need for shoulder surgery. Still, Collins said, he would not curtail Edgin's usage. The manager noted there's a 13-year age difference between Byrdak and Edgin, so the rookie should be more elastic.

"They're two completely different guys," Collins said. "Tim Byrdak is 38. He's been through the wars, pitched a lot of innings. Josh Edgin is just starting his career, getting going. And if he's going to be an impact lefty, he's going to have to be used. He's going to have to learn how to get through it. He's going to have to learn how to take care of himself between outings."

Still, Collins is unlikely to use Edgin for multiple innings until Sunday's series finale. Otherwise, the manager would risk leaving the rookie unavailable for the following day's game. Monday is an off-day before the Mets open a series in Cincinnati.

"I don't think you could do that tonight with him and expect to have him for the next two days," Collins said. "We brought Garrett here to help us, for the same thing. He may not be a lefty specialist, but he's got to go out there and hopefully get one of those guys out if need be."


---