Friday, August 17, 2012
Series preview: Mets at Nationals

---
By Adam Rubin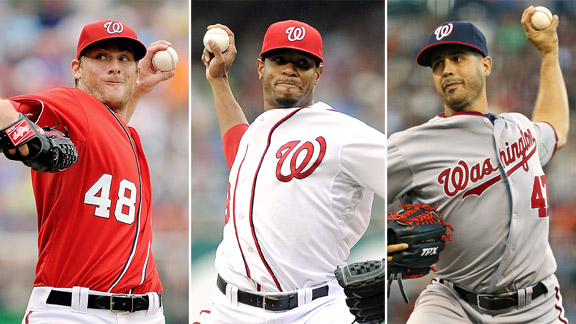 Getty Images

The Mets face (l to r) Ross Detwiler, Edwin Jackson and Gio Gonzalez this weekend in D.C.

METS (56-62, third place/NL East) vs. WASHINGTON NATIONALS (73-45, first place/NL East)

Friday: LHP Johan Santana (6-8, 4.58) vs. LHP Ross Detwiler (6-5, 3.18), 7:05 p.m. ET

Saturday: LHP Jon Niese (9-6, 3.67) vs. RHP Edwin Jackson (7-7, 3.74), 7:05 p.m. ET

Sunday: RHP Jeremy Hefner (2-4, 4.76) vs. LHP Gio Gonzalez (15-6, 3.29), 1:35 p.m. ET

Nats short hops

• Jayson Werth returned to the outfield Aug. 2, nearly three months after fracturing his left wrist on a catch attempt against the Phillies. His return was interrupted for one game with a sore ankle, and he has hobbled a little bit since reentering the lineup Tuesday. Manager Davey Johnson primarily has used Werth in right field and Bryce Harper in center field, but flips them on occasion to try to get Harper a semi-breather.

• The slumping Harper is hitting .141 (9-for-64) with one homer and three RBIs in his past 17 games (16 starts). Teams are throwing a lot of breaking balls down and away.

• Shortstop Ian Desmond, who has missed four weeks with torn oblique, should be activated from the disabled list for Friday's series opener. Desmond hit in a simulated game Thursday and will not require a minor league rehab assignment. Danny Espinosa has been capably filling in for Desmond at shortstop, and will now slide back to second base. Steve Lombardozzi (15-for-30 in his past seven games) should head from second base to the bench. Johnson will try to find ways to get Lombardozzi in the lineup. The 23-year-old rookie learned how to play left field this season.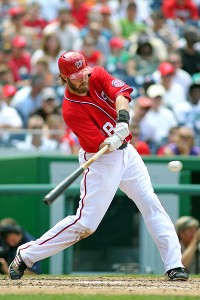 Rob Leiter/Getty Images
Jayson Werth returned from a fractured wrist Aug. 2.


• The Mets do not face Stephen Strasburg this weekend, but his innings limit -- set at 180 -- has been a hot topic. Strasburg (14-5, 2.91 ERA) currently sits at 139 1/3 innings. After former Braves and Orioles pitching coach Leo Mazzone criticized the decision to shut down Strasburg later this season, citing how the Braves had success despite heavy workloads for pitchers, agent Scott Boras called in to ESPN's "Mike & Mike" show to counter that argument. Boras noted that Steve Avery, whom he also represented, had faded from the majors before his 30th birthday after logging 667 1/3 innings over his first three full major league seasons, with the Braves under Mazzone.

• Tyler Clippard remains the Nats' primary closer, even with Drew Storen having returned after missing the first 3½ months of season following elbow surgery. Storen (5.79 ERA) has been erratic. He allowed four runs while recording only one out in a 6-1 loss at San Francisco on Tuesday. Johnson may try to find an occasional closing opportunity for Storen, but with an important game on the line, it will remain Clippard's responsibility.

• Former Mets farmhand Jesus Flores wilted in a starting role behind the plate and has thrown out only six of 51 would-be base stealers this season. So the Nats acquired catcher Kurt Suzuki from the Athletics for minor league catcher David Freitas on Aug. 3 and optioned Sandy Leon to Triple-A Syracuse. Suzuki starts roughly two of every three games. Washington needed the veteran help because none of Flores' sidekicks, including Jhonathan Solano and Leon, had major league experience.

• Three days after Suzuki's acquisition, infielder Cesar Izturis was claimed off waivers from the Brewers, with Mark DeRosa landing on the DL with an abdominal strain. Izturis, acquired primarily for depth with Desmond out, is in at least slight danger of being a roster casualty Friday with Desmond expected to be activated. Still, with rosters expanding Sept. 1, Izturis appears more likely to survive, with rookie first baseman/outfielder Tyler Moore (.281, 6 HR, 19 RBIs) instead optioned to Syracuse until rosters expand.

• Third baseman Ryan Zimmerman has been on a prolonged hot streak since receiving a cortisone shot in his right shoulder. Zimmerman is hitting .346 with 13 homers and 44 RBIs and has a .417 on-base percentage in 48 games since June 24.

• Michael Morse (.300, 11 HR, 40 RBIs) returned to lineup Wednesday after missing one game with a thumb injury. Morse officially has a 12-game hitting streak, during which he is hitting .320 with three homers and eight RBIs, although it just as easily could have been 23 games. The Phillies successfully appealed to MLB to have an Aug. 2 play, which initially was ruled a hit, switched to an error on shortstop Jimmy Rollins.

• Left-hander Ross Detwiler, the sixth overall pick in the 2007 draft, out of high school in Missouri, is beginning to justify that selection after the Nats early this season vacillated between using him and Chien-Ming Wang in a starting role. Wang made a rehab appearance for Double-A Harrisburg on Thursday, but is unlikely to regain a rotation spot, or return before rosters expand.

• The Nats released Rick Ankiel and Xavier Nady in a three-day span at the end of July. Ankiel remains a free agent, while Nady has signed with the Giants and is playing at Triple-A Fresno.

Last series results

Washington won, 3-0, at Citi Field, July 23-25 (AP game recaps)

Nats 8, Mets 2 (10 innings): Bryce Harper homered his first time up in New York, then hit a tiebreaking single to key a six-run burst in the 10th. Shortstop Ruben Tejada's error on a potential double-play ball set up the big 10th. Ryan Zimmerman hit a three-run double and Michael Morse added a two-run homer as the Nationals broke away. The six runs tied the most the Mets had ever allowed in an extra inning. Never before had they lost consecutive extra-inning games by at least five runs. More

Nats 5, Mets 2: Adam LaRoche hit a tiebreaking homer and the Nationals handed R.A. Dickey his first loss in three months behind Gio Gonzalez's seven crisp innings. Gonzalez (13-5) gave up only two singles in a rematch of All-Star pitchers, five days after New York hit him hard to back Dickey during his 13th win. Dickey (13-2) allowed five consecutive hits in the sixth, ending his 11-game winning streak. More

Nats 5, Mets 2: Stephen Strasburg struck out 11 in seven innings, Michael Morse and Danny Espinosa hit consecutive homers and the Nats completed a sweep. Adam LaRoche hit a two-run homer for a second straight day, and Espinosa doubled and scored on one of the Mets' two errors in the Nationals' fifth win in a row. Other than allowing Ike Davis' blistering line drive into the right-field stands on the first pitch of the second inning and Daniel Murphy's single in the next at-bat, Strasburg allowed only Josh Thole's ground-rule double in the fifth and Jordany Valdespin's single in the sixth. Strasburg reached double digits in strikeouts for the fourth time this season and seventh of his young career, striking out David Wright three times. More


---