Wednesday, August 22, 2012
Farm report: 'Clone Plawecki catching on

---
By Adam Rubin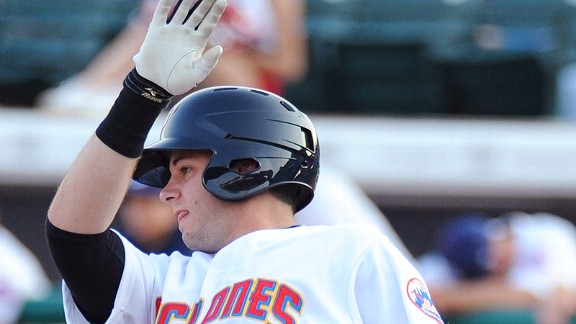 Courtesy of Brooklyn Cyclones

The Mets selected Kevin Plawecki out of Purdue University in June with a supplemental first-round pick.

Brandon Nimmo's Twitter avatar is a photo of himself with Kevin Plawecki. The duo are roommates, too, with the Brooklyn Cyclones -- even though Nimmo was drafted out of high school in Wyoming last year in the first round, while Plawecki has three years of experience as a catcher at Purdue University on his résumé.

"We've roomed together since Day 1. Well, since we've got to Brooklyn," Plawecki said. "We know each other quite well."

Their compatibility?

"He's all into the hunting and fishing and stuff like that. It's not quite in my blood," Plawecki said. "I've never hunted and I've never really enjoyed fishing. That's kind of his deal. I like to relax and just kind of hang out, where he likes to go out.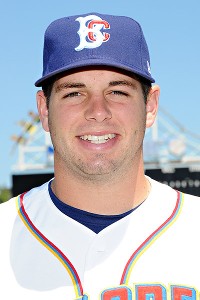 Courtesy of Brooklyn Cyclones
Kevin Plawecki


"He conned me into going to the Museum of Natural History on one of the last couple off-days. I was actually glad we did it. It was kind of neat to go out and see something different. We definitely get along great. We've got a little bit of differences, but nothing too major."

Plawecki, selected 35th overall in June with a selection the Mets received for losing Jose Reyes as a free agent, was touted after the draft as a plate-discipline marvel who also is a capable catcher.

Though 48 games with the Cyclones, Plawecki is hitting .250 with six homers and 22 RBIs. He has a .354 on-base percentage and has struck out 16 times in 168 at-bats. During his final season at Purdue, Plawecki struck out only eight times in 223 at-bats.

"I've struck out a little bit recently, more than I really would have liked," Plawecki said. "I know it's going to happen. It's part of the game. But I just try to keep my same approach, and so I think it's worked out for me. I'm just trying to stay consistent with my swing. Obviously I had to make a little bit of an adjustment with the wood bat and playing professional baseball, but I think for the most part I've adjusted pretty well."

What's the cause for the slightly elevated strikeouts: Plate discipline? Better velocity from professional pitchers? Better stuff?

"Just chasing bad pitches out of the zone," he said. "I don't know, maybe I'm just getting a little too jumpy or too anxious. The strikeout numbers aren't too high. I don't look at stats much, but I know they're probably not too high. So there's nothing really to be concerned about in that category. But when I do strike out, it's usually me not seeing a pitch right or swinging at something outside of the zone. I know it's part of the game. It's going to happen."

After two successful steals against him Tuesday night, Plawecki has thrown out 13 of 43 would-be base stealers as a professional catcher -- 30.2 percent. He expects to go to the Mets' fall instructional league after Brooklyn's season.

As for the biggest adjustment to pro ball as a catcher, the 21-year-old Plawecki said it's simply getting to know an entirely new set of pitchers.

"It's just been a learning process of getting to know my pitching staff," he said. "That's probably the biggest challenge for me. At this point in the year I have a pretty good idea as to what every guy throws, but at the beginning of the year it's not so easy."

Organization leaders

Average: T.J. Rivera, St. Lucie, .317; Cam Maron, Savannah, .298; Eric Campbell, Binghamton, .295; Wilmer Flores, Binghamton, .292; Alonzo Harris Jr., St. Lucie, .291; Josh Satin, Buffalo, .290; Fred Lewis, Buffalo, .285; Maikis De La Cruz, Kingsport, .284; Juan Lagares, Binghamton, .277.

Homers: Aderlin Rodriguez, St. Lucie, 22; Cory Vaughn, St. Lucie, 21; Matt den Dekker, Buffalo, 17; Travis Taijeron, St. Lucie, 17; Valentino Pascucci, Buffalo, 15.

RBI: Aderlin Rodriguez, St. Lucie, 78; Matt den Dekker, Buffalo, 72; Wilmer Flores, Binghamton, 66; Dustin Lawley, Savannah, 65; T.J. Rivera, St. Lucie, 63.

Steals: Alonzo Harris Jr., St. Lucie, 35; Fred Lewis, Buffalo, 23; Juan Lagares, Binghamton, 20.

ERA: Hansel Robles, Brooklyn, 1.34; Tyler Pill, St. Lucie, 2.31; Jacob deGrom, St. Lucie, 2.35; Rafael Montero, St. Lucie, 2.36; Gabriel Ynoa, Brooklyn, 2.40; Luis Cessa, Brooklyn, 2.66; Michael Fulmer, Savannah, 2.74; Julian Hilario, Brooklyn, 2.76; Collin McHugh, Buffalo, 2.88; Luis Mateo, Brooklyn, 2.88.

Wins: Rafael Montero, St. Lucie, 11; Gonzalez Germen, Binghamton, 11; Cory Mazzoni, Binghamton, 10; Zack Wheeler, Buffalo, 10; Tyler Pill, St. Lucie, 9.

Saves: Fernando Cabrera, Buffalo, 21; T.J. Chism, Savannah, 18; Adam Kolarek, St. Lucie, 17; Adrian Rosario, St. Lucie, 14; Robert Carson, Buffalo, 10.

Strikeouts: Zack Wheeler, Buffalo, 136; Collin McHugh, Buffalo, 132; Jeurys Familia, Buffalo, 112; Matt Harvey, Buffalo, 112; Rafael Montero, St. Lucie, 110.

Short hops

• Outfielder Darrell Ceciliani, tormented by recurring hamstring issues this season with St. Lucie, is due to be activated from the disabled list today. He has not played since June 27.

• St. Lucie infielder Danny Muno, who served a 50-game suspension earlier this season, has raised his average to .294. Muno is hitting .382 in August.

• Right-hander Tyler Pill, the Mets' fourth-round pick in 2011 out of Cal State Fullerton, has been sidelined since Aug. 9 with a right elbow strain. He still is expected to return in time for the Florida State League playoffs.

• Outfielder Cory Vaughn ranks second in the Florida State League with 21 homers, one shy of Jupiter's Marcell Ozuna.

• 2011 third-round pick Logan Verrett out of Baylor has pitched at least six innings and has allowed two earned runs or fewer in all four of his starts with St. Lucie after a promotion from Savannah.

• St. Lucie leadoff hitter Alonzo Harris Jr. is hitting .291 and ranks fourth in the league with 35 steals.

• 2008 first-round pick Reese Havens, who missed eight days with back stiffness, returned to Binghamton's lineup Saturday at second base. Havens, always regarded as a solid hitter despite injury struggles as a pro, is hitting only .230 with nine homers in 87 games this season with the B-Mets.

• On Saturday with Binghamton, ex-Blue Jay Drew Carpenter notched his first save since 2007, when he pitched for Clearwater, a Phillies Class A affiliate.

• Right-hander Rob Whalen, the Mets' 12th-round pick out of high school in Florida, is expected to make his professional debut Saturday with Brooklyn.

Adam Rubin's farm report appears Wednesdays during the regular season


---