Monday, September 10, 2012
Series preview: Mets vs. Nationals

---
By Adam Rubin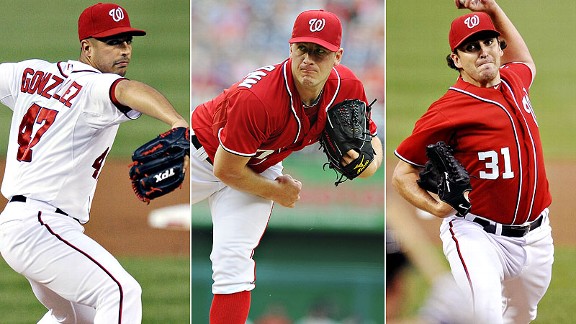 US Presswire

The Mets face (l to r) Gio Gonzalez, Jordan Zimmermann and John Lannan at Citi Field.

METS (65-75, fourth place/NL East) vs. WASHINGTON NATIONALS (86-54, first place/NL East)

Monday: RHP Collin McHugh (0-1, 3.27) vs. LHP Gio Gonzalez (18-7, 2.98), 7:10 p.m. ET

Tuesday: RHP R.A. Dickey (18-4, 2.64) vs. RHP Jordan Zimmermann (10-8, 2.99), 7:10 p.m. ET

Wednesday: RHP Matt Harvey (3-4, 3.04) vs. LHP John Lannan (2-0, 3.46), 7:10 p.m. ET

Nationals short hops

• Left-hander John Lannan takes the rotation spot formerly occupied by Stephen Strasburg on Wednesday. Lannan has made two major league starts this season, both times when the Nats required an extra starter because of a doubleheader. He allowed a combined five runs on nine hits and seven walks while striking out seven in 13 innings and picked up victories against the Braves and Marlins. Despite a $5 million salary, Lannan -- a native of Long Beach, L.I. -- spent the season with Triple-A Syracuse, going 9-11 with a 4.30 ERA in 24 starts. He has not pitched at Citi Field since earning a win on April 10, 2010.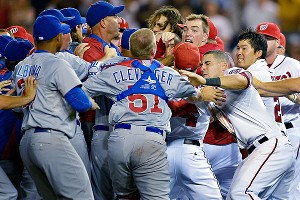 John McDonnell/Getty Images
The Cubs objected to the Nats stealing with a five-run lead, leading to this bench-clearing incident Thursday.


Strasburg was shut down a start earlier than previously announced, after allowing five runs in three innings against the Marlins. His final innings count was 159 1/3. "I don't know if I'm ever going to accept it, to be honest with you," Strasburg told reporters. "It's something that I'm not happy about at all. That's not why I play the game. I play the game to obviously be a good teammate and to win. You don't grow up dreaming of playing in the big leagues to get shut down when the games start to matter."

• First baseman Adam LaRoche (.270, 29 HR, 92 RBIs) likely will be eligible for free agency after the season. The Nats and LaRoche have a $10 million mutual option for next season, but LaRoche likely is in line for a multi-year payday. LaRoche has six homers in nine games this month.

• Shortstop Ian Desmond was out of Sunday's lineup to rest a cranky hamstring.

• Washington's .614 winning percentage leads the majors. The Nats are MLB's only team to post a winning record in every month this season.

• Don't look for Washington to take the foot off the gas pedal with a lead. The Cubs and Nats had a pair of bench-clearing incidents last week, after Chicago objected to a pair of steals and Jayson Werth swinging at a 3-0 pitch with the bases loaded and Washington leading by five runs. "I think I'd be pretty pissed off if I was getting my teeth kicked in all weekend, too, but you can't lay down," Bryce Harper told CSNWashington.com afterward, taking a shot at the Cubs. "The Braves series, they came back after we were up 9-0. So you can't lay low. You've got to keep going, keep grinding, keep coming."

• Werth is hitting .333 with two homers and 14 RBIs in 33 games since returning Aug. 2 from a fractured left wrist.

• Gio Gonzalez is 6-1 with a 1.88 ERA over the past two Septembers.

Last series results

Washington won, 2-1, at Nationals Park, Aug. 17-19 (AP game recaps)

Nats 6, Mets 4: Michael Morse hit a grand slam, Bryce Harper also homered and the Nats became the latest team to tag a struggling Johan Santana. Two days after umpires ordered R.A. Dickey to remove two friendship bracelets during his start in Cincinnati, the umpiring crew had Santana put tape over the gold strip on the back of his glove following a complaint from Davey Johnson. Ross Detwiler tossed six solid innings and the Nationals sent Santana to his fifth loss in the last five starts. More

Mets 2, Nats 0: In a tight duel with Jon Niese, one mistake cost Edwin Jackson. Jackson (7-8) had allowed only a triple to Mike Baxter in the first inning and set a season high with 10 strikeouts through six. But in the seventh, the right-hander issued a leadoff walk to David Wright and Ike Davis drove the next pitch the other way to left field for his 22nd home run. More

Nats 5, Mets 2: Gio Gonzalez gave up seven hits and needed 110 pitches to get through 5 2/3 innings, but he didn't allow a run until the sixth and the Nationals got more than enough offense from Bryce Harper and Danny Espinosa. Jeremy Hefner (2-5) surrendered all five runs. Espinosa hit a two-run homer to give the Nationals a 2-0 lead in the second inning. Washington got another pair of runs with three straight hits an inning later. Jayson Werth led off with a single, Harper followed with a run-scoring triple and scored on Ryan Zimmerman's single. More


---