Sunday, December 16, 2012
Part I: Who won? Triple-A for d'Arnaud?

---
By Adam Rubin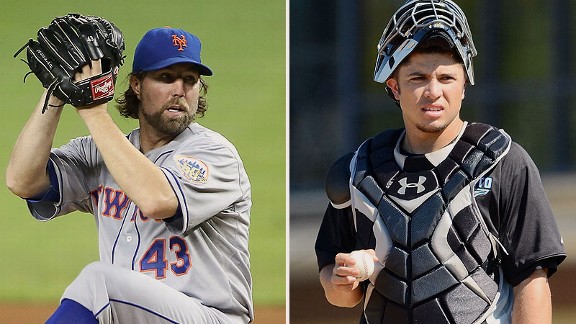 Getty ImagesR.A. Dickey and Travis d'Arnaud are the principals in the yet-to-be-official Mets-Jays trade.


As we enter Day 3 without the New York Mets-Toronto Blue Jays trade being official, let's use the time to attempt to answer a few questions. …
Is this a good deal for the Mets?

Well, if the construction of the trade centers on the Mets returning top catching prospect Travis d'Arnaud as well as highly regarded Class A right-hander Noah Syndergaard while swapping catchers Josh Thole and John Buck, certainly that's a no-brainer for the Mets, whose window for winning arguably is beyond Dickey's prime years.

R.A. Dickey will be 38 years old next season. And while there is a chance he can follow the path of knuckleballer kin such as Charlie Hough, Tim Wakefield and Phil Niekro to capably pitch into his mid-40s, there is no guarantee -- particularly since Dickey throws harder than his brethren and may not have the same durability. Dickey has shown a susceptibility to injury. He acknowledged taking the painkiller Toradol for most of the 2011 season to deal with foot pain, while he pitched nearly all of 2012 with an abdominal tear that required offseason surgery.

That said, Dickey is more than a one-hit wonder. His three-year totals with the Mets are a 39-28 record with a 2.95 ERA and 616 2/3 innings. That ERA ranks ninth in the majors over that span among pitchers who logged at least 600 innings.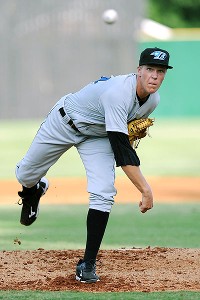 Tony Farlow/Four Seam Images via AP ImagesClass A right-hander Noah Syndergaard reportedly also will be joining the Mets.


So the Blue Jays lost?

Not necessarily. They are in win-now mode in a ripe-for-the-taking AL East. We'll only know the verdict once the careers of all the minor leaguers are established.

Case in point: Remember the Johan Santana trade? The Mets gave up prospects Philip Humber, Carlos Gomez, Kevin Mulvey and Deolis Guerra. From that perspective, in retrospect, the Mets did not lose. Yet when you consider the trade was contingent upon a six-year, $137.5 million extension for Santana, arguably in retrospect the Mets did not win, either, since the back end of that contract obligation now leaves them handcuffed from other maneuvers.

Ultimately, the Jays will be judged on three factors:

• What type of success did they have in the short term that was benefited by this deal?

• What type of careers do the players they surrender ultimately enjoy?

• And what type of commitment do they give Dickey -- and what value/albatross does that become?

Where would d'Arnaud start the 2013 season?

Let's wait for Sandy Alderson to weigh in, but the sensible bet is Triple-A Las Vegas, catching Zack Wheeler on Opening Day in the Pacific Coast League, April 4 at Sacramento.

As a Blue Jay, d'Arnaud (pronounced Dar-No) was slated to begin 2013 in Buffalo (the former Mets affiliate, now with the Jays). That's because his inaugural season in Triple-A ended June 25 with a torn posterior cruciate ligament in his left knee, suffered sliding into second base.

Even if the Mets deemed d'Arnaud major league-ready for Opening Day and had a need, it makes sense to keep him in Triple-A the first three weeks of the season. The logic is identical concerning Wheeler.

Because both prospects are on the 40-man roster, technically they will be optioned (demoted) from the major league club to the minors at the end of spring training. If they are promoted back to the majors within the first 20 days of the season, they are re-credited that major league service time, even though they were at Las Vegas.

In order to avoid getting credit for a full year of major league service in 2013, a player must not reach 172 days at the major league level (based on a 183-day season). By waiting the 20 days in the minors and ensuring that time does not get credited back to him, d'Arnaud could achieve no more than 163 days of service time during the upcoming season. That means he would not be eligible for free agency until after the 2019 season, not after 2018.

So who catches?

It's too early to know precisely, but if you had to start the season today and Buck were in the deal, he would be the starter, with waiver-claim Anthony Recker the backup and Mike Nickeas sitting at Las Vegas as d'Arnaud's mentor. Why Recker over Nickeas? He's on the 40-man roster and Nickeas is not.

Let's also see what Alderson says about now possibly bringing in a lefty-hitting catcher as a free agent or otherwise.

Part II will focus on the 2013 payroll and remaining offseason work


---