Tuesday, February 12, 2013
Morning briefing: Mets Bourn-free

---
By Adam Rubin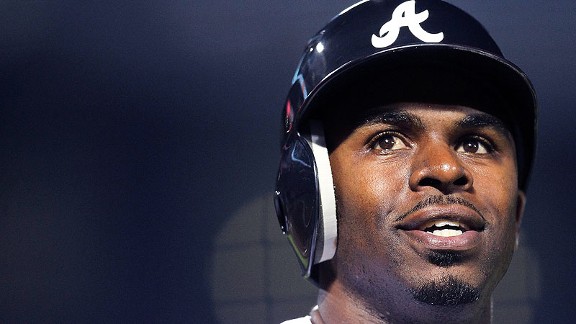 Daniel Shirey/USA TODAY Sports

Michael Bourn is headed to the Cleveland Indians.

PORT ST. LUCIE, Fla.

FIRST PITCH: The amazing thing about the Michael Bourn saga?

The Mets (74-88) would have had a protected pick at No. 10 -- even with the Pittsburgh Pirates getting that extra pick -- and seemingly would have landed Bourn had the Mets finished the 2012 season with one more loss. Instead, Toronto (73-89) would have been bumped from the top 10 and lost the protection of its top pick.

Chalk up another reason why the Mets should have traded Scott Hairston at last year's trading deadline.

The bottom line: The prolonged debate about whether the Mets should have surrendered the 11th overall pick in the draft to sign the free-agent center fielder is over. They won't. Nor will they land Bourn.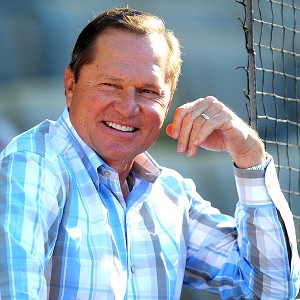 Kirby Lee/Image of Sport/US Presswire
Scott Boras landed Michael Bourn a four-year, $48 million deal with Cleveland.


Although the Mets had a four-year, $48 million offer on the table, Bourn opted for a comparable deal with the Cleveland Indians.

Agent Scott Boras was unwilling to wait for the draft-pick grievance process to take an estimated two weeks. Boras feared other offers would be off the table at that point. And if the Mets did not get the pick protected through that process and walked away, Boras would be left with little leverage anywhere.

So now, as the Mets arrive at the complex today for physicals in advance of Wednesday's first official pitchers and catchers workout, it is becoming abundantly clear their outfield in April may be: Lucas Duda in left field, Kirk Nieuwenhuis and Collin Cowgill platooning in center field, and Mike Baxter with Marlon Byrd, Andrew Brown, Brian Bixler, Zach Lutz or Justin Turner in right field.

Jon Heyman tweets the Mets now ought to try to acquire Drew Stubbs, a trade candidate in the Indians' overcrowded outfield. Of course, Stubbs had a .213 average and .277 on base-percentage with the Cincinnati Reds last season.

Columnist Ken Davidoff offers his opinion on the Bourn saga in the Post here. Read more in the Post, Daily News and Newsday.

Meanwhile, Terry Collins addresses the media at 12:30 p.m. today. Johan Santana, who reported Monday but did not speak with reporters, also could field questions Tuesday.

Tuesday's news reports:

• Turner will get reps in the outfield as the Mets search for capable options.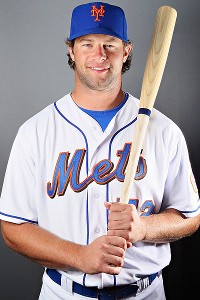 Elsa/Getty Images
Kirk Nieuwenhuis keeps his center field job with Michael Bourn heading to Cleveland.


As for Sandy Alderson's quip -- when the GM was asked about his outfield during the offseason and replied, "What outfield?" -- Duda told Jared Diamond in the Wall Street Journal: "What are you going to do? Do you guys want me to go yell at Sandy?" Said Nieuwenhuis: "If you let that stuff get to you, you're in the wrong sport and you're in the wrong town."

Jorge Castillo in the Star-Ledger also looks at the state of the outfield. "I feel like all the guys we have here are major league caliber players," Turner told Castillo. "Just because the numbers aren't there from years past doesn't mean they can't play the game and play the game hard. So I wouldn't discredit them at all for anything they've done because they haven't had the opportunity."

Read more on the outfield in the Times and at MLB.com.

• Tim Byrdak is eyeing July 1 for a return to the majors following surgery to repair a torn anterior capsule in his pitching shoulder. Read more in the Star-Ledger and Post.

• Ruben Tejada, aware of the impending snow storm, shifted his scheduled flight last Saturday from New York to Florida to Friday at 5 a.m. He worked out at the complex Monday -- a full week ahead of the position-player report date. "It's my work, you know?" Tejada told Marc Carig in Newsday. "You have to stay doing it the right way. That's why I came here early to work with my teammates."

• Jenrry Mejia had a visa issue and is not at Mets camp.

• R.A. Dickey reported to Blue Jays camp in Dunedin, Fla., writes Anthony Rieber in Newsday.

• Shaun Marcum, who replaces Dickey in the rotation, is eyeing 200 innings.

"I've always been a big fan of his," J.P. Ricciardi told Mike Puma in the Post. "We drafted him in the third round in Toronto -- he was a shortstop/closer in college. We ended up making him a starter and he got to the big leagues. You don't forget the guys that compete and do well for you, and he's been one of them. …

"You look back at [Marcum's] numbers and he's pitched in two hitters' parks, Milwaukee and Toronto, plus he pitched in the American League East for a long time. So he's got a track record behind him on top of me being able to vouch for him, so those all go hand and hand.

"He's also a great fielder -- the guy should have won a Gold Glove. He's going to be able to help himself with the bat. If Shaun is healthy through the year, I expect good things from him."

Read more on Marcum at TCPalm.com.

• Mike Piazza mostly avoided media during a book signing at Barnes & Noble on 5th Ave. in Manhattan on Monday. He did tell the Post regarding the Hall of Fame vote: "Definitely a little disappointed, but I was really honored [by] a lot of support, too." Read more in the Daily News.

• Terry Collins is marveling at the early turnout at camp. "Twenty major league hitters a week early," he noted to Andy Martino in the Daily News.

• Elena Gustines in the Times chronicles memorable Opening Days in Mets history, including April 9, 1985, when Gary Carter belted a game-winning homer in the 10th in his Mets debut.

• Lefty reliever Daniel Herrera cut his long hair and donated it to the charity Locks for Love, which provides hair to children with medical issues, Mike Kerwick writes in the Record. Herrera is rehabbing from Tommy John surgery in minor league camp.

• Kerwick also profiles Zack Wheeler in the Record. Wheeler talks about his time with the San Francisco Giants, when he would quiz Sergio Romo during camps. "Me and him would sit down for 30, 45 minutes, and talk about baseball -- like the mental side of it," Wheeler told Kerwick. "He was a great guy."

• From the bloggers … In light of Monday night's developments, Faith and Fear in Flushing concludes Bourn was just an urban myth. … Shannon from MetsPolice.com scoured YouTube and located a 1969-themed Mets calypso song that would make a good addition to the Citi Field music rotation.

BIRTHDAYS: Ex-Mets right-hander Tim Redding turns 35. … Lenny Randle, who played two seasons for the Mets in the '70s, was born in 1949.

TWEET OF THE DAY: YOU'RE UP: Are you upset or relieved the Mets failed to sign Michael Bourn?

Please use the comments section to weigh in


---