Tuesday, February 19, 2013
Morning briefing: Wright getting C?

---
By Adam Rubin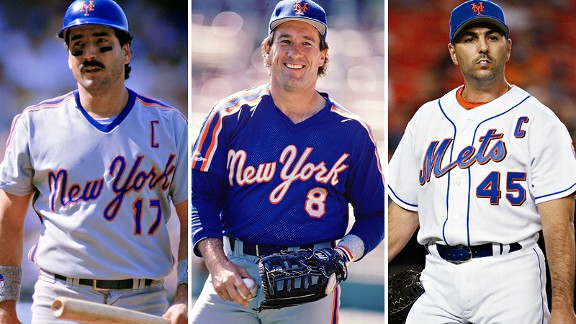 Getty Images

David Wright appears poised to join Keith Hernandez, Gary Carter and John Franco as the only captains in Mets history.

PORT ST. LUCIE, Fla.

FIRST PITCH: Terry Collins said he soon plans to initiate the process of formally making David Wright captain by speaking with Sandy Alderson and Jeff Wilpon.

With the retirement of career-long Brave Chipper Jones and the trade of Michael Young to the Philadelphia Phillies, Wright now will rank fourth among active players in games played while only appearing for one club, at 1,262. He trails only Derek Jeter (2,585 games with Yankees), Todd Helton (2,123 with Colorado Rockies) and Jimmy Rollins (1,792 with Phillies).

"Two years ago he should have been captain," John Franco, the last Met to serve as captain, recently told ESPNNewYork.com. "David is the team leader. He's been there for a long time, and he's going to continue to be there for a long time. He's a good player. He's the face of the franchise. Why not have the face of the franchise be the leader of the team? He deserves it."

Wright would join Keith Hernandez (1987-89), Gary Carter (1988-89) and Franco (2001-04) as the only captains in franchise history.

Meanwhile, Day 2 of full-squad workouts takes place Tuesday morning.

Also on tap: a media training session for the players. Word is the Mets, instead of showing their customary video containing past gaffes throughout sports, will shine the light on their own miscues as a way to avoid repeating history.

Tuesday's news reports:

• Daniel Murphy is headed to New York today to have an ailing intercostal muscle on his right side examined by team doctors at the Hospital for Special Surgery. He may receive a cortisone shot. The best case scenario: Murphy misses a week to 10 days.

The Mets have plenty of second-base fill-ins, including Jordany Valdespin, Justin Turner, Brandon Hicks, Wilmer Flores and Reese Havens. Read more in the Record, Post, Star-Ledger, Times, Newsday and MLB.com.

• The Mets may end up with a 40-man roster dilemma late in spring training that could affect Turner with the club, a source told ESPNNewYork.com.

• Shaun Marcum and Zack Wheeler kick off the Grapefruit League schedule when they pitch Saturday against the Washington Nationals, who will start Stephen Strasburg.

Other upcoming storylines: Pedro Feliciano attempts to begin demonstrating he is like his 2010 version when he pitches in Friday's intrasquad game. Bobby Parnell starts to demonstrate he's closer material Saturday against the Nats. And Dillon Gee pitches in a game Sunday for the first time since surgery to repair a damaged shoulder artery during last year's All-Star break. Gee faces the University of Michigan in relief of Jonathon Niese.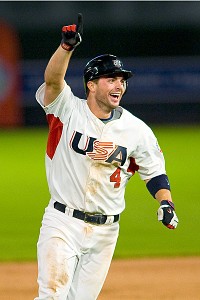 Scott Rovak/US Presswire
With Johan Santana nixed, David Wright is the lone Mets representative in the World Baseball Classic.


See the pitching schedule for the first three days of Grapefruit League play here.

• Johan Santana officially has been nixed from participating in the World Baseball Classic by the Mets. Wright will be the team's lone WBC representative. The third baseman said he will depart camp March 2 or 3 for Team USA, which will train in Phoenix. Read more in the Star-Ledger, Daily News, Post and MLB.com.

• Read more on Wright in Newsday, the Record, Daily News, MLB.com and Star-Ledger.

• Collins told his players in a team meeting before Monday's first full-squad workout that while there may not be many $20 million-a-year ballplayers on the club, they can succeed if they do the little things correctly. Read more in the Post, Newsday and MLB.com.

• Jared Diamond in the Journal suggests that rather than harp on trying to make up the innings lost with the departure of R.A. Dickey, the Mets should focus on reaching 1,000 innings as a starting staff. Writes Diamond:

There have been 41 teams over the past 10 years whose starters accumulated at least 1,000 innings. They averaged about 89 wins apiece. …

But there is another, less obvious explanation for the 1,000-inning phenomenon -- one that particularly matters to the Mets. It turns out that just by pitching a little bit more, the starting rotation could fix the Mets' most glaring problem: the bullpen. "Sometimes the best bullpens are the ones that have had the starting staffs that went deepest into games," said Scott Atchison, one of the several new faces in the Mets' overhauled relief corps.

The statistics jibe with Atchison's hunch. Since 2003, the teams with 1,000-inning rotations posted a 3.76 bullpen earned-run average, compared with a 4.05 ERA for everybody else.

• Columnist Ken Davidoff in the Post writes that "any chance the Mets have at shocking the world emanates from their pitching."

• Andrew Keh in the Times notes Wright is not the only one to become engaged during the offseason. Kirk Nieuwenhuis, Zach Lutz, Anthony Recker, Josh Satin and Havens also popped the question in recent months. "Well, we got together and all planned to do it over the same offseason," Wright joked to Keh. Niese and Murphy both got married during the offseason, too.

• The Mets re-signed lefty reliever Justin Hampson. He will report directly to minor league camp.

• From the bloggers ... The Eddie Kranepool Society suggests this is a make-or-break season for Lucas Duda. … At Mets Police, Mets fans lead an existential existence as they are 'Waiting For d'Arnaud.' … Rising Apple pens a farewell to Jason Bay. ... Mets Merized writes Wheeler "will not go down without a fight."

BIRTHDAYS: Miguel Batista, who filled in last year until Matt Harvey was deemed ready to enter the rotation, turns 42. … Former reliever Tim Burke was born in 1959.

TWEET OF THE DAY: YOU'RE UP: Should David Wright officially be named captain? If so, is it tacky to put a "C" on his jersey?

Please use the comments section to weigh in


---