Sunday, March 31, 2013
Series preview: Mets vs. Padres

---
By Adam Rubin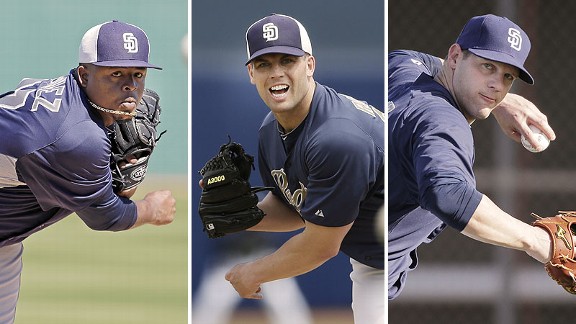 Associated Press

The Mets face (l to r) Edinson Volquez, Clayton Richard and Eric Stults during the season-opening series.

METS (74-88, fourth place/NL East) vs. SAN DIEGO PADRES (76-86, fourth place/NL West)

Monday: LHP Jonathon Niese (13-9, 3.40) vs. RHP Edinson Volquez (11-11, 4.14), 1:10 p.m. ET

Wednesday: RHP Matt Harvey (3-5, 2.73) vs. LHP Clayton Richard (14-14, 3.99), 7:10 p.m. ET

Thursday: RHP Dillon Gee (6-7, 4.10) vs. LHP Eric Stults (8-3, 2.92), 1:10 p.m. ET

Padres short hops

• Chase Headley, who finished fifth in NL MVP balloting last season and won the NL's Gold Glove at third base, will open the season on the DL with a fractured tip of his left thumb. Logan Forsythe, who was due to fill in, is dealing with plantar fasciitis. So Cody Ransom is the Opening Day starter.

Ransom, 37, signed a minor league contract with San Diego in December. He hit a combined .220 with 11 homers and 42 RBIs in 246 at-bats with the Arizona Diamondbacks and Milwaukee Brewers last season. In 2008, Ransom became the first player in Yankees history to homer in his first two plate appearances with the club.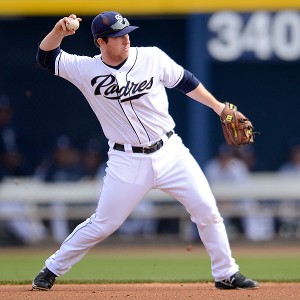 Andy Hayt/San Diego Padres/Getty Images
Jedd Gyorko, who had 30 homers in the minors last season, makes his major league debut against the Mets.


• Volquez will make his third straight Opening Day start, which includes 2011 with the Cincinnati Reds. Volquez made three World Baseball Classic appearances for the victorious Dominican Republic, including notching the win against the Netherlands in the semifinals. He walked six in his final Cactus League start, but nonetheless limited the Cincinnati Reds to one run and two hits in five-plus innings.

• Rookie Jedd Gyorko, a second-round pick in 2010 from West Virginia University, will make his major league debut on Opening Day. He hit a combined .311 with 30 homers and 100 RBIs in 2012 between Double-A San Antonio and Triple-A Tucson. The righty-hitting Gyorko will move to third base in place of Ransom, and lefty-hitting Alexi Amarista should start at second base, Wednesday against Harvey. The diminutive Amarista has picked up the nickname "Little Ninja."

• Carlos Quentin, who had two surgeries on his right knee last year, missed more than two weeks of spring training because of soreness but returned to Cactus League action Tuesday. He is poised to start in left field.

• After dropping a season-worst 22 games under .500 on June 29, the Padres produced a 48-36 record to close last season.

• First baseman Yonder Alonso set a Padres rookie record with 39 doubles last season, passing Benito Santiago's former mark (33 in 1987).

• Shortstop Everth Cabrera became the first Padre to lead the NL in steals when he produced 44 in 2012. He was 59 for 63 in steal attempts between Triple-A and the majors. His 24 straight successful steals in the majors set a franchise record to start a season. Cabrera is the reigning Nicaraguan Pro Sports Athlete of the Year.

• The Mets reportedly turned down a swap of Daniel Murphy for right-handed reliever Luke Gregerson last year.

• Right fielder Chris Denorfia twice has represented Italy in the World Baseball Classic. He hit .381 in five games in this month's tournament for Mike Piazza's squad.

• Center fielder Cameron Maybin hit .198 in his first 71 games and .286 over his final 76 games last season.

• Richard logged 218 2/3 innings last season, which ranked fourth in the NL. He also allowed an NL-high 31 homers.

• Closer Huston Street converted 23 of 24 save chances last season (95.8 percent). The only better conversion percentages in franchise history: Rod Beck (100 percent, 2003) and Trevor Hoffman (98.1 percent, 1998). Street signed a two-year, $14 million extension last July that includes a $7 million team option for 2015.

• A waiver claim last May from the Chicago White Sox, Stults went 7-1 with a 2.79 ERA in his final 10 starts last season.

• San Diego's projected Opening Day lineup:

Denorfia, rf
Cabrera, ss
Quentin, lf
Alonso, 1b
Gyorko, 2b
Nick Hundley, c
Ransom, 3b
Maybin, cf
Volquez, rhp


---