Sunday, April 7, 2013
Series preview: Mets at Phillies

---
By Adam Rubin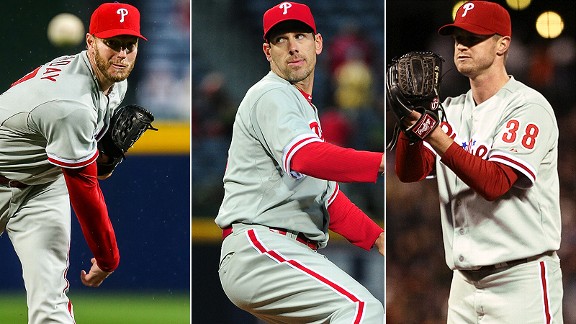 Getty Images/USA TODAY Sports

The Mets face (l to r) Roy Halladay, Cliff Lee and Kyle Kendrick this week in Philly.

METS (4-2, second place/NL East) at PHILADELPHIA PHILLIES (2-4, fourth place/NL East)

Monday: RHP Matt Harvey (1-0, 0.00) vs. RHP Roy Halladay (0-1, 13.50), 7:05 p.m. ET

Tuesday: RHP Dillon Gee (0-1, 1.42) vs. LHP Cliff Lee (1-0, 0.00), 7:05 p.m. ET

Wednesday: RHP Jeremy Hefner (0-1, 1.50) vs. RHP Kyle Kendrick (0-1, 7.94), 7:05 p.m. ET

Phillies short hops

• Roy Halladay's fastball averaged 89.6 mph and he used it far less often than is customary while surrendering five runs in 3 1/3 innings in his season opener at Atlanta. The fastball velocity is down from an average of 90.6 mph last season, 92.0 mph in 2011 and 92.6 mph in 2010. Halladay dealt with shoulder issues last season. He is seeking his 200th career win Monday. He is 7-0 with a 1.78 ERA against the Mets since 2010.

• Phillies pitchers have surrendered an NL-leading 32 runs. The relief corps has allowed 10 of 11 inherited runners to score.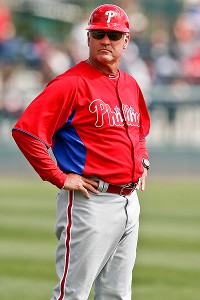 Derick E. Hingle/USA TODAY Sports
Former Cubs great Ryne Sandberg is Philadelphia's new third-base coach.


• Jimmy Rollins and Chase Utley have started 962 games as a middle-infield combo, second to the Yankees' Derek Jeter and Robinson Cano (1,036 games) among active double-play partners. Rollins passed Richie Ashburn on Thursday for the second-most games played in Phillies history, with No. 1,795. Mike Schmidt is the franchise leader with 2,404 games played as a Phillie.

• Third baseman Michael Young was acquired from the Texas Rangers in December for right-handers Josh Lindblom and Lisalverto Bonilla.

• Center fielder Ben Revere was acquired from the Minnesota Twins in December for right-handers Vance Worley and Trevor May. Revere has played 166 straight error-free games. According to ESPN Stats & Information, Revere has 1,092 career plate appearances without a homer -- the most among active players. The next 35 on that list are pitchers.

• Opening Day starter Cole Hamels, whom the Mets do not face, is 0-2 with a 10.97 ERA.

• First baseman Ryan Howard is hitting .167 with no homers and eight strikeouts in 24 at-bats. He has yet to produce an extra-base hit through six games.

• Backup outfielder Ezequiel Carrera, who was claimed off waivers from the Cleveland Indians last Tuesday, originally was signed by the Mets out of Venezuela. He was part of the three-team trade on Dec. 11, 2008 that landed J.J. Putz and Sean Green in Flushing.

• Cliff Lee -- who was winless until a July 4 victory at Citi Field last season, and who went 6-9 overall in 2012 despite a 3.16 ERA -- is off to a more favorable start this season. Lee tossed eight scoreless innings at Atlanta on Thursday, limiting the Braves to two hits and no walks while striking out eight. Lee's victory snapped Atlanta's streak of winning 23 straight games started by Kris Medlen. Lee has made 18 straight starts of six-plus innings with one or fewer walks. That is a modern-era record, topping the 14 straight by Christy Mathewson (1908) and Greg Maddux (1997).

• Catcher Carlos Ruiz is serving a 25-game MLB suspension to open the season after testing positive for the stimulant Adderall. Fill-in Erik Kratz caught 40 percent of would-be base stealers last season.

• The Phillies overhauled Charlie Manuel's coaching staff. The newcomers: third base coach Ryne Sandberg, hitting coach Steve Henderson, assistant hitting coach Wally Joyner and bullpen coach Rod Nichols.

• Delmon Young, who signed with the Phillies in January, is playing in extended spring training games. He underwent ankle surgery in November.

• The Phillies' primary batting order is:

Revere, cf
Rollins, ss
Utley, 2b
Howard, 1b
Young, 3b
Domonic Brown, lf
John Mayberry Jr. (RH)/Laynce Nix (LH), rf
Kratz, c


---