Monday, April 15, 2013
Series preview: Mets at Rockies

---
By Adam Rubin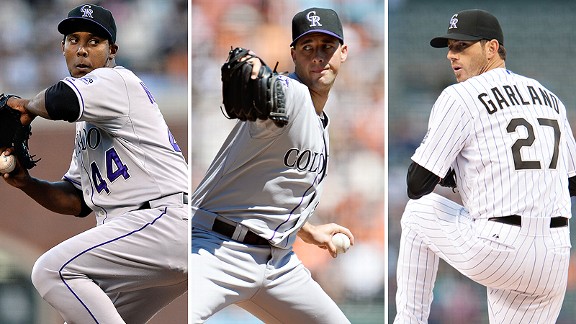 Getty Images

The Mets are due to face (l to r) Juan Nicasio, Jeff Francis and Jon Garland the first three games of the series.

METS (7-4, second place/NL East) at COLORADO ROCKIES (8-4, second place/NL West)

Monday: RHP Dillon Gee (0-2, 7.71) vs. RHP Juan Nicasio (1-0, 4.91), 8:40 p.m. ET

Tuesday: LHP Aaron Laffey (0-0, 6.23) vs. LHP Jeff Francis (1-1, 5.87), 8:40 p.m. ET

Wednesday: RHP Jeremy Hefner (0-2, 6.00) vs. RHP Jon Garland (1-0, 3.75), 8:40 p.m. ET

Thursday: LHP Jonathon Niese (2-0, 3.57) vs. RHP Jhoulys Chacin (2-0, 1.96), 3:10 p.m. ET

Rockies short hops

• First-year manager Walt Weiss spent the past three years as a coach at Regis Jesuit High School in Aurora, Colo.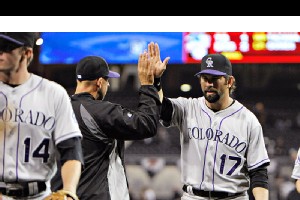 Denis Poroy/Getty Images
Todd Helton's pinch-hit homer Sunday proved the difference in Colorado's win at San Diego.


• The Rockies traded Aaron Harang to the Seattle Mariners on Friday for Triple-A right-hander Steve Hensley. Colorado had acquired Harang five days earlier from the Los Angeles Dodgers for catcher Ramon Hernandez. Colorado saved $500,000 with the trade.

An interesting wrinkle to the Rockies-Mariners swap: Seattle needed Harang after not placing Jon Garland on its major league roster and allowing him to opt out on March 23. Garland signed with Colorado the next day. The addition of Yorvit Torrealba during the offseason sealed Hernandez's fate.

• Center fielder Dexter Fowler became the fourth player in MLB history to have six homers in his team's first 10 games of a season while batting out of the No. 1 or 2 spots in the lineup, according to the Elias Sports Bureau.

• Jeff Francis lasted only 1 2/3 innings in his most recent outing, allowing seven runs (four earned) against the San Francisco Giants.

• In the National League, Todd Helton and David Wright are the only two active players to own their organization's franchise records for hits. Wright (1,438) passed Ed Kranepool (1,418) last season.

• Carlos Gonzalez, who was given Sunday off, is hitting .333 with three homers in 42 at-bats.

• Shortstop Troy Tulowitzki played in only 47 games last season because he suffered a strained left groin last May 30 against Houston that ended his season. He underwent surgery June 21 in Philadelphia.

• Right fielder Michael Cuddyer, who played in only three games last season after July 31 due to a right oblique strain, is hitting .333 with three homers and 10 RBIs in 11 games.

• Closer Rafael Betancourt recorded his fifth save Sunday, despite allowing a run on two walks and no hits at San Diego in a 2-1 victory. Betancourt converted 31 of 38 save chances last season.

• The Rockies' most common lineup is:

Dexter Fowler, cf
Josh Rutledge, 2b
Carlos Gonzalez, lf
Troy Tulowitzki, ss
Michael Cuddyer, rf
Todd Helton, 1b
Wilin Rosario, c
Chris Nelson, 3b


---