Monday, April 29, 2013
Morning briefing: Safe to watch, Harvey up

---
By Adam Rubin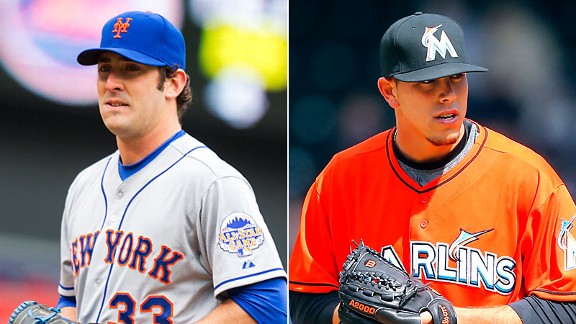 Getty Images

Matt Harvey opposes rookie Jose Fernandez tonight in Miami.

FIRST PITCH: It is safe to watch tonight, New York Mets fans.

Matt Harvey takes the mound in the 7:10 p.m. series opener in Miami against rookie right-hander Jose Fernandez.

Harvey is bidding to become the third Mets pitcher to go 5-0 in April, joining Pedro Martinez (2006) and Dwight Gooden (1988).

Read the series preview here.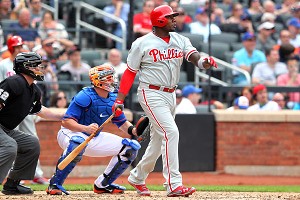 Brad Penner/USA TODAY Sports
Ryan Howard delivered a pinch-hit two-run double in the seventh Sunday as Philadelphia completed a sweep.


Monday's news reports:

• After John Buck dropped a foul pop that would have resulted in the third out, Jonathon Niese surrendered a pair of singles in the seventh and departed with his pitch count at 117. Scott Atchison proceeded to allow a tiebreaking two-run double to pinch-hitter Ryan Howard as the Philadelphia Phillies completed a sweep with a 5-1 win against the Mets on Sunday at Citi Field. Terry Collins said he foresaw and did not mind the decisive Atchison-Howard matchup. The Mets went 3-6 on their homestand. They have produced five hits or fewer in five of their past seven games. Read game recaps in the Post, Daily News, Journal, Newsday, Times, Star-Ledger, Record and MLB.com.

• Tim Marchman in the Journal examines Harvey's strikeout rate. Writes Marchman:

Harvey is a strikeout artist, already one of the best ever when going by the raw numbers. Among all starting pitchers who have pitched at least as many innings as he has, only three have bettered his 10.4 strikeouts per nine innings, and just four did so through age 24. Since K-rate is usually considered the single best predictor of how well a pitcher will age, from this angle the inevitable comparisons to past Mets greats like Dwight Gooden, Nolan Ryan and Tom Seaver make sense.

What this ignores, though, is that Harvey is pitching at a time when strikeouts mean less than they ever have. He is obviously brilliant, but the expectations may already be unfair.

Over the last two years, strikeouts are at a historic high, reaching 7.7 this year, a rather abrupt rise of 10 percent above what they were in 2009. There are a lot of explanations for why this has happened -- sabermetric theory negating the stigma of the strikeout, new batting philosophies that prize sitting on a given pitch, the increased use of short relievers -- but the result is that whiffs have doubled since the heyday of Stan Musial and Jackie Robinson.

• Robbie Shields had four hits and Noah Syndergaard limited Tampa to one unearned run in seven innings as St. Lucie beat the Yankees, 9-2. Cole Frenzel produced a walk-off RBI single in Savannah's 3-2 win against West Virginia. Read the full minor league recap here.

• Pedro Feliciano had been hospitalized with a severe case of food poisoning, but the Mets hope to have him back on a mound this week. "He's all good," agent Melvin Roman told ESPNNewYork.com Sunday about Feliciano's current status.

• When will Frank Francisco return? There doesn't seem to be much urgency from anyone, and Collins isn't sure.

• R.A. Dickey, pitching in New York for the first time since earning his 20th victory in Flushing, surrendered homers to Brennan Bosch and Lyle Overbay and suffered the loss as Toronto was swept in a four-game series by the Yankees. Dickey is 2-4 and dealing with neck and back discomfort.

"If I have to battle it for a while, I'll battle it for a while until it goes away," the knuckleballer told reporters. "It gets marginally better between starts. It's just that when I have to start it breaks down again."

• From the bloggers … Shannon from Mets Police thinks it feels like just after the All-Star break.

BIRTHDAYS: Omir Santos, who homered against Jonathon Papelbon before Jordany Valdespin did, turns 32. … Fellow ex-Mets catcher Kelly Shoppach is 33.

TWEET OF THE DAY: YOU'RE UP: Who will win the Mets-Marlins series?


---