Tuesday, May 7, 2013
Remembering Ventura: A very valuable Met

---
By Mark Simon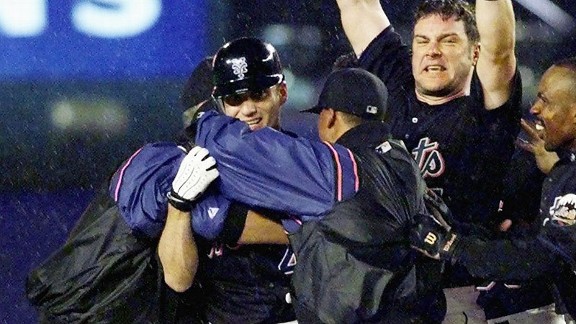 Atan Honda/AFP/Getty ImagesRobin Ventura's grand slam single was a celebratory moment for the 1999 Mets.

With the White Sox in town for a two-game stay in Queens, we look at where Chicago manager Robin Ventura ranks in Mets history among those that have worn the club's uniform.

Speaking strictly statistically, Ventura compiled 11 Wins Above Replacement in three seasons with the team. That's tied with John Franco for 40th-most (looking at hitters solely as hitters and pitchers solely as pitchers) and that's pretty good considering that A.) Ventura only played three seasons with the team and B.) Of the 20 players in Mets history with 50 postseason plate appearances, Ventura's postseason .161 batting average ranks worst.

We can and should go beyond the numbers with Ventura because his name evokes so many positive memories. These are a few of the best ones:

Two grand slams in one day
Grand slams were what Ventura did best (defense ranks a close second). His 18 rank tied for fifth-most all-time with Willie McCovey. And he's one of a select group to hit two in one game.

But on May 20, 1999, Ventura did something that had never been done before in baseball history -- he hit a grand slam in Game 1 of a doubleheader against the Milwaukee Brewers, then followed that with a grand slam in the second game of the doubleheader as well.

Did you know? Ventura's five grand slams are tied for second-most in Mets history, one shy of all-time leader Mike Piazza.

The big hit
For the 1999 Mets to just make the postseason, they had to overcome a two-game deficit in the NL wild-card race with only three games to go.

The first step in that was to beat the Pirates in an excruciating Friday night game at Shea Stadium. It wouldn't be settled until the 11th inning, when Ventura got a walk-off single against lefty reliever Scott Sauerbeck.

Did you know? Ventura, David Wright and Dave Kingman had three six-RBI games for the Mets, tied for the most such games in club history.

The Grand Slam Single
This is the easiest one to remember, one of the most memorable moments in Mets history. With the Mets trailing by a run and down to their final three outs in the bottom of the 15th inning against the Braves, they staged an epic comeback, begun by Shawon Dunston's marathon at-bat against Kevin McGlinchy.

By the time things got to Ventura, the game was tied and Ventura crushed a 2-1 pitch over the fence. In the excitement that followed, Mets players got so excited that they (led by Todd Pratt) tackled Ventura before he could reach second base.

In the end, the home run would be negated (and ruled a game-ending single), but the win and the memories would not

The rain delay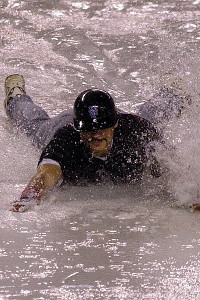 AP Photo/Bill Kostroun
Robin Ventura liked to have fun on the field.

The Mets and Yankees got rained out on June 11 2000, but Ventura would play the role of entertainer during the lengthy delay. Ventura came onto the field in the pouring rain and had a little fun on the tarp.

Among those he impersonated -- Mets slugger Mike Piazza.

Ventura was a fun Met. He was among those most vocal about making "Mojo Rising" the team's theme song.

Did you know? The only two players to hit at least 30 homers for both the Mets and Yankees are Ventura and Darryl Strawberry.

The one-hitter
Ventura played two roles in the best pitched game in Mets postseason history, Bobby Jones' one-hitter against the San Francisco Giants in Game 4 of the 2000 NLDS. Ventura started the scoring with a two-run homer in the first inning, putting the Mets on their way to a 4-0 win.

Ventura also leaped and narrowly missed catching the Giants' only hit of the game, Jeff Kent's leadoff double in the fifth inning.

"I wish Robin was 7-foot-4, so he could have caught it, but he saved me many a time," Jones said when we asked him about it a few years ago.

In the end, no one would mind too much that the Mets didn't get the no-hitter. They were moving on, eventually to the World Series, and that's what mattered most.

Did you know? Ventura ranks 21st in Mets history with 77 home runs. He's sandwiched on the club's all-time homer list by Keith Hernandez (80) and Rusty Staub (75).


---