Tuesday, May 14, 2013
TC: Fans don't understand 'Spin incident

---
By Adam Rubin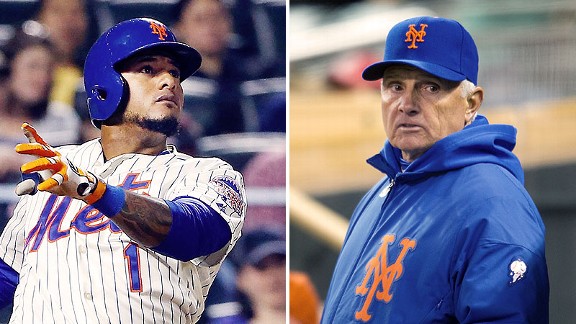 Getty Images

Terry Collins says Jordany Valdespin is now the victim of a pile-on from media.

ST. LOUIS -- Terry Collins became agitated with continued questions about Jordany Valdespin getting plunked Saturday. That was especially evident when the manager was asked pregame Tuesday about whether the Mets hung Valdespin "out to dry" by pinch-hitting him when there was a reasonable suspicion 'Spin would be hit with a pitch.

"I don't answer to fans. They don't play this game," Collins said. "They have no idea what goes on. They have no idea what goes on in there. They have absolutely no idea what it means to be a professional teammate at this level. … I'll tell you one thing: Jordany knew they were going to throw at him. He knew it. And you've got to go take your medicine. That's part of being a big guy in this league."

Asked a follow-up question about the perception of the incident as the Mets not defending Valdespin, Collins cut off the question.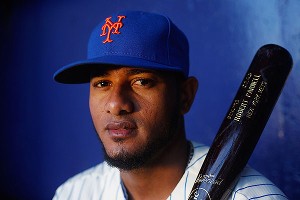 Chris Trotman/Getty Images
Jordany Valdespin.


"I don't care what the perception is," the manager said. "All I know is what goes on here. I've been doing this for 42 years. I don't care what anybody on the outside thinks. I know how to get it done in the clubhouse. I've been doing it a lot longer than a lot of people. He's fine. He handled it great, I thought, the way he went about it. He went to first base. He didn't throw his bat any place. … He did it the right way. And now it's over. Now we move on."

The Pirates struck Valdespin after he admired an inconsequential pinch-hit homer Friday.

The topic resurfaced Tuesday after the Daily News alleged Valdespin tried to get out of pinch-hitting Saturday because he knew he was going to get hit.

Collins insisted the report was false -- that Valdespin tried to get out of his second plate appearance Saturday, the time after he was hit in the arm. That at-bat never happened anyway because the game ended with 'Spin on deck.

"His arm was bothering him. It did swell up," Collins said. "That's when you walk in that batter's box and say, 'OK, let's go.' Now if they threw at him again, we would have answered. There would have been a definite answer. They didn't."

Collins suggested now Valdespin is the victim of a pile-on from media.

"One of the things that's caused this is we're not playing very good," Collins said. "So everybody is looking for something to write about."

On Valdespin's maturity, the manager said: "I don't care the fact that he's 26 or whatever his age is. He's had a tough background. He's an energetic guy. He plays with flair. He's going to piss people off once in a while.

"The issue is he has to be careful he doesn't piss those guys off," Collins continued, referring to teammates, "because they have to defend him. And that's where he's got to be careful of what he says and how he handles himself, because everybody is trying to help.

"In the four years I've been around, there's been a number of people who have thrown their hands up. But you can't ever give up on talent like that. You've got to continue to address it and continue to get him to understand. Because, ultimately, he will get it.

"Now just because he doesn't get it right now doesn't mean he's not going to get it. He was down in the dumps the other day because he got hit. He had a tough time understanding why everybody was upset about it.

"This guy doesn't have a whole year in the big leagues yet. … You've got to cut some guys some slack."


---