Friday, June 7, 2013
Draft Day 2: Mazzilli's son taken in 4th rd.

---
By Adam Rubin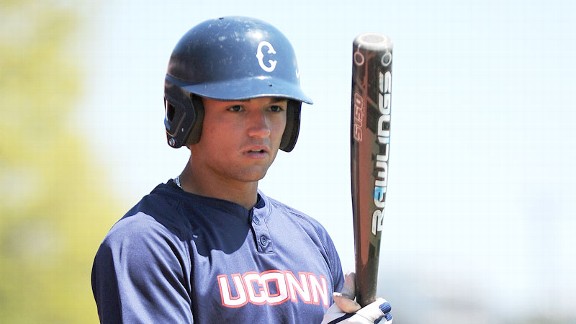 Tomasso DeRosa/Associated PressThe Mets selected Lee Mazzilli's son L.J., a UConn second baseman, in the fourth round.

WASHINGTON -- Selections resumed Friday in the three-day MLB draft. Here is the full rundown of the activity. Rounds 11 through 40 will be selected Saturday.

Rd. 3 (76th overall), Ivan Wilson, CF, Ruston (La.) HS.
Wilson has committed to Grambling. Read more in the Monroe (La.) News-Star.

Rd. 3 (84th), Casey Meisner, RHP, Cypress Woods (Texas) HS.
A Texas Tech signee, Meisner stands 6-foot-7, 190 pounds. Read more in the Cypress Creek Mirror.

Rd. 4 (116th), L.J. Mazzilli, 2B, UConn.
Son of ex-Met Lee Mazzilli. Read college bio here.

Rd. 5 (146th), Jared King, LF, Kansas State
Read college bio here.

Rd. 6 (176), Champ Stuart, CF, Brevard (N.C.) College
Stuart is from the Bahamas. Read college bio here.

Rd. 7 (206), Matt Oberste, 1B, University of Oklahoma
Read college bio here.

Rd. 8 (236), Ricky Knapp, RHP, Florida Gulf Coast
Knapp is the son of former Tigers pitching coach Rick Knapp. Read college bio here.

Rd. 9 (266), Patrick Biondi, CF, Michigan
Biondi was 6-for-6 in steal attempts against Eastern Michigan on April 24, setting a Big Ten record, according to the Michigan Daily. Read college bio here.

Rd. 10 (296), Luis Guillorme, SS, Coral Springs (Fla.) Charter HS
Venezuela native who moved to U.S. as teenager.


---