Monday, July 15, 2013
Morning Briefing: Harvey Coronation Day

---
By Adam Rubin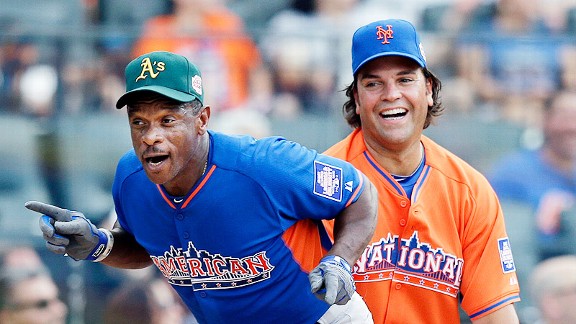 Kathy Willens/Associated PressMike Piazza and Rickey Henderson fool around during Sunday's celebrity softball game at Citi Field, which will be televised by ESPN tonight after the Home Run Derby.

PITTSBURGH

FIRST PITCH: Barring a shocking turn of events, Matt Harvey is expected to be on the dais at a 1:30 p.m. press conference in the Caesars Club at Citi Field today, being introduced as the National League starting pitcher for Tuesday's All-Star Game.

Harvey should become the fifth All-Star pitcher to start in his home ballpark since MLB expanded 52 years ago. He will join Roger Clemens (Houston, 2004), Esteban Loiaza (Chicago, 2003), Pedro Martinez (Boston, 1999) and Steve Rogers (Montreal, 1982), according to the Elias Sports Bureau.

"I'd be very surprised," David Wright said about anything other than Harvey being named the starter occurring. "I think he's deserving. It sucks that he missed this start [in Pittsburgh], but hopefully he's ready to pitch on Tuesday."

He will be ready. Harvey's blister issue is resolved, according to Terry Collins.

Wright takes center stage Monday evening, when he competes on ESPN at 8 p.m. in the Home Run Derby. It is Wright's first time participating in the event since finishing as the runner-up to Ryan Howard in Pittsburgh in 2006, in his inaugural All-Star year. That time, Paul Lo Duca pitched to Wright. This time, bullpen catcher Dave Racaniello draws the assignment.

"I'd say lefties probably have the better chance, just with the porch," Wright said. "It's probably a little more left-handed friendly down the line."

Meanwhile, since dropping 15 games under .500 on June 17 with a series-opening loss at Atlanta, the Mets have posted a 16-10 record. The positive spurt happens to coincide with Eric Young Jr.'s arrival.

Still, the Mets (41-50) have dug a deep hole. They are nine games under .500 and own their worst All-Star break record since 2003, when they were 40-53 in Art Howe's first season as manager.

For the optimists, the Mets are 10 games behind the Cincinnati Reds for the second wild-card spot and 11 games behind the division-leading Atlanta Braves.

"Well, we're disappointed," Collins said. "We're not happy with where we're sitting. We got off to such a good start.

"We've had ups and downs. Heck, we've lost three-fifths of our starting rotation (Johan Santana, Shaun Marcum and Jonathon Niese). We've been scrambling to find guys to replace them. Ike [Davis] had a bad first half. We're hoping he has a tremendous second half, like he did last year. We've lost Lucas [Duda]. We've lost [Justin] Turner. We've had a lot of injuries. We lost our closer.

"Fortunately, we had a guy pick up that (Bobby Parnell). We've had to play through a lot, as all teams have. But we're certainly not satisfied with where we are. That's why I'm saying: I'm very proud of the way they've played in the last month. I had one of the guys that's not on our team the other day tell me: 'You know, a lot of teams could have cashed it in in your situation. And your team hasn't.' That's a pat on the back to those guys in that clubhouse."

Said Wright: "You always want to win games, no matter what position you're in. I think it's nice that … we have a little more confidence moving forward into the second half. But there's still a long way to go. But we had a nice month after a couple of pretty bad months. It's nice that we're progressively getting better. So hopefully the best is yet to come and we continue that trend."

Monday's news reports:

• Jordany Valdespin reportedly had a temper tantrum with dismayed teammates watching after getting demoted Saturday, according to the Star-Ledger. The Post subsequently reported Valdespin cursed out Collins and demanded to be placed on the disabled list. Given Valdespin's past baggage, who knows if we'll see him again?

• Mike Piazza will become the 27th member of the Mets' Hall of Fame. He will be inducted before a Sept. 29 game against the Milwaukee Brewers. Read more in the Star-Ledger, Post, Daily News, Newsday and MLB.com.

• Dillon Gee allowed one unearned run in 6 2/3 innings and the Mets completed a first-half-closing road trip with a 4-2 win against the Pirates on Sunday afternoon at PNC Park. Scott Atchison returned from the disabled list and stranded two runners inherited from Gee.

Read game recaps in the Post, Daily News, Newsday, Times, Star-Ledger, Record and MLB.com.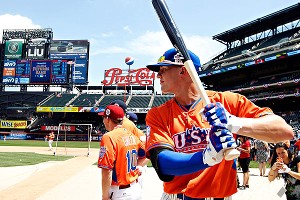 William Perlman/USA TODAY SportsYou could find Brandon Nimmo on Sunday at the Futures Game. He went 0-for-2.

• Noah Syndergaard and Rafael Montero each tossed scoreless innings in the Futures Game at Citi Field, with Montero requiring only nine pitches for a 1-2-3 frame. Brandon Nimmo, who spoke about his season playing for Savannah pregame, went 0-for-2. See a photo of the Mets' trio of prospects here.

Writes columnist John Harper in the Daily News about Syndergaard:

He's the new phenom, with [Zack] Wheeler in the big leagues now, showing the same type of stuff that again has scouts drooling.

"There's a lot of buzz about him," was the way GM Sandy Alderson put it on Sunday. "Every call I get [regarding trades] starts with, 'What about Syndergaard?' "

Alderson all but hangs up at that point. Though he doesn't say it, he doesn't argue either when it is suggested that the 20-year old right-hander has become an untouchable.

Indeed, another person in the organization says flatly, "We're not trading Syndergaard."

Read more in the Times, Journal, Daily News, Ledger and Newsday.

• Wright was booed each plate appearance during all three weekend games in Pittsburgh. The faulty reasoning? He did not originally put Pedro Alvarez on the NL's Home Run Derby squad. Alvarez eventually replaced Carlos Gonzalez last Thursday. Collins said the booing was misguided. Read more in Newsday.

• Josh Satin reached base twice in four plate appearances, while Ike Davis grounded into a double play as a pinch hitter in the ninth. Afterward, Collins was noncommittal about playing-time distribution at first base after the All-Star break.

• Read more on Harvey in the Star-Ledger.

• Erik Goeddel tossed six scoreless innings and Pedro Feliciano inherited and stranded the bases loaded as Binghamton beat Portland, 4-0. Read the full minor league recap here.

• Wilmer Flores, who has been selected as the Mets' lone representative in Wednesday's Triple-A All-Star Game in Reno, Nev., only suffered a "mild" ankle sprain when he left Saturday game, Paul DePodesta said.

• Anna Benson appeared on "America's Most Wanted" in the 1990s. She reportedly was suspected of being linked to an execution-style murder. Read more in the Daily News.

• The Post All-Star preview package includes Steve Serby's joint Q&A with Harvey and Wright, things to see around the All-Star Game, a look back at the '64 game in the inaugural year at Shea Stadium, and a fan vote for an all-time Mets team by position.

• Jared Diamond in the Journal details what goes into readying a stadium for an All-Star Game. Diamond also gives out midseason Mets awards.

• From the bloggers … Mets Police takes a look at some tweaks to Citi Field for All-Star Week. … Trading Bobby Parnell or Marlon Byrd just creates further holes, writes John Delcos at Mets Report.

BIRTHDAYS: Jerry Manuel-favorite Fernando Nieve, currently in Triple-A with Cleveland, turns 31. … Wilson Delgado is 41. … James Baldwin is 42. … Don Clendenon was born on this date in 1935. He died in 2005.

TWEET OF THE DAY:


---