Tuesday, August 13, 2013
Believe It Or Not: Juan Lagares

---
By Mark Simon


Elsa/Getty ImagesShould the Mets believe in the long-term prospects of Juan Lagares?

For the next four days, we're going to write about Mets who have performed well recently, taking a closer look at their strengths and weaknesses, then get a scout's perspective on the longer-term outlook for that player. We lead off with centerfielder Juan Lagares.

Believe It ...
Lagares has a 2.7 WAR through 77 games (third-best among Mets position players), which was fueled almost entirely by his defense in his initial stint with the team, but has gradually had value added through his offense.

Since June 5, he's hitting nearly .300, with a little power, and hitting line drives with consistency. His numbers are highly similar against right-handed and left-handed pitching.

Lagares has 18 Defensive Runs Saved in a little over 500 innings and they've come in a variety of ways.

Lagares has been able to get to balls that others can't (including a homer-robbing catch against Andrew McCutchen that spikes his value slightly) and deter baserunners from advancing when he fields the ball.

Lagares has nine assists, seven of which have come on baserunners trying to advance a base. The component of Defensive Runs Saved that measures the value of deterring baserunners rates Lagares best among centerfielders.

... Or Not
Lagares still has a lot of holes in his swing, as evidenced by his 55 strikeouts and nine walks (only six unintentional).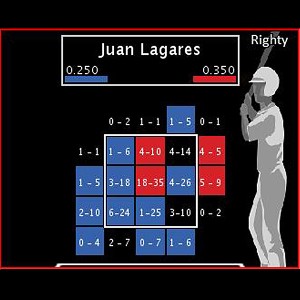 Juan Lagares' Hits/At-Bats by location.


Take a look at the heat map on the right, which features a lot more blue than red. Lagares gets the bulk of his hits on pitcher mistakes, those thrown to the center square.

The typical major leaguer gets about one-sixth of his hits in that area.

Lagares has gotten 18 of his 62 (nearly 30 percent), including 11 of his 29 (38 percent) since the All-Star Break.

Lagares' numbers are also boosted by a high success rate when hitting a ground ball, as the chart above shows. He's hitting nearly .300 when hitting a grounder, and though that's not impossible to maintain over a full season (or seasons), most hitters end up somewhere between .200 and .280.

Scout's Take
We talked to a major-league scout about four players for this series (Lagares, Eric Young Jr., Ike Davis and Carlos Torres) and the scout had the most positive things to say about Lagares. Here's his all-around observation.

"I really like Juan. I've seen him for a number of years. The kid can play defense. He has very good instincts, does a very good job of positioning himself and getting reads on balls, hitting the cutoff man with his throws. I think he's making himself into a capable player in the big leagues.

"Offensively, he's coming along. The knock on him is he expands the strike zone and that's going to be a work in progress, but I'm optimistic. Those are things that can be learned, though learning the strike zone is very difficult to do. You have to learn your strengths, what your two–strike approach is? Can I shorten my swing and still get hits? He's shown the aptitude to make progress in those areas.

"I try to grade what a guy is on a winning team, a 90-win team. Juan is a very serviceable platoon player on a winning team, who can play all three positions and play them well. I'm not sure he's an everyday player on a winning team. I'd love to have him in the seventh inning on to be able to pinch-hit, pinch-run, or go in for defense. I can also start him vs. righties or lefties. He can be used on an NL roster in a lot of ways."

What do you think of Juan Lagares? Share your thoughts in the comments.


---