Tuesday, February 11, 2014
Hef unsure if he'll reach majors in 2014

---
By Adam Rubin

PORT ST. LUCIE, Fla. -- Jeremy Hefner is glad to be back with the Mets organization, but is unsure he will appear in the majors in 2014.

Hefner, non-tendered on Dec. 2, re-signed on a minor-league deal eight days later.

He had undergone Tommy John surgery on Aug. 28, which typically involves a 12-month rehab process.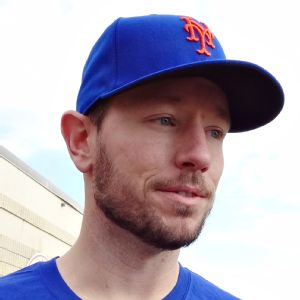 Adam RubinJeremy Hefner

Hefner is due to be examined by team doctor David Altchek next week, when Altchek is in Florida for team physicals. Hefner hopes to be cleared to start throwing.

"I'm probably going to miss the whole year anyway … but I'll come and work hard and you never know," Hefner said Tuesday. "I might come back and be able to throw in August or September."

Hefner said he was blindsided by the decision to non-tender him, although he understands it was strictly business.

If the Mets had kept him on the 40-man roster, he would have had to make at least 60 percent of last year's salary, even though he is unlikely to contribute. That meant a salary of more than $300,000.

By non-tendering Hefner, they could re-sign him at a far lower salary -- probably no more than one-third of that figure.

Of course, the non-tendering Hefner made him a free agent, which gave him the option of signing anywhere.

When Sandy Alderson called Hefner with the non-tender decision, the GM also told Hefner he would like him to re-sign. The two have a longstanding relationship, since Alderson ran the San Diego Padres when Hefner first turned pro with that organization.

Hefner said he had other suitors, but it made sense to sign with the Mets for other reasons, too, besides the connection to Alderson: The Mets know him and therefore can best monitor his rehab. And he has friends with the organization, including Matt Harvey, who should be rehabbing from Tommy John surgery alongside him all summer in Port St. Lucie.

Harvey's surgery took place Oct. 22, less than two months after Hefner's.

"There were other options, but I'd have to go and meet all new people," Hefner said. "[The Mets] know my history. I go back with Sandy all the way to when I was drafted with the Padres. He knows me. He knows me well. This is my third year in the organization, and everyone seems to know me well now. I figured that the transition from not throwing, to throwing, to the game -- all that would go a little smoother with people that I know."

Hefner, 27, went 4-8 with a 4.34 ERA in 130 2/3 innings last season. He had a minor-league demotion rescinded when a mid-August doctor's exam in New York revealed the need for Tommy John surgery.

"I knew probably since the All-Star break that something wasn't quite right," Hefner said. "But I didn't say anything because I thought I could throw through it, because I've thrown through stuff in the past. Everybody plays with some sort of nagging injury. I thought I could throw through it and make it to the offseason and rest. I got to the point where I couldn't throw through it anymore."


---