Wednesday, February 12, 2014
Duda fit for first-base competition with Ike

---
By Adam Rubin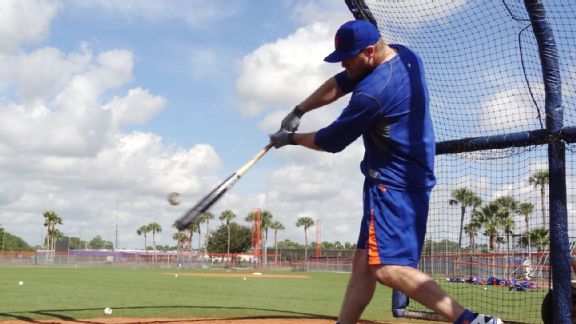 Adam RubinLucas Duda takes batting practice Wednesday in Port St. Lucie.

PORT ST. LUCIE, Fla. -- Lucas Duda feels "faster and more coordinated."

Will that result in him landing the first-base job with the Mets in 2014? Or will Duda end up as a backup with renewed outfield dabbling … or even at Triple-A Las Vegas?

That will be determined before the Mets break camp and open the season March 31 against the Washington Nationals.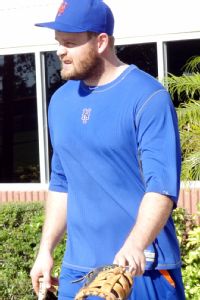 Adam RubinDuda heads to his first voluntary workout of spring training.

Over two stints this winter, Duda spent eight weeks in Plymouth, Mich., working at a fitness and nutrition camp operated by Mets consultant Mike Barwis, a former University of Michigan football strength and conditioning coach.

Duda reported to camp in Port St. Lucie on Wednesday after a three-day detour to spend time at home in California.

"I worked on a lot of running techniques, so hopefully I'm a little faster," Duda said. "You guys have seen me run, so I hope there's some improvement."

Duda said he does not regularly weigh himself, but he estimated he has lost five or 10 pounds, to about 255.

The camp included a nutrition component.

"I changed the diet up a little bit," Duda said. "Hopefully it will keep me healthy through the season."

What foods does he miss most?

"Everything," Duda said. "Candy. Cookies. Whatever you've got, I'll eat it."

He explained his new diet as "just smarter choices."

Said Duda: "Eat more chicken and whatever it is. I'm still a big guy. I'm going to be a big guy. That's just how I am."

Whether Duda applies any increased agility at first base or in the outfield perhaps greatly depends on Ike Davis' fate.

If Davis is not traded before Opening Day, the more likely scenario is Davis mans first base and Duda is either a bench player and part-time outfielder or in Triple-A.

Sandy Alderson said at one point Tuesday that it was "likely" the loser of the first-base competition would end up in the minors over the major-league bench.

The Mets had abandoned Duda playing the outfield once he was demoted to Las Vegas in mid-June, which pleased the natural first baseman.

Duda took a diplomatic tact Wednesday when asked about any displeasure with again being asked to dabble in the outfield during spring training.

"They said I might play a little outfield, but I'm up for anything," Duda said. "Whatever is going to help the team, however I'm going to get in the lineup, that's what I'm going to do."

Duda said he and Davis texted on occasion during the offseason.

"I love Ike," Duda said.

The Mets had been open about wanting to trade Davis this offseason. So was Duda surprised both are still with the Mets?

"I can't really get caught up in that kind of stuff," Duda replied.

As for his time at the fitness and nutrition camp in Michigan, Duda said: "The Mets asked me and a couple of guys, and I said sure. I jumped at the chance."

He attended a University of Michigan football game with visiting Jeff Wilpon and Mets front-office personnel and also went to a Pistons game while there.

Duda said fellow attendees Ruben Tejada and Wilmer Flores have made big strides as well. Neither has yet arrived in Mets camp.

"Especially Wilmer," Duda said. "Wilmer looks amazing. All of those guys, really."

Duda concluded that the winter regimen was helpful in preparing him for the 2014 season.

"I hope it does," Duda said. "Who knows if it is or isn't? We'll see. But I feel much better and am looking forward to the season."

Regarding the competition with Davis, he added: "Let the chips fall way they may."


---