Monday, February 24, 2014
Syndergaard, in spotlight, faces 1st batters

---
By Adam Rubin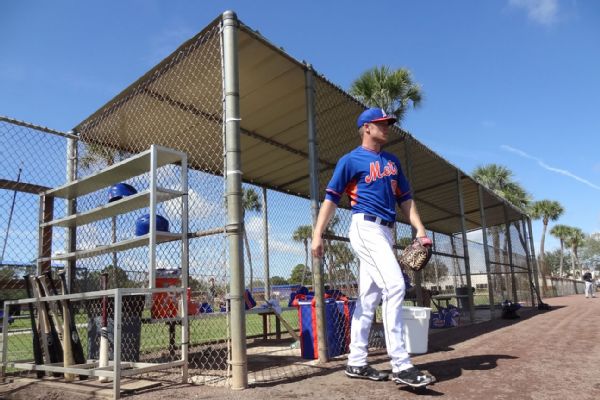 Adam RubinNoah Syndergaard heads from the dugout to the mound for his second inning of live batting practice Monday.

PORT ST. LUCIE, Fla. -- Owners Fred Wilpon and Saul Katz watched from a raised platform directly behind the batting cage. A cameraman laid on his belly in the moist grass in foul territory along the third-base side to get the best angle.

"What's everybody watching?" Josh Satin joked.

The object of the attention? Noah Syndergaard, who tossed batting practice for two simulated 20-pitch innings, in his first action facing batters as a member of big-league camp.

"I got amped up the first 20 pitches," Syndergaard confessed Monday afternoon. "I didn't know where the ball was going."

Syndergaard is due to make his first-ever Grapefruit League appearance next Monday, against the Atlanta Braves at ESPN's Wide World of Sports.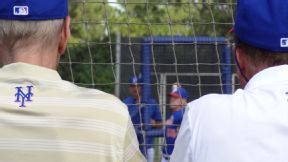 Adam RubinOwners Fred Wilpon and Saul Katz watch behind the cage as Noah Syndergaard throws live batting practice.

He first is due to pitch in a noontime intrasquad game Thursday at Tradition Field, along with Dillon Gee, Bartolo Colon, Daisuke Matsuzaka, Jeurys Familia, Joel Carreņo, Carlos Torres, Steven Matz and Jose Valverde.

"There's a large difference between Double-A hitters and those real good big-league hitters," Terry Collins said. "And so the challenge will be to see how he goes about getting after those guys."

During the first round of Monday's live batting practice, Syndergaard faced Satin, Matt den Dekker, 2011 first-round pick Brandon Nimmo and Taylor Teagarden. He faced a different set of hitters during his second 20-pitch session.

"In the beginning it looked like a little bit of overthrowing. I saw him throw the second half and it looked like he was locked in," den Dekker said. "I think I saw one slider. It was down in the dirt. And I saw a couple of fastballs that had some good life to it. I know it's only the first time out there, so I'm sure he's not on all cylinders yet. It looked good coming out of his hand. He's a big guy, a big presence on the mound. And I think he's got a good future."

Said Nimmo: "He's a very big guy out there on the mound. When he lets go of the ball, it's already on top of you, so it adds to that velocity. He's a very focused pitcher. He seems very powerful and in command when he's up there."

Zack Wheeler and Matt Harvey could identify with the attention Syndergaard received Monday. Last year, Wheeler was the up-and-comer drawing all the attention. That was Harvey's storyline in camp in 2012.

Wheeler and Harvey said they fared fine tuning out all the attention and focusing on preparing for the season.

"I don't know about him," Wheeler said about Syndergaard, "but with me -- you know this -- I'm just relaxed. I couldn't really care less. It's just another bullpen or getting on the mound for me. I honestly don't really even know him that deep, so I don't know how he is. I did hear him talk, and he said that he was just throwing nice and easy and he was just missing a little bit. That's normal."

"You have to," Harvey said about tuning out being the focus. "You can't pay attention to that stuff. Right now, it's time to get ready for the season. If you let that stuff bother you or get in the way, then you're not doing your job, or you're not helping anybody -- especially not yourself.

"I had one goal in mind, and that was to make the team," Harvey continued, referring to the 2012 camp. "I wasn't going to let anything step in the way of that, whether that was the media or fans or whatnot. I had one job to do, and that was to get myself ready to make the team.

"I obviously didn't see him throw today on the field, but I think they have a good mindset coming into camp."

How bright is the spotlight?

"Coming up as a top prospect the whole way, you're getting attention the whole time," Wheeler said. "You get used to it, but it just grows more and more as you come up, especially in New York. There's a lot of media. Just being in front of the camera, stuff that you've never been in front of, it's a little different. But it's to be expected. There's nothing you can really do about it.

"You just do you."


---