Tuesday, February 25, 2014
Montero has perfect delivery

---
By Adam Rubin

PORT ST. LUCIE, Fla. -- While watching right-hander Rafael Montero throwing live batting practice Tuesday, Dan Warthen uttered two words to the bullpen catcher standing next to him.

"[Expletive] smooth!" the pitching coach excitedly said.

Warthen repeatedly has said this spring training that the 23-year-old Montero possesses as close to a perfect delivery as any in the game.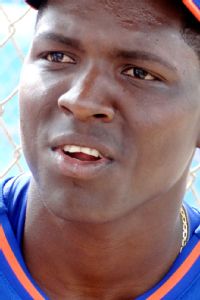 Adam RubinRafael Montero

Montero, rated just behind Noah Syndergaard on the organization's pitching prospect list, said he learned that delivery from his brother Lluveri, who signed with the Los Angeles Dodgers in 2002, but quickly became injured and was released.

"Thankfully I've been able to maintain that, and it's been successful," Montero said Tuesday, through interpreter Pedro Lopez, the organization's Double-A manager.

The Mets signed the 6-foot Montero out of the Dominican Republic in 2011. He had a combined 12-7 record and 2.78 ERA in 27 starts last season between Double-A Binghamton and Triple-A Las Vegas.

Mets staffers rave about Montero's control. He walked only 35 batters while striking out 150 in 155 1/3 innings last season. He had a 2.87 ERA, 1.11 WHIP and surrendered only two homers in nine home starts at Las Vegas' Cashman Field, which is known as one of the most hitter-friendly ballparks in Triple-A.

Montero, officially part of the fifth-starter competition, appears all but assured of opening the season at Las Vegas barring a trade that involves him.

"I feel close, but T.C. is going to make that decision. Sandy is going to make that decision," Montero said. "They're the ones that know. I think I can pitch in the big leagues, yes, but I still have some things to learn. And once they say the time is right, I'll be ready."

Montero started for the World team in last July's Futures Game at Citi Field.

He also will throw the first pitch of the Grapefruit League season for the Mets, on Friday at 1:10 p.m. against the Washington Nationals.

His fastball generally resides in the low-90s, but he has more in the tank when required.

"I talk to guys on other teams, like in Triple-A," said Kirk Nieuwenhuis, who faced Montero in Tuesday's batting practice. "Come August and September, they're just like, 'That guy has an extra gear. His fastball has got an extra gear I can't get to right now.'"

Said Juan Lagares, who also batted against Montero on Tuesday: "He always tries to keep the ball down and he throws a lot of strikes. It's not too easy to hit against him, because always he keeps it down in the strike zone. He doesn't miss too much up."

Nieuwenhuis, a lefty hitter, said Montero can be particularly tough on those batters.

"He must have long fingers or something, because when it comes out, for a lefty it kind of looks like it's going to sneak in on you," Nieuwenhuis said, adding that two-seamer eventually darts back over the plate.

Friday's Grapefruit League assignment will not be Montero's first. He had a 2.08 ERA in three appearances (two starts) last year. He particularly recalled facing the Atlanta Braves last March 4, when he retired Justin Upton, B.J. Upton and Juan Francisco in his first inning of work that day.

Said Montero: "As a pitcher, that's what I look forward to -- facing the best competition, whether it's [Albert] Pujols or anybody else."


---