Sunday, March 2, 2014
On eve of debut, Noah goes unnoticed

---
By Adam Rubin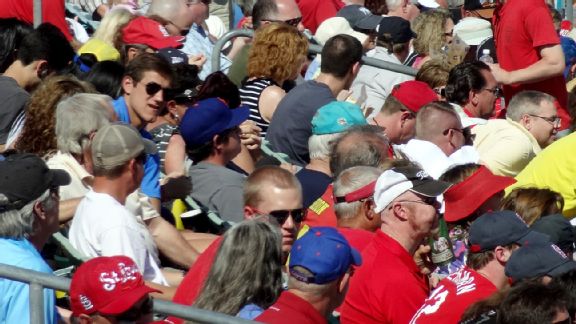 Adam RubinNoah Syndergaard went unnoticed Sunday in the stands in Jupiter. Can you find him? Try center, toward bottom, with red shirt and sunglasses.

JUPITER, Fla. -- For what legitimately may be the final time in a professional ballpark, Noah Syndergaard went unnoticed Sunday.

The day before his first-ever Grapefruit League start, the top prospect completed his morning workout at the Mets' complex in Port St. Lucie. He then joined parents Heidi and Brad at Roger Dean Stadium in Jupiter for the Mets exhibition game against the St. Louis Cardinals, seated inconspicuously in a red shirt in section 211, row 9, seat 3 down the third-base line.

"He's kind of hard to blend in. That's why I'm surprised someone hasn't noticed him," Heidi said midgame during an interview on the concourse, so as not to draw attention to her son. "In fact, we just ate at Chipotle on the way over. And there was a family with Mets shirts on. And they were looking him over. He said, 'I'm pretty sure they followed me to the hotel the other day and I've already signed cards for them.'"

"I have a knack for blending in with my surroundings," the 6-foot-6 Syndergaard joked afterward.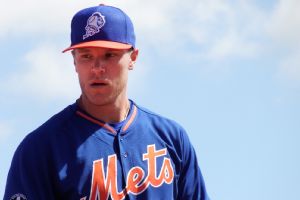 Adam RubinNoah Syndergaard faces the Braves on Monday at Disney.

Syndergaard tossed two innings in Thursday's intrasquad game, displaying an electric, 96-98 mph fastball as well as a curveball Terry Collins already has labeled the "hook from hell."

Now, it's time to face major-league hitters wearing a different uniform.

Syndergaard, who should follow the timetable of Zack Wheeler and Matt Harvey the past two seasons and get a call-up no sooner than mid-June, faces the Atlanta Braves on Monday in his maiden Grapefruit League game.

"Exhilarating," Heidi described the family's emotions on the eve of the event.

She added: "I've always wondered how I would feel about it. I guess we're going to find out."

Syndergaard, acquired with Travis d'Arnaud in the R.A. Dickey trade last winter, is starting to get accustomed to the increased attention.

He went a combined 9-4 with a 3.06 ERA and struck out 133 in 117 2/3 innings between Class A St. Lucie and Double-A Binghamton last season. He also started in the Futures Game at Citi Field.

"He's just quiet, and he's not used to it," Heidi said about the attention. "The very first interview he ever did, right after he was drafted, the local news sent someone over. [The interviewer] finally gave up, because all he got was 'yes' or 'no.' Noah didn't know what to do, and didn't know how to look in front of the camera."

Just because you're 6-foot-6 and are on track for a major-league career does not ensure extreme confidence.

"No, no," Heidi said. "He's grown up a lot in that aspect."

Syndergaard was drafted in the first round -- 38th overall -- by the Toronto Blue Jays in 2010 out of high school in Mansfield, Texas (southwest of Dallas). That was unexpected.

Syndergaard had planned to attend Dallas Baptist University, where he was recruited for his batting. He then grew two inches and his fastball gained 10 mph his senior year. His last high school pitch registered 97 mph.

"He just matured," Brad said. "Muscles popped up."

The draft position caught the family off-guard.

"He had a lot of friends over," Heidi recalled. "He's like, 'I just don't know what I'm going to do if I don't get drafted. Everybody's over here for my draft party.' I'm like, 'It'll happen.' But we weren't expecting it in the first round."

Nor was the family expecting the pressure the Jays applied on draft day.

"It was a very tense phone call," Heidi said. "Let's just say that."

She recalled the Blue Jays saying about the signing bonus:  "Do you want this? Yes or no? I've got to know right now."

Added Heidi: "His dad handed me the phone and said, 'Here, you talk to them.' I was like, 'I don't know.' …

"We said yes," she added.

So how did a Dallas-area hulk escape football for baseball? After all, Brad's cousin Fred (Moose) Hartman had played at Rice University and for the Philadelphia Eagles and Green Bay Packers.

In reality, football never interested Syndergaard.

His lone dabble with the sport came as a seventh-grade lineman.

"I told you he's shy," Heidi said. "He's not aggressive. He played soccer. He played baseball. He played a little basketball, but he was never very fast on the court. Of course, he could dunk, though.

"Football he played when he was in seventh grade. We wanted him to try, obviously. We come from a football family. He went out there and he absolutely hated it. And he wore glasses back then anyway. They had to buy a helmet special for him because his head was big.

"He didn't like all of that aggression on the field. Dallas takes their football very seriously. So even for as big as he was, they had guys twice the size of him. I was scared to death every game. And he actually got moved up in the middle of the season when grades came out, because everyone else got sat down because of grades. He got moved up to 'A' team. And when we went to the game that day, and I was asking him what he was doing and why he was working out with them, he was like, 'Can we just go home now?'

"When he was 2 years old, his favorite thing was he would go toward a ball -- a baseball, soccer ball. He didn't ever care for a football. It's weird. All of the other balls, he liked -- ever since he was little bitty and Brad would throw him batting practice in the living room with the Nerf ball."

Syndergaard always was big for his age, too.

"When he was little, he always wanted tennis shoes that the other boys would wear," Heidi said. "Well, we couldn't do that because his feet were too big."

On Monday, the 6-foot-6, 230-pound Syndergaard will be standing tall on the mound against the Braves. And he will be the focus of attention, like it or not.

"I think he's doing well with it," Heidi said. "It's a lot of pressure."


---