Wednesday, July 23, 2014
Tejada dodges bullet after beaning

---
By Adam Rubin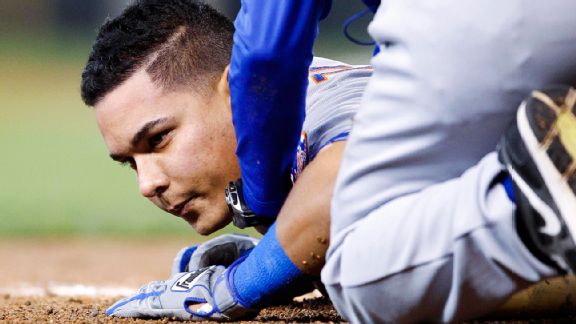 Joe Nicholson/USA TODAY SportsRuben Tejada went to the ground after getting hit in the helmet by a fifth-inning fastball Wednesday.

SEATTLE -- Ruben Tejada appears to have dodged a bullet Wednesday when he was beaned by a 94 mph fastball in the fifth inning by Taijuan Walker, which left a baseball imprint on the front of Tejada's helmet.

A smiling, laughing Tejada said he never suffered a headache. Doctors have cleared him to accompany the team on its flight to Milwaukee, although Terry Collins indicated it would be sensible to give the shortstop one day off.


Walker
Tejada

Collins said no roster move is forthcoming. A team official told ESPNNewYork.com that a move would be considered Thursday if Tejada were to suffer some setback.

As a result, there's a fair chance Eric Campbell will make his first major league start at shortstop in the series opener against the Brewers so Tejada can have one day to rest.

The Mets do not have a bona fide backup shortstop on the major league roster.

"Everything right now looks OK," Collins said. "He has no symptoms of what they were looking for. But sometimes these things pop up a little later, some dizziness or something."

Said Tejada: "I took a couple of tests in the training room right after he hit me. Everything is positive."

Tejada fell to the ground after the fifth-inning beaning. He said that was mostly a precaution to ensure nothing was wrong.

"That's why I stayed down there, so I could stay relaxed and see how I feel," Tejada said. "… A high fastball, like 93, 94 mph, it scared me. I tried to protect myself. That's the only thing I could do in that moment."

Said Collins: "The doctors say he should be OK. We'll take a look at him tomorrow. I may just give him another day to make sure he's OK."


---