Friday, September 3, 2010
Jauss saw original 'Sports Reporters' TV

---
By Adam Rubin

New York Mets bench coach Dave Jauss grew up in the Windy City the son of a celebrity.

His father, Bill Jauss, was a high-profile sports columnist for The Chicago Tribune and a member of the original sports reporters roundtable show, "The Sports Writers on TV." Filmed in a cigar-smoke-filled room in Chicago, the roundtable began airing in the mid-1980s, ran 13 years and was picked up nationally by SportsChannel. The roundtable also included Rick Telander and the late Ben Bentley and Bill Gleason.

The elder Jauss, now 81, plans to attend Saturday's game between the Mets and Cubs at Wrigley Field.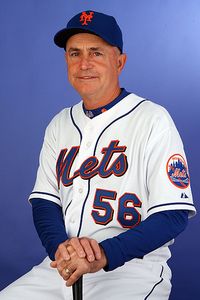 Doug Benc/Getty Images
Mets bench coach Dave Jauss' father, Bill Jauss, was a Chicago columnist who pioneered sports reporters on TV.


"I've had an interesting upbringing living in Chicago and having my dad as kind of a celebrity -- a real good personality in Chicago," Dave Jauss said. "Other than church on Sunday morning, everything else revolved around my dad and covering an event, be it Wrigley Field, be it Comiskey Park, be it Chicago Stadium, be it Notre Dame. It was a shocker my freshman year of college when I went to a football game and I had to pay. I did not know what that meant."

Years before the show began airing on TV, first in Chicago and then nationally, the same scene played out in the Jauss home.

"I say that show started at my house 10 years before, because Bill Gleason or Joe Mooshil or somebody and my dad would be sitting around with tons of beers and watching something and arguing about Woody Hayes or Ara Parseghian doing something," the Mets bench coach said. "And then it all of a sudden morphed into the show.

"I remember when Gary Hughes, who is now a senior adviser for [GM Jim] Hendry with the Cubs, was the scouting director for the Expos. I joined the Expos in '87. I get hired. And that first year we're having spring training, and Gary Hughes told me his scouting meetings for the amateur draft revolved around my dad's show -- that whenever my dad's show was on TV they would not have any conference calls."

Jauss, 53, recalled that the show nearly was the one used on ESPN.

"They talked to my dad and Bill Gleason and said we're thinking about formulating a show -- the one that Bob Ryan and all those guys are now doing," he said. "They thought about creating that show off of my dad and Bob Gleason's show. My dad and Gleason said the three things they asked about were: 'Would we have to suit coats and ties?' And they said yes. They shook their heads. 'Would it have to be at a studio, or could it be in that room that had the green card table with newspapers on the ground?' They said, yeah, it would have to be that way [in a studio]. And then they asked about guests. And they said yeah, you'd have to have guests.

"My dad and Bill Gleason said, 'It'll never fly.'"

Bill Jauss still lives in the same home where his son spent his teenage years.

"My mom [Kenmar] died about three months ago," Dave Jauss said. "We lived in Rogers Park, four stops away from Wrigley, when I was growing up. And then, just before high school, we moved out to Wilmette, right by Dyche Stadium, right by Northwestern. My dad and my brother still live there."


---