January, 24, 2013
1/24/13
9:00
AM ET
By
Mark Simon
| ESPNNewYork.com
Trying to pick the best lineups in Mets history is a task governed by limited selection.
The Mets have only had two periods in their history in which they ranked at or better than league average in runs scored, on-base percentage and home runs in the same season (1985-1990, with the exception of 1989, and 2006-2008).
That's what happens when you play home games in Shea Stadium, and hitter-unfriendly Citi Field for most of the team's existence.
So it's hard to justify picking a team from outside of those seasons. We made one exception in coming up with our choices.
Best Lineups in Mets history
1.
1986
: In terms of raw numbers, the 1986 team pales against other Mets squads, but in terms of offensive success relative to other NL teams that year, the 1986 squad comes out best.
The '86 Mets were well-suited to face both left and right-handed pitching, simply changing up their No. 1 and No. 2 hitters (Len Dykstra and Wally Backman for Mookie Wilson and Tim Teufel) and plugging in super-sub Kevin Mitchell as needed. Their No. 3 hitter -- Keith Hernandez -- was the game's best hit-and-run man and had the best eye.
Power hitters Gary Carter and Darryl Strawberry combined for 51 homers. Ray Knight (98 RBI and a penchant for big hits) may have been the best No. 6/7 hitter the team has ever had.
2.
1999
: By raw numbers, this is the best Mets offensive group. It scored a club record 853 runs, and .797 OPS (also a franchise record). It excelled relative to the league at getting on base, with a .363 on-base percentage in a year in which the NL average was .342.
The Mets were strong at the top whether they opted for
Rickey Henderson
or
Roger Cedeno
. When the Mets went with a 1-5 of Henderson,
Edgardo Alfonzo
,
John Olerud
,
Mike Piazza
and Robin Ventura, it gave them five straight hitters whose OPS+ (OPS compared to league average, with an adjustment for home ballpark) was 125 or higher. It's the only time in their history that the Mets have had five hitters with an OPS that high.
3.
2006
: This (and the 2007 lineup) might be the best combination of power and speed that the Mets have ever had. The 2006 lineup set a club record for homers with 200, powered by the 41 from
Carlos Beltran
, 38 from
Carlos Delgado
and 26 from
David Wright
. It also stole 146 bases in 181 attempts, with
Jose Reyes
nabbing 64, Wright 20 and Beltran 18.
4.
1988
: The numbers from this team -- a .256/.325/.396 batting average, on-base percentage, slugging percentage slashline -- are hardly overwhelming until you realize that they hit 30 more home runs than any other team in the NL, had four players with 20 or more steals and scored 33 more runs than any team in the league.
This was a down year for some of the team's big stars. Gary Carter and Keith Hernandez began to show their age.
But Strawberry and Kevin McReynolds had what were considered big years at the time (a combined 66 home runs and 50 stolen bases).
Dave Magadan
proved to be a capable fill-in for Hernandez (.393 on-base percentage)
And Gregg Jefferies (.321 batting average, six home runs in 109 at-bats) had the best September call-up stint of any player the Mets have ever had.
5.
1990
: It took me almost an hour to fill in this spot, because I wanted to do it in a smart way. I could have picked the 1987 team, but I've previously noted my disdain for that juiced-ball season. I could have picked the 2000 team (and won't quibble if you do), but it feels disingenuous to pick a team that had the sixth-highest OPS and seventh-most runs scored in the NL that season.
I'm settling for the 1990 Mets in this slot, a team of transition that would mark the last of the seven-year run of contention in which every game for the Mets was a meaningful one. Darryl Strawberry had quite the last hurrah (.277 batting average, 37 home runs). Dave Magadan (.328 batting average, .874 OPS) may not have been what Mets fans wanted, but he was better than they knew at the time. Even Kevin McReynolds in a down season (.269 batting average, 24 homers) was better than most.
One of the primary lessons from this exercise is this: The Mets don't have a lot of impressive from which to pick.
January, 23, 2013
1/23/13
9:00
AM ET
By
Mark Simon
| ESPNNewYork.com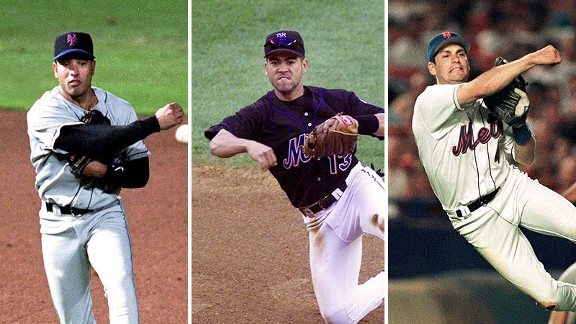 Getty Images/AP PhotoThe 1999 Mets had an Amazin' defensive infield.
Continuing our series on the
best units
in Mets history, today's focus is on the Mets' best infields and outfields.
The five best infields in Mets history
1. 1999:
This is the easy one, as it's the one that Sports Illustrated touted as the best infield ever. The Mets had three infielders who won Gold Gloves at various points in their careers (
John Olerud
,
Rey Ordonez
, and Robin Ventura) and a fourth who should have (
Edgardo Alfonzo
).
They could hit too. Olerud and Alfonzo were ultra-clutch (each hit .300 or better in "high-leverage situations") and Ventura (.301 BA, 32 HR, 120 RBIs) was almost as potent as
Mike Piazza
.
For those who like advanced stats, consider this tidbit. Only two NL teams since 1900 have had three infielders finish a season with five Wins Above Replacement (five WAR is considered All-Star caliber): The 1927 New York Giants (with Hall of Famers Bill Terry, Rogers Hornsby, and Travis Jackson) and the 1999 Mets (Olerud, Alfonzo, Ventura).
2. 2006:
Mets fans currently pine for the days of this group, which featured
Jose Reyes
(.300 BA, 17 triples, 64 stolen bases) and
David Wright
(.311 batting average, .912 OPS, 26 home runs) jointly reaching superstardom on the left side of the infield, and veterans
Carlos Delgado
and rejuvenated second baseman
Jose Valentin
on the right side.
This was the most powerful infield in Mets history, the only one in which four members hit at least 18 home runs.
3. 1986:
We're plugging the champs in here, though the numbers indicate both the teams I'll put below them were a little bit better. The Mets got the usual greatness from Keith Hernandez on both sides of the diamond, had a nifty second base platoon with Wally Backman and Tim Teufel, a steady (albeit offensively-challenged) shortop job from Rafael Santana, and big hit after big hit from Ray Knight (.357 with runners in scoring position). Mix in utility man Kevin Mitchell in his only full season with the team, and Howard Johnson off the bench and you had the perfect fit for a World Series winner.
4. 1987:
This is a weird season, one in which the ball was juiced and offensive numbers were inflated. The composition is similar to the 1986 team, but the results are different (Johnson had his first monster offensive season, and Teufel was tremendous in his platoon role).
5. 1973:
Fellow Mets historian Greg Prince talked me into putting this infield ahead of 2008, labeling the 1973 unit a "sum of its parts group." First baseman John Milner was the best hitter of the four, playing alongside the terrific double-play combo of Felix Millan and Bud Harrelson, and third baseman Wayne Garrett. The latter three all lifted their games considerably in September when the Mets made their late miracle push to the NL East title.
The five best outfields in Mets history
1. 1988:
The Mets had two MVP-caliber players in this outfield in Darryl Strawberry, who placed second to Kirk Gibson in the NL MVP voting, and Kevin McReynolds, who finished third. That duo combined for 66 home runs and 200 runs batted in.
Throw in the platoon tandem of Len Dykstra and Mookie Wilson (16 home runs and 45 steals) and you have an understanding why the team led the majors in runs scored, home runs, and OPS.
2. 1969:
Center fielder Tommie Agee hit 26 home runs, made a host of memorable World Series catches and finished sixth in the MVP voting. Left fielder Cleon Jones placed one spot behind Agee for his best season, one in which he hit .340 and had the fifth-highest WAR among position players. Ron Swoboda didn't have the numbers of those two, but offset that by hitting .400 in the World Series, with the great catch in Game 4 and clinching hit in Game 5. Art Shamsky (.300 BA) was a super-sub who allowed Gil Hodges to manage with platoons.
3. 1987:
We feel a little better about putting the 1987 Mets outfield on our list than we do about the infield, because all four of the primary participants replicated their numbers in 1988. They get the nod ahead of the 1986 team because of the presence of McReynolds, whose acquisition from the
San Diego Padres
gave the team a right-handed power hitter to pair with Strawberry.
4. 1996:
We're going to sneak this one in, because though this was a mediocre team, it had two of the most Amazin' seasons any team has ever seen.
We're talking about those of
Bernard Gilkey
and Lance Johnson. Johnson hit .333 in the leadoff spot with 21 triples and 50 steals (the first player to hit both those plateaus in a season since Ty Cobb!).
Gilkey had a .317/.393/.562 slashline with 30 home runs, 44 doubles and 17 steals.
This was a unique occurrence in baseball, one of only three times since 1900 that a team had a pair of outfielders with seven-WAR seasons. The other two were the 1961 Tigers (Rocky Colavito and Al Kaline), and the 1961 Reds (Vada Pinson and Frank Robinson).
5. 1999:
The name of the game in baseball is to reach base without making outs, and the 1999 team did that at a better rate (.375 OBP) than any other Mets squad (shout-out to the 1979 combo of Lee Mazzilli, Steve Henderson, and Joel Youngblood whose .367 rates second).
The Mets had two of their best basestealing threats --
Rickey Henderson
and
Roger Cedeno
-- combine for 103 steals. This team also had a vast supply of outfield reserves with
Benny Agbayani
,
Darryl Hamilton
, and late-season add
Shawon Dunston
filling in gaps when needed.
Agree/disagree? Share your thoughts in the comments.
August, 13, 2010
8/13/10
11:00
AM ET
By
Mark Simon
| ESPNNewYork.com
The Mets have 17 shutouts in 2010. That's a
lot
of shutouts, more than they've had in a season in quite some time. And on Friday they're facing the Phillies, who got shut out three times in a row the last time they came to Citi Field.
So it seems obligatory that we pay tribute to that statistic in some way. Let's do so here. As usual, we're greatly indebted to our resources, particularly
Baseball-Reference.com
, for their help.
• The 17 shutouts are the sixth-most the Mets have had in their 49-year history, the most since recording 22 in 1988. The club record: 28 in 1969, seems safe, but the Mets could challenge the No. 2 spot -- 25 shutouts in 1968.
• Perhaps a more realistic target: the home record for shutouts. The 2010 Mets have 14 shutouts at Citi Field this season, tied with the 1969 club for second-most in Mets history. The 1988 Mets set the pace with 16 home shutouts.
• The Mets now have 23 shutout WINS at Citi Field. The Mets didn't get their 23rd shutout WIN at Shea Stadium until 1969 (remember, the ballpark opened in 1964). We specify shutout wins because the 1965 Mets had a 0-0 shutout TIE with the Phillies.
• Of these 17 shutouts, only three have been of the complete-game variety (
Johan Santana
and
Jonathon Niese
). The club mark for complete-game shutouts is in fact, 17, done three times-- 1968, 1976, and 1988.
• By kooky coincidence, the last three Mets shutouts have been four-hitters. They've done that sort of thing within a single-season before, most recently in 2001 when within just over a month's span, they had three six-hitters.
• Santana said Thursday he was ready to go 10 innings, if need be. It's been awhile since a Met pitched a 10-inning shutout. The last was by
Terry Leach
, against the Phillies in 1982 (a one-hitter).
• The team the Mets have shut out the most is the one they're playing this weekend -- they've shut out the Phillies 67 times, including that 15-inning tie game. Next on that list, the Nationals-- 58 times.
• Loyal reader Mike Jacka asked if we could identify the last time a team led the majors in shutouts and grand slams allowed, since this Mets team is currently doing so. That's beyond our lookup realm, so we turn to the Elias Sports Bureau, which tells us the last team to do that was the 1987 Astros (13 shutouts, nine slams).
• Looking ahead to Friday, the Mets last three HOME games against the Phillies all ended in shutouts. Only once have the Mets had four straight home games against a team, with each being shutouts. The 1988 squad did it over two series-- one in June, one in July.
• Lastly,
Ruben Tejada
, whose play we wrote about earlier this week, must think that shutouts are a way of life. He's started in nine of the Mets shutouts this season.
In fact, in Tejada's 24 starts at second base, the Mets have recorded eight shutouts. In Tejada's last nine games starting at that position, the Mets have five wins -- all shutouts.
Mark Simon is a researcher for Baseball Tonight.