New York Mets:

A.J. Pollock
May, 24, 2014
May 24
7:29
PM ET
NEW YORK -- Rain could not save the Mets on Saturday.
Lucas Duda
stranded seven men on base as the Mets squandered serious chances all afternoon en route to a 3-2 loss to the
Arizona Diamondbacks
at Citi Field.
The Mets have lost seven of their last nine games and have matched their low-water mark at five games below .500.
Trailing by a run, the Mets (21-26) had two on and one out in the seventh and eighth innings.
Elsa/Getty ImagesLucas Duda reacts after striking out to leave the bases loaded in the first inning.
Daniel Murphy
grounded into a 1-6-3 double play to stall the first opportunity. Duda (0-for-4) and
Wilmer Flores
both flied out to left field an inning later to end the other threat.
Earlier,
Josh Collmenter
got Duda to chase a pitch out of the zone to strike out and strand the bases loaded in the first inning.
With two in scoring position and one out in the third,
Chris Young
struck out and Duda flied out to center as the D-backs maintained a 3-1 lead.
The Mets are now hitting .143 (6-for-42) with the bases loaded this season.
He battled:
Zack Wheeler
labored early, requiring 68 pitches to navigate the opening three innings, but he rallied for a credible outing that saved the bullpen ahead of Sunday's doubleheader.
Wheeler's line: 6.2 IP, 6 H, 3 R, 2 ER, 1 BB, 7 K, 2 HBP. He matched a career high with 118 pitches.
Wheeler departed with the Mets trailing 3-2,
Gerardo Parra
on second base and two outs in the seventh.
Josh Edgin
entered and retired
Miguel Montero
on a squibber in front of the plate.
Wheeler (1-5) posted zeroes from the fourth inning until his departure.
Elsa/Getty ImagesDavid Wright's fifth-inning solo homer pulled the Mets within 3-2.
The unearned came after Flores committed a throwing error in the third -- Flores' first error in the majors this season. Flores had committed seven errors at shortstop with Las Vegas.
Afternoon D-Wright:
David Wright
went 3-for-4 with a solo homer and a sparkling play in the field. Wright's fifth-inning long ball against Collmenter pulled the Mets within 3-2. It was his third homer of the season.
Wright has now produced a season-high three straight multihit games. He also made a diving stop to his left on
A.J. Pollock
's grounder and retired the lead runner at second base for the second out of the sixth inning.
What's next:
A long day Sunday.
Rafael Montero
opposes
Bronson Arroyo
at 1:10 p.m. In Game 2 of the single-admission doubleheader,
Daisuke Matsuzaka
makes his first 2014 start. He opposes right-hander
Zeke Spruill
, who was acquired on Jan. 14, 2013 in the trade that sent
Justin Upton
to the
Atlanta Braves
.
May, 23, 2014
May 23
9:41
AM ET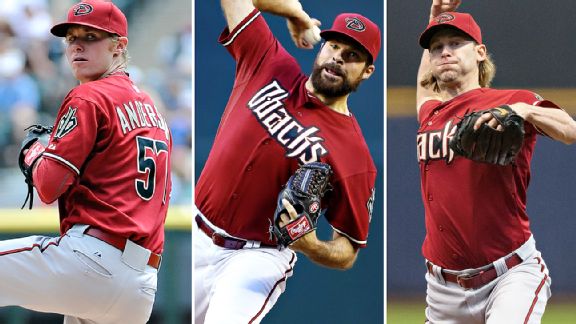 Getty ImagesThe Mets are due to face Chase Anderson, Josh Collmenter and Bronson Arroyo this weekend.
METS (21-25, fourth place/NL East) vs. ARIZONA DIAMONDBACKS (18-31, fifth place/NL West)
Friday:
RHP
Bartolo Colon
(3-5, 5.34) vs. RHP
Chase Anderson
(2-0, 5.06), 7:10 p.m. ET
Saturday:
RHP
Zack Wheeler
(1-4, 4.53) vs. RHP
Josh Collmenter
(2-2, 4.02), 4:10 p.m. ET
Sunday:
RHP
Rafael Montero
(0-2, 6.97) vs. RHP
Bronson Arroyo
(4-3, 4.45), 1:10 p.m. ET
Diamondbacks short hops
• Tony La Russa, who is due to be inducted into the Hall of Fame on July 27, was hired as the team's chief baseball officer last Saturday. He last was affiliated with a team in 2011, when he managed the
St. Louis Cardinals
to a World Series title. La Russa more recently worked with commissioner Bud Selig, including on implementing the new instant-replay and plate-collision guidelines. La Russa has final say on all baseball matters, which means longtime GM Kevin Towers has been stripped of considerable power.
Rick Scuteri/USA TODAY SportsTony La Russa has taken over as D-backs chief baseball officer.
"Until I really get more time to sit down with Tony to really find out structure, process, reporting and job responsibilities, I'm taking the high road and looking at this as hopefully a good thing for the organization," Towers told Arizona Sports 98.7 FM. "I certainly don't want to be a pseudo-GM. The front office role will be new to him, and I'm hoping I can help him in ways too, like with the daily calendar and what's important come June and July."
• Right-hander
Chase Anderson
's third major-league start comes against the Mets. He debuted May 11, limiting the
Chicago White Sox
to one run on two hits and a walk while striking out six in 5 1/3 innings. Bullpen coach Mel Stottlemyre Jr. told the Arizona Republic that Anderson has the best changeup in their system. The 26-year-old Anderson, a ninth-round pick in 2009 from the University of Oklahoma, had been 4-2 with a 0.69 ERA and 0.718 WHIP in six starts at Double-A Mobile. He logged only 205 1/3 innings from 2011 through '13 because of elbow troubles, which also prompted the organization to convert him to a reliever to close last season in Triple-A. Anderson had a 6.52 ERA in 13 relief appearances and reverted to starting this year.
• The Mets are seeing the reigning co-NL Players of the Week in consecutive series.
Yasiel Puig
has departed with the
Los Angeles Dodgers
, but fellow winner
A.J. Pollock
now arrives at Citi Field with the D-backs. Pollock, a center fielder, hit .500 (11-for-22) with two homers last week.
• Left fielder
Mark Trumbo
, who was acquired during the offseason from the
Los Angeles Angels
, has been sidelined since April 21 with a stress fracture in his left foot. Trumbo had been hitting .210 with seven homers and 19 RBIs in 81 at-bats. Righty-hitting
Cody Ross
primarily has played the position in Trumbo's absence, with lefty-hitting rookie
Ender Inciarte
also seeing some action in left field.
•
Didi Gregorius
, the expendable shortstop for the D-backs, is hitting .296 with three homers, 20 RBIs and a .386 on-base percentage in 186 at-bats with Triple-A Reno.
Chris Owings
, who beat out Gregorius for the D-backs' shortstop job, is hitting .275 with two homers and seven RBIs in 142 at-bats. Gregorius has appeared in 30 games at second base and 18 games at shortstop in the Pacific Coast League this season as the D-backs try to increase his versatility in case they retain him.
• Ex-Met
Oliver Perez
has a 1.26 ERA and 16 strikeouts in 14 1/3 innings over his past 15 appearances.
• First baseman
Paul Goldschmidt
's 33 RBIs rank fifth in the National League. His .315 average is 10th. Goldschmidt hit a 437-foot homer against
Shaun Marcum
last season at Citi Field.
• After opening the season in the bullpen,
Josh Collmenter
entered the rotation April 14 to face the Mets in Phoenix. He allowed three runs in four innings. Collmenter swapped roles with
Randall Delgado
, who had allowed nine runs in 7 1/3 innings over a pair of early season starts.
•
Bronson Arroyo
signed a two-year, $23.5 million contract with the D-backs on Feb. 7. The deal includes an $11 million team option for 2016 or $4.5 million buyout. Arroyo, 37, has reached the 200-inning plateau eight of the past nine years. The exception: 2011 with the Cincinnati Reds, when he was one inning shy. The Mets battered Arroyo for nine runs in 3 1/3 innings on April 15 at Chase Field.
Kirk Nieuwenhuis
delivered a two-run homer.
• Second baseman
Aaron Hill
returned Wednesday after missing three games with a sore shoulder.
• Third baseman
Martin Prado
departed Sunday's game with a blurry left eye, but was prescribed medicine and did not miss a start.
May, 20, 2014
May 20
5:37
AM ET
Anthony Gruppuso/USA TODAY SportsRafael Montero makes his second major-league start Tuesday against the Dodgers at Citi Field.
NEW YORK
FIRST PITCH:
The Mets begin a stretch of 20 games in 20 days by hosting the underachieving
Los Angeles Dodgers
for a three-game series at Citi Field.
Rafael Montero
(0-1, 4.50 ERA) makes his second major-league start in Tuesday's 7:10 p.m. opener. The rookie opposes right-hander
Josh Beckett
(1-1, 2.38).
The series also marks the return of
Justin Turner
as a visitor. Turner was non-tendered by the Mets on Dec. 2.
Read the Mets-Dodgers series preview
here
.
Tuesday's news reports:
• Former Mets clubhouse manager Charlie Samuels, who knows the organization's intimate secrets, has
pitched a book to publishers
, sources tell ESPNNewYork.com.
•
Juan Lagares
was in the Dominican Republic during Monday's off-day because of a death in his family, but is
expected back in time
for Tuesday's game against L.A., a team official said.
• Sandy Alderson is not ruling out another outfield-dimension adjustment to Citi Field after the season, Kristie Ackert writes
in the Daily News
. "That is something we might consider at the end of the season, something I am sure will be taken into consideration," the GM said. "But right now it is not something we are talking about."
• Mark Simon
at ESPNNewYork.com
dissects where
David Wright
's power has gone.
• Pitching coach Dan Warthen tells Mike Puma
in the Post
that Montero may have been tipping pitches in his debut against the Yankees, when he allowed three runs in six innings. "I think we picked up a little something that he might be tipping, so we changed things to see if we can get that rectified," Warthen said. "Get him back to where he was in spring training with the big glove and not giving away things, and I think we'll see a better outing."
• Mets pitchers are 1-for-71 on the season, with
Jacob deGrom
producing the lone hit. Writes Tim Rohan
in the Times
on that subject:
One person not amused is John Thorn, the official historian for Major League Baseball, who suggested the futility of the Mets' pitchers served as a vivid argument for the designated hitter in the National League.
"When the D.H. was instituted in 1973, I hated it," he said. "I'm a traditionalist. But watching National League pitchers being unable to lay down a bunt, and preferring to strike out rather than hit into a double play -- this is not baseball. This is not baseball as we grew up with it, when pitchers had some competence at the plate."
Alex Brandon/Associated PressYasiel Puig is the reigning co-NL Player of the Week.
•
Yasiel Puig
, who visits Citi Field with the Dodgers, was named co-NL Player of the Week along with Arizona's
A.J. Pollock
. Puig hit .348 (8-for-23) with three homers and 10 RBIs in six games last week.
• Columnist Mike Vaccaro
in the Post
doesn't mind Citi Field -- dimensions and all. Writes Vaccaro:
There are many things the Mets don't do well, and don't do right. You can categorize them any way you like: alphabetically, numerically, fiscally. The Mets, in many ways, are the home office of bad ideas done badly.
But their ballpark isn't one of them.
Their ballpark, in fact, grows on you the more the years pass. In a time of rampant stadium and arena additions around here, in fact, you could certainly argue that Citi Field is the best of the bunch, at least from an aesthetic standpoint.
• With
Travis d'Arnaud
on the seven-day concussion DL at least for one final day, Mike Vorkunov
in the Star-Ledger
looks at the perils of being a catcher. He notes that since the concussion DL was created in 2011, 17 of the 40 players placed on it have been catchers -- 42.5 percent.
•
Matt Harvey
and
Jeremy Hefner
, both rehabbing from Tommy John surgery, could throw off mounds for the first time since their procedures during the first week of June, Marc Carig writes
in Newsday
. The duo should advance to throwing on flat ground at 150 feet soon, up from 120 feet. Harvey previously has mentioned June 10 as a tentative target date for his initial mound session.
• Hansel Robles tossed six scoreless innings and Matt Clark had a three-run homer as Binghamton won Game 1 of a doubleheader against Portland, 5-0. Dilson Herrera drove in the go-ahead run in the 11th as St. Lucie beat Lakeland, 5-4. Kevin McGowan and Paul Paez combined on the shutout as Savannah blanked Charleston, 6-0. Both first-round picks with Savannah, Gavin Cecchini (hand) and Dominic Smith (foot), are banged up. Read the full minor-league recap
here
.
• Puma
in the Post
quotes a talent evaluator saying about Noah Syndergaard: "He needs more time. His stuff is better than [Zack] Wheeler's, but his fastball command has been way too inconsistent. You would be afraid of some real big innings if you brought him to the majors."
• Columnist Kevin Kernan
in the Post
says the Mets need to cut out the nonsense and concentrate on winning.
• Jared Diamond
in the Journal
profiles minor-league outfielder Brandon Nimmo, who was selected by the Mets with the 13th overall pick in 2011. With the next pick, the
Miami Marlins
selected
Jose Fernandez
. "He got picked. It happened to be the pick right after me," Nimmo said. "There's no escaping that. You face the fact that Jose Fernandez is an amazing baseball player, an amazing talent." Nimmo, 21, is hitting .333 with two homers, 19 RBIs and a .463 on-base percentage in 44 games with St. Lucie.
• Anthony DiComo
at MLB.com
answers readers' Mets questions.
• Zach Braziller
in the Post
discusses 55-year-old
Julio Franco
's "comeback" with Mike Marshall, the manager of the independent Fort Worth Cats.
• Vorkunov
in the Star-Ledger
reviews the Mets' growing pains.
•
From the bloggers …
The Eddie Kranepool Society
suggests Terry Collins does not like to be questioned. …
Blogging Mets
has its own theory on the increase of Tommy John surgeries.
BIRTHDAYS:
Savannah right-hander Ricky Knapp turns 22. ... Former Mets infielder
Wilson Valdez
is 36.
TWEETS OF THE DAY:
@AdamRubinESPN Come to Citi Field, and see some really good opposing players on the field, and our best players on the bench!

— Brian Mangan (@brianpmangan) May 19, 2014
YOU'RE UP: Should the NL just adopt the DH so Mets pitchers don't have to hit?
April, 16, 2014
Apr 16
2:04
AM ET
PHOENIX --
Jenrry Mejia
drew praise from the
Arizona Diamondbacks
after tossing five scoreless innings Tuesday.
"He had a 94 mph cutter that was pretty filthy. And he was locating it pretty well on the outside corner," D-backs center fielder
A.J. Pollock
said after the Mets' 9-0 win at Chase Field. "I took a couple of swings and felt like I was right on it, but that much movement that late is tough. It seemed like he really had good command of his fastball and that's what made him really hard."
Of course, as is sometimes the case with Mejia, a physical issue sidetracked him.
Mejia departed at only 77 pitches because a blister ripped on his right middle finger.
Mejia suggested it should not prevent him from making his next start. Terry Collins noted that with Thursday a team day off, Mejia would get at least one extra day of rest before his next scheduled outing anyway.
"He's got one helluva blister," Collins said. "He tore it up completely. … Obviously there's a concern."
Mejia said the blister also was an issue in Atlanta.
Pitching coach Dan Warthen was concerned pregame Tuesday, according to Mejia.
"I said, yeah, I want to pitch," Mejia said. "He said, 'All right, do the best you can.' I went out and did the best I could."
Mejia, who allowed two hits and two walks, said he did not want to show the middle finger to the staff after the fourth inning Tuesday, as the issue worsened. After he completed the fifth inning, Warthen insisted he take a look.
"Dan Warthen wanted to see it," Mejia said. "I said, 'No, I'm good.' I wanted to pitch. So when I was in the fifth inning and I got out, he said, 'Let me see the finger.' He said, 'You're not going to throw anymore.' I wanted to take care of my bullpen, because I know they were a little bit tired. They said no."
The blister is the latest health issue for Mejia, who also has dealt with a bunion on the big toe.
"I've had a lot of things," Mejia said. "I had the bunion. I've got the blister. In Montreal I had a ball hit me in my arm. That's a lot. But I'm going to [pitch], because the two years before I didn't throw a lot of innings. I want to throw innings, and my arm is good."
April, 16, 2014
Apr 16
12:29
AM ET
PHOENIX -- The
New York Mets
are back where they started the season: .500.
Jenrry Mejia
tossed five scoreless innings before departing with a blister issue, and
Kirk Nieuwenhuis
homered and drove in three runs in his return to the big leagues as the Mets routed the
Arizona Diamondbacks
9-0 Tuesday night at Chase Field.
The Mets evened their record at 7-7 after failing in their five previous attempts this season to move to .500.
Christian Petersen/Getty ImagesJenrry Mejia tossed five scoreless innings before departing with a blister issue.
Mejia departed with his pitch count only at 77 and the Mets leading by nine runs, because he had torn a blister on the tip of his middle finger. Blisters have been a recurring problem for Mejia.
At the plate, the Mets aggressively jumped on D-backs starter
Bronson Arroyo
. They took a 3-0 lead six batters and 14 pitches into the game, when Nieuwenhuis produced an RBI single in his first big-league at-bat since last July 26. Nieuwenhuis had been bypassed for a September call-up.
Nieuwenhuis (3-for-5) also opened the scoring in a six-run fourth against Arroyo with a two-run homer. That was the 21st homer surrendered by Arizona pitchers this season, matching the Mets staff for the most long balls allowed in the majors.
Arroyo was charged with nine runs on 10 hits and a walk in 3 1/3 innings.
In center field, Nieuwenhuis did his best impression of slick-fielding
Juan Lagares
, the player he replaced on the roster.
In the fifth, Nieuwenhuis lunged headfirst in right-center to take away a hit from
Mark Trumbo
. Nieuwenhuis also ran down
A.J. Pollock
's drive to the track in right-center to end the seventh.
Mejia retired the first nine D-backs batters, until issuing a leadoff walk to
Gerardo Parra
in the fourth. He kept a no-hit bid intact until one out in that frame, when
Paul Goldschmidt
singled down the third-base line.
Gonzalez Germen
added three scoreless relief innings.
Guess who?
Oliver Perez
faced the Mets for the first time since being released by the club in spring training in 2011. Perez, who signed a two-year, $4.25 million with the D-backs, tossed two scoreless innings with four strikeouts. The lone baserunner against him came on a one-out single by Nieuwenhuis in the southpaw's second inning of relief.
Perez had only faced the Mets twice before: in 2003 with the
San Diego Padres
and 2004 with the
Pittsburgh Pirates
.
What's next:
The Mets attempt to sweep the series at Chase Field at 3:40 p.m. ET Wednesday.
Dillon Gee
(0-0, 5.03 ERA) opposes right-hander
Brandon McCarthy
(0-2, 7.78). The Mets last produced sweeps in Phoenix in 2005 and 2006, when they went 4-0 against the D-backs in consecutive seasons.
August, 9, 2013
8/09/13
8:55
AM ET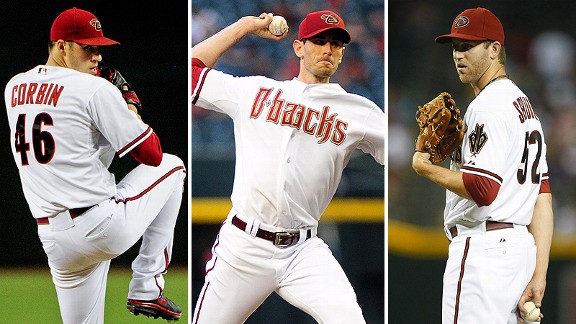 Associated Press, USA TODAY SportsThe Mets face (l to r) Patrick Corbin, Brandon McCarthy and Zeke Spruill this weekend at Chase Field.
METS (52-60, third place/NL East) vs. ARIZONA DIAMONDBACKS (58-55, second place/NL West)
Friday:
RHP
Jeremy Hefner
(4-8, 4.23) vs. LHP
Patrick Corbin
(12-3, 2.33), 9:40 p.m. ET
Saturday:
RHP
Zack Wheeler
(4-2, 3.73) vs. RHP
Brandon McCarthy
(2-5, 4.94), 8:10 p.m. ET
Sunday:
LHP
Jonathon Niese
(3-6, 4.32) vs. RHP
Zeke Spruill
(0-1, 6.48), 4:10 p.m. ET
Diamondbacks short hops
• All-Star
Patrick Corbin
's 12 wins are one off the NL lead, shared by
St. Louis Cardinals
teammates
Adam Wainwright
and
Lance Lynn
as well as Washington's
Jordan Zimmermann
. Corbin's 2.33 ERA trails only
Clayton Kershaw
(1.91) and
Matt Harvey
(2.09). Corbin had been 9-0 until the Mets scored five runs in six innings and handed him a defeat at Citi Field on July 2. A victim of little run support, Corbin now has lost two straight starts, although he allowed only a combined four runs in 14 innings in those defeats.
• The Diamondbacks dealt underachieving right-hander
Ian Kennedy
to the
San Diego Padres
at the trade deadline for situational left-hander
Joe Thatcher
, potential future closer Matt Stites and a draft pick. Arizona personnel have compared the right-handed Stites to
Atlanta Braves
closer
Craig Kimbrel
. Kennedy, a 21-game winner two years ago, was 3-8 with a 5.23 ERA in 21 starts for Arizona this season.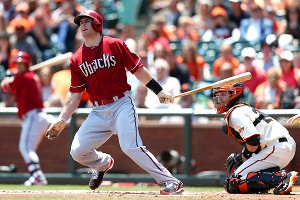 Brad Mangin/Getty ImagesPaul Goldschmidt leads the National League in RBIs.
• Third baseman
Martin Prado
has five multi-hit games in his past seven games. He is hitting .388 with two homers and 14 RBIs in 18 games since the All-Star break. He reached base in all five of his plate appearances Wednesday. Prado, acquired from the Braves during the offseason in the
Justin Upton
trade, has made consecutive starts in left field before shifting to third base later in the games. That's because manager Kirk Gibson is fiddling with his lineup with outfielders
Jason Kubel
(.226, 5 HR) and
A.J. Pollock
(.249, 6 HR) struggling.
• Sidearmer
Brad Ziegler
has taken over for ex-Mets
J.J. Putz
and
Heath Bell
in the closer's role. Ziegler has converted all seven of his save chances and has not allowed an earned run in 12 straight appearances. Putz and Bell nonetheless have contributed 11 straight scoreless appearances apiece. Ziegler coaxed 21 double plays last season, which led major league relievers. Putz blew a save chance July 1 at Citi Field in his second game after a DL stint, after which Ziegler stepped into the role and excelled.
•
Paul Goldschmidt
is tied with Colorado's
Carlos Gonzalez
for second in the NL with 26 homers, one shy of leader
Pedro Alvarez
of the
Pittsburgh Pirates
. Goldschmidt has a league-leading 90 RBIs.
• Catcher
Miguel Montero
landed on the disabled list a week ago with a lower-back strain and required an epidural injection.
Wil Nieves
is handling the bulk of the catching duties in Montero's absence, while
Tuffy Gosewisch
has been promoted as the backup.
• After making his major league debut in June as a reliever and appearing in four games, 23-year-old
Zeke Spruill
made his first major league start last Thursday at Texas. The rookie right-hander -- who also arrived in the Upton trade -- allowed five runs in four innings, including homers to
A.J. Pierzynski
,
David Murphy
and
Mitch Moreland
.
Trevor Cahill
is nearing a return to the rotation, but remains on the DL with a right hip injury. Cahill allowed six earned runs in 4 1/3 innings in a rehab start for Triple-A Reno on Tuesday, and it was determined he would make another minor league start before being activated, so Spruill remains in the rotation.
• Outfielder
Cody Ross
is hitting .412 (14-for-34) with three homers and 10 RBIs in his past nine games (eight starts). He is hitting .394 this season against left-handed pitching.
• Third baseman
Eric Chavez
(.305, 9 HR), who missed most of June with an oblique injury, is not playing every day, but has produced when in the lineup.
July, 26, 2012
7/26/12
10:00
AM ET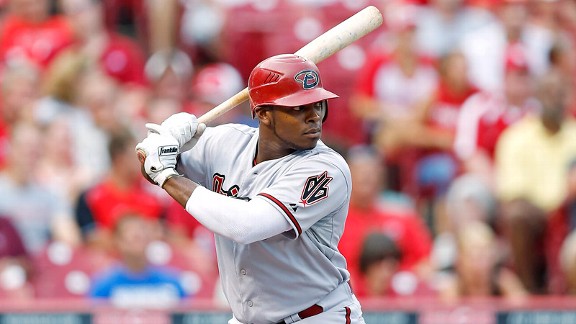 Joe Robbins/Getty Images
Justin Upton may be shipped out of Arizona, although during the offseason appears far more likely.
METS (47-51, third place/NL East) vs. ARIZONA DIAMONDBACKS (49-49, third place/NL West)
Thursday:
RHP
Matt Harvey
(7-5, 3.68 at Triple-A Buffalo) vs. LHP
Wade Miley
(11-5, 3.02), 9:40 p.m. ET
Friday:
LHP
Jon Niese
(7-4, 3.59) vs. RHP
Josh Collmenter
(2-2, 3.82), 9:40 p.m. ET
Saturday:
RHP
Chris Young
(2-4, 3.91) vs. RHP
Ian Kennedy
(8-8, 4.20), 8:10 p.m. ET
Sunday:
RHP
R.A. Dickey
(13-2, 2.97) vs. LHP
Joe Saunders
(5-6, 3.51), 4:10 p.m. ET
Diamondbacks short hops
• Arizona traded fan-favorite
Ryan Roberts
to the Rays on Tuesday for minor league infielder
Tyler Bortnick
. Roberts was a primary culprit for the Diamondbacks' underwhelming offensive production from third base. Arizona's .625 OPS from players manning that position this season ranks 15
th
in the NL, ahead of only Philadelphia (.598).
Geoff Blum
, who was 4-for-28 this season, was released last week.
The left side of the infield now should be shared by
Willie Bloomquist
,
Stephen Drew
,
John McDonald
and newly promoted
Ryan Wheeler
. Wheeler hit .351 with 15 homers and 90 RBIs in 362 at-bats in Triple-A, although Reno's numbers are inflated by the high altitude. The Astros, who bunt a lot anyway, tested the offensive-minded Wheeler's fielding at third base during the weekend. McDonald just returned from a strained oblique.
The departure of Roberts lessens the likelihood of an in-season trade involving the shortstop Drew, who made his season debut June 27 after recovering from a broken right ankle. Still, Drew (.209, 0 HR in 67 at-bats) is likely in his final season with Arizona. There is a $10 million mutual option for next season.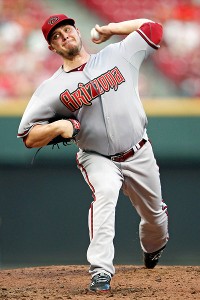 Frank Victores/US Presswire
Left-hander Wade Miley became an NL All-Star as a rookie.

• Left-hander
Wade Miley
, an NL All-Star, owns the franchise rookie record for wins with 11. He is tied with
Yu Darvish
for the major league lead in wins among rookies. Miley's 3.02 ERA narrowly is second among rookies to Oakland's
Jarrod Parker
(3.00). Miley, 25, made the Opening Day roster because of a spring-training injury to
Takashi Saito
. He excelled as a long reliever in the middle innings after
Josh Collmenter
was knocked out early from starts. Miley stepped into the rotation April 23 once
Daniel Hudson
landed on the DL. Hudson underwent Tommy John surgery July 9.
• The 42-year-old Saito made his season debut Saturday after dealing with calf and shoulder injuries as well as a severe case of the flu.
• Left fielder
Jason Kubel
homered Wednesday for the 11
th
time in July. That is the third-highest total for a month in franchise history, trailing
Luis Gonzalez's
13 in April 2001 and Gonzalez's 12 two months later. The ex-Twin Kubel signed a two-year, $16 million deal in December that had garnered some criticism because it pushed 2011 Gold Glove winner
Gerardo Parra
to being a fourth outfielder. But Kubel is now hitting .298 with 22 homers for the season, more than justifying the signing.
• Two-time All-Star
Justin Upton
appears destined to be traded, although most likely not until the offseason. The 24-year-old right fielder is signed through 2015, at salaries of $9.75 million, $14.25 million and $14.5 million the next three years. GM
Kevin Towers
apparently does not see Upton as a centerpiece player to build around, so Upton could be a chip to address deficiencies on the left side of the infield. The Diamondbacks have plenty of outfield depth, including prospects
A.J. Pollock
and
Adam Eaton
at Triple-A Reno.
• Collmenter reentered the rotation Sunday against Houston. Struggling
Trevor Bauer
was demoted.
• Right-handed reliever
Brad Bergesen
made his Diamondbacks debut Sunday with a scoreless inning against the Astros, two days after being claimed off waivers from Baltimore. Bergesen had been 4-3 with a 4.03 ERA in 22 games (10 starts) for Triple-A Norfolk this season.
Last series results
Mets won, 2-1, at Citi Field, May 4-6 (AP game recaps)
Diamondbacks 5, Mets 4:
Justin Upton started an eighth-inning rally when his grounder got past Mets first baseman Ike Davis for an error. Tim Byrdak relieved Bobby Parnell and walked Jason Kubel. A strikeout later, Mets manager Terry Collins brought in Jon Rauch (3-1) and Paul Goldschmidt laced a two-run double. Cody Ransom followed with an RBI single. Ransom hit a long homer -- his third -- off starter Dillon Gee in the second inning to give NL rookie of the month for April Wade Miley a 2-0 lead. But the Mets scored four times in the third -- more earned runs then Miley had given up in five appearance total this season (three) coming in. Miley gave up four runs in six innings.
More
Mets 4, Diamondbacks 3:
Mike Nickeas and Andres Torres each hit a two-run single as Johan Santana earned his first victory since Sept. 2, 2010, before his shoulder injury wiped out last season. Santana (1-2) allowed nine hits but gave up only three runs, striking out five and walking one in his longest outing since the surgery. Daniel Murphy went 4-for-4 for the second four-hit game of his career.
More
Mets 3, Diamondbacks 1:
Three outs from his third career shutout, R. A. Dickey walked the leadoff hitter in the ninth inning and gave up an RBI double. Dickey nonetheless combined with two relievers on a four-hitter.
More
May, 3, 2012
5/03/12
11:50
PM ET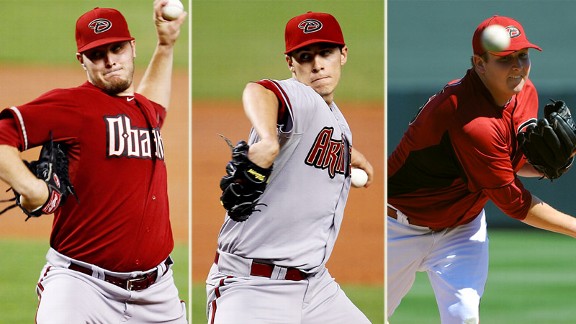 Getty Images
The Mets face three starters for the first time this weekend: (l to r) Wade Miley, Patrick Corbin and Trevor Cahill.
METS (13-12, third place/NL East) vs. ARIZONA DIAMONDBACKS (13-13, second place/NL West)
Friday:
RHP Dillon Gee (2-2, 4.85) vs. LHP Wade Miley (3-0, 1.29), 7:10 p.m. ET
Saturday:
LHP Johan Santana (0-2, 2.25) vs. LHP Patrick Corbin (1-1, 4.76), 4:05 p.m. ET
Sunday:
RHP R.A. Dickey (3-1, 4.45) vs. RHP Trevor Cahill (2-2, 3.13), 1:05 p.m. ET
Diamondbacks short hops
• Left-hander
Wade Miley
topped the Mets'
Kirk Nieuwenhuis
for the NL Rookie of the Month honor for April, which was announced Wednesday. Miley, 25, limited opponents to a .133 average with seven walks and 15 strikeouts in 21 innings spanning five appearances (two starts). He became the third Diamondbacks player to be recognized since the monthly award's inception in 2001, joining
Gerardo Parra
(May 2009) and
Daniel Hudson
(August 2010). Miley originally pitched in relief of shaky
Josh Collmenter's
starts, logging as much as four innings an appearance. The southpaw entered the rotation when Hudson landed on the DL with a shoulder impingement. Hudson is due to throw a bullpen session for the first time early next week at Chase Field.
• Center fielder
Chris Young
has been on the DL since April 18 with a right shoulder injury. An MRI revealed a small tear of the ligament in the AC joint as well as a severe bruise. He has started swinging in a cage. GM
Kevin Towers
reportedly watched
Vladimir Guerrero
work out in the Dominican Republic on Monday, but there is no firm resolve to sign the veteran with Young's absence not expected to be prolonged. Righty-hitting rookie
A.J.
Pollock
(.120) and lefty-hitting Parra (.256) have been sharing center-field duty in Young's absence. Pollock is a native of Hebron, Conn. He attended Notre Dame, where he was the Irish's first MVP in consecutive seasons since
Aaron Heilman
in 2000 and '01.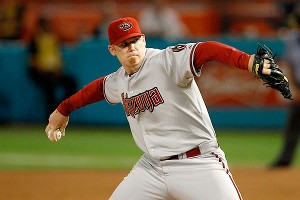 Lynne Sladky/Associated Press
Ex-Met J.J. Putz blew his second save of the season Wednesday, at D.C.

• Shortstop
Stephen Drew
began game action Monday in a minor league intrasquad game as he works back from surgery to repair a right ankle fracture he suffered last July 20 sliding on a play at the plate.
John McDonald
and
Willie Bloomquist
have shared the shortstop role minus Drew. Collectively, they have committed only two errors. McDonald's homer on April 17 against the Pittsburgh Pirates was his first since last May 11 against the Boston Red Sox. He had been acquired with
Aaron Hill
from the Toronto Blue Jays last Aug. 23 for
Kelly Johnson
.
• Left fielder
Jason Kubel
signed a two-year, $16 million contract as a free agent on Dec. 12 that includes a team option for 2014. Thursday's 0-for-4 night at Washington interrupted a streak in which the ex-Twin had hit safely in 13 of 14 games (.393, 22-for-56). Kubel leads major league outfielders in assists with six. During his Twins tenure, he had split time nearly evenly between the outfield and DH.
• Third baseman
Ryan Roberts'
struggles at the plate and in field have opened the door for
Cody Ransom
to chip away at his playing time at the hot corner. Despite singling in three at-bats Thursday, Roberts is in a 3-for-34 rut and is hitting .167 this season. Ransom has started seven of the Diamondbacks' past 11 games at third base.
• Syracuse-area native
Patrick Corbin
makes his second major league start Saturday. He won his major league debut, 9-5, at Miami on April 30, allowing three earned runs in 5 1/3 innings. Corbin was selected for the call-up over top-rated prospects
Tyler Skaggs
(No. 3 Baseball America) and
Trevor Bauer
(No. 1). Corbin supplanted the ineffective Collmenter (0-2, 9.82 ERA in four starts) in the rotation. Collmenter has moved to the bullpen, but has yet to appear in that role. Corbin had been 2-0 with a 1.67 ERA at Double-A Mobile before the promotion. He was acquired with left-hander
Joe Saunders
and Skaggs from the Los Angeles Angels in the July 25, 2010 trade for right-hander
Dan Haren
.
• Right-hander
Trevor Cahill
arrived from Oakland during the offseason along with left-hander
Craig Breslow
and cash for right-handers
Jarrod Parker
and
Ryan Cook
and outfielder
Collin Cowgill
.
• Hill has reached base safely in 20 straight games. His 74 homers trail only
Dan Uggla
and
Robinson Cano
for the most long balls by a second baseman since 2009.
• Ex-Met
J.J. Putz
had a 28-game save streak snapped April 14 at Colorado. He blew his second save chance of the season Wednesday at Washington. Putz surrendered a two-out, two-run homer in the ninth to
Ian Desmond
.
• Catcher
Miguel Montero
has thrown out seven of 14 would-be base stealers. He is backed up behind the plate by ex-Met
Henry Blanco
.
Matchups
Gee vs. Diamondbacks (career: 1-1, 4.91 ERA)

Paul Goldschmidt 1.000, 1 PA
Cody Ransom .500, 2 RBI, 2 PA
Justin Upton .400, 1 HR, 1 RBI, 1 BB, 2 K, 6 PA
Miguel Montero .200, 1 HR, 1 RBI, 1 K, 5 PA
Gerardo Parra .200, 1 RBI, 1 K, 5 PA
Lyle Overbay .167, 6 PA
Ryan Roberts .167, 1 RBI, 6 PA
Santana vs. Diamondbacks (career: 2-0, 0.62 ERA)

Miguel Montero .333, 1 K, 3 PA
Jason Kubel .333, 1 RBI, 3 PA
Justin Upton .250, 2 BB, 3 K, 6 PA
Willie Bloomquist .214, 1 RBI, 1 K, 14 PA
Henry Blanco .125, 1 BB, 3 K, 9 PA
Aaron Hill .111, 1 RBI, 1 K, 9 PA
Lyle Overbay .091, 2 BB, 8 K, 13 PA
John McDonald .077, 1 BB, 2 K, 14 PA
Dickey vs. Diamondbacks (career: 0-1, 3.86 ERA)

John McDonald 1.000, 2 PA
Jason Kubel .600, 1 HR, 1 RBI, 5 PA
Willie Bloomquist .571, 2 RBI, 7 PA
Gerardo Parra .500, 1 RBI, 1 BB, 3 PA
Aaron Hill .500, 1 RBI, 2 PA
Justin Upton .250, 1 HR, 1 RBI, 2 K, 4 PA
Lyle Overbay .071, 1 RBI, 2 BB, 2 K, 16 PA
Henry Blanco .000, 1 K, 2 PA
Cody Ransom .000, 1 K, 2 PA
Miley vs. Mets (career: never faced)
Corbin vs. Mets (career: never faced)
Cahill vs. Mets (career: never faced)
Andres Torres .222, 1 RBI, 1 BB, 2 K, 10 PA
Last series results
Arizona won, 3-0, at Chase Field, Aug. 12-14, 2011 (AP game recaps)
Diamondbacks 4, Mets 3:
Ian Kennedy won his seventh straight start to become the National League's second 15-game winner. Kennedy (15-3) allowed a run on six hits in seven innings to tie Philadelphia's Roy Halladay for the most wins in the NL. Justin Upton homered, Cody Ransom doubled in two runs and Kennedy helped himself with an RBI double as Arizona pulled two games ahead of second-place San Francisco. Jason Bay went 3-for-4 with a double and RBI single in the Mets' third straight loss and ninth in 12 games. Arizona first baseman/outfielder Xavier Nady's left hand was broken when he was hit by a pitch from Dillon Gee in the second inning.
Diamondbacks 6, Mets 4:
Ryan Roberts hit a three-run homer and the Diamondbacks came from behind to win for the 33rd time this season. Daniel Hudson (12-8) allowed four runs (two earned) on eight hits in eight innings. Hudson also had a run-scoring single, his 13th RBI of the year. J.J. Putz pitched a scoreless ninth for his 29th save in 33 attempts. Mike Pelfrey was hit by a line drive off the bat of Gerardo Parra leading off the fifth inning and had to leave the game with a bruised right elbow. His team led 4-2 at the time. Reliever D.J. Carrasco (1-3) came on to hit Willie Bloomquist, then Roberts followed with his 16th home run of the season on the first pitch he saw.
Diamondbacks 5, Mets 3:
Justin Upton homered, Paul Goldschmidt doubled twice and Arizona earned its sixth consecutive win. Diamondbacks starter Jason Marquis, acquired in a July 30 trade from Washington, was hit on the right shin by a line drive in the third and left the game one inning later with a broken shinbone. Goldschmidt doubled and scored on Henry Blanco's double to give Arizona a 4-3 lead in the sixth inning. Zach Duke (3-4), who came on in relief of Marquis, allowed two runs and four hits over 2 2/3 innings and David Hernandez pitched the ninth for his 11th save. Chris Capuano (9-11) allowed four runs and nine hits over six innings.