New York Mets:

Adam Greenberg
December, 4, 2012
12/04/12
1:02
AM ET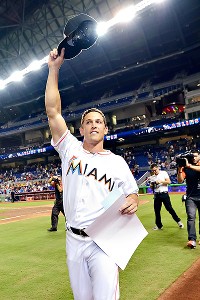 Steve Mitchell/US Presswire
Adam Greenberg struck out on three pitches against R.A. Dickey on Oct. 2.

NASHVILLE, Tenn. --
Adam Greenberg
, who struck out against
R.A. Dickey
during the final series of the season, is due to meet with the Mets -- presumably about a minor league contract,
Greenberg tweeted
. He also had an appointment scheduled with the Marlins.
Greenberg's lone previous major league plate appearance came back in 2005 and resulted in him getting hit in the head with a pitch. He subsequently experienced vertigo and ended his baseball career in 2009 after toiling in independent ball.
The Marlins signed Greenberg -- who hails from Connecticut -- to a one-day contract and allowed him to pinch hit against Dickey on Oct. 2.
October, 3, 2012
10/03/12
8:43
AM ET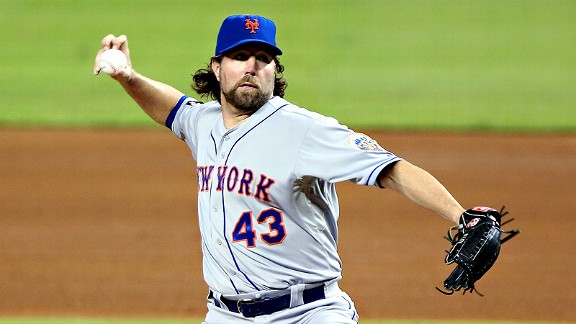 Marc Serota/Getty Images
R.A. Dickey experienced pain Tuesday from an abdominal muscle tear that he originally suffered in April. He will require Oct. 18 surgery.
MIAMI --
R.A. Dickey
held at 20 wins with a no-decision in the
Mets' 4-3, 11-inning loss
to the
Miami Marlins
. The revelation came after the game, though.
Terry Collins
announced Dickey had been dealing with an abdominal muscle tear for much of the season, which got significantly more painful during Tuesday's second inning. Dickey said
surgery had already been scheduled
for Oct. 18. He will undergo it in Philadelphia, not with Mets doctors.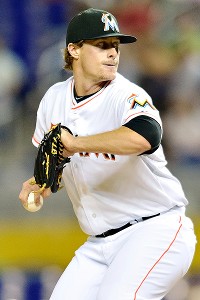 Steve Mitchell/US Presswire
New Rochelle's Tom Koehler makes his first major league start in Game No. 162, against the Mets.

The Mets complete their 2012 season today at 4:10 p.m.
Jeremy Hefner
(3-7, 5.32 ERA) starts for the Mets against a slew of Marlins relievers, beginning with Stony Brook University/New Rochelle High School product
Tom Koehler
(0-0, 5.40). Koehler started 27 games with Triple-A New Orleans this season, but has pitched no more than two innings in relief in any appearance since a September call-up.
Before the game,
Sandy Alderson
plans to give a state-of-the-team address to Mets beat writers.
Wednesday's news reports:
• Read more about Dickey's upcoming surgery in the
Post
,
Star-Ledger
,
Daily News
,
Newsday
and
Record
.
• Team sources gave insights to ESPNNewYork.com about the Mets' 2013 roster composition. In the
news story
, a team executive expresses optimism
David Wright
will remain a Met long term, then become an ambassador for the organization, akin to the role
Tom Seaver
currently holds. An official would not rule out trading Dickey. The
blog entry
handles expected maneuvers with less sizzle: It is unlikely
Jon Rauch
and
Ramon Ramirez
are re-signed.
Andres Torres
and
Mike Pelfrey
are expected to be non-tendered. The Mets would welcome back free-agent-to-be
Scott Hairston
, but believe he may get a two-year deal elsewhere and depart. The Mets would like to upgrade over
Kelly Shoppach
, but the price may be right for a return when all is said and done.
Ronny Cedeno
likely will first look for a starting shortstop job elsewhere.
•
Mike Puma
in the Post
catches up with
Jose Reyes
, who:
- Believes the Mets will re-sign his ex-teammate Wright. "He has been the face of the franchise for a long time," Reyes said.
- Now understands the Mets letting him go. "When I was a free agent, they were in a tough situation money-wise."
- Offers no regrets about signing with the Marlins, who finish in last place, having conducted another fire sale. "When I left the Mets, I knew I was going to a better situation. The team we put together on the field was a very good team to compete in our division, but it didn't happen that way. Nobody thought we were going to be behind the
New York Mets
at this point. ... I'm happy where I'm at. They treat me good here. We still have a lot of good pieces here. We just need to put it together on a consistent basis. This year we had only one good month, May. We need to put that on a consistent basis, we want to compete."
Reyes, by the way, enters the season finale having played in 159 of the Marlins' 161 games. He had not reached that total since appearing in 159 games in 2008 and 160 games in 2007.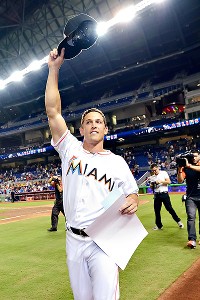 Steve Mitchell/US Presswire
Adam Greenberg struck out on three pitches against R.A. Dickey.

• Dickey struck out
Adam Greenberg
on three pitches Tuesday. Greenberg entered a major league batter's box for the first time since 2005, when he was struck in the head with a pitch in his lone previous plate appearance. Dickey said he treated Greenberg like any other batter, as he had pledged to do entering the outing.
"I wanted him to have his moment. For sure, I tried to give him as much time as I felt like I could before I got on the rubber," the knuckleballer said. "I think the story far transcends the result of the at-bat. Just like I said before, that was important -- for him and me, I think -- for me to treat him like a big leaguer." Read more in the
Miami Herald
,
Times
,
Newsday
and
Star-Ledger
.
•
Jordany Valdespin
will play second base in winter ball at the Mets' request, suggesting outfield is not in his immediate future with the organization.
Jeurys Familia
actually will serve as a starter, which is his Dominican winter-league club's preference.
TRIVIA:
Tuesday's answer: Marlins Park displaced Nationals Park as the most poorly attended first-year facility in MLB since 2001.
October, 2, 2012
10/02/12
10:40
PM ET
WHAT IT MEANS:
R.A. Dickey
will have to settle for a 20-win season.
Dickey surrendered solo homers to
Gorkys Hernandez
and
Rob Brantly
and was charged with three runs in six innings, although he received a no-decision when the Mets rallied for three runs in the eighth.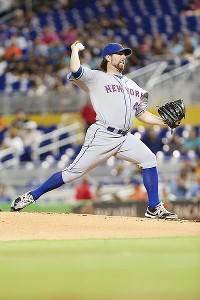 Marc Serota/Getty ImagesR.A. Dickey finished the season with 20 wins.
The Mets ultimately lost to the Marlins, 4-3, in 11 innings Tuesday night at Marlins Park.
Collin McHugh
surrendered the game-ending run.
Jose Reyes
scored after leading off with a triple.
Jordany Valdespin
, the cutoff man, curiously never made an attempt to throw out Reyes at third on the three-bagger despite a legitimate shot.
Dickey finished the season with a 20-6 record and 2.73 ERA. Dickey's eight strikeouts gave him 230 this season, the most by a Met since
David Cone
had 241 in 1991. Dickey logged 233 2/3 innings, the most by a Met since
Johan Santana
tossed 234 1/3 innings in 2008.
Clayton Kershaw
(13-9) has an NL-leading 2.58 ERA as well as 221 strikeouts -- nine shy of Dickey's total -- entering Wednesday's scheduled start for the
Los Angeles Dodgers
.
Gio Gonzalez
's 21 wins with the
Washington Nationals
will lead the league.
Dickey was absolved of his first loss against the Marlins in two seasons because of the eighth-inning comeback. He entered Tuesday's outing having won eight straight starts against the Marlins, compiling a 0.92 ERA against Miami during that span. The 8-0 record by Dickey against Miami since the start of the 2011 season matches the second-longest winning streak by a starter against one club in franchise history, one shy of the nine-game winning streak Dwight Gooden produced against the
Chicago Cubs
from 1988 to '91.
Marlins rookie
Jacob Turner
took a scoreless effort into the eighth.
David Wright
broke up the shutout bid with a two-out RBI single against
Heath Bell
, who had inherited runners at the corners. Bell then tossed a run-scoring wild pitch and surrendered a run-scoring infield single to
Scott Hairston
, which evened the score at 3.
Josh Thole
struck out to strand the bases loaded in the 10th.
GREENBERG DAY:
Adam Greenberg
, whose lone major league plate appearance back in 2005 resulted in him getting hit in the head with a pitch, got a second chance Tuesday night. Signed to a one-day contract, Greenberg pinch hit in the sixth inning. He struck out on three pitches against Dickey. Greenberg received a standing ovation from the Marlins Park crowd and high-fived his temporary teammates. Greenberg was part of a string of five straight batters Dickey struck out.
WHAT'S NEXT:
The Mets conclude their 2012 season at 4:10 p.m. Wednesday.
Jeremy Hefner
(3-7, 5.32 ERA) opposes a cast of Marlins relievers.
October, 2, 2012
10/02/12
5:35
PM ET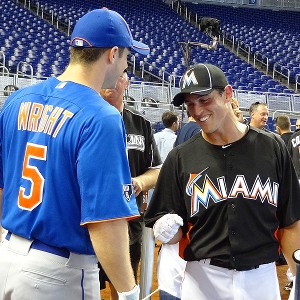 Adam Rubin
Adam Greenberg exchanges pleasantries with David Wright during batting practice Tuesday.

MIAMI --
Jordany Valdespin
will play second base in winter ball in the Dominican Republic at the Mets' request, Terry Collins said.
That gives insight into a projected infield role for Valdespin with the 2013 Mets, if he is at the major league level. Valdespin started 26 games in the outfield for the Mets this season, but he actually has started only two games
total
since returning from the minors once rosters expanded in September.
Also in winter ball,
Jeurys Familia
actually will serve as a starting pitcher for Gigantes, at the winter-league team's request. The Mets seemed more keen on Familia working as a reliever, which more likely would be his 2013 major league role.
• Collins won't be taking a vacation after Wednesday's season finale. He'll drive up to Port St. Lucie, Fla., and watch the final days of the instructional league. The manager said he particularly wants to see 2011 first-round pick Brandon Nimmo.
• It's just a concept -- not a firm plan -- but the Mets could complete spring training in Las Vegas with a pair of exhibition games against another major league club at the home of their new Triple-A affiliate. The Mets' Grapefruit League schedule currently has open dates on March 29 and 30. The Mets' season opens April 1 against the
San Diego Padres
at Citi Field.
• Collins was the farm director for the
Los Angeles Dodgers
in 2006 when
Adam Greenberg
played 75 games in that organization with Double-A Jacksonville -- the year after Greenberg was struck in the head in his lone major league plate appearance. Greenberg, who has a one-day contract to play for the Marlins on Tuesday night, sought out Collins during batting practice.
•
Chad Gaudin
and the Marlins bullpen are expected to handle the season finale for Miami.
Mark Buehrle
will not appear.
October, 2, 2012
10/02/12
8:42
AM ET
MIAMI --
Jeurys Familia
allowed only one hit in four scoreless innings in his first major league start, but the rookie
walked six batters
. The Mets ended up
losing Monday's series opener, 3-2
, to the
Miami Marlins
.
Ramon Ramirez
surrendered a tiebreaking RBI double to
Rob Brantly
in the eighth.
Tonight,
R.A. Dickey
bids for his 21st win and makes his
final case for the Cy Young Award
. Dickey opposes rookie right-hander
Jacob Turner
at 7:10 p.m. Only three other pitchers in franchise history have reached the 21-win plateau.
Tom Seaver
had 25 wins in 1969, 22 in 1975 and 21 in 1972.
Dwight Gooden
had 24 in 1985.
Jerry Koosman
had 21 in 1976.
Tuesday's news reports: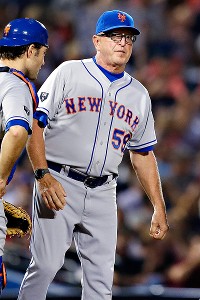 David Goldman/Associated Press
Dan Warthen and the rest of the coaching staff will return in 2013.

• The entire Mets coaching staff -- pitching coach
Dan Warthen
, hitting coach
Dave Hudgens
, bench coach
Bob Geren
, third base coach
Tim Teufel
, first base coach
Tom Goodwin
and bullpen coach
Ricky Bones
--
will return next season
.
Wally Backman
, who managed the Triple-A club this season before joining the Mets in September, has yet to be presented with a 2013 role. A team source told ESPNNewYork.com that Las Vegas, the Mets' new Pacific Coast League home, may not be attractive to Backman. Read more in the
Star-Ledger
,
Times
,
Record
,
Post
,
Daily News
,
Newsday
and
Journal
.
• Connecticut native
Adam Greenberg
, who was struck in the head with a pitch in his lone major league plate appearance -- on July 9, 2005 -- and subsequently developed vertigo will
pinch hit for the Marlins today
. He likely will face Dickey in the middle innings. The Mets will treat him like any other major league hitter.
Fred Van Dusen
, the only other player in major league history to be hit with a pitch in his lone major league plate appearance and never play the field, will be on hand and throw out the ceremonial first pitch. Writes
Clark Spencer
in the Miami Herald
about Van Dusen attending:
Van Dusen couldn't be happier. "It's a good human-interest story,'' said Van Dusen, who has never met Greenberg or spoken with him. "It's a positive thing, and a lot of people who don't understand baseball, they'll applaud it greatly."
Van Dusen was 18 when he was called up by the Philadelphia Phillies late in the 1955 season. Now 75, retired and living in Tennessee, Van Dusen said he spent about a month on the Phillies bench before he was finally given a chance to play. It was on Sept. 11 of that season, in the ninth inning of a game against the Milwaukee Braves, that Van Dusen was sent in to pinch-hit. On the fourth pitch of the at bat, and with Milwaukee's Henry Aaron and Eddie Mathews looking on from the field for the Braves, Van Dusen was hit by a Humberto Robinson pitch. Van Dusen took his base and was left standing at first when the inning ended. Though considered to be a top prospect, Van Dusen would not play again in another major-league game.
Read more on Greenberg in the
Post.
• It appears highly unlikely
Mike Pelfrey
will return in 2013, but
Terry Collins
and Warthen
wouldn't mind having him back
-- as a back end of the bullpen option, perhaps. Pelfrey, who underwent Tommy John surgery on May 1, has to be cut loose in December. Otherwise, the Mets would have to pay him at least 80 percent of this year's $5.6875 million salary. Once a free agent, Pelfrey would be free to sign anywhere. And agent
Scott Boras
likely would try to place Pelfrey with a team to start on a one-year contract with a reasonable base salary (maybe $2 million) and performance-based incentives.
• Chief operating officer
Jeff Wilpon
joined the team in Miami along with other Mets executives, including
Sandy Alderson
and assistant GM
John Ricco
. The group will begin to solidify an offseason plan.
• Warthen said the key to Dickey (20-6, 2.69 ERA) taking another leap forward this season was learning how to control the knuckleball up in the zone and using up-and-down movement in addition to side-to-side.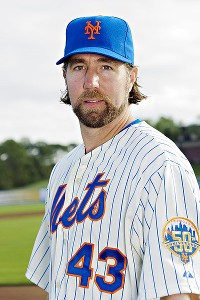 Steve Mitchell/US Presswire
R.A. Dickey bids for his 21st win tonight.

"The old adage is: See it low, let it go. See it high, let it fly," Warthen said. "We've kind of capitalized on that thought process in keeping that knuckleball at a higher part of the zone a lot more often and getting a lot of strikeouts from it."
"It wasn't really an idea as much as we kind of stumbled upon it in Pittsburgh (May 22)," Dickey said about commanding the pitch up in the zone. "I figured out a mechanism to be able to keep it elevated and still take spin off of it. At least I thought I had, and was anxious to work on it in my bullpens subsequent to that outing.
"Sure enough, it seemed like we had identified something that I could do to change the elevation consistently when I wanted to. The thing about a knuckleball is a lot of times you'll try things and it'll do the opposite. It's just the nature of that pitch from time to time. So when you find a way to do something and you can consistently do it with that, then you've found something good. From that moment on I really worked hard on it."
Read more on Dickey's Cy Young bid in the
Record
.
• The proposed Major League Soccer stadium at Flushing Meadows Corona Park adjacent to Citi Field, which would house an expansion team, has community opposition. Writes
Clare Trapasso
in the Daily News
:
Major League Soccer officials previously said they were looking to build a 25,000-seat stadium on eight acres at the Fountains of Industry site in the park. That estimate later ballooned to up to 13 acres. But officials insisted that they are committed to finding replacement park land. "We are in the process of starting conversations with community leaders to identify parcels," MLS spokeswoman Risa Heller said in a statement. "MLS is also committed to replacing and upgrading existing community soccer fields as well."
TRIVIA:
Of the 11 ballparks that opened since 2001, Marlins Park this season has produced the worst attendance. Which new ballpark did it displace with that distinction?
Monday's answer:
Jose Reyes
entered the final series leading the Marlins in steals with 38, but not by much.
Emilio Bonifacio
swiped 30 before his season ended Aug. 21 with a right knee injury.
October, 1, 2012
10/01/12
6:44
PM ET
MIAMI -- The Mets vow not to groove a pitch to
Adam Greenberg
when the 31-year-old ballplayer appears in his first major league game in seven years.
Greenberg, a former Cubs prospect, was struck in the head by the Marlins'
Valerio De Los Santos
in his only major league plate appearance, on July 9, 2005. He subsequently experienced vertigo and ended his baseball career in 2009 after toiling in independent ball.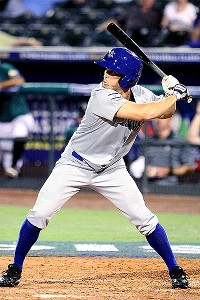 Stacy Jo Grant/Associated Press
Adam Greenberg represented Israel in the World Baseball Classic last month.

The Marlins are giving him a one-day contract to finally have a major league at-bat.
Marlins manager Ozzie Guillen said Greenberg will not play the field. He will get one at-bat, likely in a middle inning, in a non-integral part of the game. That means he very possibly could face
R.A. Dickey
, who will be bidding for his 21
st
victory Tuesday.
Greenberg is one of two players in major league history to be hit by a pitch in his lone major league plate appearance and never take the field. The other: Fred Van Dusen, with Philadelphia in 1955.
"He's a big leaguer. I'm going to treat him like a big leaguer," Dickey said. "That's why he's here. I would hope he wouldn't want anything less than that. That's certainly how I'm going to treat him. So if he comes up, he's going to get a steady dose of my best."
As for Greenberg's storyline, Dickey added: "Look, I've been the product of a lot of chances myself. I'm happy he's getting that opportunity, for sure. Having followed a little bit about how he went out, it's nice that he's given a second chance, so to speak. And, hopefully, he'll make the most of it, or somebody will see something in him that will encourage them to give him a more significant look. It's a neat story, for sure. You have to tip your hat to someone who had that happen to him and has been able to come back."
Said Terry Collins: "I think it's a wonderful story. I know there's some pros and cons about it -- why does he get the one at-bat when a lot of other guys don't? But he did make it. He was good enough to get there at one time. Had he not got hit in the head, who knows if he wouldn't have been a star today? I just think it's a great story for this guy to come up with all he's been through since to try to fight back, all the things he's had to endure. I think it's going to be a great story."
Guillen initially considered having Greenberg start the game in left field, bat once in the bottom of the first inning, then depart. He decided otherwise.
"We will try to put him in in the middle of the game and see how that works,'' Guillen said. "… They told me to give him one at-bat. That's what they want. … If I need a base hit to take the lead or something then I will figure out another inning. I'm going to manage my game to win the game. I will figure out how to play him. But if the game is on the line, I'm going to manage it to win the game.
"Obviously if we are in the pennant race and this game meant something, or if the Mets were in the pennant race and we've got to beat them, that's different."
September, 30, 2012
9/30/12
8:52
AM ET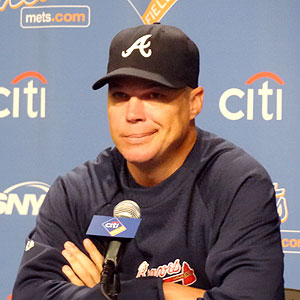 Adam Rubin
Chipper Jones faces the Mets for the final time today.

ATLANTA --
Chris Young
surrendered two runs in six innings, but the
Mets were blanked in a 2-0 loss
to the
Atlanta Braves
on Saturday night at Turner Field.
The Mets now wrap up their second-to-last series of the season, with
Jenrry Mejia
(1-1, 4.91 ERA) opposing right-hander
Kris Medlen
(9-1, 1.64) at 1:35 p.m. Atlanta has won Medlen's last 22 starts, tied for the longest streak in modern-era major league history. The New York Giants won 22 straight starts by Hall of Famer Carl Hubbell in 1936-37 and the Yankees won that many straight from 1950-53 with Whitey Ford starting. Ford's streak was interrupted by two years by service in the U.S. Army.
Chipper Jones
faces the Mets for the final time in his Hall of Fame career. His career numbers against the Mets: .308 (264-for-856) with 49 homers and 159 RBIs. The long ball total is tied with Mike Schmidt for the second most ever against the Mets, trailing only Willie Stargell (60). The RBI total ranks third, behind Stargell (182) and Schmidt (162).
Sunday's news reports:
• Columnist
Ken Davidoff
in the Post
says the Cy Young order of finish ought to be: 1.
R.A. Dickey
, 2.
Clayton Kershaw
, 3.
Johnny Cueto
, 4.
Gio Gonzalez
, 5.
Cliff Lee
.
Columnist
Bill Madden
in the Daily News
cannot fathom calls for a winner other than Dickey. Writes Madden:
Maybe I'm missing something here. Or maybe I just don't have enough seams in my head. I'm very perplexed with a lot of my baseball writing brethren. Miguel Cabrera and R.A. Dickey have each respectively had phenomenal seasons, MVP and Cy Young-worthy seasons --- seasons we should be celebrating. But instead many scribes and bloggers across the country have taken to disparaging them, especially Cabrera who has fallen victim to that nebulous (I would say ludicrous) new-age sabermetric stat called WAR.
I'll get to that in a minute, but when it comes to Dickey I have to wonder if the stigma of being an unconventional 37-year-old knuckleballer is going to deprive him of winning the National League Cy Young Award, when his winning should be a no-brainer. How else do you explain why so many people seem to be desperately looking for someone else to vote for?
Read more on the Cy Young race, including the case for Braves closer
Craig Kimbrel
,
in the Times
.
• Writing
for the Daily News
,
Ron Darling
salutes Mets media relations staffer Shannon Forde, who has been diagnosed with Stage 4 breast cancer. Writes Darling:
I don't know how many times I've been at work at the ballpark and I've told someone, "Call Shannon, she'll know the answer," or "Ask Shannon, she'll help you."
Shannon Forde just makes going to the ballpark easy for people in my line of work. She does a very difficult job — 18 years in the Mets' media relations department, from an intern out of St. John's to now senior director — with long, crazy hours. But she always has a smile on her face and a friendliness you don't always find in any job, anywhere. She's always able to take care of something you couldn't or didn't do, whether you are a player or on television.
Now it's time for us to be there for Shannon. On Aug. 2, Shannon, the mother of 4-year-old Nicholas and 2-year-old Kendall, wife of John, and someone dear to all Met hearts, was diagnosed with Stage 4 breast cancer. She's 41 years old. Through it, she has continued to work, but we know she's got a battle ahead of her. I don't think I know anyone who's stronger and we are confident she is going to fight this disease.
A fundraiser will take place Thursday, Nov. 1, at 7 p.m. at Westmount Country Club in Woodland Park, N.J.
You can attend an autograph session for $250 that is scheduled to include
Darryl Strawberry
,
Dwight Gooden
,
John Franco
,
Bobby Ojeda
,
Edgardo Alfonzo
,
Al Leiter
,
Ed Charles
,
Ed Kranepool
and
Sean Landeta
. There is also a dinner emceed by Darling for $100 that includes open bar, cocktail hour, dinner and dancing. Attend both parts for $300.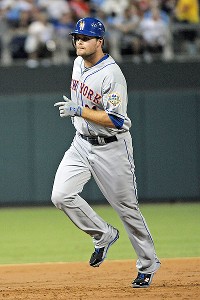 Eric Hartline/US PresswireLucas Duda is likely to stick around because the Mets wouldn't receive enough in return in a trade anyway, according to the Post.
For more information or to purchase tickets, please visit
www.hopeshinesforshannon.com
or contact Debbie Durante at durantedebbie@hotmail.com or 201-906-9255 or Cindy Santos at tripletmomof3@hotmail.com. To make a monetary donation, mail check payable to "Hope Shines for Shannon" to P.O. Box 3145, Point Pleasant, NJ 08742.
•
Mike Puma
in the Post
said the Mets are unlikely to trade
Lucas Duda
this offseason because he is more valuable to them as a power threat than he would return at this point in a swap.
• Young, who underwent surgery to repair a torn anterior capsule in his pitching shoulder on May 16, 2011,
expressed satisfaction
about returning so soon after the procedure and making 20 starts this season. Read recaps in
Newsday
and
Daily News
.
•
Jeurys Familia
will start Monday in Miami, followed by Dickey on Tuesday and
Jeremy Hefner
in the season finale.
•
Marc Carig
in Newsday
profiles
Adam Greenberg
, who will bat against the Mets on Tuesday -- seven years after his lone major league plate appearance resulted in him getting drilled in the head with a pitch.
TRIVIA:
Who drove in the only run on Opening Day?
Saturday's answer:
Matt Harvey
and Hefner have earned wins as a starting pitcher this season as rookies.
September, 28, 2012
9/28/12
6:12
AM ET
R.A. Dickey
became the sixth pitcher in franchise history to produce a 20-win season as the
Mets completed their home schedule with a 6-5 win
against the
Pittsburgh Pirates
on Thursday afternoon.
David Wright
hit a tiebreaking three-run homer and the Mets survived
Jon Rauch
surrendering a two-run homer to
Alex Presley
in the ninth.
Jon Niese
now begins the final turn through the rotation. Niese (12-9, 3.49 ERA) makes his final 2012 start tonight at Turner Field, opposite
Tim Hudson
(16-6, 3.61) The Braves will honor
Chipper Jones
in a pregame ceremony, as the third baseman's final home regular-season series at Turner Field begins.
Friday's news reports:
• Dickey became the
first knuckleballer to win 20 games
since
Joe Niekro
with the
Houston Astros
in 1980, according to STATS LLC. He will make one more start this season, in Miami. "The road to where he is today, a lot of people dream it. Few achieve it,"
Terry Collins
said. In the Cy Young race,
Gio Gonzalez
improved to 21-8 with a 2.89 ERA after allowing three runs in six innings in Washington's 7-3 win at Philly on Thursday night.
According to the Elias Sports Bureau:
Dickey became the third-oldest pitcher to record the first 20-win season of his major-league career when he beat the Pirates at Citi Field. Dickey (age 37 years, 334 days as of Thursday), trails only Mike Mussina (who was 39 years old when he won his 20th game for the 2008 Yankees) and Jamie Moyer (age 38 with the 2001 Mariners) on that list.

Dickey is 20-6 this year for a Mets team that has a 72-84 record. He will be the first pitcher to win 20 or more games in one season for a team that finished with a losing record since 1997, when Roger Clemens was 21-7 for the Blue Jays (76-86) and Brad Radke posted a 20-10 mark for a poor Twins team (68-94).
Writes columnist
Ian O'Connor
at ESPNNewYork.com
:
[Wife] Anne got nervous as she listened to the radio and watched on her iPad in the ninth, just like all of New York got nervous. But soon enough her husband was at the end of a receiving line on the field, chewing on his bubble gum and basking in the moment. "It wasn't long ago when we were just hoping to get to the big leagues and keep the house," Anne said. "My hopes never got beyond job security, and now we have this incredible storybook ending." She was driving the kids to Atlanta as she spoke, driving to meet up with a journeyman who had arrived as an athlete and human being the only way he knew how: The hard way.
Writes columnist
Filip Bondy
in the Daily News
: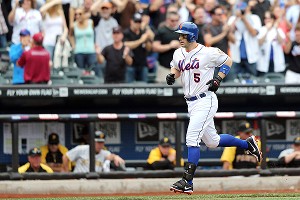 Anthony Gruppuso/US Presswire
David Wright delivered a tiebreaking three-run homer Thursday afternoon against Kevin Correia.

Aside from a costly no-hitter by Johan Santana, another relative geezer, the likable Dickey has been the warmest, most surprising story this whole season in Flushing. When the Wilpons fervently told fans last March, "Stick with us," they probably didn't visualize Dickey as their best Velcro argument. Then again, they didn't expect their team to be 23 games behind the Washington Nationals in September. The fans came anyway, 31,506 of them, not because they trust or support ownership but because this guy Dickey is a truly fun phenomenon. Dickey is somehow both the first of his kind and the last of a dying breed.
Frank Viola
, the Mets' last 20-game winner, who served as pitching coach with low-A Savannah this season, told
Brian Lewis
in the Post
about Dickey: "I texted him and told him I'm happy. It's a real year of firsts, Johan gets the no-hitter, R.A. wins 20 games. So there's real hope for the future of this organization. You know there's something there, that bright silver lining at the end; R.A. is definitely one of them this year.'' Viola's son,
Frank Jr.
, is trying to revive a professional baseball career with the knuckleball and has received lessons from Dickey.
Read more on Dickey's performance in the
Times
,
Newsday
,
Post
,
Star-Ledger
,
Daily News
and
Journal
.
• The Mets finished their home schedule 36-45. Overall, they're now 158-166 in four seasons at Citi Field. The Mets' 287 runs at home this season were their fewest since 1994, when they scored 235 runs at Shea. The Mets did benefit from the new dimensions to produce 67 homers this season at Citi Field -- their highest total in four years at the ballpark -- although opponents had five more new homers than the Mets that only would have been out with the new configuration.
"I don't expect them to change again," Collins said about the dimensions. "I just think they made a difference. Certainly we've seen the effects. And I don't have all the documentation about who hit what home runs, and how many last year would have been doubles. But I think it's fair park now. It's still a pitchers' park for me. It's still a big park. There's a lot of room in that outfield. But I think the change of the dimensions certainly lifted the confidence of a lot of guys in our lineup."
•
Keith Hernandez's
mustache is outta here
. With a sizable gathering as witnesses just before noon on Thursday outside the Jackie Robinson Rotunda, Hernandez had his "iconic" mustache shaved. Schick Hydro donated $5,000 to the Brooklyn center where Hernandez's mother
Jacquelyn
was assisted while dealing with Alzheimer's. Read more in
Newsday
and the
Times
.
• Chipper, the all-time Mets killer, faces them one last time this weekend. The pregame ceremony tonight will include
Hank Aaron
,
Dale Murphy
and
Bobby Cox
. Writes
Jayson Stark
at ESPN.com
about the Atlanta third baseman:
All of a sudden, it's here. The End. The finish line. Not just of an unforgettable season, but of a unique and historic baseball career. And now that he's arrived, at last, at the final week of his surreal journey -- at least the regular-season portion -- Chipper Jones finds himself looking backward, looking forward, looking everywhere at once. It's a crazy time. And a beautiful time. He has accepted all the lovely parting gifts.

He has gotten "a little misty" over the ovations he's received, not just in ballparks where they've spent 18 years booing him but from the opposing players who play in those parks. He has clicked on the aerial photos of the giant No. 10 that has been carved in a sprawling Georgia corn field. "My first-ever corn field," he said with a chuckle.
Read more at
MLB.com
.
•
Adam Greenberg
, who was hit with a pitch in the head in his lone major league plate appearance back in 2005, will
sign a one-day contract
and get one at-bat for the
Miami Marlins
against the Mets on Tuesday. Read more in the
Palm Beach Post
and
Times
.
• Former Mets coach
Manny Acta
was
fired as Indians manager
. Bench coach
Sandy Alomar Jr.
, the Mets' former bullpen coach, will complete the season in Acta's role and is a "primary candidate" to succeed Acta in 2013.
TRIVIA:
What did the Phillies present Chipper during his final visit to Citizens Bank Park?
Thursday's answer: Seaver became the Mets' first 20-game winner back in 1969.
September, 27, 2012
9/27/12
8:01
AM ET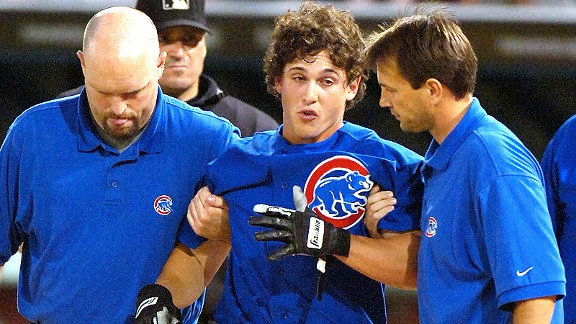 Steve Mitchell/Associated Press
Adam Greenberg was struck in the head with a pitch in 2005, in his lone major league plate appearance.
Adam Greenberg
, a Guilford, Conn., native whose major league career lasted only one plate appearance, will get a second chance on Oct. 2 against the Mets.
Greenberg, now 31, was struck in the head by a pitch from the Marlins'
Valerio de los Santos
on July 9, 2005, while playing for the Cubs and subsequently suffered from vertigo and vision issues. He never returned to the majors.
Now he will be given a second chance for a major league at-bat. After appearing for Israel in the World Baseball Classic qualifier, Greenberg has been invited to play one game for the Marlins -- next Tuesday in Miami, against the Mets. Writes LeAnne Gendreau
on the network's site
:
Greenberg went on to play in the minors, but has been running a company called Lurong Living. Then came Matt Liston, a documentary film maker and self-described baseball fanatic, who started "One at Bat" and started a national push for Greenberg to get his first official major league at bat. "We want to get Adam Greenberg his first 'official' Major League at bat. Of the 17,500 players who have played in the major leagues, no player has ever had his MLB career end on the first pitch -- except Adam Greenberg. Due to Major League rules, when Adam was hit, his at bat was recorded as a plate appearance, not an official at bat. We would like to see Adam make it back to the big leagues for the official at bat he earned," the Web site says.

Liston asked people to sign the online petition and spread the word through Twitter and Facebook. As of Thursday morning, more than 22,000 people had signed the petition.
Read more from Walter Villa
in the Palm Beach Post
.