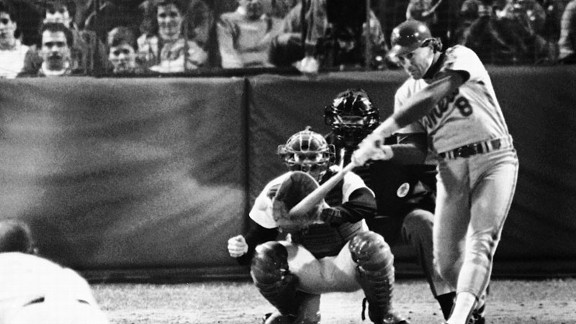 Mark Lennihan/A.P. Photo
A Hall-of-Fame-caliber performance from Gary Carter helped the Mets to a Game 4 win.
Over the next week, Mark Simon will reminisce here about the 1986 postseason. The 1986 Mets won the World Series in exhilarating fashion. Here's a capsule look at Game 4 of the 1986 World Series, played on this date, 25 years ago.
The Mets' confidence was restored after a Game 3 win at Fenway Park, and their swagger was back after a Game 4 win knotted the World Series, 2-2.
The Mets had a significant advantage in the starting pitching matchup, with Ron Darling going against Boston's No. 5 starter, Al Nipper. (Their No. 4 starter, Tom Seaver, missed the postseason due to injury.)
Before their offense got going, the Mets needed Darling to get big outs early. The first came in the opening fram, after two walks loaded the bases for Dwight Evans.
Darling rebounded to get Evans to ground out to shortstop, on a nifty curveball, to end Boston's early scoring threat. He survived a leadoff double in the second, recording three straight outs to escape another jam.
Nipper, who hadn't pitched in more than two weeks, got eight ground-ball outs in the first three innings but ran into trouble in the fourth. Wally Backman singled to center field off Nipper's glove.
On a 1-0 count to Keith Hernandez, the Mets tried the hit-and-run, and it looked like the Red Sox would thwart that by pitching out. But Hernandez preserved Backman's time on base by throwing his bat at the ball and grounding it to short, advancing Backman to second with one out.
After a lengthy (we timed it at 37 seconds) conference at the mound between Nipper (a future Red Sox pitching coach) and catcher Rich Gedman, Carter stepped out of the box, then stepped back in and pulled a first-pitch fastball over Fenway Park's Green Monster. Darryl Strawberry then went the other way with Nipper's next pitch and whacked it down the left field line for a double.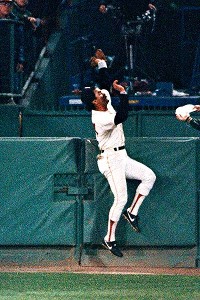 Susan Ragan/A.P. Photo
Dwight Evans just missed coming up with Lenny Dykstra's two-run home run.
Nipper and Gedman had another conference, but it didn't help matters. Ray Knight singled on a 3-2 pitch to give the Mets a 3-0 lead.
Darling, pitching on three days' rest in a park he frequented growing up in Massachusetts, retired 10 in a row from the second through the fifth innings to keep the Mets ahead.
They would add to their lead in the seventh inning when Lenny Dykstra, after a feeble swing at a 1-1 pitch, hit a two-run home run to right field on the next offering -- one that Evans got a glove on but couldn't catch.
Carter added his second home run of the game, a towering fly ball onto Lansdowne Street beyond the left field fence off a Steve Crawford hanging curveball in the eighth inning. And after Roger McDowell gave up two runs in the bottom of the eighth, Jesse Orosco got Wade Boggs with two on and two outs to end the eighth. (Boggs went 0-for-5 at home for the first time since Sept. 7, 1985.) Then Orosco got the final three outs for a 6-2 Mets win.
As the NBC game telecast noted, this was the third World Series in which the road team won the first four games, joining the 1906 edition (Cubs versus White Sox) and the 1923 edition (Giants versus Yankees).
Turning Point
In the sixth inning, the Red Sox had a chance to cut into the Mets' lead with one on and two outs. Gedman hit a line drive to left field that Mookie Wilson played perfectly off the wall, and his throw cut Gedman down at second base to end the inning. Ten pitches later, the Mets were up 5-0.
What They Wrote
"Just as we expected. It's huge and green and glowering, and it looms like an Everest, and it's intimidating them into submission.
Consecutive 3-RBI Games
World Series History
Not the Mets.
The Red Sox.
The New York Mets went over the Green Monster twice, played its carom perfectly once, fielded the turf beneath it without flaw and waltzed to a 6-2 victory."
--Peter Richmond, Miami Herald
"I know I've been saying the Mets' Len Dykstra is a midget -- too small to play in the majors. Well, now I'd have to say the 5-9 Dykstra has a good shot at being World Series MVP."
-Ex-major league outfielder Jimmy Piersall, Chicago Sun-Times
Quote of the Day
"The only thing on my mind now is getting that World Series ring."
-- Gary Carter
"If we continue to hit like this, nobody is going to beat us. The '27 Yankees couldn't beat us. If we had hit like this for the whole Series, we could have swept by now. Our bats are alive."
-- Ray Knight
Further Reading
Ever wonder how hard you would have to hit a ball for it to go over Fenway Park's Green Monster? The website for Khan Academy's video learning program offers a nine-and-a-half minute physics lesson on providing an answer.
Stats To Remember
1. Carter was the fourth catcher with a multi-homer game in the World Series, joining Yogi Berra (1956 Yankees), Gene Tenace (1972 Athletics) and Johnny Bench (1976 Reds). No catcher has had one since then.
2. Darling was the first pitcher to allow no runs in a World Series start in which he allowed at least 10 baserunners since Bob Shaw of the 1959 White Sox. The only pitcher to post that combo since then in World Series play is current Met Miguel Batista for the 2001 Diamondbacks against the Yankees.
3. This is one of only two instances in which the Mets posted a dozen hits in back-to-back postseason games. They did it in Games 2 and 3 of the 1969 NLCS.