May, 17, 2012
5/17/12
6:36
PM ET
By
Mark Simon, ESPN Stats & Information
US Presswire/Steve MitchellThe rest of the NL can only look on in envy at David Wright's performance this season.
A look back at the Mets, with help from resources such as
Baseball-Reference.com
Stat of the Week
David Wright
and
Jose Reyes
each had four hits in the Mets-Marlins game on Saturday.
They never had four hits in the same game as teammates with the Mets (2004-2011)
Pitcher Plunkings
In Saturday's win over the Marlins,
R.A. Dickey
became the second pitcher in Mets history to be the beneficiary of a hit by pitch with the bases loaded. The other was
Jae Seo
against the Cardinals in 2004.
Dickey also extended his streak of not striking out as a hitter. Through seven starts, he had 16 plate appearances and no strikeouts.
In fact, of his first 32 swings this season, he only missed twice.
The Wright Stuff
In this season of impressive statistical accomplishments, Wright notched a first.
According to the Elias Sports Bureau, Wright's .411 batting average through the team's first 38 games makes him the first Met ever to carry a .400 batting average beyond the team's 30th game of the season.
Cleon Jones
was batting .411 after 30 games in 1969, but he slipped below .400 in his next game and never returned. He finished the season hitting .340.
A Grand Disaster
The Mets blew a two-run ninth inning lead in the finale of their road trip last Sunday, losing on
Giancarlo Stanton's
walk-off grand slam. In what was a rough week for the Mets, we declare it the Moment of the Week.
It was the fourth walk-off grand slam the Mets have allowed since 2009, the most in the majors in that span. No other team has allowed more than two.
The Mets allowed their first walk-off grand slam in 1970 against
Bob Bailey
of the Expos. They've allowed 10 total since that season, matching the Tigers for the most in the majors.
It was the second time in the series that the Mets lost a game in which they led in the bottom of the ninth inning. Elias notes that the last time the Mets lost a pair of games in the same series in which they led in the
bottom
of the ninth or later was Sept. 3 and 5, 1992, against the Reds in Cincinnati.
Old Man Miguel
Miguel Batista
beat the Brewers on Monday. It was the first time that Batista beat the Brewers since April 14, 1999, when he pitched his first career complete game as a member of the Montreal Expos.
Batista is the third 41-year-old to throw seven innings and allow no runs in a game for the Mets.
Orlando Hernandez
did it three times in 2007 and
Tom Glavine
also did it once that season. Both were slightly older than Batista, who is about six months younger than what Hernandez (reportedly) was at the time.
Batista has three wins for the Mets since turning 40. Glavine has the most wins by a Met in his 40s with 28, followed by Hernandez with 14 and
Orel Hershiser
with 13.
The next pitcher on the Mets' 40-plus win list is a good name though, one Batista can catch with one more victory. Hall of Famer
Warren Spahn
had four wins as a 40-plus Met.
Zack Attack
Zack Greinke
and two relievers combined to shut out the Mets, 8-0 on Monday, combining for 10 strikeouts and no walks in the process.
Only once in their history have the Mets had a worse
home
shutout loss in a game in which they whiffed at least 10 times and didn't walk. That came on August 14, 2006, a 13-0 loss to
Cole Hamels
and Phillies.
Oh, Happy Day
The Mets wrapped up their series with the Reds by stealing a game, scoring the last nine runs to win, 9-4. The Mets have more wins in day games (11) than night games (10), despite having played six more night games than day games.
Wright had two hits, giving him 25 in 15 day games this season. His .463 batting average in day games leads the NL, with
Daniel Murphy
not far behind at .389.
If Wright keeps this up, he'll be chasing the Mets' record for batting average in day games, set by none other than Murphy last season. Murphy hit .385, breaking the mark previously held by
Paul Lo Duca
, who hit .380 in day games in 2006.
Vintage Metric of the Week
Ike Davis'
4-for-62 performance at home to start the season brought back some memories of some home struggles of the past.
The most notable home slump by a Met takes us back to 1986, when, of all people,
Darryl Strawberry
, went 0-for-47 at Shea Stadium from July 29 until it was finally broken on Sept. 7.
The Mets would turn out just fine that season.
But our spin in the time machine actually goes back to 1968, which is the residing spot for the two players who posted the worst single-season home batting average in Mets history (minimum 100 at-bats).
Middle infielders
Jerry Buchek
and
Al Weis
hit .132 and .133 respectively that season.
August, 10, 2010
8/10/10
9:00
AM ET
The Mets seem committed to giving 20-year-old Ruben Tejada a look as the everyday second baseman. It's an interesting position, considering that Tejada's minor league experience at second base totals 40 games, but Mets management clearly liked what it saw enough to push him through the farm system at a quick rate.

Second Base
New York Mets
2010 Season Stats

| | | | | | |
| --- | --- | --- | --- | --- | --- |
| GM | HR | RBI | R | OBP | AVG |
| 37 | 0 | 6 | 17 | .278 | .196 |
The Mets have had light-hitting middle infielders play significant roles previously. They won a World Series in 1969 with light-hitting Al Weis as part of a second base platoon, and won another in 1986 with .218-hitting Rafael Santana at shortstop.
But in this era, it's hard for a player with limited punch to flourish, even if he as an excellent glove. That got us to wondering if Tejada has what it takes.
During his time on
Baseball Tonight
, current Orioles manager
Buck Showalter
used to talk a lot about the skills he'd look for in young major-league ready players.
The other day, I asked him for a quick refresher list of those he'd mentioned on the air, related to second basemen, during his time here He passed along a list of evaluative questions we'd previously discussed before he left ESPN.
It struck us as a worthwhile exercise to look at where Tejada stands, and we'll do that using those questions as a guide.
Does he have a "good clock" as a defender?
What Showalter meant by this was asking whether that player could handle the increased speed of the major league game, of having to make plays and decisions instantly, without fail.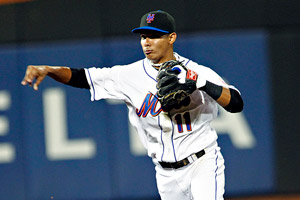 Paul Bereswill/AP
Ruben Tejada's defense has looked major-league ready, but can his bat catch up with his glove?
All indications seem so for Tejada, with one in particular standing out.
Tejada has excelled in turning the double play (you have to have a "good clock" to turn a DP, right?). According to Bill James Online, Tejada has had the chance to turn 20 ground-ball double plays at second base (either as initiator, or pivot-man) and the Mets have successfully turned 13 of them. That's a 65 percent success rate.
How good is that?
For the limited sampling that it is, it's excellent (for comparative purposes,
Luis Castillo
and
Alex Cora
turn them at a 45 percent rate), albeit probably unsustainable.
Monday, we looked through the numbers for the top 10 rated second basemen in the
2009 Fielding Bible Awards
(put out by Baseball Info Solutions) and that group collectively turned double plays at a 55 percent clip, with
Ian Kinsler's
60.5 percent rate grading best.
There's significant value in this attribute. The charts that rate "Win Probability" by situation show that a double play in a tie game in the fourth inning or later spikes the average team's chance to win by at least 10 percent. A double play turned by the home team in the ninth inning of a tie game is a huge play – a jump of nearly 20 percent.
Remember the multiple times you probably got frustrated in the last few weeks by Castillo failing to start/finish a potential double play? Those moments should be reduced now. And that may mean a few more victories in 2010 and beyond, if Tejada can maintain his everyday status.
How is his range in the air?
This one is meant to evaluate performance on pop flies, in terms of how much ground he can cover in fair and foul territory. This is also important in helping a manager determining the proper depth at which to position his outfielders.
We saw Tejada's nifty running catch of that flare popup in the middle of the diamond in the ninth inning of the Mets win over the Phillies on Saturday. I'm not sure either Castillo or Cora make that play and there are some numbers to back that up.
Our friends at Baseball Info Solutions track the ability of a fielder to get to balls hit in the air (popups, line drives, etc.)
In these 21 games, Tejada rates a +1 in their plus-minus system on balls hit in the air.
What this means is that Tejada has gotten to one more popup/line drive than the average second baseman, hit the same balls, would have caught.
For what it's worth, Castillo is a -2 and Cora was a -4 on defending balls hit in the air. The standard-setter would be
Orlando Hudson's
+9 last season, though even just reaching
Robinson Cano's
current +5 would be a strong positive in Tejada's favor.
Will his defense allow a manager to keep playing him, when he goes through the struggles that will happen on offense early on?
Let's use this question to look at Tejada's struggles, since we've already gone through his defensive successes.
Tejada's first foray into everyday major league play started alright. He was hitting .279 with four extra-base hits and a .667 OPS through June 30. But since July 1, he's 4-for-47 with no extra base hits, and 0-for-his-last-16 overall.
Pitchers have avoided making mistakes, because Tejada showed what he could do with those in his first few weeks in the major leagues.
In June, Tejada had three hits on what amounted to "mistake fastballs" (middle of plate, belt high, which he saw about once every 17 fastballs thrown).
But in July/August, he's seen 120 fastballs, but only two have been of the "mistake" variety (one for every 60 thrown) and he didn't get a hit on either of them.
What's happened during the last month is that those "mistake fastballs" are now directed up-and-in, or middle-away, two areas in which Tejada hasn't been able to get hits. Those would seem to be the first two places to target when looking at his potential growth as a player.
Can he play the game offensively that his skills dictate he should?
In evaluating the idea of Tejada opening the season at shortstop when Jose Reyes was hurt, Baseball Prospectus' managing partner and minor league analyst Kevin Goldstein wrote:
"He has a near-zero chance of ever being a star, but at the same time, he's one of the most fundamentally sound 20-year-olds you'll ever see. He works the count, makes consistent contact (59 strikeouts in 553 plate appearances last year), and while his range at the position is merely average, he makes the plays on the balls he gets to. Strikeouts and out-of-control fielding are the things that usually spell doom for a rookie, but Tejada has both of those bases covered."
There are a lot of things that Tejada does very well that would make you think he's going to eventually be more productive than he's been.
Mets officials point to his K/BB rate as a 17-year-old in rookie ball (35 strikeouts, 38 walks in 299 plate apprarances) as one indicator.
He's also shown good basestealing instincts at the minor league level (19-for-21 in 2009 with Double-A Binghamton) and penchants for both bunting and getting hit by pitches.
Those latter two skill sets have surfaced at the major league level . The former two have not … but it's still
very
early in Tejada's career.
Very few players have good plate discipline at an early age. Since 1990, 13 of the 19 players who were 20 or younger and got half-a-year's worth of plate appearances (200) struck out at least twice as often as they walked.
That said, we liked what we saw Tejada's turn against Phillies closer
Brad Lidge
in the ninth inning on Sunday.
After failing to get the bunt down twice in the ninth inning against Lidge, Tejada was able to put a tough pitch in play with two strikes, advancing a baserunner into scoring position in the process, rather than striking out.
Tejada is 6-out-of-6 in getting a runner in from third base with less than two outs and 6-out-of-7 in advancing a runner from second base if he's at the plate with nobody out.
When he does get the bunt, he's 4-of-4 in being successful. And while some may critique the ESPN/Elias Sports Bureau stat "Productive Out Percentage," (now tracked here at
Baseball-Reference.com
) those who grasp it and like it can point out that Tejada's 72 percent success rate is REALLY good (the major league average is 32 percent).
----
It may be asking a lot for Tejada to be like
Edgardo Alfonzo
(the best offensive second baseman the Mets have ever had) offensively, but even just getting to the level of
Felix Millan
or
Doug Flynn
(a couple of Gold Glove-caliber notable names from the past) would do wonders for his value.
For now, we'll just watch along with the Mets as this 20-year-old prodigy tries to figure things out. Hopefully by October, our answers to the "Showalter Test" will be a little more well-defined.
Mark Simon is a researcher for Baseball Tonight. Follow him on Twitter at @msimonespn. In-depth is a regular feature on ESPNNY that runs Tuesday's throughout the season.
NBA
NHL
COLLEGE BASKETBALL
COLLEGE FOOTBALL
NBA
NHL
COLLEGE BASKETBALL
NFL