July, 7, 2014
Jul 7
5:30
AM ET
NEW YORK
FIRST PITCH:
If the Mets want to be relevant after the All-Star break, they better win -- if not sweep -- their next series.
The
Atlanta Braves
arrive at Citi Field for a four-game series having just had a nine-game winning streak snapped by the
Arizona Diamondbacks
. Despite picking up a game in the standings Sunday, the Mets still trail first-place Atlanta by 10 games (and the
Washington Nationals
by 9½ games) in the division.
Daisuke Matsuzaka
(3-3, 3.72 ERA) opposes left-hander
Mike Minor
(2-5, 4.73) in Monday's 7:10 p.m. opener.
Read the Mets-Braves series preview
here
.
The Mets were swept in three games last week at Turner Field. The Amazin's squandered a two-run lead in the eighth inning last Monday when
Jeurys Familia
,
Juan Lagares
and
Eric Campbell
committed errors in an unsightly frame.
Catcher
Taylor Teagarden
is eligible to return from the disabled list for the series opener. The Mets have a few options: They can leave Teagarden on the DL, where he officially landed with a strained left hamstring two weeks ago. They can attempt to send him to the minors, although he would need to pass through waivers and also accept the assignment. Or they can demote
Anthony Recker
, who has an option remaining.
Of course, Recker homered Sunday.
The Mets essentially deferred the decision when
Travis d'Arnaud
was promoted by placing Teagarden on the DL, even though Teagarden had been getting treatment for that seemingly manageable hamstring issue for a considerable period.
Monday's news reports:
• The Mets placed
Jonathon Niese
on the disabled list
with a left shoulder strain before Sunday's game and promoted right-handed reliever
Buddy Carlyle
.
Dillon Gee
is slated to be activated from the DL on Wednesday to make the start in Niese's slot against the Braves.
Niese likely will miss only one start, since his DL stint will include the four-day All-Star break. He is eligible to return on July 20 -- the third game after the break, at San Diego.
Niese
insisted he is uninjured
. Still, Niese's fastball topped out at only 86 mph in his 12-pitch start Friday against the
Texas Rangers
-- an outing that ended when he was struck on the "love handle" on his left side by
Alex Rios
' line drive. Despite a solid 3.31 ERA, Niese's fastball is averaging a career-low 88.6 mph this season, down from 90.2 mph in 2013.
Although the DL decision displeased Niese, even the southpaw had previously expressed hope that the All-Star break would allow his fastball to get recharged. Niese actually had wanted to come back early after Friday's abbreviated outing and make two starts before the All-Star break.
He missed seven weeks last summer with a partial tear of his left rotator cuff.
Gee (3-1, 2.73) last pitched in the majors on May 10. He since has been on the disabled list with a strained right lat muscle. Gee made his final rehab start Friday with Brooklyn. He limited Aberdeen to one run on three hits and a walk and also hit a batter while striking out 10 in six innings. Gee logged 75 pitches. He then threw a bullpen session Sunday at Citi Field to further confirm his health before the Mets made the official announcement about Niese landing on the DL.
Read more in the
Star-Ledger
,
Daily News
,
Newsday
and at
MLB.com
.
Evan Vucci/Associated PressDaniel Murphy has been selected to his first All-Star Game.
•
Daniel Murphy
earned his first All-Star selection
and is the lone Mets representative to the July 15 game at Minnesota. Murphy (.294, 7 HR, 35 RBIs) is tied with Pittsburgh's
Andrew McCutchen
and San Francisco's
Hunter Pence
for second in the National League in hits with 106, trailing only Miami's
Casey McGehee
(108).
David Wright
and Niese were passed over for selection, although Niese would have been disqualified anyway because of the DL stint.
Milwaukee Brewers
third baseman
Aramis Ramirez
topped the second-place Wright by 338,728 votes in fan balloting. It is only the second time in the past nine years that Wright has been left out of the game. The other instance came in 2011, when Wright missed two months with a stress fracture in his lower back.
This marks the first time since 2003 that the Mets have only one All-Star selection. That year, it was
Armando Benitez
. This time, no Mets were selected via the fan or player ballots, so Murphy was chosen by
St. Louis Cardinals
manager
Mike Matheny
, who will lead the NL squad.
Read more in the
Post
,
Star-Ledger
and at
MLB.com
.
• The Mets scored a season-high five first-inning runs, capped by Recker's three-run homer, and
beat the Rangers, 8-4
, in Sunday's rubber game.
Zack Wheeler
surrendered only a solo homer to
Robinson Chirinos
in 6 1/3 innings. Wheeler had been winless in his last nine starts at Citi Field, going 0-6 with a 4.65 ERA since an Aug. 20, 2013 victory.
Gonzalez Germen
surrendered a pair of homers in a three-run eighth, forcing Terry Collins to insert Familia to protect a three-run lead. Germen could be vulnerable Wednesday when the Mets need to clear a roster spot for Gee's activation. The alternative presumably would be to drop the newly added Carlyle.
Texas has lost 15 of 18.
Read game recaps in the
Post
,
Daily News
,
Times
,
Star-Ledger
and at
MLB.com
.
• Prospects Wuilmer Becerra and Vicente Lupo were
arrested by Kingsport, Tenn., police
for allegedly drag racing at speeds in excess of 100 mph.
• The Brooklyn Cyclones held their "Salute to Seinfeld Night" on Saturday at MCU Park, on the 25th anniversary of the pilot episode, known as "The Seinfeld Chronicles," having been broadcast on July 5, 1989. The festivities included players wearing puffy shirts during batting practice and a Keith Hernandez "magic loogie" bobblehead giveaway.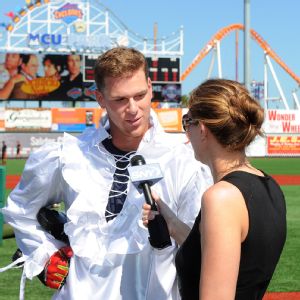 Courtesy of Brooklyn CyclonesFirst baseman Jeff Diehl, and the rest of the Brooklyn Cyclones, wore puffy shirts during batting practice Saturday.
ESPN's Mark Simon back in 2010 chronicled all the Mets references on "Seinfeld," which you can check out
here
. The most famous involves Hernandez's Feb. 12, 1992 appearance, on the episode known as "The Boyfriend." Wrote Simon:
Hernandez and Jerry become friends, with Jerry spending much of his free time worrying about how he can impress Hernandez. Hernandez and Jerry's ex-girlfriend, Elaine, date, and meet Mets outfielder Mookie Wilson (unseen) in a local restaurant. The relationship breaks up when Elaine sees that Hernandez is a cigarette smoker.
The highlight is the mystery surrounding whether Hernandez spit on Kramer and his friend Newman, after the two yelled insults at the Mets first baseman, following another game the Mets blew (based on a game "Seinfeld" creator Larry David and friends attended in 1986).
Using the same principles regarding the "magic bullet" theory in the John F. Kennedy assassination, Jerry attempts to debunk the story. In the end, it's revealed that the spitter was actually Hernandez's teammate, Roger McDowell, who was getting revenge for Newman's spilling beer on him in the bullpen.
Mike Salfino
in the Journal
notes "Seinfeld" actually was far more Yankees- than Mets-oriented.
• Noah Syndergaard allowed one run on six hits while striking out eight and walking none in seven innings as Las Vegas routed Albuquerque, 12-1.
Wilmer Flores
homered for the sixth time in his last five games. Cesar Puello homered twice in his first game since June 23. He had been sidelined with a concussion.
Chase Huchingson allowed two runs in the top of the 10th and the B-Mets lost, 10-9, after leaving the bases loaded in the bottom half despite a hit by pitch and three walks to open the frame. Jorge Rivero drove in three runs and Matt Obserte homered as Savannah beat Hickory, 8-2. Carlos Valdez and Gaither Bumgardner combined on a two-hit shutout as Binghamton blanked Abderdeen, 7-0.
• Columnist Kevin Kernan
in the Post
suggests the Mets start making trades.
• Columnist David Lennon
in Newsday
acknowledges trading a pitching surplus could be shortsighted. Writes Lennon:
On paper, it's true -- the Mets have some pitching currency for the trade market. If not in the next three weeks, then certainly in the offseason. But you also can understand why Alderson might be leery of dealing from that deck. The fragile nature of pitchers, now more than ever, has made it crucial to have quantity as well as quality. If the Mets go the trade route, the pressure to pick the right chip can be cause for hesitation.
• Stephen Haynes
in Newsday
recaps Wheeler's outing Sunday.
•
From the bloggers ...
Faith and Fear
offers an appreciation of Murphy as the perfect All-Star selection from an inherently imperfect Mets team.
BIRTHDAYS:
Third base coach and '86 Met Tim Teufel turns 56. ...
Andy Green
, now managing Double-A Mobile in the Arizona Diamondbacks organization, is 37. ... Minor-league left-hander Alex Panteliodis, a ninth-round pick in 2011 out of the University of Florida, is 24.
TWEET OF THE DAY:
Citi Field is leading all MLB stadiums in between-pitch sound effects for the sixth consecutive season.

— Bob Waterman (@esbbob) July 6, 2014
YOU'RE UP: Will the Mets be represented by the correct All-Star selection in Minnesota on July 15?
July, 5, 2014
Jul 5
12:13
AM ET
NEW YORK --
Jonathon Niese
feels fine after getting struck with a first-inning line drive in the love handle on his left side Friday. So the southpaw wants to come back early and get two more starts before the All-Star break. And that appears to be bad news for
Daisuke Matsuzaka
, who could now end up in the bullpen without making another start.
Niese was pulled after 12 pitches from an eventual 6-5 win against the
Texas Rangers
, after getting struck in the lower back by a line drive off the bat of
Alex Rios
.
Niese insisted to Terry Collins and trainer Ray Ramirez that he was fine and wanted to remain in the game. But Ramirez would not even permit Niese to throw a warm-up pitch, concerned that if Niese had suffered a fractured rib, he could end up puncturing a lung.
X-rays ended up being negative and Niese ultimately was diagnosed with a bruise.
Ramirez, in denying Niese's plea, even brought up a five-year-old incident that predated Collins. During Niese's rookie season, he was allowed to throw a warm-up with the trainer visiting on Aug. 5, 2009. Niese crumpled to the ground in pain with a complete tear of a hamstring tendon.
That incident contributed to assistant trainer Mike Herbst getting reassigned from the major league staff to rehab duty at the Mets' Port St. Lucie, Fla., complex.
"There's not much to say other than I'm fine. I didn't want to be taken out," Niese said postgame Friday. "I just felt like I was cheated there a little bit."
Niese said he was "100 percent" confident during Ramirez's visit that he was fine.
"I knew it was just a bruise. It kind of went away there," he said. "I wanted to stay in there."
Niese continued, referring to Ramirez: "He's doing his job. He really didn't know the extent of the injury. In my past, with the hamstring, he just didn't want to take a chance of it tightening up and pulling something."
The one positive byproduct: Although Collins said it had not yet been discussed, Niese wants his next start to come Monday or Tuesday, rather than wait for his official next rotation turn Wednesday.
Since Niese threw only 12 pitches, that seems more than feasible.
And that would mean the Mets could immediately reassign Matsuzaka to the bullpen without making another start.
Dillon Gee
should be ready to return from the disabled list Wednesday, which is when Niese's official next turn would be. So Niese can merely jump into Matsuzaka's slot a day or two earlier.
If that materialized, the rotation leading into the All-Star break could be:
Saturday:
Bartolo Colon
Sunday:
Zack Wheeler
Monday: Niese/
Jacob deGrom
Tuesday: deGrom/Niese
Wednesday: Gee
Thursday: Colon
July 11: Wheeler
July 12: Niese/deGrom
July 13: deGrom/Niese
"I'm going to try to talk them into going out earlier," Niese said. "I only threw 12 pitches."
July, 4, 2014
Jul 4
11:18
PM ET
NEW YORK -- And now, some fireworks!
Travis d'Arnaud
delivered a tiebreaking, two-run double in the eighth against
Jason Frasor
and the Mets snapped a four-game losing streak with a 6-5 win against the
Texas Rangers
on Friday night at Citi Field.
Eric Campbell
had greeted Frasor with a one-out single after the right-hander inherited
Bobby Abreu
on first base from left-hander
Aaron Poreda
. Both scored on d'Arnaud's double. Campbell finished 3-for-3 with a walk and RBI.
The Rangers, who scored a run in the ninth against
Jenrry Mejia
, have lost 14 of their past 16.
The game was the 11th in the majors this season to take at least four hours without extra innings, according to the Elias Sports Bureau. It lasted 4 hours, 8 minutes -- falling one minute shy of the longest nine-inning game in Mets history.
The Mets are now 11-20 in one-run games this season.
Texas had plated an unearned run in the seventh against
Jeurys Familia
to even the score at 4.
Elvis Andrus
hit a sharp grounder that
Daniel Murphy
fielded on the backhand. However, Murphy bounced the throw to
Lucas Duda
, who could not scoop it. Murphy was charged with an error. Andrus eventually scored when
Chris Gimenez
sent a grounder to Campbell at third base. He could not field the ball cleanly and had to settle for the out at first base rather than pursue Andrus at the plate.
Yu who?
Originally scheduled to pitch Thursday at Camden Yards,
Yu Darvish
was held back until Friday because of the threat that the series finale against at Baltimore would be interrupted by rain. What looked like bad news for the Mets turned out to be OK.
Darvish surrendered three first-inning runs, including a two-run, opposite-field homer by Duda. In his previous 15 starts this season, Darvish had allowed only three first-inning runs (two earned).
Darvish entered the night with the third-ranked ERA in the American League. He allowed four runs on five hits and two walks in five innings and had his ERA rise from 2.42 to 2.63. The four earned runs matched his season high.
Ouch!
Jonathon Niese
departed with one out in the first inning after throwing only 12 pitches. Niese was struck in the lower back by a line drive from
Alex Rios
. X-rays were negative, and Niese was diagnosed with a bruise.
What a relief:
Carlos Torres
entered for Niese and managed to pitch through the fifth inning. Torres threw a season-high 81 pitches in his 4 2/3 innings of work and departed with the Mets leading 4-3.
Torres' workload marked the most pitches thrown by a Met in relief since
Shaun Marcum
handled the final eight innings of a 20-inning game against the
Miami Marlins
on June 8, 2013. Marcum tossed 105 pitches in that game.
Odds and ends:
Adrian Beltre
had a solo homer against Torres in the fifth to pull the Rangers within 4-3. Beltre has now homered in 40 major league ballparks, the most of any active player, according to the Elias Sports Bureau. ... Former All-Star closer
Neftali Feliz
made his season debut with the Rangers. He walked the first two batters he faced. However, d'Arnaud bunted, the lead runner was forced out and Feliz ultimately tossed a scoreless sixth. Feliz then also logged a scoreless seventh.
What's next:
Bartolo Colon
(8-6, 3.88 ERA) opposes right-hander
Colby Lewis
(5-5, 5.71) on Saturday at 7:15 p.m.
July, 25, 2013
7/25/13
7:17
AM ET
NEW YORK
FIRST PITCH:
Zack Wheeler
, who tossed six scoreless innings in his major league debut at Turner Field in Atlanta, albeit with five walks, gets another crack at the Braves in an early start this afternoon.
Wheeler (3-1, 3.58 ERA) opposes rookie left-hander
Alex Wood
(0-2, 2.45) as the Mets look to salvage a split of the four-game series. First pitch: 12:10 p.m.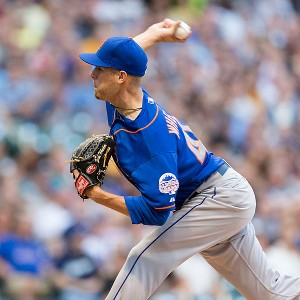 Tom Lynn/Getty ImagesZack Wheeler pitches on turn, despite recently dealing with a blister issue.
The Mets earlier this week debated delaying Wheeler's start a day to allow a blister to further heal, but ultimately decided it was a nonissue and kept him on regular rest. Wheeler has dealt with blister issues throughout his pro career -- both as a
San Francisco Giants
farmhand and with the Mets.
Wood steps in for fellow southpaw
Paul Maholm
, who landed on the disabled list on the eve of the series with a bruised wrist.
With the Mets facing a left-hander,
Josh Satin
should start at first base and
Juan Lagares
in center field.
Justin Turner
also is due for his first start since returning from the disabled list.
Terry Collins planned for Turner to be used at a middle-infield position, but Turner might start at third base if
David Wright
needs a day for a sore back/neck. Wright inadvertently
hit himself with the shattered bat during his own swing
in the fourth inning Wednesday night.
Thursday's news reports:
• The
Texas Rangers
are scouting
Marlon Byrd
among a bevy of outfield options, writes
CBSSports.com
.
Alex Rios
of the
Chicago White Sox
appears Texas' primary target, according to the report. Writes Jon Heyman:
Ideally, Texas would have loved to make a run at young Marlins superstar Giancarlo Stanton, Hunter Pence (a local, being a U-T Arlington product) or perhaps Michael Cuddyer, but with those three apparently unavailable at the moment, the Rangers are surveying a market that's heavy on far lesser talents. Pence would seem to have the best chance to be traded of those three, and Texas would target him if he becomes free. Nolan Ryan is said to be a fan.
Seattle, which has Raul Ibanez, Kendrys Morales and Michael Morse, isn't ready to trade anybody yet. And most believe they'll ultimately keep at least Ibanez and Morales now that they are showing decent signs of life. …
The Rangers reportedly have looked at Norichika Aoki, as well, and Danny Knobler reported they are scouting Marlon Byrd, their former player. Other outfielders who could go in trades include Justin Ruggiano, Chris Denorfia, Nate Schierholtz and Alejandro De Aza.
• Tim Hudson suffered a
gruesome fracture of his right ankle
when he was stepped on while covering first base by runner
Eric Young Jr
. on Wednesday night. Hudson had taken a scoreless effort into the eighth inning when the injury occurred.
"I saw them get tangled up,"
Dan Uggla
told the Atlanta Journal-Constitution
. "I was just hoping he Charley-horsed him or something. I didn't see the extent of it. Once I saw Huddy's reaction, I was like, 'Oh, no. This isn't good.' …
"He was kind of in disbelief, obviously in a lot of pain. You could see just the thoughts going through his head, 'This can't be happening. … This is unbelievable.' That sort of thing. I know he was in a lot of pain."
Young
expressed remorse for what happened
.
"I'm hustling down the line like I always do, going for the base," Young said. "I saw his foot, as I'm going for the base, right there in the middle, as I came down, I knew I didn't get any of the base. I know I got all of his foot. I pretty much knew it was probably broke right as I did it, and that's why I sprinted right back to him and tried to console him as much as I could and apologize.
"I was able to see Tim before they took him to the hospital. He told me it wasn't my fault, just one of those freak plays that happened."
Read more on the injury and reaction in the
Post
and
Daily News
.
•
Evan Gattis
, Uggla and
Andrelton Simmons
all homered against
Jeremy Hefner
as the
Braves beat the Mets, 8-2
at Citi Field. Hefner surrendered six runs (five earned) in 4 1/3 innings. He became the first Mets pitcher to allow three homers in a home game this season. Hefner
has allowed 13 earned runs in 6 1/3 innings
over his past two starts.
Daniel Murphy
had two doubles, but also committed two errors.
Columnist John Harper
in the Daily News
summarizes the night.
Read game recaps in the
Post
,
Newsday
,
Star-Ledger
,
Record
,
Times
and
MLB.com
.
• Read more on Wright's status after getting struck with his own bat in the
Star-Ledger
and
Daily News
.
•
Lucas Duda
and Travis d'Arnaud returned to game action for the first time Wednesday, in the same Gulf Coast League game. D'Arnaud went 1-for-3 and caught five innings in his first official action since fracturing the first metatarsal in his left foot on April 17 with Triple-A Las Vegas.
Duda, who landed on the DL with an intercostal muscle strain on his left side after a June 21 game, went 0-for-2 with a walk. He played five innings in left field. It would have been far more noteworthy because of the implications for
Ike Davis
if Duda had played first base, but that was not the case. Read more in the
Post
.
•
Jonathon Niese
, on the DL with a shoulder issue, is
ready to pitch in a Gulf Coast League game
this weekend or shortly thereafter. He likely will need multiple rehab starts before returning, so rejoining the Mets in mid-August is most likely. Read more in the
Star-Ledger
.
•
Jenrry Mejia
joined the Mets in advance of Friday's start opposite
Jordan Zimmermann
in Game 1 of a doubleheader at Nationals Park.
Matt Harvey
opposes
Ross Ohlendorf
in the nightcap that day. The other matchups that series:
Dillon Gee
versus
Dan Haren
on Saturday and
Carlos Torres
versus
Taylor Jordan
on Sunday.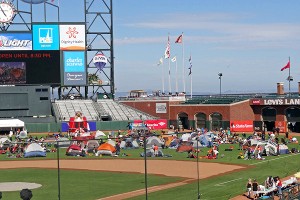 Adam RubinThe San Francisco Giants annually host a sleepover for fans on the night of a day game at AT&T Park.
Mejia told Jorge Castillo
in the Star-Ledger
that he has bone spurs in his right elbow that will need to be surgically removed during the offseason. Doctors proposed removing them during spring training when the issue first flared up, but Mejia preferred taking anti-inflammatory medication to get through the discomfort and to deal with it after the season. Read more in the
Journal
and
Record
.
• Matching an event annually staged at San Francisco's A&T Park, the Mets will host a sleepover for fans at Citi Field on Aug. 10. Unlike with the Giants, it will not occur the night of a home day game. Tickets, which range $175-$200 per person and include admission to the Sept. 28 game against the
Milwaukee Brewers
, go on sale at 10 a.m. today at
Mets.com/sleepover
. The Mets also announced PR man Jay Horwitz bobblehead day will be held Aug. 23. There's also a Third Eye Blind concert after that game against the
Detroit Tigers
.
• Columnist Larry Brooks
in the Post
suggests the Mets are laying the groundwork for a brighter future.
• Mark Cohoon became the all-time innings-pitched leader in Binghamton history and closer Jeff Walters matched Jerrod Riggan's B-Mets single-season record with save No. 28 in a 6-3 win against Reading. Read the minor league recap
here
.
BIRTHDAYS:
Billy Wagner, now spending time with his alpacas, turns 42. … Where's Mota? Guillermo Mota is celebrating his 40th birthday.
TWEET OF THE DAY:
Join me at Mets Social Media Night Aug. 23 @ Citi Field & receive my Bobblehead. For tix visit http://t.co/TcCIqXZaAZ http://t.co/x5n8fXXm65

— Jay Horwitz (@Jay_HorwitzPR) July 24, 2013
YOU'RE UP: Should the Mets hold onto Marlon Byrd unless overwhelmed by a trade offer?
July, 18, 2013
7/18/13
2:30
PM ET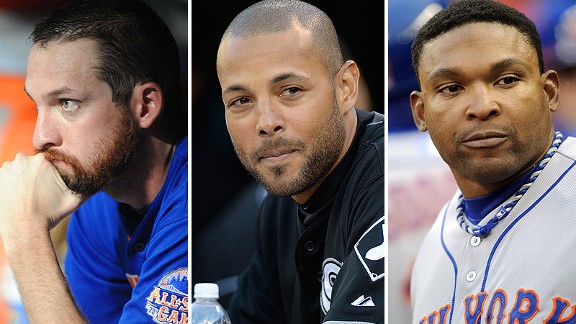 Getty Images, USA TODAY SportsThe Mets have finally found an affordable closer in Bobby Parnell, so don't look for him to get moved. Alex Rios is a potential acquisition, but they'd have to get overwhelmed to trade Marlon Byrd.
Sandy Alderson wants the Mets to remain competitive for the remainder of the reason. So the GM will not be trading off pieces to clear room for prospects to play unless the organization receives a noteworthy return.
"What we've been trying to do for the last several years is stockpile talent, clear payroll with significant complications, and then be as competitive as we can possibly be without sacrificing Nos. 1 and 2," Alderson said. "In order for us to sacrifice No. 3 [competitiveness], it has to be a material advantage in talent for us to do that. Is that going to happen? I don't know."
Here's the case for the three July 31 trade-deadline scenarios:
1. Sell.
Marlon Byrd
would figure to be an attractive piece for a contender because of his production (.271, 15 HR, 51 RBIs) and because he is making only $700,000 this season. Of course, the low salary -- less than $280,000 remains owed -- means the Mets will not feel compelled to trade him unless they get a hefty return. Remember, the Mets did not trade
Scott Hairston
last July, then let him walk.
In a dream scenario,
Frank Francisco
returns before the end of the month and the Mets can find a taker. Francisco has started a rehab assignment in the Gulf Coast League and is owed $2.6 million for the remainder of the season on his original two-year, $12 million deal.
Francisco should be able to get traded in August, too, because no one would dare put in a claim on his contract. If someone were to put in a claim to block an August trade, the Mets could just dump the remaining contract on that team.
With Travis d'Arnaud no better than a September call-up, the Mets figure to hold onto
John Buck
. His production has dipped so drastically anyway it is unclear there would actually be a market.
One relatively productive Met in the final year of a contract: 40-year-old
LaTroy Hawkins
.
The Dodgers were scouting the Mets in Pittsburgh, for whatever that's worth.
2. Buy.
The Mets would not be buyers in the traditional sense, in that a team rents a player for a run at the postseason. After all, despite better play of late, the Mets are double digits off the division and wild-card leads.
The Mets would look for an outfielder with power who remains under control beyond this season. While the names
Carlos Gonzalez
,
Giancarlo Stanton
and
Andre Ethier
often get mentioned, the odds are none of those players gets dealt this month.
Alderson has acknowledged speaking with one team about a player under control for 2014, although he did not specify which team.
One potential target:
Chicago White Sox
right fielder
Alex Rios
, who is owed $12.5 million in 2014 and also has a club option for 2015.
3. Stand pat.
This is not exactly glamorous, but it would be consistent with the Mets' recent history -- with the exception of shipping off
Carlos Beltran
two years ago to the
San Francisco Giants
in the final year of his deal for
Zack Wheeler
.
Fans seem to be captivated by the potential of trading
Bobby Parnell
or
Daniel Murphy
, but unless the Mets are approached and overwhelmed, neither getting dealt seems likely.
In Parnell's case, he has been solid in the closer's role and is making only $1.7 million this season. Parnell is under the Mets' control through the 2015 season, although his salary should start to dramatically rise because he is eligible for arbitration both years.
As for Murphy, is he the long-term answer at second base? Who knows? But the Mets need non-marquee pieces to build around, too. And Murphy's bat, despite lulls, contributes enough to warrant holding onto unless there is some dramatic offer.
May, 7, 2013
5/07/13
9:44
PM ET
WHAT IT MEANS:
Matt Harvey
pitched nearly perfectly against Robin Ventura's club -- retiring 27 of 28 batters. He received the cruelest of no-decisions.
Pitching for the first time since being named NL Pitcher of the Month for April, and with three extra days of rest thanks to a rainout in Atlanta, Harvey retired the first 20
Chicago White Sox
batters he faced.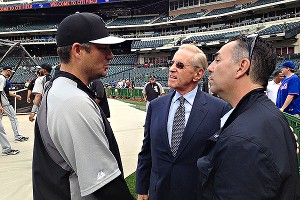 Adam Rubin
Robin Ventura, Fred Wilpon and John Franco chat during batting practice.

The perfect-game bid ended in the narrowest of fashions. With two outs in the seventh,
Alex Rios
sent a grounder deep into the hole at shortstop.
Ruben Tejada
fielded it and went airborne for a throw as his momentum carried him toward left field. First-base ump Mark Carlson properly called Rios safe by a hair and the perfect-game and no-hit bids ended.
That was the only batter who reached in nine innings against Harvey, but the Mets also failed to score. So when
Bobby Parnell
entered for the 10th, Harvey was saddled with a no-decision despite shaving his ERA to 1.28.
The Mets ultimately won in walk-off fashion, 1-0 in the 10th, when pinch-hitter
Mike Baxter
singled against
Nate Jones
to score
Ike Davis
. Davis had walked to open the inning and advanced to second on a sac bunt by
Juan Lagares
. It was Baxter's first career walk-off hit.
The last MLB pitchers to log nine or more innings, allow no runs and one or fewer hits and get a no-decision:
Travis Wood
(Cincinnati, 2010),
Ben Sheets
(Milwaukee, 2004),
Miguel Batista
(Arizona, 2002),
Ryan Rupe
(Tampa Bay, 1999), Francisco Cordova (Pittsburgh, 1997) and
Alan Benes
(St. Louis, 1997).
Harvey's 6 2/3 perfect innings marked the longest perfect stretch by a Met since
Rick Reed
against Tampa Bay at Shea Stadium on June 8, 1998. Reed also was perfect for 6 2/3 innings, until Wade Boggs doubled.
Harvey -- who pitched the first inning with blood running from his nose -- finished with a career-high 12 strikeouts. It was his second double-digit strikeout performance of the season (also April 3 against San Diego) and fourth of his career. His previous career high had been 11 strikeouts in his major league debut last July 26 at Arizona.
He required only 105 pitches to complete nine innings. He had been annoyed with his most recent outing in Miami, when he tossed a career-high 121 pitches in 5 1/3 innings against the Marlins.
Newark's
Hector Santiago
matched the zeroes Harvey was putting up before departing with his pitch count at 111 for the bottom of the eighth in a 0-0 game. The Mets left four runners on base over the first two innings and mustered only four hits against Santiago.
WHAT'S NEXT:
The two-game series comes to a close Wednesday as
Jeremy Hefner
(0-3, 4.34 ERA) opposes right-hander
Jake Peavy
(3-1, 3.38) at 7:10 p.m.