New York Mets:

Alex White
March, 20, 2013
3/20/13
9:31
PM ET
KISSIMMEE, Fla. --
Dillon Gee
struggled for a second straight outing, but the Mets rallied for a 7-5 win against the
Houston Astros
on Wednesday night at Osceola County Stadium.
Zach Lutz
had a game-tying RBI single and Matt den Dekker followed with a two-run triple that chased left-handed reliever Kevin Chapman in a four-run seventh. Chapman is den Dekker's cousin. They were high school and college teammates.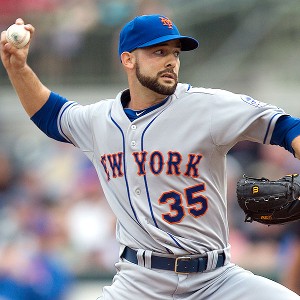 Evan Vucci/Associated Press
Dillon Gee rallied after allowing five runs in his first two innings Wednesday.

Den Dekker actually ended up at the University of Florida because the SEC school's recruiter had come to watch Chapman in a high school game and became alerted to the future Mets prospect, too. Chapman ended up being selected in the fourth round in 2010, a round before den Dekker.
"He was going to Florida, and the recruiting coordinator came to the game and saw me play and I had a pretty good game," den Dekker once recalled. "We grew up together. Pretty much our whole lives we lived around each other. It was cool us being drafted so close together. It was a big day for our families. Our families are real close. We all live down in South Florida. It was really exciting for everybody in our family."
As for Gee, he surrendered a two-run homer to
Carlos Pena
in the first inning and ultimately was charged with five earned runs on seven hits, a walk and a hit batter in four innings. Gee struck out four during a 77-pitch effort that included 47 strikes.
The outing comes on the heels of Gee allowing six runs on three hits, four walks, two hit batters and three wild pitches against the
Detroit Tigers
last Thursday.
His Grapefruit League ERA stands at 8.31.
Gee missed the second half of last season after undergoing emergency surgery at the All-Star break to address a blood clot in his pitching shoulder.
"I'm going to exclude this camp, because this is not the camp that Dillon Gee normally has," Terry Collins said. "He's a control pitcher. He throws all of his pitches for strikes. He has not done that this spring. But we know he's capable of doing that. That's what makes him one of the underrated pitchers. He's not an overpowering guy, but he can get you out. When you get in the batter's box, if you 'hunt' a fastball, you may never get one. And the next thing you know you're behind 0-2, because he's throwing a slider for a strike, a curveball for a strike or a changeup for a strike. ... Right now we need to get his release point down."
Gee, however, was heartened by his final inning -- a scoreless frame.
"All I need to look for was that last inning. That was me," Gee said. "I was aggressive. The tempo was way better. The ball was coming out great. Something clicked that last inning and I felt like my old self. I didn't really know until that last inning hit me what I should feel like. The first couple of innings I was timid, like feeling for things. And that's just not me. I'm not getting caught up in all this. I know I just have to keep working. That last inning was definitely something to build off of. I felt normal again."
Game tidbits:
LAFFEY MATTER:
Aaron Laffey
, the expected replacement for
Shaun Marcum
should the shoulder issue persist, tossed a scoreless inning. Laffey is due to start a split-squad game Sunday. He has tossed nine scoreless Grapefruit League innings.
MORE COWGILL:
Collin Cowgill
belted a two-run homer in the third inning against starter
Alex White
, who will serve as Houston's fifth starter or long reliever.
Brian Bixler
contributed an RBI triple in the fifth that pulled the Mets within 5-3 and chased White.
O-NO:
Ruben Tejada
snapped an 0-for-18 skid with leadoff double in the third.
ZEROES:
Submariner
Greg Burke
, the frontrunner to claim the final bullpen spot, tossed 1 2/3 scoreless innings.
March, 9, 2013
3/09/13
5:45
PM ET
PORT ST. LUCIE, Fla. --
Lucas Duda
went 3-for-3 with two RBIs and
Jeremy Hefner
tossed three scoreless innings as the Mets beat the
Houston Astros
, 9-6, Saturday at Tradition Field.
Marlon Byrd
, Duda and
John Buck
all doubled in a three-run third inning that chased Astros starter
Alex White
.
Game tidbits:
WEB GEMS:
Matt den Dekker's collection of highlight-reel plays, which included taking a homer away from Washington's
Anthony Rendon
earlier in spring training, has a new addition. Den Dekker slid on the warning track in left-center to rob
Trevor Crowe
of an extra-base hit in the third inning.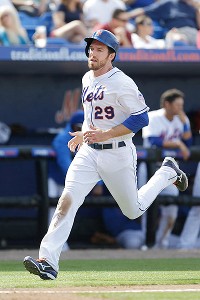 Jeff Robertson/Associated Press
Ike Davis went 2-for-2 and scored three times Saturday.

Although den Dekker is very likely ticketed for Triple-A Las Vegas to open the season, a scout assigned to the Mets said the prospect might be the top outfielder in the NL East -- from a defensive perspective. Or, at least on par with
B.J. Upton
and
Denard Span
.
"Like Ozzie Smith out there," the scout said, referring to the defensive prowess of the Hall of Fame shortstop.
Smith, it turns out, was one of den Dekker's favorite players growing up.
"I think it was the flips that he did," den Dekker said.
Meanwhile, Crowe had an unlucky day. In his next at-bat, he appeared poised to single to right field. But
Ike Davis
ranged to his right to stop the hard grounder. Davis then shoveled the ball on his backhand while on the ground to
Darin Gorski
covering first to retire Crowe.
HEFTY PERFORMANCE:
Hefner erased a
Fernando Martinez
single in the first inning by coaxing a double play from
Carlos Pena
. He allowed only one other batter to reach, on a walk, in three scoreless innings.
Hefner appears destined for the Opening Day roster -- and a spot in the rotation if
Johan Santana
has a prolonged absence. The Mets do not need a fifth starter until April 7, buying time for Santana to be ready without breaking camp with the team.
Hefner now has a 2.61 Grapefruit League ERA.
"Obviously it hinges on Johan, how he feels and that type of thing," Hefner said about working out of the rotation. "I can only control me and control my approach and my bullpens. And that's what I'm going to continue to do and let Johan rehab or whatever he needs to do to get ready to pitch."
HERE'S CARSON:
Left-handed reliever
Robert Carson
surrendered a leadoff walk, then a two-run homer to Pena in the fourth.
Pedro Feliciano
is the primary contender to join
Josh Edgin
as a second lefty in the Mets' bullpen. The likelihood is Carson gets more seasoning with Las Vegas regardless of Feliciano's fate, though.
With
Frank Francisco
likely to open the season on the DL,
Bobby Parnell
will close. Parnell should be joined in the bullpen by
Brandon Lyon
,
LaTroy Hawkins
,
Scott Atchison
and Edgin.
The Mets may carry only one left-hander (rather than Carson, Scott Rice, Gorski or
Aaron Laffey
) if Feliciano does not make it, which could pave the way for both
Jeurys Familia
and submariner
Greg Burke
to make the Opening Day roster.
Regardless, scouts have raved about Familia's conversion to full-time reliever and feel like he is a near-lock for the Opening Day bullpen. Having abandoned starting, Familia is now exclusively working from the stretch and has found a consistent release point.
OOOPS:
Parnell, working consecutive days for the first time in spring training, was poised to again post a 1-2-3 inning Saturday. However, on a would-be game-ending play, Parnell committed an error and ultimately surrendered an unearned run.
Terry Collins continues to rave about Parnell, including the fact that he sits in the bullpen all nine innings of Grapefruit League games, trying to get in the mindset of a closer.
ON TAP:
Bill Parcells is due to attend Sunday's Mets-Cardinals game in Jupiter. The Mets plan to present Parcells with a signed jersey as a gift for being selected to the NFL Hall of Fame. … Collins said the Mets will start having pitchers hit Wednesday, after a team day off.
August, 20, 2012
8/20/12
10:31
PM ET



WHAT IT MEANS: R.A. Dickey's pursuit of 20 wins got a little more challenging. Dickey surrendered a game-tying solo homer to Tyler Colvin in the fifth on an 0-2 knuckleball and settled for a no-decision to remain at 15 wins.

The Mets ultimately lost to the lowly Rockies, 3-1, Monday night before an announced crowd of 23,833 at Citi Field. The Amazin's again dropped to a season-worst eight games under .500. With its victory, Philadelphia has caught the Mets for a third-place tie in the division.

In a tie ballgame in the eighth, Josh Edgin errantly shoveled the ball to first base on Jonathan Herrera's bunt, sending it into foul territory down the line and allowing Herrera to advance to second base for a single and error. After Herrera was bunted to third, Kelly Shoppach -- who had entered as a pinch hitter for Josh Thole the previous half-inning -- committed his first passed ball as a Met. Herrera scored the go-ahead run.

A half-inning later, the Mets loaded the bases with two out, and right-hander Matt Belisle entered to face Scott Hairston. Terry Collins countered by using lefty-hitting Jordany Valdespin as a pinch hitter. Valdespin sent a grounder to first base, and was beaten to the bag by the slimmest of margins after sliding headfirst. Valdespin got in first-base ump Adrian Johnson's face after the inning-ending call, but replays suggested the ruling appeared correct. Valdespin dropped to 9-for-his-last-56 (.161). It was Johnson's incorrect foul call on Carlos Beltran's shot down the third-base line allowed Johan Santana's no-hitter to materialize.

Jon Rauch surrendered a run in the ninth -- only his second in his past 22 appearances -- to give Colorado a two-run cushion.

The Mets had staked Dickey to a 1-0 lead in the first when David Wright, who had doubled, scored on Daniel Murphy's single against Rockies starter Alex White. But the Mets offered no other support and Dickey departed for pinch hitter Justin Turner in the seventh with the score tied.

Dickey's line: 7 IP, 3 H, 1 R, 1 ER, 2 BB, 6 K.

Dickey gets his next crack at win No. 16 Saturday when he faces the Houston Astros. He is staying on an every-five-games schedule as the lone starting pitcher exempted from the six-man rotation.

"I think it gave him two more starts at the end of the season," Terry Collins said regarding Dickey pitching every fifth game rather than every sixth like his fellow starting pitchers. "It's basically designed for, 'Hey look, this guy has earned the right to achieve anything he can at the end of the season.' He's earned that. He's earned that respect. And I hope he wins his next four starts, or five starts. Because I think if he does, and at the end of the year he's got 22 wins -- he's 22-4 -- those are pretty good numbers.

"The thing we're going to be careful of is if it gets toward the last couple of weeks and we think that he's getting pretty fatigued himself -- because we want him back, too -- we'll look at giving him some extra time."

WEB GEMS: The Mets had a series of highlight-reel fielding plays in the middle innings. Wright handled Wilin Rosario's absolute smash to third base in the fifth. After Colvin's solo homer evened the score at 1, Ruben Tejada then made a tough barehanded play on D.J. LeMahieu's grounder and threw to first base in time. An inning later, Mike Baxter made a sliding catch in shallow right field to snare Guillermo Moscoso's flare.

WHAT'S NEXT: Chris Young (3-6, 4.50 ERA) opposes Rockies right-hander Jhoulys Chacin (0-3, 7.30) in Tuesday's 7:10 p.m. game.
August, 20, 2012
8/20/12
10:20
AM ET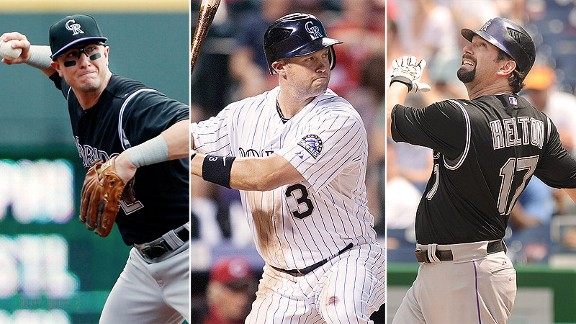 US Presswire/Getty Images
Rockies players (l to r) Troy Tulowitzki, Michael Cuddyer and Todd Helton are all on the disabled list, leaving Colorado a skeleton crew.
METS (57-64, third place/NL East) vs. COLORADO ROCKIES (46-73, fifth place/NL West)
Monday:
RHP
R.A. Dickey
(15-4, 2.89) vs. RHP
Alex White
(2-6, 5.74), 7:10 p.m. ET
Tuesday:
RHP
Chris Young
(3-6, 4.50) vs. RHP
Jhoulys Chacin
(0-3, 7.30), 7:10 p.m. ET
Wednesday:
RHP
Matt Harvey
(2-3, 3.00) vs. LHP
Jeff Francis
(4-4, 6.07), 7:10 p.m. ET
Thursday:
LHP
Johan Santana
(6-9, 4.85) vs. RHP
Tyler Chatwood
(3-3, 5.46), 1:10 p.m. ET
Rockies short hops
• Right fielder
Michael Cuddyer
landed back on the disabled list with a right oblique strain and could be lost for the season. He had missed two weeks, then returned for three games. Cuddyer (.260, 16 HR, 58 RBIs) signed a three-year, $31.5 million deal in December.
Also sidelined:
Shortstop
Troy Tulowitzki
underwent surgery to repair a strained left groin on June 21. Tulowitzki originally suffered the injury running out of the batter's box on May 30. He is due to be with the Rockies in New York, but inactive. He ran the bases Saturday, but is not due to begin a rehab assignment until next week.
First baseman
Todd Helton
underwent season-ending surgery on Aug. 10 to repair a torn labrum in his right hip.
Jason Giambi
has been out since July 20 with a viral infection. He has started taking batting practice and fielding grounders, but is not expected back until the end of the month.
Tyler Colvin
and
Jordan Pacheco
have shared first base with Helton out, while Pacheco otherwise teams with
Chris Nelson
to man third base.
Josh Rutledge
, who made his major league debut July 13, is the shortstop minus Tulowitzki. But Rutledge suffered his own injury Sunday, leaving the game in the fourth inning after tweaking a previously strained left quadriceps. Presuming he's healthy, Rutledge should move to second base once Tulowitzki returns.
Eric Young
, who is hitting .426 in 13 games since Aug. 6 and showing uncharacteristic power in addition to his customary speed, and Colvin have subbed for Cuddyer in right field. But Young, too, was forced from Sunday's game after straining a rib-cage muscle. Young predicted his absence would be limited to a "game or two."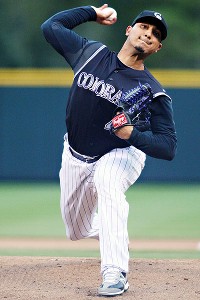 Chris Humphreys/US Presswire
Jhoulys Chacin returns from a pec muscle injury that sidelined him since May.

Nelson returned Aug. 6 from a DL trip for an irregular heartbeat. Pacheco ranks among the leaders in NL rookie offensive categories, including average at .312, although his 339 plate appearances are narrowly shy of qualifying.
• Right-hander
Jhoulys Chacin
will make his first major league appearance since straining a pectoral muscle. He landed on the DL after a May 1 start. He will be on roughly a 75-pitch limit. He tossed 91 pitches over seven innings Thursday with Triple-A Colorado Springs.
The Rockies have employed a four-man rotation with pitch counts in the 70s under manager
Jim Tracy
, so Chacin could alternate starts with
Drew Pomeranz
going forward to keep the rookie Pomeranz's innings in check. The four-man rotation began out of necessity in Philly in mid-June due to a lack of quality arms after
Jeremy Guthrie's
struggles got him bounced from the rotation to the bullpen. Three bullpen arms piggyback the starters to handle middle innings.
• Left fielder
Carlos Gonzalez
was placed on bereavement leave and traveled to Venezuela on Saturday to mourn the death of his grandfather. He likely will return Tuesday, but is eligible to miss as much as a full week.
•
Tyler Chatwood
, acquired from the Angels on Nov. 30 for
Chris Iannetta
, has a 3.93 ERA in four starts since returning from a one-month stint in the minors. Standing a modest 5-foot-11, the 22-year-old Chatwood doesn't throw downhill. So his 95 mph fastball needs location; otherwise it can be flat and hittable.
• The Rockies traded
Marco Scutaro
to San Francisco for infielder
Charlie Culberson
on July 27.
D.J. LeMahieu
, acquired from the Cubs last offseason with Colvin for
Ian Stewart
, has taken over at second base.
• The Mets seriously discussed acquiring catcher
Ramon Hernandez
from the Rockies before the July 31 trade deadline, but ultimately obtained
Kelly Shoppach
this month. Rookie catcher
Wilin Rosario
now handles the bulk of the duty for Colorado. Rosario is six homers shy of matching the Rockies' rookie record, established by Helton with 25 in 1998. His defensive skills do not match his plate prowess.
•
Alex White
will make his fifth start since being recalled from the minors on Aug. 2. His return coincided with
Jonathan Sanchez
suffering from left biceps tendinitis.
• Left-hander
Jeff Francis'
Aug. 13 win gave him 59 victories as a Rockie, passing
Jason Jennings
for second on the franchise's all-time list. The leader:
Aaron Cook
, with 72 wins.
• Reliever
Adam Ottavino
is a local product. He graduated from Berkeley Carroll High School in Park Slope, Brooklyn, and has trained during the winter at the same Garden City, L.I., facility as several local Mets players the past few years, including now-departed
Jose Reyes
and
Pedro Beato
.
Last series results
Mets won, 2-1, at Coors Field, April 27-29 (AP game recaps)
Rockies 18, Mets 9:
Carlos Gonzalez was at the center of an 11-run fifth inning, hitting a homer and a single for five of his six RBIs, and the Rockies overcame Scott Hairston's cycle. Ramon Hernandez hit his sixth career grand slam -- the first for the Rockies this season -- and Troy Tulowitzki and Dexter Fowler also homered for Colorado, which set a season high for runs. Hairston became the 10th player in team history and first in the majors this season to hit for the cycle. He drove in four runs, but it wasn't enough on a night when pitching was an afterthought.
More
Mets 7, Rockies 5:
Dillon Gee shook off the rough patch in an otherwise strong outing and Lucas Duda backed him with a homer and single to drive in four runs. Gee allowed four runs in seven innings. He struck out seven and walked two, and seemed to be at his best late in his outing, retiring nine of the last 10 batters he faced.
More
Mets 6, Rockies 5 (11 innings):
Ike Davis singled in the go-ahead run off reliever Matt Belisle in the 11th inning and the Mets overcame two tying homers allowed by their bullpen. Johan Santana, looking for his first win since September 2010, left with a 4-0 lead after six innings but Tim Byrdak gave up pinch-hitter Todd Helton's grand slam in the eighth. Kirk Nieuwenhuis put the Mets ahead again with an RBI double in the 10th before Frank Francisco served up Carlos Gonzalez's solo homer in the bottom half. David Wright started the 11th with a single off Belisle (1-2) and went to third on Lucas Duda's single. After Scott Hairston hit into a fielder's choice, Davis' sharp grounder finally rescued the Mets.
More