New York Mets:

All-Star Game
April, 24, 2013
4/24/13
2:32
PM ET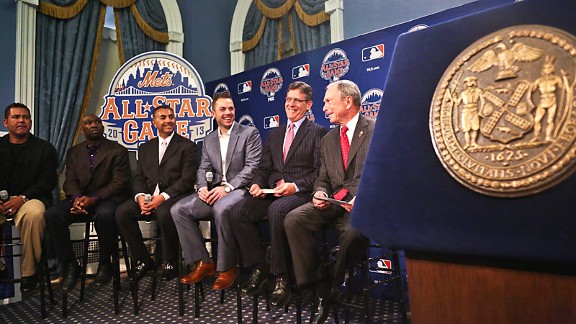 AP Photo/Bebeto MatthewsEdgardo Alfonzo, Mookie Wilson, John Franco, six-time All-Star David Wright, MLB Executive VP Tim Brosnan and Mayor Michael R. Bloomberg outline the festivities for this year's All-Star Week.
The Mets, Major League Baseball and New York City Mayor Michael Bloomberg announced Wednesday at City Hall some of the highlight events to take place during All-Star Week. The official ballot for the game, which will occur July 16 at Citi Field in Flushing, also was unveiled.
"Baseball is in the blood of New Yorkers. If I had a vote, I'd have the All-Star game here every year. I think that New York deserves that," said Mets third baseman David Wright, the official spokesperson for the All-Star FanFest. "New York has the most passionate and greatest fans, and I've been very fortunate to be in six All-Star games, but I'd gladly trade all six of those games to participate in this year's."
"Getting a little taste of what an All-Star game is like in New York, playing in the Bronx a few years ago, it's just revved up. It's above and beyond. No offense to other All-Star Game hosts but there's nothing that's comparable to playing an All-Star game in New York. Hopefully, I'm lucky enough and fortunate enough to participate in this one. But it's going to be a great show."
One of the premier events will be the Red Carpet Show, as the All-Stars travel down 42nd St. before the game. It begins at Bryant Park and ends at the block between Second and Third avenues. It is scheduled to begin at 1 p.m. MLB and the Mets also announced that they plan to donate more than $4 million to MLB All-Star projects, including Hurricane Sandy relief efforts.
All-Star week begins July 12 with the All-Star FanFest. MLB Executive Vice President of Business Tim Brosnan added there will be New York-centric events during the week, but information about those events has not been released yet.
Bloomberg said the All-Star Game will boost the economy, and validates that New York City is the sports capital of the United States. The mayor also cited the upcoming Super Bowl and NBA All-Star Game, as well as the construction of new stadiums and arenas in the region.
"We also know the All-Star game and the events surrounding it are going to be an economic grand slam for our city," Bloomberg said. "We expect them to have, something like, a $191 million impact on our economy. More than 176,000 participants, reporters and fans will flock to our city. The game will also put New York City in front of a world-wide television and internet audience in excess of 30 million. That's the type of positive media exposure that money just can't buy. We are looking forward to teaming up with the Mets and Major League Baseball to make this an All-Star week to remember."
The Mayor also said he's not worried about security.
"We have the best police department in the world. We know what to do. I can't guarantee a thousand percent accuracy that everybody's going to be safe. We all know we live in a complex, difficult, dangerous world," Bloomberg said. "But if I were going to go to a major event, I would rather go to a major event in New York City, knowing that we have the NYPD providing security."
January, 29, 2011
1/29/11
10:55
AM ET
Major League Baseball plans to award the 2013 All-Star Game to Citi Field. Still, an official announcement may not come for a few months, a baseball official said Saturday.

MLB announced the 2012 All-Star Game going to Kansas City in June of last year.

At last year's All-Star Game, commissioner Bud Selig told me, in explaining the decision to have old Yankee Stadium play host to the event in 2008, in the final year of that ballpark, and whether Citi Field also merited a game:

"We went back to Yankee Stadium because it was the last year of what I believe was the most famous cathedral in American sports, and maybe the world," Selig said. "And I think it was appropriate to honor. Frankly, to be candid with you too, I did it because of George [Steinbrenner]. But the Mets have built a great new ballpark and, yes, they deserve an All-Star Game."

The Mets played host to their lone All-Star Game in 1964, the year Shea Stadium opened. That year, the National League beat the American League, 7-4. A four-run ninth inning was highlighted by a game-ending homer by Philadelphia's Johnny Callison against Boston's Dick Radatz.

Mets second baseman Ron Hunt, who became the first Mets player to start an All-Star Game, went 1-for-3. Hank Aaron then replaced him as a pinch-hitter.
July, 13, 2010
7/13/10
11:00
AM ET
By
Mark Simon
| ESPNNewYork.com
ANAHEIM -- A couple months ago, it didn't look like David Wright would be finding his way to Angels Stadium for the All-Star Game, but now that he's here, the National League should be glad to have him.

Performing in the All-Star Game has been a speciality for Wright, and he'll hope to carry along some of these notes and trends we uncovered (with help from resources such as STATS LLC, Baseball-Reference.com, and the Elias Sports Bureau) through the 2010 Midsummer Classic.

• David Wright has a four-game All-Star hitting streak. The last player with a streak of five or more games was ex-Red Sox third baseman Wade Boggs (1988-1992). The last with a 5-game streak, all in the National League was former Dodgers first baseman Steve Garvey (1974-1978). Wright is also trying to become the first player since Garvey to get a hit in the first five All-Star Games in which he had an at-bat (or sacrifice fly).
• Wright is hitting an NL-best .425 against left-handed pitchers this season, so he's eager to face the likes of David Price and Cliff Lee from the American League. Wright holds the Mets single-season record for batting average vs left-handed pitchers, hitting .416 in 2009.

He's the only Met to hit better than .400 against left-handers in a full, non-strike season.

• Wright is currently tied with Darryl Strawberry and Carlos Beltran for most career All-Star hits as a Met with four. Wright and Lee Mazzilli are the only Mets to homer in an All-Star Game. One thing Wright can no longer achieve is the highest batting average ever for a Mets All-Star. Only two players have a perfect batting average as Mets in the All-Star Game -- Richie Ashburn (the first Mets All-Star in 1962) and Mazzilli (1-for-1 in 1979)

• If Wright can stay in the All-Star Game long enough, he'll have a chance to break the Mets mark for hits in one. The Mets record for hits in a single All-Star Game is three, shared by Lance Johnson (1996) and Jose Reyes (2007).

• Wright homered off Kenny Rogers in the All-Star Game (something that Mets fans surely enjoyed doubly, considering who it was against). He won't have a chance to homer off any former Mets this time unless Ty Wigginton comes in to pitch for the American League.

• Should Wright really excel, he might contend for MVP honors, and would be only the second Met to cop those. Jon Matlack was co-MVP of the 1975 All-Star Game, the only Met to win one, but he had to bail out a teammate to win it. After Tom Seaver allowed three runs, Matlack relieved for two scoreless innings and got the win, sharing honors with Cubs third baseman Bill Madlock, who got the game-winning hit.

•Regardless of how Wright does, he can take pride in being a better Met rep than Mike Piazza. The All-Star Game was not Piazza's forte during his time with the Mets. He went hitless in four of his six Mets All-Star Game efforts, and finished his time with the Mets just 2-for-13 in All-Star competition.