New York Mets:

Anna Benson
August, 1, 2013
Aug 1
8:13
AM ET
MIAMI
FIRST PITCH:
The Mets stood pat at the non-waiver trading deadline -- prioritizing attempting to finish strongly over just taking the best offer for free-agent-to-be
Marlon Byrd
.
Byrd is unlikely to be traded in August, even if the Mets were motivated. Because he is making $700,000 this season (only $229,508.20 remains owed as of today), Byrd would not clear waivers. That means the Mets could only deal with the team that claims Byrd in order to swing an August deal.
John Buck
or, dare we say,
Frank Francisco
would be the most logical August deals if the Mets were so inclined. Because each is still owed in excess of $2 million the remainder of the season, both should clear waivers, making them eligible to be traded to any of the other 29 teams this month.
"I've been through these days a lot," Terry Collins said about the July 31 trade deadline. "You know what? If stuff happens, you've just got to adjust. I'm just hoping that next year at this time we're in the hunt and our names are being mentioned as guys who are trying to get somebody who can help us win.
"But I'm glad Marlon is still here. I'm glad
Bobby Parnell
is still here, or anybody else who was rumored. John Buck, I saw his name mentioned today with Yadie [
Yadier Molina
] going down. I'm glad they're all still here, because we're playing pretty good and I want to continue it."
Speaking of good baseball, the Mets have a chance to win another road series this afternoon.
Matt Harvey
(8-2, 2.11 ERA) opposes right-hander
Tom Koehler
(2-6, 4.67) as the Mets complete an eight-game road trip at 12:40 p.m. at Marlins Park. Harvey is winless in three starts against the Marlins this season, albeit with a 3.12 ERA.
Jonathon Niese
also is due to make a start today -- of the rehab variety, with Class A St. Lucie.
Thursday's news reports: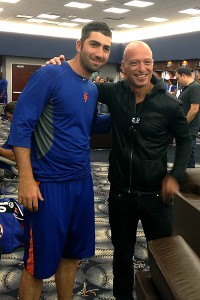 Courtesy of New York MetsJosh Satin fan Howie Mandel got to see no deal from the Mets at the trading deadline.
• Sandy Alderson said the
trade talk before Wednesday's 4 p.m. deadline
centered on Byrd, but there was nothing enticing offered to prompt the organization to want to sacrifice 2013 competitiveness. The GM added that the price was exorbitant if the Mets wanted to be buyers and add a piece under their control for 2014 and beyond.
Columnist Joel Sherman
in the Post
suggests quiet trade deadlines may now be the norm because: (1) there isn't offense to acquire anywhere because the quality around baseball has nosedived, (2) smaller-market teams no longer feel a money crunch with MLB flush with cash from big TV deals, and (3) the value of retaining prospects is at an all-time high.
Read more on the Mets' inactivity in the
Post
,
Journal
,
Record
and
Star-Ledger
.
•
David Wright
has a right hamstring injury
, although the third baseman barely would acknowledge it and vowed to play this afternoon. Read more in the
Daily News
.
•
Jenrry Mejia
felt irritation from a bone spur
in his right elbow while surrendering three runs in six innings as the
Marlins beat the Mets, 3-2
, Wednesday night. Pinch hitter
Josh Satin
flied out to left field against left-hander
Mike Dunn
to strand Wright at third base in the eighth. The Mets nonetheless finished July with a 15-12 record -- their first winning month since going 15-13 in June 2012.
Read game recaps in the
Daily News
,
Times
,
Star-Ledger
,
Newsday
,
Journal
and
MLB.com
.
•
Johan Santana
gave an interview to a Venezuelan radio station, which
tweeted his responses
. Santana vowed to pitch again in the majors and suggested his recovery from the second shoulder surgery to repair a torn anterior capsule is going better than it did the first time.
"I am in the process of rehabilitation," Santana said in Spanish. "The operation was done by Dr. [David] Altchek and everything went successfully. I feel much better than how I felt after the first operation. I have in mind to return to the mound. The doctors did their part. Now it's up to me for the most difficult part.
"Maybe I threw my last pitch for the Mets. Some say my career is over. I do not think so. … I don't put dates on it. It is not the most prudent. They believe that in a month I already could start throwing."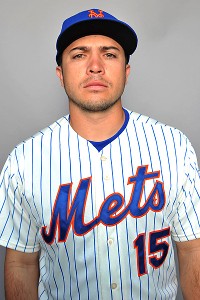 Steve Mitchell/USA TODAY SportsTravis d'Arnaud will be a consideration for a call-up if John Buck goes on paternity leave, according to Terry Collins.
• Buck's wife is due to give birth to the couple's child today in New York, so the catcher
may need to go on paternity leave
. If so, Travis d'Arnaud will be a consideration to replace Buck, according to Collins. However, Collins added, the Mets may use Juan Centeno or Francisco Peña in such a scenario instead because d'Arnaud is just returning from a broken foot and may not be sharp enough to see major league pitching. D'Arnaud went 0-for-4 and had a throwing error Wednesday, in his first game after joining Binghamton. Paternity leave lasts three days, and Buck was unsure it would be necessary. Read more in the
Post
,
Journal
and
Record
.
• Collins and pitching coach Dan Warthen have discussed using
Zack Wheeler
in the bullpen to complete the season
as a way to conserve the rookie's innings. Read more in the
Star-Ledger
.
• Michael Salfino
in the Journal
notes Harvey is more efficient than most major league pitchers. Writes Salfino:
Major league pitchers this year throw an average of 16.3 pitches per inning. Harvey throws 15.2, a big improvement over his 2012 average of 16.5. So while a typical big-league pitcher would have tossed 134.8 innings while racking up Harvey's 2013 pitch count of 2,198, Harvey has squeezed 145 innings out of that same amount. It is like he's thrown an extra 10 innings for free.
Without any early shutdown, Harvey is on pace to toss 3,424 pitches. That's how many an average pitcher accumulates in 210 innings.
• The MMBQ profiles former used car salesman Kevin Burkhardt. Read it
here
.
•
Jamie Hoffmann
homered twice, but
Greg Burke
surrendered a walk-off RBI single as Nashville beat Las Vegas, 3-2. Dustin Lawley slugged his Florida State League-leading 21st homer in St. Lucie's 4-1 loss to Tampa. Gabriel Ynoa earned his 12th win as Savannah beat Asheville 5-1. Read the full minor league recap
here
.
• Mike Puma
in the Post
reviews July. He names Byrd MVP and
Ike Davis
LVP.
• Anna Benson has a bond hearing in Cobb (Ga.) Superior Court today, writes Mike Sielski
in the Journal
.
•
From the bloggers …
Faith and Fear in Flushing
deals with the Mets not dealing Byrd.
BIRTHDAYS:
Gregg Jefferies, the Mets' first-round pick in 1985, turns 46. … Left-hander
Brian Bohanon
is 45.
TWEET OF THE DAY:
You think David Wright is going to sit out a game due to a clutched hamstring? Dude played through a broken back once. #MLB #Mets

— Marisa Jean (@xmarisajeanx) August 1, 2013
YOU'RE UP: In what place do you think the Mets will finish in the NL East after keeping their team intact?
July, 15, 2013
Jul 15
12:12
AM ET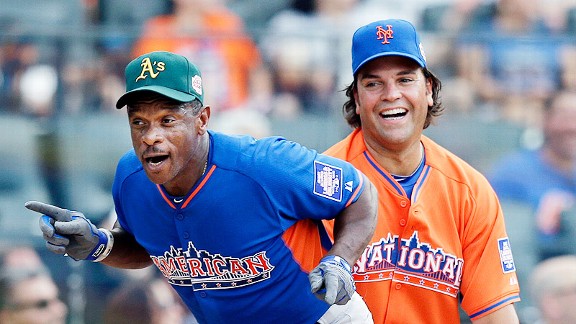 Kathy Willens/Associated PressMike Piazza and Rickey Henderson fool around during Sunday's celebrity softball game at Citi Field, which will be televised by ESPN tonight after the Home Run Derby.
PITTSBURGH
FIRST PITCH:
Barring a shocking turn of events,
Matt Harvey
is expected to be on the dais at a 1:30 p.m. press conference in the Caesars Club at Citi Field today, being introduced as the National League starting pitcher for Tuesday's All-Star Game.
Harvey should become the fifth All-Star pitcher to start in his home ballpark since MLB expanded 52 years ago. He will join
Roger Clemens
(Houston, 2004), Esteban Loiaza (Chicago, 2003),
Pedro Martinez
(Boston, 1999) and Steve Rogers (Montreal, 1982), according to the Elias Sports Bureau.
"I'd be very surprised,"
David Wright
said about anything other than Harvey being named the starter occurring. "I think he's deserving. It sucks that he missed this start [in Pittsburgh], but hopefully he's ready to pitch on Tuesday."
He will be ready. Harvey's
blister issue is resolved
, according to Terry Collins.
Wright takes center stage Monday evening, when he competes on ESPN at 8 p.m. in the Home Run Derby. It is Wright's first time participating in the event since finishing as the runner-up to
Ryan Howard
in Pittsburgh in 2006, in his inaugural All-Star year. That time,
Paul Lo Duca
pitched to Wright. This time, bullpen catcher Dave Racaniello draws the assignment.
"I'd say lefties probably have the better chance, just with the porch," Wright said. "It's probably a little more left-handed friendly down the line."
Meanwhile, since dropping 15 games under .500 on June 17 with a series-opening loss at Atlanta, the Mets have posted a 16-10 record. The positive spurt happens to coincide with
Eric Young Jr.
's arrival.
Still, the Mets (41-50) have dug a deep hole. They are nine games under .500 and own their worst All-Star break record since 2003, when they were 40-53 in Art Howe's first season as manager.
For the optimists, the Mets are 10 games behind the
Cincinnati Reds
for the second wild-card spot and 11 games behind the division-leading
Atlanta Braves
.
"Well, we're disappointed," Collins said. "We're not happy with where we're sitting. We got off to such a good start.
"We've had ups and downs. Heck, we've lost three-fifths of our starting rotation (
Johan Santana
,
Shaun Marcum
and
Jonathon Niese
). We've been scrambling to find guys to replace them. Ike [Davis] had a bad first half. We're hoping he has a tremendous second half, like he did last year. We've lost Lucas [Duda]. We've lost [Justin] Turner. We've had a lot of injuries. We lost our closer.
"Fortunately, we had a guy pick up that (
Bobby Parnell
). We've had to play through a lot, as all teams have. But we're certainly not satisfied with where we are. That's why I'm saying: I'm very proud of the way they've played in the last month. I had one of the guys that's not on our team the other day tell me: 'You know, a lot of teams could have cashed it in in your situation. And your team hasn't.' That's a pat on the back to those guys in that clubhouse."
Said Wright: "You always want to win games, no matter what position you're in. I think it's nice that … we have a little more confidence moving forward into the second half. But there's still a long way to go. But we had a nice month after a couple of pretty bad months. It's nice that we're progressively getting better. So hopefully the best is yet to come and we continue that trend."
Monday's news reports:
•
Jordany Valdespin
reportedly
had a temper tantrum
with dismayed teammates watching after getting demoted Saturday, according to the
Star-Ledger
.
The Post
subsequently reported Valdespin cursed out Collins and demanded to be placed on the disabled list. Given Valdespin's past baggage, who knows if we'll see him again?
•
Mike Piazza
will become the 27th member of the Mets' Hall of Fame
. He will be inducted before a Sept. 29 game against the
Milwaukee Brewers
. Read more in the
Star-Ledger
,
Post
,
Daily News
,
Newsday
and
MLB.com
.
•
Dillon Gee
allowed one unearned run in 6 2/3 innings
and the Mets completed a first-half-closing road trip with a
4-2 win against the Pirates
on Sunday afternoon at PNC Park.
Scott Atchison
returned from the disabled list and stranded two runners inherited from Gee.
Read game recaps in the
Post
,
Daily News
,
Newsday
,
Times
,
Star-Ledger
,
Record
and
MLB.com
.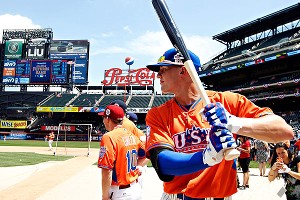 William Perlman/USA TODAY SportsYou could find Brandon Nimmo on Sunday at the Futures Game. He went 0-for-2.
• Noah Syndergaard and Rafael Montero
each tossed scoreless innings
in the Futures Game at Citi Field, with Montero requiring only nine pitches for a 1-2-3 frame. Brandon Nimmo, who
spoke about his season
playing for Savannah pregame, went 0-for-2. See a photo of the Mets' trio of prospects
here
.
Writes columnist John Harper
in the Daily News
about Syndergaard:
He's the new phenom, with [Zack] Wheeler in the big leagues now, showing the same type of stuff that again has scouts drooling.
"There's a lot of buzz about him," was the way GM Sandy Alderson put it on Sunday. "Every call I get [regarding trades] starts with, 'What about Syndergaard?' "
Alderson all but hangs up at that point. Though he doesn't say it, he doesn't argue either when it is suggested that the 20-year old right-hander has become an untouchable.
Indeed, another person in the organization says flatly, "We're not trading Syndergaard."
Read more in the
Times
,
Journal
,
Daily News
,
Ledger
and
Newsday
.
• Wright was booed each plate appearance during all three weekend games in Pittsburgh. The faulty reasoning? He did not originally put
Pedro Alvarez
on the NL's Home Run Derby squad. Alvarez eventually replaced
Carlos Gonzalez
last Thursday. Collins said the
booing was misguided
. Read more in
Newsday
.
•
Josh Satin
reached base twice in four plate appearances, while
Ike Davis
grounded into a double play as a pinch hitter in the ninth. Afterward, Collins was
noncommittal about playing-time distribution
at first base after the All-Star break.
• Read more on Harvey in the
Star-Ledger
.
• Erik Goeddel tossed six scoreless innings and
Pedro Feliciano
inherited and stranded the bases loaded as Binghamton beat Portland, 4-0. Read the full minor league recap
here
.
• Wilmer Flores, who has been selected as the Mets' lone representative in Wednesday's Triple-A All-Star Game in Reno, Nev., only
suffered a "mild" ankle sprain
when he left Saturday game, Paul DePodesta said.
• Anna Benson
appeared on "America's Most Wanted" in the 1990s
. She reportedly was suspected of being linked to an execution-style murder. Read more
in the Daily News
.
• The Post All-Star preview package includes Steve Serby's joint
Q&A with Harvey and Wright
, things to
see around the All-Star Game
, a
look back at the '64 game
in the inaugural year at Shea Stadium, and a fan vote for an
all-time Mets team by position
.
• Jared Diamond
in the Journal
details what goes into readying a stadium for an All-Star Game. Diamond also gives out
midseason Mets awards
.
•
From the bloggers …
Mets Police
takes a look at some tweaks to Citi Field for All-Star Week. … Trading Bobby Parnell or
Marlon Byrd
just creates further holes, writes John Delcos at
Mets Report
.
BIRTHDAYS:
Jerry Manuel-favorite
Fernando Nieve
, currently in Triple-A with Cleveland, turns 31. …
Wilson Delgado
is 41. …
James Baldwin
is 42. … Don Clendenon was born on this date in 1935. He died in 2005.
TWEET OF THE DAY:
@Sarah_Atchison Still not older than Jamie Moyer though. Especially since when Scott made his debut, Jamie already had 18 yrs n the bigs. :)

— Seth Noboa (@STheKid19) July 14, 2013
July, 14, 2013
Jul 14
12:36
PM ET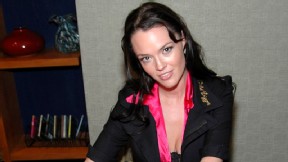 Bruce Gifford/FilmMagicAnna Benson reportedly has been in legal hot water before.
PITTSBURGH -- Former Mets wife Anna Benson, or Anna Warren at the time, was investigated in 1996 and the subject of a national manhunt after her boyfriend ended up executed in their apartment, the
Daily News reported
. She reportedly was featured on "America's Most Wanted." Writes Rich Schapiro:
"Get rid of him," she allegedly told her beau before he carried out the slaying, the lead investigator told The News, quoting witnesses.
Benson, then a 19-year-old named Anna Warren, hightailed it out of town with her man after the bloody slaying in Knoxville.
Tennessee cops obtained warrants charging Warren and her boyfriend, Paul Dejongh, 19, with the murder of Michael Evans, court records show.
She was captured five months later, but all charges against her were eventually dropped -- infuriating the victim's family.
Benson, the estranged wife of ex-Met Kris, currently is in hot water over allegedly barging into his home armed to the teeth and wearing a bulletproof vest.
July, 11, 2013
Jul 11
5:17
AM ET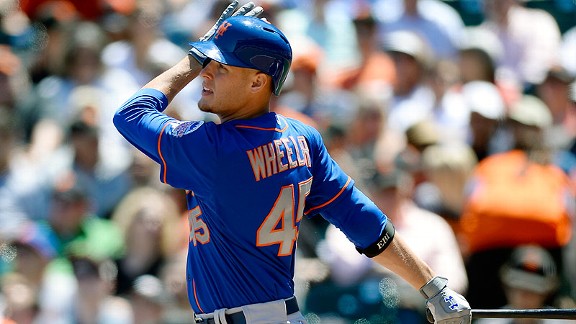 Thearon W. Henderson/Getty ImagesZack Wheeler drove in the first run of his career with a double Wednesday.
SAN FRANCISCO
FIRST PITCH:
Their hole is deep, but the
New York Mets
have been playing good baseball.
After sweeping the
San Francisco Giants
, the Mets have won 16 of their past 25 games. They have risen to eight games under .500 for the first time since May.
"I thought the energy level has been raised when we got E.Y. [
Eric Young Jr.
] and called some guys up from the minor leagues," Terry Collins said. "I think sending Ike [Davis] down got some people's attention. I certainly think there has been a different atmosphere in the clubhouse. A lot of it starts with David [Wright], his leadership and stuff.
"We've played a lot better, and we've still got a long way to go. We've got to go into Pittsburgh. They've got a real, real good team. They're playing great."
The Mets spend an off-day in Pittsburgh today, then open a weekend series Friday with
Jeremy Hefner
(4-6, 3.39 ERA) opposing right-hander
Charlie Morton
(1-2, 3.38). Since June 4, Hefner is 3-1 with a 1.64 ERA and .229 opponent batting average in seven starts.
Thursday's news reports:
•
Matt Harvey
's
final first-half start will be skipped
.
Carlos Torres
instead will face the Pirates on Saturday at PNC Park. Collins portrayed the motivation as primarily to curtail Harvey's innings without having to shut him down at the end of the season. Of course, that also further makes Harvey the best candidate for an All-Star start. Wink, wink.
Read more in the
Post
,
Daily News
,
Times
,
Star-Ledger
,
Journal
and
Newsday
.
•
Zack Wheeler
took a scoreless effort into the seventh inning and
earned the win against the organization that drafted him
and
Marlon Byrd
homered for the second straight day as the Mets completed their first sweep in San Francisco since 1994
with a 7-2 win Wednesday afternoon
at A&T Park.
"I thought today he was in control of himself, so I don't think he was out there to show them, 'Hey, look, I've got this great arm,'" Collins said about Wheeler. "I think he just pitched. And so I thought he kept his emotions in check."
Read game recaps in the
Post
,
Daily News
,
Newsday
,
Star-Ledger
,
Journal
and
MLB.com
.
• Read more on Byrd in the
Post
and
Daily News
.
•
Scott Atchison
is expected to be activated from the disabled list when the Mets open the second half next Friday at Citi Field. Atchison likely would displace
Gonzalez Germen
in the bullpen. Read updates on Atchison,
Justin Turner
,
Lucas Duda
,
Frank Francisco
, Travis d'Arnaud,
Tim Byrdak
and
Pedro Feliciano
here
. Read more in the
Star-Ledger
.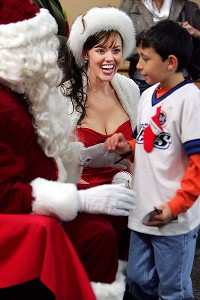 Ron Antonelli/NY Daily News Archive/Getty ImagesHappier Times: Anna Benson as Mrs. Claus at Shea Stadium in 2005.
• In a jailhouse interview
in the Post
, Anna Benson says after her arrest: "I'm a good girl, a nice girl." Write Holly Aguirre and Kate Sheehy in the tabloid:
Anna demanded $30,000 while repeatedly screaming, "P---y!'' at Kris, cops said. She beat her chest with the baton like an ape, smashed her husband's computer terminal and pulled the gun out of her purse, said Kris Benson, 38, who was traded by the Mets in 2005 and has since retired.
"It scared me,'' he told cops.
Asked if he thought she'd shoot him, he said, "Maybe.''
The one-time ace told his out-of-control wife that he had to get his wallet -- and quickly fled to the basement, where he called 911, police said. He then ran out and into the woods until cops arrived.
• Michael Salfino
in the Journal
looks at recent history to analyze Harvey versus
Clayton Kershaw
for the starting-pitching nod for the National League. Writes Salfino:
Harvey entered Wednesday fourth in ERA (2.35) and second with just 0.92 batters reaching base per inning via a hit or walk. Kershaw's league-best averages in those two categories are 1.89 and .090, respectively, and he has 129 strikeouts.
Last year, manager Tony LaRussa selected Matt Cain, whose highest ranking was second in hits and walks per inning (eighth in ERA and fourth in strikeouts). And [Bruce] Bochy selected Roy Halladay as his 2011 All-Star starter despite Halladay also failing to lead the league in any of these categories. Cain and Halladay had longer track records than Harvey, though.
That said, Ubaldo Jimenez in 2010 was given the honor of starting his first All-Star Game by Phillies manager Charlie Manuel. Jimenez's rankings suggest he was rewarded primarily for what baseball sabermetricians consider the most unfair measure: wins. He was 15-1, yet failed to win 20 games.
• Binghamton's
Josh Rodriguez
, Cesar Puello and Allan Dykstra combined to go 0-for-7 in the Eastern League All-Star Game as their East squad lost, 5-0, on Wednesday night in New Britain, Conn. Logan Verrett allowed two runs in an inning, while Jeff Walters pitched a scoreless ninth in the loss.
Read the minor league recap
here
.
• Queens Borough President Helen Marshall is on board with putting a massive shopping mall in Citi Field's parking lot,
the Daily News reports
.
• The MTA will have extra trains running to Citi Field during All-Star festivities,
the Daily News reports
.
• As
Anthony Recker
chips away at his playing time,
John Buck
is 6-for-18 in his past four games, notes Richard J. Marcus
in the Post
.
•
From the bloggers …
Marlon Byrd tells
Metsmerized
the Mets are going to be good very soon and he would love to stay. … After battling injuries and being bounced back and forth between the bullpen and rotation,
MetsMinors.net
ponders the future of
Jenrry Mejia
. … John Delcos at
Mets Report
opines about skipping Harvey's start yet letting him pitch in the All-Star Game.
BIRTHDAYS:
Short-lived Mets reliever
Blaine Boyer
turns 32.
TWEET OF THE DAY:
See Zack pitch, see Zack hit, see Zack get good reads on the bases and see Zack score!

— Darin Gorski (@darin_gorski20) July 10, 2013
YOU'RE UP: Will the Mets see .500?
December, 16, 2012
12/16/12
4:15
PM ET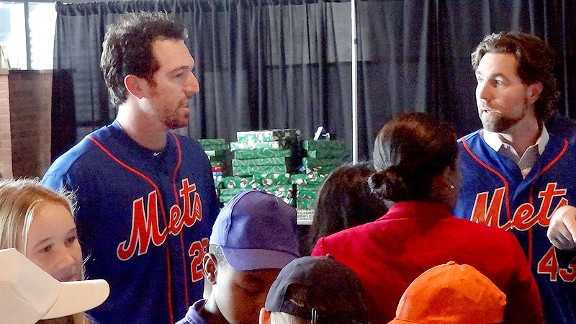 Adam RubinR.A. Dickey's final public appearance on behalf of the Mets came at Tuesday's holiday party for schoolchildren, alongside Ike Davis.
So
R.A. Dickey
's final appearance wearing a Mets jersey turned out to have been at the team's holiday party, when he
offered pointed comments
about the direction of contract-extension negotiations.
Did that play a role in his departure? After all, there seems precedent.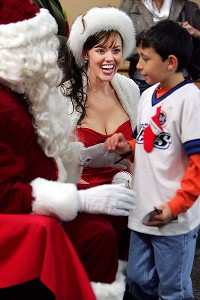 Ron Antonelli/NY Daily News Archive/Getty ImagesAnna (Claus) Benson created a stir at a Mets holiday party in 2005.

Seven years earlier, Anna Benson came to the holiday party for schoolchildren -- then at Shea Stadium -- with a low-cut red dress. And that, coupled with her sharp tongue that included a shot at
Carlos Delgado
for not standing for the "Star Spangled Banner," helped get husband
Kris Benson
booted from Flushing later that offseason via trade.
In this case, Dickey likely did himself no favors with his directness about contract negotiations. And it is complicated and calls for speculation about whether Dickey talked his way out of Citi Field.
Still, Sandy Alderson -- it seems reasonable to speculate -- seemed predisposed to wanting to jump on a deal that would net two top prospects in return, rather than re-sign a 38-year-old pitcher.
That said,
David Wright
's new contract demonstrates how a goodwill-based relationship with ownership and being a good citizen can benefit you within the organization. Dickey, on the other hand, never enjoyed similar high respect. That's partly a function of Wright versus Dickey's longevity with the organization giving Wright more of an opportunity. But the directness of Dickey's articulate comments often did him no favors, either -- and well before the contract situation. Dickey, for example, definitely irked brass with his comments about the ballpark and its effect on Wright before the reconfiguration.
Bottom line: Comparing R.A. to Anna would be a stretch. But behind the scenes -- including with teammates -- Dickey's relationship with the Mets wasn't as romantic as his relationship with the fans.
December, 1, 2011
12/01/11
8:45
AM ET
VH1 televised the debut episode of "Baseball Wives" on Wednesday night, and
Anna Benson
certainly had personality.
Early in the inaugural episode, Benson -- wife of ex-Met
Kris Benson
-- declares: "I'm still the most exciting thing to happen to the Mets since '86."
Missed the episode? You can check it out online
here
.
November, 17, 2011
11/17/11
11:31
AM ET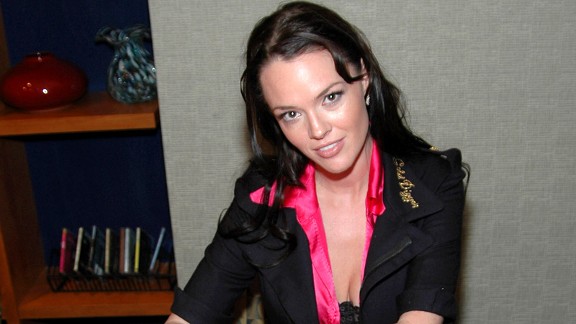 Bruce Gifford/FilmMagic
Ex-Met wife Anna Benson will appear on VH1's "Baseball Wives."
Anna Benson
, the wife of former Mets pitcher
Kris
, is currently taping segments of a new VH1 show entitled, "Baseball Wives," the Post reports.
According to the report, the show is currently filming in Scottsdale, Ariz., and also includes the wives of
Matt Williams
and
Ron Villone
and the ex-wives of
Jason Kendall
and
Mark Grace
.
"We are not like the 'Basketball Wives,' " Benson told the Post. "We are classy."
Kris last pitched in the majors in 2010, when he made three appearances for the Arizona Diamondbacks.
NBA
NHL
COLLEGE BASKETBALL
COLLEGE FOOTBALL
NBA
NHL
COLLEGE BASKETBALL
NFL