New York Mets:

Anthony Kay
July, 17, 2013
7/17/13
8:35
AM ET
Center fielder
Matt den Dekker
has appeared on SportsCenter's Top 10 plays four times during his baseball career between his University of Florida and Mets tenures. A bid for No. 5 led to a fractured right wrist in a March 24 Grapefruit League game and cost him nearly three months.
The lefty-throwing, lefty-hitting den Dekker, 25, suffered the injury on a shot to deep center by Detroit's
Austin Jackson
, when the center fielder tried to brace his fall with his right hand.
"When they first told me, it was six weeks," den Dekker said about the original estimate of the length of his absence. "I was like, 'That wouldn't be too bad.' But you don't really know how it's going to heal.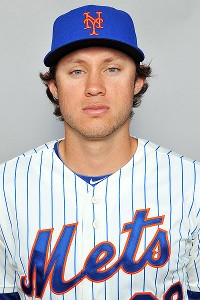 Steve Mitchell/USA TODAY SportsMatt den Dekker
"When I first got the cast off, I couldn't do anything. I could barely move it for the first two weeks. It was just trying to get the motion back. It took me probably a month to get my motion back. And then I had to start strengthening it and stuff and start hitting. I don't have the full, full rotation and mobility back yet. They said that could be a year or two until you get all that. But there's no pain swinging or anything like that.
"It wasn't necessarily longer than anyone expected. It just kind of takes time. It's one of those things you don't want to rush too much with the wrist. It was just tough being down there so long idle, not doing much. It was my first time being injured."
Den Dekker, after two weeks playing with Class A St. Lucie in the equivalent of spring training, debuted with Triple-A Las Vegas on July 1. He started out 1-for-his-first-25 in the Pacific Coast League, although
Wally Backman
excused that as still getting up to speed against players in midseason form. Den Dekker since has produced a pair of homers and has four multi-hit games in his past six starts.
"The first couple of weeks were a little 'off,' but I think it's coming," den Dekker said.
Den Dekker figures to be a September call-up once rosters expand, especially since he needs to be added to the 40-man roster this offseason in order to be protected from the Rule 5 draft anyway. His speed allows him to cover a ton of ground in center field, and his diving catches can fill a highlight reel, although
Juan Lagares
may be a bit more graceful.
Had the injury not occurred, den Dekker's marching orders out of spring training would have been to improve his pitch recognition, make more contact and cut down on his strikeouts. After a midseason promotion to Triple-A last year, den Dekker struck out 90 times in 295 at-bats with Buffalo.
Den Dekker does have a history of adjusting to higher levels in his second experience there (.235 in Binghamton in 2011; ,340 there in 2012). So the expectation is he will again take a leap forward now that he is in his second season in Triple-A.
"It's a matter of finding what works for me," den Dekker sad. "I feel like I've been through so many things with my swing, just changing it back and forth. Once I find that thing that clicks, I've got to stick with that. I think coming into this year I've been seeing the balling well. I've made strides in that way. I still chase some pitches. I've got to work on that."
Den Dekker says he has no hesitation making highlight-reel catch attempts because of the injury.
"I kind of had a ball similar to the one I got hurt on the other day when we were in Salt Lake," he said. "I played it a lot better. I found the wall. When I got hurt, I didn't find the wall and kind of just jumped. I feel like it was kind of a freak accident. I'm usually pretty good when it comes to diving and stuff. So far it's been like normal out there."
As for a bevy of outfielders getting promoted from Triple-A to the majors this year -- including
Kirk Nieuwenhuis
,
Andrew Brown
and Lagares -- and missing a chance because of the wrist injury, den Dekker said: "People tell me, 'Oh, you'd be up in the big leagues.' I'm just like, 'Whatever. Things happen for a reason.'
"I mean, it's unfortunate. You can't really think about it that way. I'm glad for the guys that got the opportunity to go up there and play. I keep working. I'm trying not to put too much pressure on myself. I'll be fine. I'll get a chance."
Organization leaders
Average:
Victor Cruzado, Kingsport, .362; Jayce Boyd, St. Lucie, .349; Cesar Puello, Binghamton, .331; Kevin Plawecki, St. Lucie, .326; Wilmer Flores, Vegas, .321; Leon Canelon, GCL Mets, .314; Joe Tuschak, Kingsport, .313; Luis Guillorme, GCL Mets, .311; Josh Rodriguez, Binghamton, .311; Jhoan Urena, GCL Mets, .310.
Homers:
Dustin Lawley, St. Lucie, 19; Travis Taijeron, Binghamton, 17; Allan Dykstra, Binghamton, 16; Cesar Puello, Binghamton, 15; Wilmer Flores, Vegas, 12.
RBI:
Wilmer Flores, Vegas, 75; Dustin Lawley, St. Lucie, 68; Cesar Puello, 62.
Steals:
Cesar Puello, Binghamton, 20; Darrell Ceciliani, Binghamton, 18; Alonzo Harris, Binghamton, 16; Stefan Sabol, Savannah, 12; Patrick Biondi, Brooklyn, 12.
ERA:
Rob Whalen, Kingsport, 0.89; Gaby Almonte, GCL Mets, 1.69; Rainy Lara, St. Lucie, 2.09; Steven Matz, Savannah, 2.25; Chris Flexen, Kingsport, 2.57; Tim Peterson, Brooklyn, 2.59; Gabriel Ynoa, Savannah, 2.68; Noah Syndergaard, Binghamton, 2.69; Matt Bowman, St. Lucie, 2.72; Miller Diaz, Brooklyn, 2.84.
Wins:
Gabriel Ynoa, Savannah, 10; Matt Bowman, St. Lucie, 9; Logan Verrett, Binghamton, 9; Rafael Montero, Vegas, 8; Erik Goeddel, Binghamton, 8.
Saves:
Jeff Walters, Binghamton, 24; T.J. Chism, St. Lucie, 13; Bret Mitchell, St. Lucie, 10; Beck Wheeler, Savannah, 9; Hamilton Bennett, Binghamton, 7.
Strikeouts:
Rafael Montero, Vegas, 101; Matt Bowman, St. Lucie, 96; Logan Verrett, Binghamton, 92; Noah Syndergaaard, Binghamton, 90.
Short hops
•
Wilmer Flores
will skip tonight's Triple-A All-Star Game after having to leave Saturday's Las Vegas game with an ankle injury. The Mets will not have a substitute in the Reno, Nev., event.
After primarily playing second base with the 51s this season, four of Flores' past seven starts in the field have come at first base.
Terry Collins
said he was not aware of any organizational directive to use Flores at first base, but added it makes sense since it is unlikely
Daniel Murphy
will be dislodged from second base at the major league level anytime soon.
Mets insiders have been highly critical of Flores' range at second base and note he has difficulty getting back to his feet after diving. But Las Vegas observers do say Flores has worked hard and has shown at least moderately improved range as the season has progressed.
•
Travis d'Arnaud
is due to see a team doctor Monday, after which he should gain clearance to enter minor league games. D'Arnaud last played in a game April 17 with Las Vegas, when he was struck with a foul ball while catching and fractured the first metatarsal in his left foot.
• Left-hander
Angel Cuan
allowed three runs in six innings in his Double-A debut Tuesday with Binghamton after going 6-2 with a 3.95 ERA in 16 appearances (10 starts) with St. Lucie. Cuan, 24, struck out 64 and walked only 10 in 70 2/3 innings in the Florida State League. The B-Mets have a six-man rotation, with
Jenrry Mejia
also having stepped in, and with
Cory Mazzoni
(hamstring) sidelined.
• Right-hander
Akeel Morris
, a 10th-round pick in 2010 from the U.S. Virgin Islands, has not allowed a run in 17 2/3 innings with the Brooklyn Cyclones this season. Morris is "piggybacking" -- meaning he is working closer to a starter's length on a regular rotation, but not starting the game. He is averaging three innings an appearance. Opposing New York-Penn League batters are hitting .138 against him.
•
Cory Vaughn
, who hasn't appeared for Binghamton since June 2 due to an elbow strain, is close to rejoining the Eastern League club. Vaughn has appeared in four Gulf Coast League games since mending -- the first two at DH, then a pair in left field.
• Left-hander
Steven Matz
, the Mets' top pick in the 2009 draft, out of Ward Melville High School on Long Island, has allowed four runs (three earned) in 31 1/3 innings over his past five starts with Savannah -- good for a 0.86 ERA. Matz's pro career initially was slowed by a lengthy rehab from Tommy John surgery.
The Mets selected another left-handed pitcher from Ward Melville High in last month's draft,
Anthony Kay
in the 29th round, but he apparently is headed to UConn.
• Outfielder
John Mora
and left-hander
Jose Medina
were selected to the Dominican Summer League All-Star team.
June, 9, 2013
6/09/13
6:02
AM ET
NEW YORK
Associated Press/Getty ImagesOn Day 3 of the draft, the Mets' picks included (l to r) Long Beach State's Jeff McNeil, Loyola Marymount's Colton Plaia and Florida State's Robby Coles.
FIRST PITCH:
The day after their 20-inning debacle, the Mets try to rebound by sending
Jonathon Niese
to the mound at 1:10 p.m. today against Stony Brook University product
Tom Koehler
(0-4, 3.70 ERA).
Niese (3-5, 4.40) has not pitched in a game since May 27. He missed a rotation turn because of occasional "sharp pain" and catching in his left shoulder as he threw. He then had his planned return rained out Thursday in D.C.
Sunday's news reports:
•
Matt Harvey
left Saturday's game after taking the mound for the eighth inning with what he described as tightness in his lower back, near the right hip. Harvey maintained he
intends to make his next start
, which would be Thursday or Friday at Citi Field. He suggested the issue was remedied when the troublesome area was "popped back into place" during a chiropractic adjustment in the trainer's room. He had similar issues on occasion while at UNC.
Writes columnist Bob Klapisch
in the Record
:
What's unforgivable, however, is the way Harvey and the Mets handled the brush with injury, brief as it was. The 24-year-old ace admitted he tweaked the hip in the top of the seventh inning. Harvey's first mistake was failing to tell anyone he was no longer at 100 percent.
Mistake No. 2 occurred in the bottom of the seventh, after Harvey singled and reached first base. Finally he told first base coach Tom Goodwin something was wrong with his lower back -- yet, no one thought to intervene. Harvey should've never set foot on the mound after that. But it wasn't until he took his warm-ups in the eighth that common sense prevailed and he was removed.
Read columnist Steve Serby's opinion
in the Post
.
Before departing, Harvey tied
Clayton Kershaw
at seven for the most starts this season going seven-plus innings and allowing one or fewer runs, according to ESPN Stats & Information. Harvey has one win and eight no-decisions since April 19.
Read more in the
Times
,
Post
,
Daily News
,
Star-Ledger
,
Record
,
Newsday
and
MLB.com
.
•
Rick Ankiel
's
Mets career lasted 27 days
, during which he hit .182 with 25 strikeouts in 66 at-bats. The final straw: an 0-for-4, three-strikeout performance off the bench in Saturday's loss.
Kirk Nieuwenhuis
will join the Mets on Sunday from Triple-A Las Vegas. Niewenhuis had eight homers in his last 16 games with the 51s. Ankiel was designated for assignment.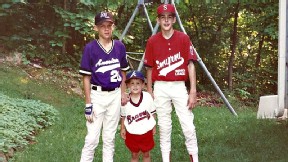 Courtesy of Wheeler familyA young Zack Wheeler (middle) grew up a Braves fan. He may face them in his major league debut.
• The Mets reversed course and
will delay Zack Wheeler's promotion
, which had been tentatively planned for this upcoming Friday against the
Chicago Cubs
at Citi Field. The expectation now is that Wheeler makes his major league debut at Turner Field during a June 17-20 series against the
Atlanta Braves
, unless Harvey's issue requires Wheeler sooner. The Mets will need an extra starter during that series anyway because the teams play five games over four days. Wheeler would be starting at a stadium 30 miles east of where he grew up, in Dallas, Ga. Wheeler should make one more Triple-A start, likely Wednesday in Las Vegas.
"I knew what I was doing wrong, but I couldn't make the adjustment, which stinks as a pitcher," Wheeler told Ken Davidoff
in the Post
about his most recent outing, when he allowed four runs in 4 2/3 innings Friday. "It happens. It's part of pitching. Learning experience."
Writes columnist David Lennon
in Newsday
:
What do the Mets have to lose? More games? They got that covered. If the front office believes Wheeler is capable of handling the mental leap, take the plunge, and he'll likely lead a parade of call-ups that should follow after the All-Star break. Harvey pitched through last season's second-half pratfall with blinders on. The Mets need Wheeler to do the same.
He won't be looked at as any kind of savior. The Mets took care of that by removing themselves from contention by Father's Day. All that will be asked of him is to take the baseball, throw strikes and get some people out. Use these next four months as a tune-up to prepare for 2014, which presumably will include those "meaningful games" Fred Wilpon talked about once upon a time.
Read more on Wheeler in the
Daily News
and
Newsday
.
• In what matched the fourth-longest game innings-wise in franchise history, the
Mets lost to the Marlins, 2-1, in 20 innings
Saturday. The Mets went a franchise-record 0-for-19 with runners in scoring position. They left 22 men on base, trailing only a 1974 game against the
St. Louis Cardinals
when they stranded 25 for the franchise record.
The time of game: six hours, 25 minutes.
Shaun Marcum
, after tossing seven scoreless relief innings, surrendered the game-deciding RBI single to
Adeiny Hechavarria
in the 20th.
Marcum unfairly dropped to 0-7 this season, with two of the losses coming as a reliever against the Marlins. Marcum's record matches the fourth worst to open a season in franchise history, trailing only Anthony Young (0-13 in 1993), Bob Miller (0-12, 1962) and
John Franco
(0-8, 1998) and matching
Mike Pelfrey
(0-7, 2007). Marcum's eight-inning relief appearance was the longest in the majors since Scott Sanderson also pitched eight innings for the Chicago Cubs in 1989, according to ESPN Stats & Information. Miller, with the 0-12, is the only pitcher to begin his Mets career with a worse record than Marcum.
Amazingly, Harvey and
Jose Fernandez
have now been the starters for both lengthy extra-inning games between the Mets and Marlins this season (also 15 innings on April 29, in Marcum's other relief loss). The only other time a pair of starting pitchers met twice in a season in games that went 15-plus innings:
1884
, according to the Elias Sports Bureau. That matchup featured Jim Whitney of the Boston Beaneaters and Old Hoss Radbourn of the Providence Grays.
The only longer games in Mets history: 25 innings versus St. Louis on Sept. 11, 1974; 24 innings at Houston on April 15, 1968; and 23 innings versus San Francisco on May 31, 1964. The Mets also played a 20-inning game at St. Louis on April 17, 2010.
The Marlins are 7-3 against the Mets this season and 10-41 against the rest of MLB.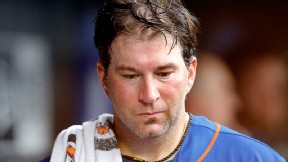 Paul J. Bereswill/Associated PressShaun Marcum excelled in eight innings of relief, but was tagged with the loss.
• Marcum had been scheduled to reenter the rotation Tuesday. But after logging 107 pitches in his first appearance in eight days with the relief effort, Marcum undoubtedly will wait until at least Thursday's series finale against the Cardinals to pitch again, which would be on standard rest. Because of Monday's off-day and two rainouts,
Jeremy Hefner
and
Dillon Gee
can handle the first two games of that series, both with extra rest anyway. Read more on Marcum in the
Post
and
Star-Ledger
.
• Veteran reliever
David Aardsma
joined the Mets on Saturday from Las Vegas and debuted with a scoreless 12th inning.
Collin McHugh
was optioned to the 51s, while
Jeurys Familia
was shifted to the 60-day DL to clear the 40-man roster spot.
The Mets have four players on the 60-day DL, where they currently do not count against the 40-man roster:
Johan Santana
,
Frank Francisco
,
Jenrry Mejia
and Familia. With Ankiel DFA'd postgame, the Mets now have 39 players counted toward the 40-man roster.
Familia underwent surgery last week to remove a bone spur and other loose objects from his pitching elbow.
Read more in the
Daily News
.
• MLB completed its draft Saturday with
rounds 11 through 40
. Of local note on the final day, the Mets selected left-handed pitcher Anthony Kay from Ward Melville High School on Long Island in the 29th round. That's the same Suffolk County school that produced the Mets' top pick in the 2009 draft, left-hander Steven Matz. See all 41 Mets picks
at Baseball America
.
•
Landon Powell
, who has tons of people rooting for him because of his traumatic family experience, has been released by the Mets from Las Vegas. Powell was the
subject of a recent E:60 documentary
after his infant daughter Izzy died on the eve of spring training. He was hitting .159 for Las Vegas, which also had homegrown catchers Francisco Pena, Juan Centeno and Kai Gronauer active. Powell indicated to 51s broadcaster Russ Langer that he had an offer to be a coach with a small college program near his Greenville, S.C., home, which he was leaning toward accepting.
Powell's release coincided with
Andrew Brown
(oblique) returning from the Las Vegas DL.
• Travis Taijeron (.303, 9 HR, 27 RBIs) earned a promotion from St. Lucie to Binghamton after B-Mets outfielder Cory Vaughn landed on the DL with a right elbow strain. Taijeron homered in his Double-A debut and Rafael Montero tossed seven scoreless innings as Binghamton beat Altoona, 9-3. Read the full minor league recap
here
.
• Ex-Met
Oliver Perez
has revived his career with the
Seattle Mariners
, writes David Waldstein
in the Times
.
•
From the bloggers ...
Faith and Fear
soaked up all 20 innings in Promenade and lived to tell about it.
BIRTHDAYS:
Short-lived Met
Jason Anderson
, who arrived from the Yankees in the July 16, 2003 trade for
Armando Benitez
, turns 34.
TWEET OF THE DAY:
Who is scheduled to pitch for the #Mets on Aug 10th in Arizona? Anyone have any idea?

— #ImWith28 (@TheGr8Achilles) June 8, 2013
YOU'RE UP: Are you relieved Kirk Nieuwenhuis is replacing Rick Ankiel? Or is your attitude more: What took so long?
June, 8, 2013
6/08/13
11:03
PM ET
NEW YORK -- The Mets finished the 2013 Draft on Saturday with their final 30 picks. Over the three-day draft, the Mets chose 18 high school players and 23 college players. The Mets used 24 selections on pitchers and 17 on position players.
Here's the list of players the Mets drafted on Saturday. You can read up on their
first-round pick
,
second-round pick
and
the second-day choices
.
Rd. 11 (326th overall),
Tyler Bashlor
, RHP, South Georgia College
Rd. 12 (356th overall),
Jeff McNeil
, SS, Cal St. Long Beach
College bio
Rd. 13 (386th overall),
Kevin McGowan
, RHP, Franklin Pierce
College bio
Rd. 14 (416th overall),
J.D. Leckenby
, RHP, Washington State
College bio
Rd. 15 (446th overall),
Colton Plaia
, C, Loyola Marymount (Calif.)
College bio
Rd. 16 (476th overall),
Zach Mathieu
, 1B, Franklin Pierce
College bio
Rd. 17 (506th overall),
Johnny Magliozzi
, RHP, Florida
College bio
Rd. 18 (536th overall),
Brent McMinn
, RHP, Nevada
College bio
Rd. 19 (566th overall),
Cody Crouse
, RHP, Bloomingdale Sr. HS (Fla.)
Rd. 20 (596th overall),
Dan Herrmann
, RHP, Christian Brothers College HS (Miss.)
Rd. 21 (626th overall),
Morgan Earman
, RHP, Desert Christian Academy (Calif.)
Rd. 22 (656th overall),
Daniel Procopio
, RHP, Central Technical School (Canada)
Rd. 23 (686th overall),
Gaither Bumgardner
, RHP, South Carolina Upstate
College bio
Rd. 24 (716th overall),
Matt Brill
, RHP, Moline HS (Ill.)
Rd. 25 (746th overall),
Ricky Jacquez
, RHP, Central Arizona
College bio
Rd. 26 (776th overall),
Owen Spiwak
, C, Cawthra Park SS (Canada)
Rd. 27 (806th overall),
Austin Coley
, RHP, Belmont
College bio
Rd. 28 (836th overall),
Robert Coles
, RHP, Florida State
College bio
Rd. 29 (866th overall),
Anthony Kay
, LHP, Ward Melville HS (NY)
Rd. 30 (896th overall),
David McKay
, RHP, Viera HS (Fla.)
Rd. 31 (926th overall),
Ben Hecht
, RHP, St. Anthony School (Ill.)
Rd. 32 (956th overall),
Juan Escarra
, C, Mater Academy Charter (Fla.)
Rd. 33 (986th overall),
Ryan Chapman
, RHP, Santa Ana College (Calif.)
College bio
Rd. 34 (1016th overall),
Cameron Griffin
, RHP, Santa Ana College (Calif.)
College bio
Rd. 35 (1046th overall),
Ty Williams
, RHP, Seminole State (Okl.)
College bio
Rd. 36 (1076th overall),
Brandon Brosher
, 1B, Springstead HS (Fla.)
Rd. 37 (1106th overall),
Juan Avena
, 1B, Compton CC (Calif.)
College bio
Rd. 38 (1136th overall),
Paul Paez
, LHP, Rio Hondo College (Calif.)
College bio
Rd. 39 (1166th overall),
Logan Quimoyog
, 1B, Mosley HS (Fla.)
Rd. 40 (1196th overall),
J.B. Woodman
, CF, Edgewater HS (Fla.)