New York Mets:

Austin Kearns
April, 4, 2013
4/04/13
9:49
PM ET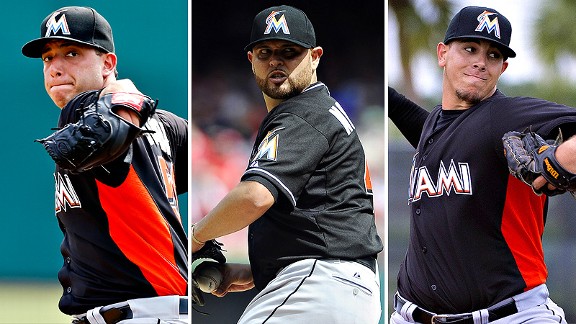 USA TODAY Sports
The Mets face (l to r) right-handers Alex Sanabia, Ricky Nolasco and Jose Fernandez this weekend.
METS (2-1, second place/NL East) vs. MIAMI MARLINS (0-3, fifth place/NL East)
Friday:
RHP
Jeremy Hefner
(0-0, -.--) vs. RHP
Alex Sanabia
(0-0, -.--), 7:10 p.m. ET
Saturday:
LHP
Jonathon Niese
(3-5, 2.70) vs. RHP
Ricky Nolasco
(0-1, 3.00), 1:10 p.m. ET
Sunday:
LHP
Aaron Laffey
(0-0, -.--) vs. RHP
Jose Fernandez
(0-0, -.--), 1:10 p.m. ET
Marlins short hops
•
Jose Fernandez
, the 14
th
overall pick in the 2011 draft out of high school in Tampa, will make his major league debut Sunday. The 20-year-old right-hander went a combined 14-1 with a 1.75 ERA in 25 Class A starts last season between Greensboro and Jupiter.
The Marlins opted to use the rookie with Nathan Eovaldi and
Henderson Alvarez
on the disabled list, both with shoulder inflammation.
Fernandez arrived in the U.S. from Cuba by boat as a refugee in 2008. In preparation for Sunday's start, Fernandez threw a simulated game Tuesday in D.C., with first-year manager
Mike Redmond
and hitting coach
Tino Martinez
acting as batters. Both are not that far removed from major league careers.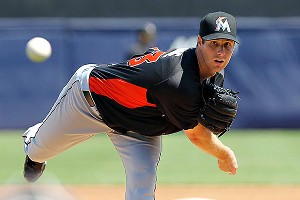 Kim Klement/USA TODAY Sports
John Maine made the Marlins' Opening Day roster. He last pitched in the majors in 2010 with the Mets.

• Ex-Met
John Maine
made Miami's Opening Day roster as a reliever. He did not appear during the season-opening series at D.C., so his first major league action since his Mets days may come this weekend at Citi Field. Maine last threw a big league pitch on May 20, 2010 in Washington. It was after that abbreviated outing that pitching coach Dan Warthen called Maine a "habitual liar" with respect his truthfulness about injuries. Maine went 2-0 with a 2.63 ERA in six games during spring training. He struck out nine and walked nine in 13 2/3 innings.
• Fellow ex-Met
Jon Rauch
signed a one-year, $1 million free-agent contract with the Marlins on Feb. 5.
• Miami, which completed its latest fire sale during the offseason, mustered only one run while getting swept in a season-opening three-game series at Nationals Park. The Marlins became the first team to total no more than one run in the team's first three games since the 1988 Orioles (also one run), according to ESPN Stats & Information. The '88 Orioles opened that season 0-21.
• Third baseman
Placido Polanco
batted cleanup the first two games of the season. He had never started a game in that slot previously in his 16-year career.
• First baseman
Casey Kotchman
will land on the disabled list Friday, two days after straining his left hamstring. He becomes the third first baseman the Marlins have lost this season.
Logan Morrison
(knee surgery) is on the 60-day DL, while
Joe Mahoney
is on the 15-day DL with an intercostal strain. Among the flurry of moves last season, the Marlins traded first baseman
Gaby Sanchez
to the
Pittsburgh Pirates
last July 31.
Greg Dobbs
should handle the bulk of the first-base duty for now, while
Austin Kearns
and rookie
Chris Valaika
may see action at the position, too.
•
Giancarlo Stanton
, the lone remaining threat in Miami's lineup, led the NL in slugging percentage (.608) and finished second to
Ryan Braun
in homers last season, with 37. Stanton now has 93 career homers, matching Frank Robinson for fifth-most in MLB history before turning 23. The only players with more: Mel Ott (115), Eddie Mathews (112), Tony Conigliaro (104) and
Alex Rodriguez
(95).
• Catcher
Miguel Olivo
signed with Miami on March 29 after playing in 21 games for the
Cincinnati Reds
during spring training.
Jeff Mathis
suffered a broken right clavicle early in spring training.
• In the Nov. 19 trade that sent
Jose Reyes
,
John Buck
,
Emilio Bonifacio
,
Mark Buehrle
and
Josh Johnson
to Toronto, the Marlins received minor leaguers Anthony DeScalfani, Jake Marisnick and Justin Nicolino as well as Alvarez,
Yunel Escobar
,
Adeiny Hechavarria
and Mathis. Reyes bristled during spring training at Marlins owner Jeffrey Loria, after Loria denied advising Reyes days before the trade to buy a house in Miami.
•
Alex Sanabia
, 24, will make his first major league appearance since Sept. 24, 2011 in the series opener. He went 6-7 with a 4.06 ERA in 17 starts last season at Triple-A New Orleans, where he also had three DL stints.
September, 21, 2012
9/21/12
12:46
PM ET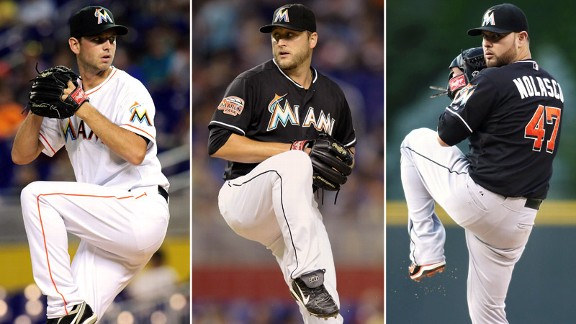 US Presswire
The Mets are due to face (l to r) Jacob Turner, Mark Buehrle and Ricky Nolasco this weekend.
METS (66-83, fourth place/NL East) vs. MIAMI MARLINS (66-84, fifth place/NL East)
Friday:
LHP Jon Niese (11-9, 3.46) vs. RHP Jacob Turner (1-2, 3.75), 7:10 p.m. ET
Saturday:
RHP R.A. Dickey (18-6, 2.67) vs. LHP Mark Buehrle (13-12, 3.78), 1:10 p.m. ET
Sunday:
RHP Chris Young (4-8, 4.37) vs. RHP Ricky Nolasco (12-12, 4.42), 1:10 p.m. ET
Marlins short hops
•
Giancarlo Stanton
is expected to return for the weekend series. He has been sidelined with a left intercostal strain for the past three games.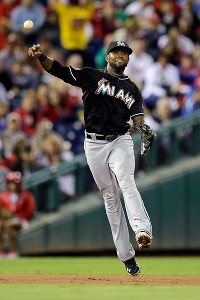 Matt Slocum/Associated Press
Jose Reyes returns to Citi Field this weekend.

In Stanton's place,
Justin Ruggiano
started twice and
Austin Kearns
once in right field. Stanton's 90 homers rank sixth in MLB history for a player before turning 23. Those ahead: Mel Ott 155, Eddie Mathews 112, Tony Conigliaro 104,
Alex Rodriguez
95 and Frank Robinson 93. Stanton turns 23 in November.
• Right-hander
Jacob Turner
was acquired from the
Detroit Tigers
on July 23 in the deal that shipped out
Omar Infante
and
Anibal Sanchez
. He is 2-4 with a 6.06 ERA in 10 career major league starts between the two teams, but is coming off tossing seven scoreless innings against the
Cincinnati Reds
. Turner, 21, was the ninth overall selection in the 2009 draft -- three picks after the Giants selected Zack Wheeler.
• The Mets snapped the career-high 26-game hitting streak of
Jose Reyes
on Aug. 9 at Citi Field. Reyes' 35 steals are tied with
Juan Pierre
and
Carlos Gomez
for third in the NL.
Michael Bourn
leads with 39, followed by
Shane Victorino
with 37.
• Former Mets farmhand
Gil Velazquez
was promoted Sept.14 -- two weeks after completing his minor league season with the Marlins -- because third baseman
Donnie Murphy
suffered a season-ending concussion.
• Team president Larry Beinfest is expected to be fired, USA Today reported.
Last series results
Mets won, 3-0, at Marlins Park, Aug. 31-Sept. 2 (AP game recaps)
Mets 3, Marlins 0:
R.A. Dickey
pitched a five-hit shutout and Ike Davis backed him with a homer.
More
Mets 5, Marlins 3:
Kelly Shoppach hit a go-ahead two-run single with two outs in the ninth inning that cleared the bases when center fielder Justin Ruggiano misplayed the ball. The Mets had been frustrated most of the night by Josh Johnson. He allowed a run and three hits in eight innings and held the Mets hitless until the fifth. Johnson departed leading 3-1.
More
Mets 5, Marlins 1:
Jason Bay hit his fifth career grand slam in the Mets' five-run first inning.
More
May, 11, 2012
5/11/12
11:20
PM ET
Frank Francisco said he gave it his best effort. But there was no doubt his second blown save in 10 chances this season deflated a clubhouse that arrived in Miami off the sky-high feeling of sweeping the Phillies with their ninth, 10th and 11th comeback wins of the season.

Francisco allowed a leadoff double to Giancarlo Stanton in the ninth and a game-tying single with one out to Emilio Bonifacio. After Bonifacio swiped second base, the Mets lost, 6-5, when Greg Dobbs singled with two out.

"That's baseball," Francisco said. "That's going to happen. Hopefully it's the last time. I can't put that in my mind because I know how baseball goes. I don't feel bad. I feel bad because we lost. But, personally, I know I was fighting out there. I leave everything I have out there for my team. We lost. But I don't feel bad."

As for the leadoff double by Stanton, Francisco did not second-guess himself.

"I haven't seen the replay. I don't know," Francisco said. "I thought it was a good pitch. I got him out there before. And just like that, he won. I thought that was the right pitch. And when I got in my mind a certain pitch, I die with that pitch. And that's what I did. I thought that was the right pitch -- fastball in."

He rejected the suggestion that things snowballed after that.

"I was fighting out there with everything I have," Francisco said. "Every time I go out there I leave everything out there. After the first hit, I got the next guy out. And they tied the game and I got the next guy out. I was fighting."

As for the final blow by Dobbs, Francisco said: "The last hit was a broken-bat single. You only can control where you throw the ball. You cannot control the results. I think I made a good pitch. I jammed him. But it ended up in a bad spot."

• Ike Davis lamented his role in the Marlins' late rally. Davis committed an error trying to field Jose Reyes' grounder to lead off the bottom of the eighth. Reyes eventually scored against Bobby Parnell to pull the Marlins within 5-4.

"I had a lot more time, so I just should have got in front of it and knocked it down," Davis said. "But it took a higher bounce than the one before and just got a little bit on my wrist and I missed it. … I was out of position, really, on it. I should have just knocked it down."

Davis acknowledged Reyes' speed was a factor in him rushing to field the ball.


May, 11, 2012
5/11/12
10:17
PM ET
WHAT IT MEANS: The Miami Marlins turned the tables on Frank Francisco and the comeback kids.

Charged with protecting a one-run lead in the ninth, Francisco suffered a blown save after Giancarlo Stanton produced a leadoff double and Emilio Bonifacio plated him with a one-out single.

Bonifacio then swiped second -- his franchise-record 18th straight successful steal to open the season -- and scored the winning run in Miami's 6-5 victory when Greg Dobbs singled with two out.

Francisco (1-2) suffered his second blown save in 10 chances.

To that point, the Mets had been poised for their MLB-high 12th comeback win of the season.

Pinch hitter Mike Baxter delivered a tiebreaking two-run double with the bases loaded against reliever Ryan Webb in a three-run eighth to give the Mets a 5-3 lead.

Instead, the loss snapped the Mets' five-game winning streak.

RALLY RECAP: Ike Davis began the rally from an early 3-0 deficit, delivering a solo homer in the fifth against Mark Buehrle. It was Davis' second straight game with a homer. He belted a mammoth three-run shot off the second-deck fašade against Jose Contreras in the eighth inning Wednesday at Philadelphia.

In the seventh, Mike Nickeas' one-out RBI double against Buehrle pulled the Mets within a run, prompting Terry Collins to pinch hit for Johan Santana. But Justin Turner flied out. And after a walk to Andres Torres prompted Ozzie Guillen to go to his bullpen, southpaw Randy Choate struck out Daniel Murphy and the Mets headed to the bottom of the seventh trailing 3-2.

In the eighth, David Wright (3-for-5) dropped a leadoff double inside the right-field line against Edward Mujica. Wright moved to third on Lucas Duda's groundout. Kirk Nieuwenhuis pinch hit for Scott Hairston and delivered a game-tying double. After an intentional walk to Davis and unintentional walk to Ronny Cedeno loaded the bases, Baxter pinch hit for Nickeas against Webb and improved to 6-for-15 with five RBIs as a pinch hitter this season. Baxter's two-run double gave the Mets a 5-3 lead.

THE NEW FELICIANO: Tim Byrdak appeared to save the day for the Mets yet again. In each of the first two games in Philly, the southpaw stranded an inherited runner at third base in the eighth inning. After Bobby Parnell surrendered a run in the eighth inning on Friday night as the Marlins pulled within 5-4, Byrdak entered with two out and Omar Infante on second base and struck out Logan Morrison to end the threat.

Byrdak is on pace for 96 appearances, which would break the single-season relief record set by Feliciano in his final three seasons as a Met (86, 88 and 92).

NO WAY, COURTESY JOSE: Jose Reyes quickly ensured game No. 8,000 would be the Mets' 8,000th game without a no-hitter. Reyes, who went only 1-for-12 in New York last month, opened the bottom of the first inning against Santana with a triple narrowly beyond the reach of Torres, who awkwardly played the shot to center field.

Reyes (1-for-4) scored when the newly installed No. 2 hitter Infante dropped a single into shallow left field. Austin Kearns delivered a two-run homer later in the frame. Kearns had been a late replacement in left field for the scratched Morrison, after Guillen decided he liked Kearns matching up better against Santana.

Santana's final line: 6 IP, 6 H, 3 R, 3 ER, 0 BB, 7 K.

SHORT STORY: In his first action since April 20, Cedeno returned from the disabled list and went 1-for-2 with two walks. Cedeno will be in the regular shortstop until Ruben Tejada returns from the DL, Collins said.

FIELDING OF DREAMS: Santana and Wright, both former Gold Glove recipients, turned in fielding gems on consecutive plays in the fifth. Santana lunged to catch a bunt attempt from Buehrle in the air. Then, Wright barehanded a grounder from Reyes and threw to first in time to retire his former teammate. An inning earlier, Santana caught Stanton stealing with a pickoff move.

WHAT'S NEXT: Other than a postgame LL Cool J concert after Friday's game at Marlins Park? R.A. Dickey (4-1, 3.76) opposes Ricky Nolasco (4-0, 2.72 ERA) on Saturday at 1:05 p.m.